Summary:
Watch these mean young studs pounding their big knobs in willing tight asses until it hurts. Double penetration, fisting, hot strain of piss and plenty of cum will get you horny as hell! Don't miss out on this superb Staxus double DVD Set of nasty tops and bottoms! Awesome 2 DVD Set! Compilation DVD
This title represent great value for money given the amount of quality content and running time. However, to ensure you don't waste money buying the same content twice, this compilation features scenes from the following titles:-
Scene 1: Experiencing Every Pleasure
Cast: Julien Adagio, Jack Ashrafi, Tom Nutt
From: Extreme Pleasures, Scene 4
There's a distinctly dirty feel to proceedings at the start of this scene, as Colin Adams serves as the centre of attention to a group of sneaker-sniffing, high-smoking, piss-loving youths in the shape of Julien Adagio, Jack Ashrafi and Tom Nutt. Needless to say, the high jinks culminate in Adams getting thoroughly dowsed and then promptly kicked out of the room – leaving his three assailants to engage in a fabulous little threesome that'll have you reaching for the Kleenex long before the action reaches a crescendo.
Blond-haired Nutt, in particular, is totally irresistible, puffing nonchalantly away on his cigarette whilst the other two lads take turns to slurp on his cock. Nevertheless, by the time that Ashrafi is thrusting his cock into the Nutt's tight little ass, the twink has tossed the fag aside and is purely concerned with experiencing every pleasure that that thick, manly pole can give. As if to underline his lust for carnality, he actually pisses himself mid-fuck; before proceedings draw finally draw to a somewhat breathless close with Nutt amd Adagio spewing over Ashrafi's face!
Scene 2: No Question Of Choice As Young Kid Endures A Hard Fuck All Round!
Cast: Nicolas Cruz, Marc Roche, Sam Kirk
From: Silence Of The Twinks 1, Scene 3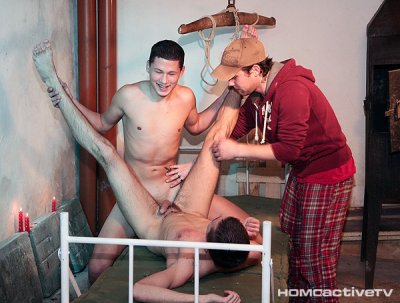 Like a crazed animal, Ryan Quaid continues in his brutal quest for blood – despatching Falco White and Alex Grander with the sort of conscientious-free brevity usually associated with pest-controllers! Meantime, Marc Roche – who like everyone else in horror-land, has a poor victim tied up in his cellar – returns to his lair to be "entertained" by Sam Kirk. Needless to say, Roche isn't particularly concerned with the needs of his prey, as he forces Kirk to suck his (admittedly rather delicious) knob-end, before thrusting the said raw shaft deep into Kirk's hungry slit! It's rough, it's unrefined – but we defy anyone not to get off on the sight of these two horny basta rds! That said, it's the final few moments of the scene, with Roche insisting that he spews his ball-juice all over his unwilling partner's face, that take the ultimate accolade; and it's little wonder that Kirk is unable (or perhaps indisposed) to restrain his own primal urges, as he dumps a fine spray of cum all over his smooth, young belly!
Scene 3: Mike Cage, Marty Love & John Parker
from: Reservoir Cocks 1, Scene 5
There's no disputing the size of Mike Cage's dick – it's been doing the rounds on and off throughout, and by the time his final fantasy here with John Parker and Marty Love is enacted it's looking even bigger than ever.
Mind, the fact that Parker promptly begins to fist-fuck him only serves to engorge matters; though it's pretty clear straight off that only raw cock will satisfy the youngster, and he's probably somewhat relieved that Parker can't wait to thrust his own aching pole deep into that over-hungry crack. All that said, you can't help but get the impression that it's Love that this boy wants.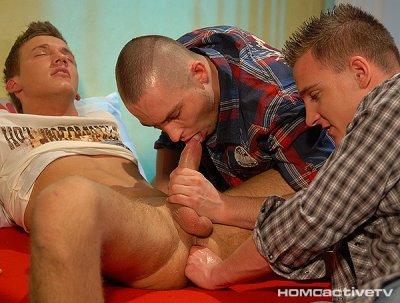 No, not the sentimental, wishy-washy love that's inspired so many Clinton cards. Rather Marty Love, a hyper-toned hunk with just exactly the right amount of chest hair to make you go all weak at the knees. He certainly seems to press all the right buttons where Cage is concerned, and it's hard not to regard the sight of the young bottom being royally spit-roasted by Love up the ass and Parker down the throat as a noteworthy highlight. As is that of Love creaming Cage's pucker and then Love fisting the lad to ecstasy in return. In short, a terrific threesome that'll have you jerking off time and again – and wearing out the rewind button in the process!

Scene 4: Taking Advantage Of An Underling, These Kinky Doctors Love To Ride Raw & Wild!
From: Doctor Piss, Scene 5
You're probably getting the impression now that this really is a hospital like no other – in fact, the more hypochondriac among you will probably be hoping for some sort of medical relapse that would warrant a lengthy stay at this establishment. Well, as if to underline just how perverse and kinky the staff are, here's a scene featuring Doctors Fox and Bimore taking full advantage of blond medical assistant, Dylan North. He's a young guy, as we already know, who's not adverse to a little kink in his daily routine; but whether he ever anticipated being a fuck-bag for his two bosses is another matter entirely.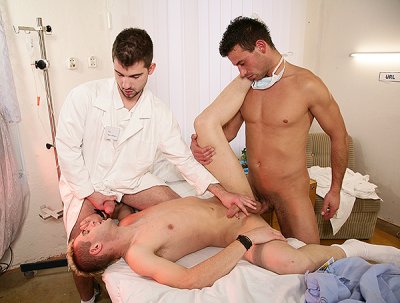 As it happens, he never gets the opportunity to express any opinion. Forced to his knees, his butt-hole is soon playing host to the raw cocks of both doctors in turn; before Fox and Bimore conclude their antics by first emptying their balls all over his face, followed by the contents of their bladders. Little wonder that the fellow looks totally spent and washed-out by the time his two superiors have finished!
Scene 5: Double-Dicked Ass-Stretching For A Young Blond-Haired Beauty
From: Bareback School Nightmare, Scene 5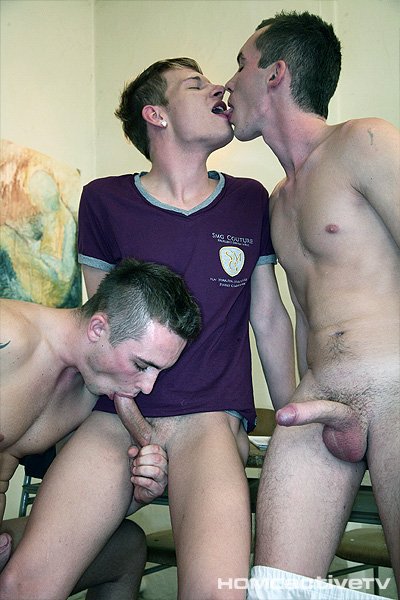 Who could possibly resist the blond-haired, dewy-eyed looks of young Nick Kelson? Not Marty Love or Glen Hart, that's for fuckin' sure, as they take complete advantage of the young student and lure him into a sticky-fuelled threeway that'll have you tugging on your dip-stick in no time at all! Not that you should be taken in completely by Kelson's apparent innocence, it must be noted. The fact is that he appears to show an alarming degree of knowable enthusiasm when confronted by a couple of thick, throbbing cocks – though that's something any of us are complaining about! Indeed, it isn't long at all before the fellow is putting on the performance of the day – first taking both shafts in turns, before allowing Hart and Love to finally stretch him to the max with a double-penetration fuck-fiesta! If the sight of a young cherub being fucked to the point of human endurance then this scene is most definitely for you – as it is for those who like to see bubble-butt asses dripping with jizz! Indeed, by the end of the scene Kelson has cum spilling from both ends, as Glen Hart unburdens a tight wad of cream all over his pretty little face! It's a sight any mother would be proud of – and one that'll have you in seventh heaven!
Scene 6: Wanna Play, Boy? Young Lad Gets Tied Up & Tortured!
Cast: Julien Tomlinson, Alex Grander
From: Abducted & Degraded, Scene 4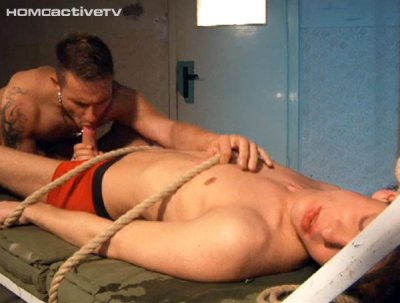 The nightmare continues, with young Julian Tomlinson now serving as the unwilling victim to the inglorious antics herein portrayed. Tied to a bed by Alex Grander, he is first forced to drink beer by means of a funnel; before finding Grander's thick, hard, uncut shaft rammed down his throat. The fact that he's supporting quite a boner in his pants, however, suggests that he has a somewhat secret appreciation of his treatment – a fact that's only underlined when his ropes are untied and he clearly makes no effort to escape. Indeed, the only thing on this boy's mind is how he's gonna get that sweet little ass of his filled to the max. Fortunately for him, that's not a particularly difficult thing to get accomplished in this madhouse, and before he has time to consider his prospects he's got his legs strapped up to the bed's headboard and his hungry little pucker fully exposed. Now nothing stands in the way of his rump and the fucking of a lifetime courtesy of Grander – and needless to say that's exactly what the tight, virgin hole promptly experiences! Being forced into something you don't want to do has never looked so fucking appealing ...
Scene 7: Extremely Cute Young Face
Cast: Marty Love, Tod Garner & Jon Roz
From: Silence of The Twinks 2, Scene 2
Prison's not usually the first place you think of when you imagine nice places to be, so it's little wonder that young Tod Garner's something of an unhappy soul at being incarcerated with fellow felon, Jon Roz. The arrival of prison guard, Marty Love, however, soon seems to bring the fellow out of his depression – and no small wonder because Love is a pretty gorgeous officer to say the least. So after a little arse-thrashing play on Roz, it's a case of the two twinks getting down to satisfy the rather amorous Love, who (if truth be known) can't wait to get his thick raw shaft deep inside Garner's tight little hole.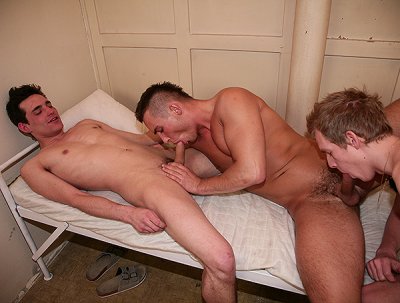 An ambition he achieves with somewhat remarkable ease, and which leaves Roz yearning for a slice of the action himself. So it is that we're soon treated to the sight of Garner bouncing up and down on his cell-mate's shaft, whilst Love blasts arguably the finest bolt of cum you'll ever see all over the twink's extremely cute young face! All concluded with oodles of piss for an undeniably kinky finale.
Scene 8: A Fucking Sexy Little Vixen
Cast: Kevin Groom, Roney Clark & Alan Capier
From: Piss My Cum Away 2, Scene 3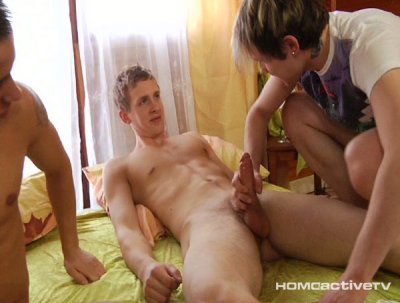 Fans of seeing young twinks taking two cocks up their arse at the same time will be grandly rewarded with this scorching threesome, set in the den of iniquity that is Room 15. The scene begins with Kevin Groom and Roney Clark (who's a fucking sexy little vixen if ever there was one) sleeping off the excesses of the previous night, but it isn't too long before they're regaining consciousness and turning their attention to each other. Cue a feverish session of youthful cock-sucking that'll really get you in the mood for the sudden, unexpected entrance of the cleaner, Alan Capier, who just so happens to be hoovering the establishment when he interrupts the two young lovers in full flow. Needless to report, Capier's not the sort of fellow that can ever be relied upon to turn down such a fabulous opportunity, and before you can say "Jack Shit" he's slurping away on their two thick, uncut hoses and riding them in turn like a professional whore! But it's his session of double-penetration that serves as the highlight of the occasion – not least of all when he sits down on both shafts simultaneously, screaming and yelling for all he's worth as he does so. A face-load of cum and piss later, and young Capier is one very happy twink!
Scene 9: Young Trafficker Receives Piss 'N' Cum Punishment For His Crimes!
From: Busted & Abused, Scene 5
Concealing drugs up your arse is not something that we would ever recommend – and yet it's a common technique for those in the illegal narcotics trade, as young Nick Deniels demonstrates when two hard-nosed police-officers (Jack Blue and Denis Reed) provide the fellow with a very physical examination whilst in detention. Not surprisingly, they take clear exception to what they find in that tight little crack – immediately punishing the lad with a fine spray of warm piss. That, however, is just for starters. Before Deniels really knows what's happening, he's got a cock being thrust down his throat and a fistful of fingers working their way up his ass! Little wonder that he struggles on his ropes, especially when another load of fresh piss gets sprayed over his face!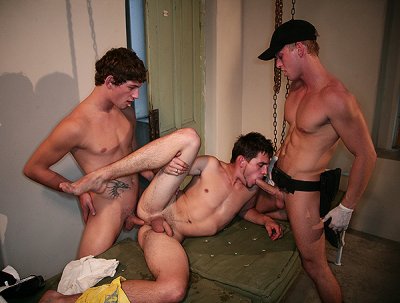 This is one punishment, however, that he's never gonna escape; and it's with a distinct air of inevitability that he's soon being firmly spit-roasted by the two officers. The highlight of the scene, however, comes when Reed and Blue decide to give the youngster the stretching of his life, forcing their thick, manly cocks into his hole at the same time for a wanton display of double-fucking that'll stay long in the memory! Whether he eventually tells the grand-kids about the day he got his face with streams of hot, sticky spunk, however, is anyone's bet!