Summary:
Nothing but the biggest twink cocks around! Stretched to the max, these tight asses take on the biggest dicks. Great bareback action!
Scene 1: Big Cock in the Country
Cast: Stephen Blake, Marcel Bimore, Chris Reed, Marco Bill
From Big, Bigger, Biggest, Scene 6
New boy Stephen Blake may not be long out of shorts but that doesn't stop him from knowing exactly what to do when Marcel Bimore thrusts a meaty, uncut cock in his direction when they stop off in the woods for a piss. Nor does it prevent him from boasting a truly superb pole-axe of his own, which he puts to truly magnificent use when he fucks Bimore up against a tree.
The arrival of Chris Reed (who, incidentally, has been busy blowing Marco Bill off whilst this has all been happening) only adds to the splendour of the occasion; with Bimore immediately finding himself being spit-roasted like a wild pig, whilst the birds chatter nonchalantly in the background. No such indifference from these young pups, however. Blake, for one, isn't content until Bimore has spurted over his face; whilst Reed empties his nads into Bimore's hungry pucker. Fabulous!
Scene 2: The Love Of Hard Dick

Cast: Lukas Leung, Caleb Moreton
From: Humongous, Scene 6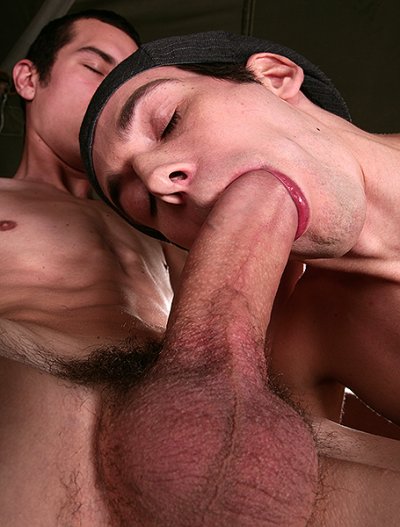 There's three things for which young Czech lads are well known for: drinking beer, having big cocks and fucking each other raw whenever they get the chance! And it's a notoriety that director, Vlado Iresch, makes the most of when he introduces Lukas Leung and Caleb Moreton in a beer-tent, where (to be honest) the love of alcohol is quickly eclipsed by the love of hard dick! Not that you'd really expect anything less from these two boys, who are soon sucking away on each other's knob-ends like it's gonna be made illegal, before Leung finally parts his legs to take full advantage of Moreton's over-sized member. Because, let's be honest here, there's nothing "small" about Moreton - a guy who's hung like the proverbial donkey, and who's more than willing and able to use the fact to full advantage - and it's with definite relish that Leung takes every inch that his drinking-pal has to offer. To his credit, Leung does bottoms everywhere proud; but ultimately it's no real wonder that the spunk is quite literally banged out of his balls! That leaves Moreton with the scene's climatic moment, as he spews the contents of his nads all over Leung's (now very sore) ass-hole, before pushing his spent shaft back inside. In a word, fabulous!!
Scene 3: Cock Measurement
Cast: Milos Zambu, Jesse Shaw, Saul Maxwell
We're not sure about you, but the educational system sure seems to have changed tremendously since we went to college. For one thing, were teachers ever as sexy as Milos Zambu is here? Secondly, did they ever have lessons like the one portrayed here? Well, not that we remember – but then, of course, we didn't attend this fabulous institute of academia, where the only subject on the curriculum appears to be sex, and where homework involves measuring your cock and bringing back the results.
Unfortunately for Jesse Shaw, he's forgotten all about his assignment – which is unbelievable, we know, but there we have it – so it's down to dyed-blond, Saul Maxwell, to give him a helping hand. Not to mention an open mouth and an equally vacuous ass!
The result is a tremendous threesome that'll have you jerking off time and time again, as uber-twink Maxwell bounces his way off Shaw's cock and onto that of his teacher! Believe us, the world of hard study has never looked so utterly appealing!
Scene 4: A Real Oral Workout
Cast: Jay Renfro, Michal Dean, Brian Brooks
From: Bareback Monster Cocks, Scene 3
Defined young blonde, Michal Dean arrives at the bar and has one to many beers and falls asleep, letting the staff get horny with each other. Ripping his uniform off, Brian gets hot for recently blonde Jose. Just as they start enjoying the taste of each other, Michal wakes up and is quickly brought into the fold, giving both dicks a real oral workout.
Taking cock from both ends, Jose pushes his dick into his smooth ass as he gets face fucked by dark haired cutie Brian. Michal's butt is being seriously spread, yelling out in pleasurable pain as he has thick meat rammed into him bareback!!
Scene 5: David Garret, Adrew Shut, Julien Breeze
From: A Few Inches More, Scene 1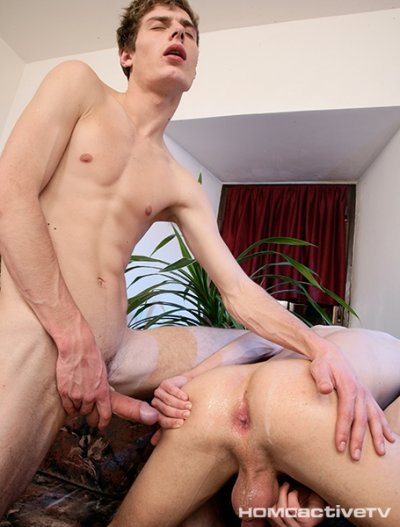 Cute blonde boy Julien and his slim sexy mate Andrew are getting hot and horny watching massive dicks on their computer when dark haired stud David pops round with a toy designed perfectly for young Julien. Working his smooth body and getting rock hard, Julien uses the pumping action to massage his cock until the whole thing fills with creamy boy juice!! Wanting to dump their loads, David and Andrew get busy with each other when Julien zips up and leaves, taking in as much cock into their mouths as possible, Andrew getting a great face fuck as his tonsils are hammered by solid dick. After all that tongue teasing, it's no wonder Andrew wants to enjoy the fruits of his labour and have his ass pummelled by David's big dick totally bareback. Andrew's bouncing dick stay rock hard as he gets every inch deeper. The doggy style fucking gives us the best view of that veiny dick sliding in as Andrew jerks himself into a frenzy.