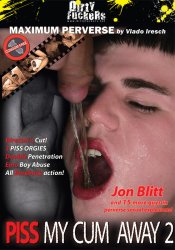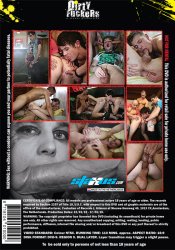 Also available

Summary:
A group of some of the hottest guys imaginable head for a wet weekend in the mountains, where they collectively savour the dizzy delights that only hard cock and full bladders can give!
With a cavalcade of smooth, young flesh and ever-ravenous mouths and asses (for some of which one cock just isn't enough!), this is definitely the sort of cum-sodden, piss-drenched filth that you horny guys will want to watch over and over again!
Description / Review:
Scene.1: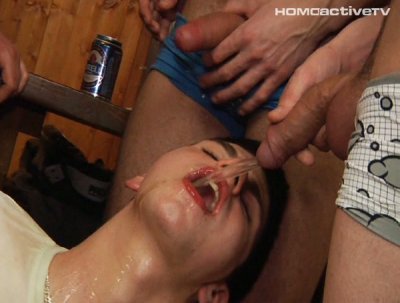 Bartending can be a difficult job at times – as young Don Rayne discovers when he tries to confront the excessive antics of a group of horny tourists, who enter his bar at closing time demanding a drink. As ever in this situations, the wrong word can kick off a whole escapade of trouble – in this case, resulting in Rayne getting his clothes ripped off his back and his ass used and abused by the hyper-sexed visitors. Forced down onto his knees, the lad finds himself confronted with every gay man's dream: a whole collection of thick, hard, uncut shafts that are just gagging to be sucked. To his credit, Rayne valiantly tries to satisfy these throbbing cocks, but it isn't very long before he realises their real intent, as they force the lad over a table and proceed to expose his cute, pert arse. From that point on, of course, it's obvious where all those cocks are gonna be ending up, so it's perhaps just as well that young Rayne lies back and enjoys the experience. An encounter that concludes with the boy taking load after load of spunk in his mouth and over his face, before his arrogant customers underline their supremacy by pissing all over him! In short, a top-notch opener!!

Scene.2: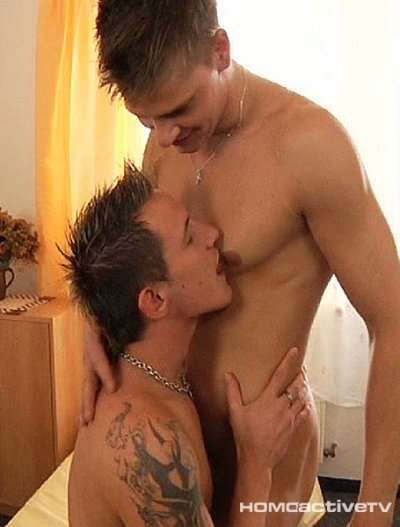 There's just something so sexy about a man taking a shower – especially when it's a guy who's as hot and as appetising as Damien Dickey. It's certainly a fact that's not lost on a lad like Alex Grander, who can't resist reaching for his nicely swollen cock when he wakes up in his apartment to see Dickey washing himself down. By the time Dickey's stepping out of the water, Grander's giving his hose a good old tug – something that a fellow like Dickey is only too ready and willing to respond to. Suffice it to say, then, that it's barely any time at all before the two wastrels 69-ing on the bed for all they're worth like a pair of sex-starved whores! It's clear even at this stage, however, that young Dickey has only got one plan in mind, as he fingers his pal's tight, but clearly eager, pucker; before finally getting the opportunity to plant his meaty ramrod exactly where it wants to go, deep inside Grander's hungry hole. A somewhat animalistic fuck-session promptly ensues, with Grander savouring every inch of thick dick as it pumps his rump; ultimately culminating in a frothy cum-blast from both boys, followed by a piss shower courtesy of Dickey's flagging uncut hose.

Scene 3: A Fucking Sexy Little Vixen
Cast: Kevin Groom, Roney Clark & Alan Capier
Also available: Fuck 'Em Till it Hurts (2 DVD Compilation)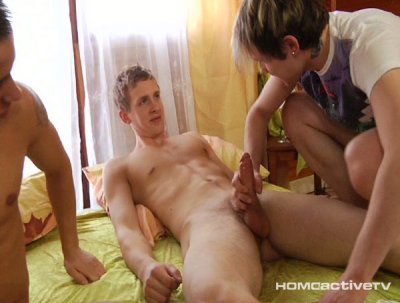 Fans of seeing young twinks taking two cocks up their arse at the same time will be grandly rewarded with this scorching threesome, set in the den of iniquity that is Room 15. The scene begins with Kevin Groom and Roney Clark (who's a fucking sexy little vixen if ever there was one) sleeping off the excesses of the previous night, but it isn't too long before they're regaining consciousness and turning their attention to each other. Cue a feverish session of youthful cock-sucking that'll really get you in the mood for the sudden, unexpected entrance of the cleaner, Alan Capier, who just so happens to be hoovering the establishment when he interrupts the two young lovers in full flow. Needless to report, Capier's not the sort of fellow that can ever be relied upon to turn down such a fabulous opportunity, and before you can say "Jack Shit" he's slurping away on their two thick, uncut hoses and riding them in turn like a professional whore! But it's his session of double-penetration that serves as the highlight of the occasion – not least of all when he sits down on both shafts simultaneously, screaming and yelling for all he's worth as he does so. A face-load of cum and piss later, and young Capier is one very happy twink!

Scene 4: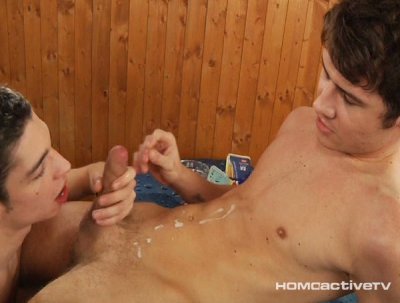 He's gone from being a bottled blond to a more natural brunet, but Falco White is still an incredibly hot proposition and it's little wonder that newcomer Tom Hyde fails to resist the fellow's advances when the two of them play a game of darts together. Indeed, any care for the sport is quickly abandoned once White has trailed his hand across his pal's pert, denim-clad rump, and before you know it the two youngsters are sucking each other's faces off and grinding their hips like a couple of bucks on heat. Not that a cock-crazed stallion like White is ever gonna be content with a little smooching. No, he won't be truly content until he's given Hyde's tight, virgin ass the kind of stretching that it's almost certainly crying out for, and it's with unquestionable relish that he promptly begins to give his mate a real hard rimming in readiness for the rubber-free fucking to come. Hyde, for his part, clearly can't wait to get his guts filled with raw cock either, and before you know it he's flashing that pucker and calling White in for the killer shot. Why, the young scally doesn't so much as blink an eye when White pumps his bowels with jizz, though it's the over-generous wad that he sprays over his own belly that deservedly catches the most admiration!

Scene 5: A Roomful of horny cocks!
Cast: Nick Deniels, Carl Baxter and Clode Volf
Also available: Piss Takers (2 DVD Compilation)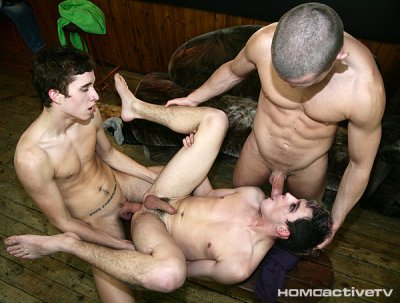 The final scene sees events turn full circle, as the action returns to the bar for another group effort – on this occasion focusing on the "Emo-esque" talents of blond cock-hunter, Nick Deniels. Fact is, he's gagging to be at the receiving end of some wicked dick action, right from the moment he walks into the room and provocatively whips his knob out to piss on a nearby coffee-table. It's an act that (quite rightly) gains the full ire of the other boys in the room (Falco White, Clode Volf, Tom Hyde and Carl Baxter), who immediately force the fellow to the floor and vent their fury by drenching his face with the golden nectar. For Volf and Baxter, however, there's still plenty of fun to be had even after the last drops of piss have been spilled, as they force Deniels down onto a nearby sofa and begin to give his body the sort of attention that it richly deserves. Volf, as always, is a fantastically passionate top, and neither he nor the comely Baxter is satisfied until their prey is being spit-roasted at the end of their meaty, uncut cocks. It's the kind of spunk-inducing show that'll have you jerking on your own rods like fury – not least of all when Volf spurts over Deniels' face and Baxter unburdens his heavy load into the young bottom's ass! In a word, magic!