Summary:
For some boys, having one hard cock deep inside them just isn't enough. Indeed, this fine collection of horny, dick-crazed sluts just aren't satisfied until they've got two big, aching shafts pounding away at them – one at each end of their bodies!! If you enjoy seeing fresh-faced twinks getting stuffed like pigs by their mates' meaty knob-ends – and who the fuck doesn't?! – then this 3 hour, 2 disc epic is for you
Description / Review:

Scene 1: A Great Ride In The Gym Changing Room
From: Massive Monsters, Scene 4
Lucas Leung proves once again what a top-notch slut he actually is – this time in the company of beefy Jacob Bishop and the ever-horny Neil Cross, who he interrupts getting close-up and personal in a locker-room. Suffice it to say that it isn't many minutes before the young beauty – whose reputation no doubt precedes him! - has become the focal-point of attention. That, of course, is no great wonder. It seems everyone in this town knows him as a guy who loves raw cock pounding his arse – a point that he's only too willing and eager to demonstrate here. First Cross gets a ride; then Bishop bangs the young beauty up and down on his lap, which (all too quickly) results in Bishop spurting the contents of his balls into Leung's hungry pucker. Still not satisfied, Leung then takes Cross' pent-up load (plus Bishop's second offering) over his face. If you're still holding on to your load by the end of this fuck-fest then it'll surely be a miracle!

Scene 2:
From: Raw Courage, Scene 6
At night, in the dorm, two butch soldiers manhandle a younger one, waking him up to force him to suck their dicks. Both soldiers are hard and horny, one broad and butch with a shaved head, the other very handsome and dark haired, with a stunning physique. They each feed their stiff meat to the young boy's hungry mouth. This lad is totally hot, from his handsome boyish smile to his perfect bubble butt, which gets pulled wide apart so the blokes can taste it. There follows a raunchy bareback spit roast, each bloke getting to slide his raw dick deep into this tight boy ass, before they cover the kid in spunk.

Scene 3:
From: Bareback Beach Party, Scene 1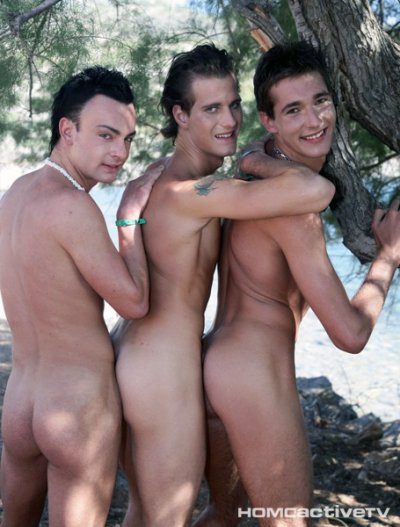 You know what it's like – you're there on the beach, drying yourself off after a nice swim in the sea, when you're pounced upon by a couple of horny young guys who just want to suck your cock and pummel your arse. Well, okay, maybe it's not really the sort of thing that happens to most of us on our vacations, but as porn fantasies go it's fucking hot – especially when it involves the likes of STAXUS favourites, Marco Bill and Ray Weil, together with Dean Grant, the focal point of attention. Indeed, the result is a scorching threesome that'll have you grabbing for your own shaft – not to mention booking up your own vacation in Crete next year! Sadly, the chances of this occurrence happening in reality is not too great, we have to be honest with you; but don't let that put you off from enjoying the sight of these three young males rutting like wild dogs! A stupendous, cum-splattered start, that'll have you wanking like fury!

Scene 4:

From: Abused, Scene 2

Catching smooth young Ricky Jackson in the toilets, Omar and Luc Bonay, studly tops who have only one thing on their mind, push Ricky to the wall and work his cock till it's pulsating. Filling his mouth with both their cocks, Ricky doesn't know which way to turn and is constantly worked on by these tattooed men. Being pumped full of man meat, he's then subjected to a coating of hot spunk, before finally joining in the cumfest himself.

Scene 5: Milan Breeze, Leon Ramon
From: Raw Heroes, Scene 3
Horny threesome inside a fire truck!! After the adrenalin rush of a call-out, three fire-fighters come back and release that tension with firm fucking of wet holes. Milan Breeze loves taking cock and his ass gets both!! Dark and tanned Grenady Prokov takes two cocks in his mouth before pounding the horny blond like a man possessed! The ensuing spit-roast and Leon Ramon's concluding cum-shot on Milan's open hole is a must-see!!

DISC TWO
Scene 6:
From: Doctor Dick, Scene 4
Having his tight butt worked on by a fit young doctor, a patient is given a dildo to try and use but it's soon discovered that this is only for starters!! Another patient comes out and decides to work on the guy's ass with a much better tool, namely his hard dick!! Soon all 3 smooth young guys are at it in the surgery, the poor patient having his tight butt well and truly loosened by each cock as they ram deep inside him. As a result, the boy gets fed from both ends; resulting in his butt being drenched in cum, before the spunk is teased back into his (now much less tight) ass!

Scene 7:
From: Bare Hostel, Scene 2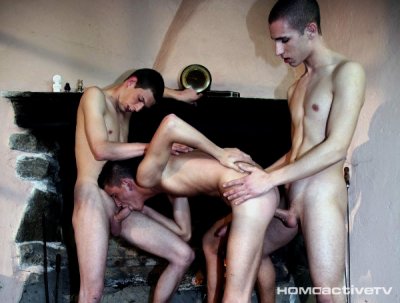 The title clearly gives this away as a threesome – and a fuckin' hot one at that! – but when we tell you that there's actually four cum-shots you're obviously gonna be left to wonder which one of the gorgeous young studs pumped himself completely dry for your dirty-minded benefit. Well, that credit goes to young Patres Reco – a cute, cock-lusty newcomer, who's basically a complete whore and who takes total advantage of a situation where he and two of his pals (Christiano Law and Robinos Clark) have to share a bed at the hostel. His holes open like flowers in a hot-house – something that doesn't escape the notice of either of his friends. As a result, Law is soon quite literally fucking the first load of spunk out of Reco; before Clark repeats the exercise to make it a fabulous double for this stunning little bottom. Ball juice flows as if on tap – a predicament that we reckon will be subsequently repeated across the world from you guys when you see this filthy escapade!

Scene 8:
From: Bareback Emo Boys, Scene 4
Oh yes, we've all been there – the morning after the night before. Whether we actually wake up to discover some horny twink next to us (as happens here to Joe Parkes and Jimmy Call) is quite another matter, of course; but in this instance neither boy looks set to turn down the opportunity to engage in some rather hard-hitting cock-sucking and ass-munching to start the day. The sudden arrival of Blake Reed onto the scene only adds to the intensity of the occasion. This young blond has got an insatiable desire to be spit-roasted – a wish that the two other lads are only too willing and able to fulfil, as they each take turns to fuck that pert little rump of his. Neither does he object when Parkes and Call empty their balls all over him – in Call's case, quite spectacularly! Some Emo boys, it seems, really are as filthy as you've always hoped they were …

Scene 9: Pervy Patients Savour A Cum & Piss Fiesta Thanks To Their Equally Pervy Medic
From: Doctor Piss, Scene 2
Young David Owen's a cute little cock-whore, there's no mistake – and here he is with friends Tom Arnott and Bill Brown to prove it. Not content with one big meaty knob, he's soon feasting on both hard shafts; and isn't truly happy until he's firmly skewered between them. Having both taken turns to bang away at Owen's hungry butt, Arnott and Brown then proceed to dump the entire contents of their tight young balls right down his throat! Little wonder the horny runt has such a wide-eyed grin at the scene's conclusion ...