Summary:
Some boys like their adventures with cock to involve dicks that are decidedly on the big side – and let's face it, those are the lads we've always liked the best! Dudes who feel totally uninhibited when confronted with horse-hung, horny studs, and who know exactly what to do with every throbbing inch on offer. Jace Reed, Milan Sharp and Andy Fisher are just some of the oversized beauts; Chad Johnstone, Bjorn Nykvist and Jeffrey Lloyd just some of the size-queens who will quite literally stop at nothing to get the maximum stretch on offer!
Scene 1: Big-Dicked Doctors Take Time Out For A Mega-Spunky Fuck-Fest!
Cast: Chad Johnstone and Milan Sharp
From: Raw Medics 1, Scene 3
We're always being told how busy our doctors and nurses are and how stressful their jobs can be, but it's difficult to appreciate that from the antics here of big-cocked favourite, Milan Sharp, and STAXUS newbie, Chad Johnstone. Fact is they clearly start this horny little escapade with quite literally fuck-all to do; and it's not many moments before they're filling their spare time with some rather meaningless silliness courtesy of some anal retractors. Needless to report, it's not long before the two medics have abandoned any modicum of decorum that they might have had, and are stripping off in anticipation of some close-up anatomical research – which in this instance involves each fellow taking it in turns to slurp on each other's swollen cocks.
Given his wide-mouthed grin it's arguably not that surprising that Johnstone seems to master Sharp's oversized ramrod with remarkable ease; but it's still a mighty laudable performance from the youngster given that this is his first time on-set and that he's set against one of the industry's classics. What's more, his top-notch debut continues when both fellows quit 69-ing and put the retractors to good use; probing each other's arse-holes, before Johnstone finally decides to thrust his handsome, uncut shaft deep into his buddy's pucker.
What ensues is a truly magnificent escapade that will almost certainly have you creaming in no time – including the sight of our new boy pulling out mid-point to show you his drooling knob-head. All of which culminates in lucky Sharp getting coated in a creamy cascade of fresh, hot jizz!
Scene 2: Hairless Blonds Indulge In A Flip-Flopping Piss & Spunk Fest!
Cast: Martin Rivers, Titus Snow
From: Give Me Wood, Scene 4
He who seeks, finds – that's the motto of this splendidly horny scene, when the ever-adorable Titus Snow finally makes all his torturous wandering in the woods worthwhile by encountering the equally desirable Martin Rivers. A rendezvous that quickly results in both lads heading off to Snow's nearby apartment so that the two fellows can get to know each other that little bit better. Needless to say, the boys don't waste much time with mindless introductions. Indeed, both guys are soon snogging each other's faces off, whilst eagerly caressing the bulges in their crotches; before Rivers heads south for a face-to-face meeting with Snow's now grossly swollen cock.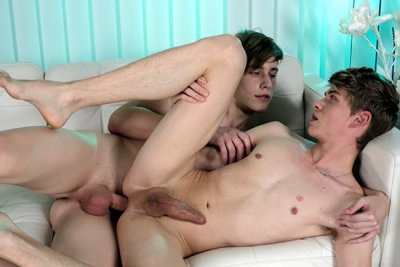 Of course, you don't need to be Sherlock Holmes to appreciate just where all this is going to lead; and before you know it Snow is returning the compliment, prior to Rivers focusing his keen eye on his newfound buddy's hairless pucker. Having poked the hungry little hole with his fingers, the lad soon finds himself where so many lads before him have found themselves – namely balls-deep in the young Brit's ass!
It's a move that's almost enough to get most viewers on the cusp of ecstasy in itself; but having witnessed Snow bouncing up and down on Rivers' handsome shaft, director John Smith pulls out a surprise by flip-flopping the chaps round so that Rivers can experience some hard anal penetration for himself. What's more, having witnessed Snow splatter his load, the scene pulls out a final showstopper when Rivers pisses all over his mate; before a customary creaming brings the action to a stunning conclusion!
Scene 3: Romantic Tryst Proves Nothing More Than A Crude Bathtime Fuck For These Two Beauties!
Cast: Chase Anderson and Kris Wallace
From: Dreams Can Come True, Scene 1
There's something unquestionably dreamlike about the opening sequence of this filthy little escapade – featuring Chase Anderson alone in a bathtub in the first instance, before the dirty-blond is joined by the ever-insatiable Kris Wallace. But what could be a more fitting impression given that both these beauties are very much a dream-cum-true for anyone who likes their guys to be fresh-faced and horny!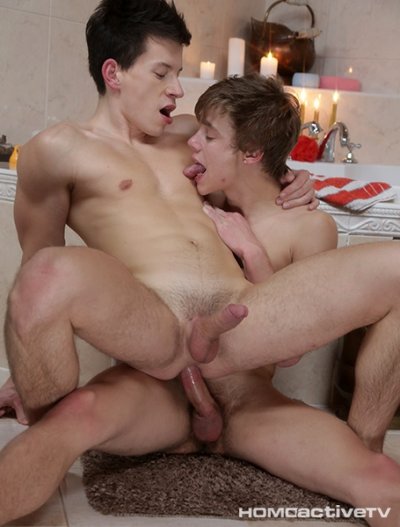 Anderson, in particular, appears every inch the representation of sweet innocence as he frolics in the water. Indeed, we defy anyone not to be reaching for their zipper long before Wallace appears on the scene. But the arrival of our favourite Pole sets the temperature soaring even higher; and before you know it the two lads are busy taking turns at sucking each other's dicks and generally acting like a couple of over-excited animals! A short spell of close-up rimming completed and the action turns decidedly hardcore, with Wallace parting those gorgeous buns of his to enable Anderson to slip that thick, meaty shaft of his deep inside – by which point you'll be exercising your wrist for all it's worth and hoping to high heaven that you can stay the course.
A top-notch performance that culminates in Wallace quite literally getting the spunk banged out of him – he sprays his wad all over the bathroom floor in the process! – and Anderson jerking out a creamy treat for Wallace in return, who laps at the end of his mate's cock whilst the said ramrod is squirting out its reward! In a word, bliss!
Scene 4: Big Dicked Mates Flip-Flop Twice Over For A Face-Load Of Spunk!
Cast: Andy Fisher, Mike Branco
From: Cum Harvest, Scene 4
With the apples in harvest, young Andy Fisher is clearly keen to demonstrate his party-trick at the start of this stunning little escapade – juggling three fruit with remarkable ease, whilst simultaneously maintaining a cheeky grin on his face to look every inch the desirable little fucker! What's more, it's an achievement that clearly impresses his blond-haired buddy, Mike Branco; who arrives to smooch the face off our would-be circus act, and who very quickly has his handsome cock out to tempt Fisher into a much more carnal kind of performance.
Needless to say, it's an invitation that Fisher doesn't turn down. Before you know it, the lad is down on his knees and feasting on every wonderful inch that Branco has to offer; before the roles are reversed and Branco eagerly gobbles away on his mate's cock and rims his arse! What ensues is the kind of flip-flopping buggery that really is in a class of its own. For not only do these two beauties take it in turns to ride each other's thick, meaty, uncut shafts, they actually do it twice over!
It's the kind of show that will almost certainly have you jerking like crazy as a result; but of particular note is the slow-motion performance of Fisher as he bounces like a yoyo on Branco's ramrod cowboy-style, his heavy-laden balls and grossly swollen cock springing up and down as he does so! It's perhaps no surprise – given the sweaty intensity of the encounter – that the cum-shots that ensue really do have to be seen to be believed. A veritable tsunami of jizz from both lads that leave both fellows with very empty nads and cum-soaked faces!
Scene 5: Big-Dick Lovin' Beauty Gets His Butt Rubbed & His Arse Stretched!
Cast: Bjorn Nykvist, Milan Sharp
From: Massage Me, Scene 1
Amsterdam has a worldwide reputation for coffee houses and brothels, but – as young Bjorn Nykvist soon discovers – the saunas are not to be overlooked on any trip to the Dutch capital, particularly if they involve an encounter with the mega-hung Milan Sharp, as proves to be the case here. Indeed, the handsome blond doesn't need too much persuasion from the big-dicked charmer, as Sharp beckons him out of the heat in favour of an oily rub-down; and before you know it Nykvist is laid out prostrate on a couch whilst his buddy massages his tired, stiff muscles.
Of course, there's actually only one of Nykvist's tired, stiff muscles that a fellow like Sharp is really interested in; but, ever the gentleman, his first strokes of the hand are innocuous enough. Don't be fooled though. It's not long before Sharp's true intentions are coming to the fore – courtesy of that big, fat schlong that he stacks in his pants, which he starts to grind against his buddy's arse-crack. Given the rampant stiffy that Nykvist promptly reveals when turning himself over, it's a somewhat unconventional massage technique that the young man clearly appreciates; and it's not too long before the would-be bottom is feasting on Sharp's monster for all he's worth.
What he really wants, however, is the feel of that said unsheathed weapon pounding away in his red raw arse – a wish that Sharp is only too eager and willing to help come true very shortly afterwards. Cue a stupendous rutting session that culminates in Nykvist riding his pal cowboy-style; before both cocks erupt like volcanoes simultaneously!
Scene 6: Big Dicked Trainee Makes Amends With A Hard, Spunky Fuck!
Cast: Jace Reed and Jeffrey Lloyd
From: Fire Me Down, Scene 2
It has to be said that if ever you need rescuing from a burning building then trainee firefighter, Jace Reed, probably isn't the best person to call – unless, of course, you fancy a blowjob in your final moments! Certainly that's the stark conclusion that can be read into the opening minutes of this intriguing number; as Reed's overactive lust for cock results in him giving Gabriel Angel a clearly much-appreciated jerk-off, when in fact he should be scouring the room for any other survivors – in this instance, Jeffrey Lloyd.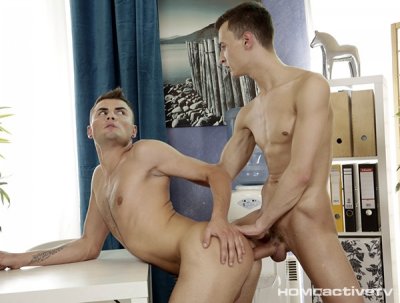 As a result, Reed's initial smug satisfaction at having drained a heavy load of jizz out of Angel is very promptly eclipsed by the realisation of his mistake; with Lloyd insisting that the only hope the trainee has of passing his upcoming test is to replicate his unorthodox rescue technique on the boss. What's more, Reed doesn't need to be instructed twice. Before you know it he's got Lloyd's pants off and is eagerly rimming the hungry little arsehole that's nestling inside; prior to slurping on the horny instructor's hose, and finally burying his monster cock deep inside Lloyd's guts.
No question about it, there's not the slightest hint of delay on Reed's part; with Lloyd clearly savouring the rookie's brusque manner, as he takes the handsome ramrod in a whole variety of positions. Given the intense nature of the coupling it's little surprise that neither lad is able to hold off for long – Reed creaming his instructor's pucker, before Lloyd takes a final ride on his buddy's schlong and then finally wanks off his own heavy load of pent-up spunk over his furry belly!