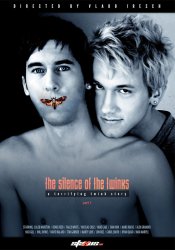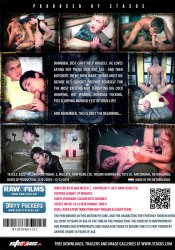 Also available:
The Silence of
the Twinks 2




Summary:
Hannibal just can't help himself. He loves eating hot twink dick and ass - and then butchers them!! How many twinks must die before he's caught? Prepare yourself for the most exciting and terrifying big-cock-humping, hot-waxing, bondage-fucking, piss slurping murder-fest of your life! And remember, this is only the beginning ...
Description / Review:
Scene 1: Young Twink Gets Fucked Before Receiving A Face-Load Of Hot Jizz!
Cast: Ryan Quaid, Hari Marple
Also available: Extreme Boyz (2 DVD Compilation)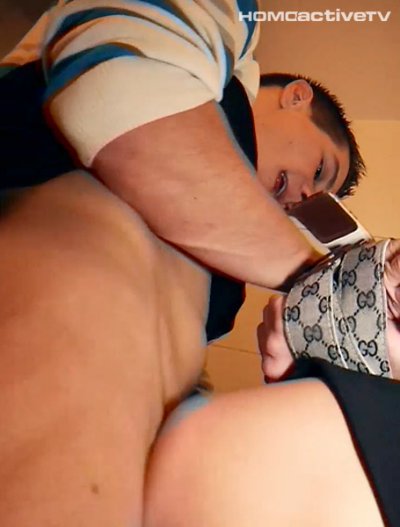 Addictions come in all sorts of different disguises. Nevertheless, it doesn't really matter what it is that someone is addicted to, be it drugs, drink, sex or whatever – the effect on the individual concerned is always the same. The cravings become increasingly intense with each "fix" – as young Ryan Quaid confesses when he reminisces back to the first encounter that left him hooked to the combined pleasures of sex and violence. Forcing Hari Marple into a toilet block, he immediately begins to repeatedly fuck his victim's mouth and ass, with a degree of brutality that leaves the viewer in no doubt of this feature's punch. For all the scene's brutality, however, there's no denying the appeal of these two guys; and the conclusion – Quaid spurting the contents of his tight balls all over Marple's face – is one that you won't forget in too much of a hurry. It's brief, it's brutal, it's sweaty ... but it's hotter than you might like to imagine!
Scene 2: Horny Youngster Gets Banged Both Ends!
Cast: Alex Granger, Mike Cage, Falco White
Also available: Piss Takers (2 DVD Compilation)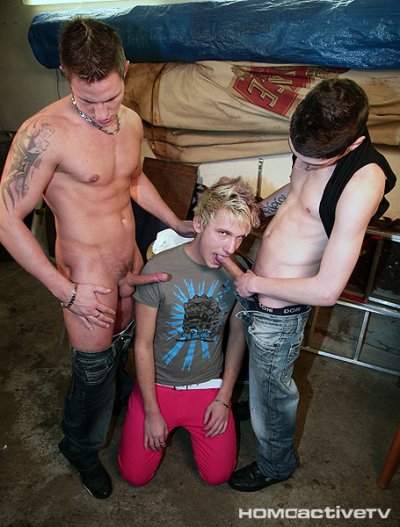 We're not exactly sure that music videos are usually shot in working prisons, but the arrival of singer Carol Smith sets off a chain of events that result in a terrific off-set threesome. Young blond, Mike Cage, wants Smith's autograph – but his enthusiasm leads him into direct conflict with her "protectors", Alex Grander and Falco White. Their punishment is swift and direct, as they force Cage down onto his knees and thrust their meaty, uncut cocks into his face . Then, as if to prove their point, they begin to work the lad's tight hole (first) with their fingers and (then) with their dicks. The resultant spit-roasting is all the more intense for the fact that Grander and White spin Cage round to take turns fucking either end of the boy; whilst the scene's conclusion – a breathtaking cascade of cum, piss and then more cum! – will have you jerking like crazy in appreciation. No doubt at it, your balls are gonna burst big time!
Scene 3: No Question Of Choice As Young Kid Endures A Hard Fuck All Round!
Cast: Nicolas Cruz, Marc Roche, Sam Kirk
From: Fuck 'Em Till It Hurts (2 DVD Compilation)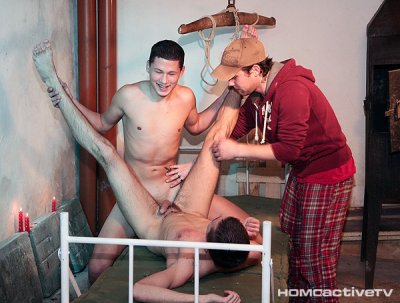 Like a crazed animal, Ryan Quaid continues in his brutal quest for blood – despatching Falco White and Alex Grander with the sort of conscientious-free brevity usually associated with pest-controllers! Meantime, Marc Roche – who like everyone else in horror-land, has a poor victim tied up in his cellar – returns to his lair to be "entertained" by Sam Kirk. Needless to say, Roche isn't particularly concerned with the needs of his prey, as he forces Kirk to suck his (admittedly rather delicious) knob-end, before thrusting the said raw shaft deep into Kirk's hungry slit! It's rough, it's unrefined – but we defy anyone not to get off on the sight of these two horny bastards! That said, it's the final few moments of the scene, with Roche insisting that he spews his ball-juice all over his unwilling partner's face, that take the ultimate accolade; and it's little wonder that Kirk is unable (or perhaps indisposed) to restrain his own primal urges, as he dumps a fine spray of cum all over his smooth, young belly!
Scene 4: Young Blond Gets Plenty Of Bare Cock Thrust Deep Into His Tight Hole!
Cast: Nicholas Cruz, Mike Cage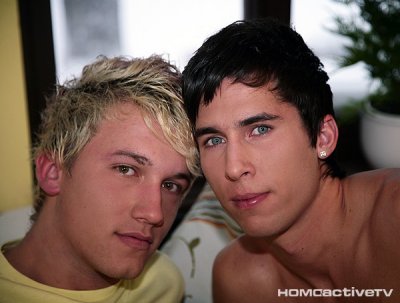 Having endured the onslaught of porn grandees, Alex Grander and Falco White, young blond sex-god, Mike Cage, returns – this time for a superb session with Nicolas Cruz, whose appetite for cock is matched only by his taste for blood! Not that Cage has the slightest idea who he's taken to his bed, or how close to mortal danger he is in Cruz's company. To the viewer, of course, this element of risk only seems to add to the electricity between these two young guys – one dark, one blond, and both with an insatiable sexual energy that'll have you pulling back your skin like a dog on heat! A description which pretty much sums up this magnificent pair, with Cruz pushing his raw cock deep inside Cage's ass before eventually pumping a stunning wad of cream into Cage's open (and amazingly receptive!) mouth. Clearly this isn't the first time the boy's taken a load down the throat! These lads are a match made in heaven – a couple of unmistakable cum-churners that'll have you pumping in no time.
Scene 5: Suave & Well-Oiled, These Delicious Cum-Crazed Dudes Get Dirty!
Cast: David Ballard and Nick Gill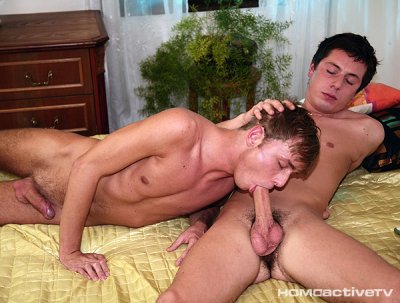 The metaphorical rope is tightening around Hannibal's neck; but if anything it's the realisation of this fact that makes him all the more blood-thirsty, as he considers a superb rendezvous between David Ballard and Nick Gill that marked another step in his path towards self-destruction and infamy. Ballard is a well-fit, suave, neatly-trimmed blond, Gill a handsome dude in a pristinely-ironed shirt; and the pair make for a blistering bedroom encounter. Both boys, it seems, have a penchant for dick, as they suck each other in 69-style; but eventually it's Ballard who parts his legs and takes a horny ride on Gill's thick, meaty tool. The fact that we already know that this is the youngster's last fuck before Hannibal plays out his murderous charms upon him, makes the scene all the more memorable; though the sight of Ballard taking a faceful of cream (and grinning like the Cheshire Cat as he does so) is difficult to overlook. Sadly for the fellow, moments after this delirious display, Hannibal makes his move!
Scene 6: Last Orders Please, As Monster Cock Meets Its Horny Day Of Reckoning!
Cast: Nicolas Cruz, Caleb Moreton
Also available: Wider and Wider (2 DVD compilation)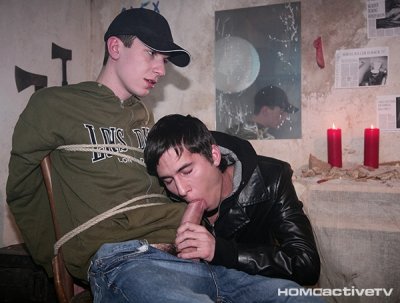 Needless, nerveless killing is now the order of the day, as Nicolas Cruz makes his move on the daddy of all cocks, Caleb Moreton. Tied to a chair, with a gag over his mouth, Moreton is forced to endure Hannibal's lustful advances – Cruz sucking on that thick, humongous dick between Moreton's thighs with the sort of gusto that one would expect from a man clearly obsessed with size. That said, Cruz isn't really content until he's climbed on Moreton's lap and is taking every single inch that the fellow has to offer inside his ferociously hungry hole! Considering the package in question it's not at all surprising that Cruz is soon groaning in a rich mix of agony and pleasure. Nor is it any wonder that the fellow is quickly unburdening his balls of all their sticky brew. But Hannibal isn't truly content until Moreton has shot a creamy wad of his own; before slicing off the offending member to add to his collection. It's a magnificent ending to a truly unforgettable story – but remember, this is only the beginning ...
Additional Information
Categories: UK R18 / XXX Gay Adult, Download Gay DVDs
Running Time: 97 mins, Year: 2011
Price: From around £15*
Starring: Nicolas Cruz, Mike Cage, Sam Kirk, Marc Roche, Alex Grander, Falco White, Caleb Moreton, Will Rowe, David Ballard, Nick Gill, Tod Garner, Marty Love, Denis Reed, Jon Roz, Carol Smith, Ryan Quaid, Hari Marple
Director: Vlado Iresch
Studio: Staxus
Buy DVDs online at: Homoactive, Simply-Adult.com and Radvideo (USA)
Downloads on Homactive: Staxus Titles
Gay Video On Demand: Staxus, See also: www.gayvod.co.uk
Download: Staxus
Member site: Staxus.com
Member site: Staxus.com
Country: UK, Language: English
Additional info: No Regional Coding