Summary:
2 DVD Set! What are we always told? Big boys don't cry! And to prove the point, STAXUS have brought together a collection of the "biggest" boys on the block – and do you know what? They don't so much as shed a tear! The same may not be able to be said about the poor young kids they spend the entire duration of this 2-disc epic fucking, however. The likes of Ruben Bart and Noah Matous, whose butt-holes have to accommodate these monster schlongs; and who are left quite literally dripping with spunk when these studs have had their satisfaction! But no need pity them. When these horned-up bitches get banged raw, you can rest assured that they're having the fucking time of their lives!
This title represent great value for money given the amount of quality content and running time. However, to ensure you don't waste money buying the same content twice, this compilation features scenes from the following titles:-
Scene 01: Cute Blond Gets His Ass-Hole Worked Over By Horny Team-mate!
Cast: Nick Vargas, Ruben Bart
From: Back Of The Net, Scene 1
There's no hanging about for young Spaniard, Ruben Bart, when his team-mate, Nick Vargas, enters the changing-room – but then would you really have ever expected anything different? In his short time with STAXUS, the horny blond wonder has already very eagerly demonstrated his lust for other guys; and suffice it to say that he shows absolutely no resistance when the hunky Czech makes a bee-line for his football shorts and (more importantly) its contents! Not that there would really seem to be any point resisting a fellow like Vargas, who comes across as a man who doesn't readily accept no for an answer.
But Bart is most definitely ripe for the picking; and by the time the stud has worked his magic on his mate's shaft, slurping away like an old pro as well as taking time to dock their cocks together in a bit of foreskin play, the cute little twink is like putty in his big, manly hands. Cue a tremendous session of animalistic 69-ing on one of the benches; before Vargas takes aim at his buddy's ass-hole with his thick, meaty member, thrusting every generous inch deep inside the hairless hole. It's a move that promptly pushes Bart to a whole new level of aggressive bottoming, which includes sitting on Vargas's shaft and riding it like the filthy little whore he was always meant to be.
There aren't gonna be many folks who can sit through this spectacle unaffected – not least of all given the way these lads provocatively keep their socks and boots on throughout – and by the time Bart has creamed himself mid-fuck and Vargas has knocked out his thick, pent-up load onto the fresh-faced pup's lips, we're sure you'll be very well drained!
Scene 02: New Boy Gets His Arse Split & His Face Creamed By His Buddies!
Cast: Dick Casey, Ray Mannix, Roman Smid
From: Cum With Me, Scene 3
How many plastic chairs can you fit on the end of Dick Casey's dick? Yes, well maybe that does sound a bit of an odd question to ask, but it will make a little more sense once you've seen Roman Smid and new boy, Ray Mannix, fooling around during the opening minutes of this splendid threesome. Needless to say, the little game that this trio are engaged in proves the perfect excuse for Casey to showcase his magnificent butt-picker to his two young companions; and it's no surprise that Mannix and Smid are soon totally entranced by the magnificent beauty that is now standing proud of the fellow's shaved crotch.
That said, it's not long before attention has been switched to Smid's handsome ramrod, with Casey and Mannix taking it in turns to slurp off the uncut schlong; before Mannix's previously untouched ass-hole becomes the focal point of the action. Who's to say whether this beautiful, pert rear has ever been mastered before? What we can be certain of, however, is that it won't ever be quite the same again now that it's had Smid and Casey giving it the once over.
Indeed, neither of these lads shows any restraint as they fuck the tight little hole one after the other; culminating in the lad riding Smid cowboy-style like a total whore! It's wild, it's uninhibited, and it's absolutely no fucking wonder that neither top can wait to splatter Mannix's cute face with the contents of their heavy cum-sacs! Leaving Mannix himself to jerk out a fine wad, whilst snowballing his two mates!
Scene 03: Baby-Faced Blond Enjoys A Hard, Cum-Up-The-Ass Workout!
Cast: Alex Silvers, Martin Muse, Zack Hood (N/S)
From: Pump This, Scene 3
There are plenty of guys around who would think that muscle-dude Zack Hood – with guns and abs that almost defy reason! – is the sexiest buddy in porn today. Clearly that's not a sentiment that new boy, Martin Muse, seems to share, however. Given the opportunity to cop off with the overworked Hood or the baby-faced Alex Silvers, the fellow makes a straight bee-line for the young Brit – and, to be fair, who the fuck can blame him? With his petite physique and a demeanour that could seriously make you wonder his legalities, Silvers is every inch the kind of twink that all too many of us would seriously die for.
Indeed, Muse is soon down on his knees to adore the one feature of the boy that isn't undersized, namely his thick, meaty, uncut cock! From this point onwards, any suggestion that Silvers is an inexperienced novice is promptly dispelled. Having feasted on Muse's ramrod in return, he's quickly presenting his potentially greatest asset – excuse the pun! – to his buddy, parting his butt-cheeks so that Muse can first rim that tight little pucker of his, then shove his shaft inside right up to the balls!
It's a move that's gonna seriously delight pretty much every one of our fans for sure, and the gym-based fuck that follows will almost certainly bring the vast majority to the point of no return. A sentiment that soon engulfs both our horny beauties here, with Muse quite literally cumming up Silvers' arse; before the young pup himself unleashes a fine wad of cream all over the floor. Definitely the kind of advertisement that every gay gym should be using!
Scene 04: Smoking Hot Soldiers Sneak Outdoors For A Suck-&-Fuck Frenzy!
Cast: Joel Vargas, Kyle Willis
From: At Ease, Scene 1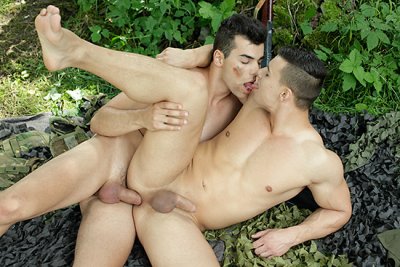 We're not totally convinced that cigars come as standard issue for enlisters in the Czech army, but they're clearly one little luxury that young recruits, Joel Vargas, and new boy, Kyle Willis, are determined to make the very most of. Not that anyone could possibly blame them for taking a break from a life of fighting and killing; and, finding a quiet corner of the woods to relax, these two horny fighters take a chance to enjoy the simple pleasures that only long, hard phallic objects can give a man. And (obviously!) we're not just talking cigars here. In fact, the smoking session is very quickly abandoned once both fellows begin to realise that there's much more fun to be had with the contents of each other's khaki trousers – at which point Vargas immediately makes a bee-line for Willis's dick, like a hunter pouncing on his prey! You could almost feel sorry for the new boy were it not for the look on his cute little face that tells you that he's more than made-up by the move – a sentiment that's only underlined by the manner with which he returns the favour shortly afterwards.
Indeed, you don't need to be too much of a sexual expert to realise that this is one young fellow who won't be truly happy until he's got his compatriot's shaft pushing into his guts in order to give his inexperienced ass-hole the stretching it's always dreamed of! Not that he has to wait too long for that fantasy to become reality. Soon he's being given a good old-fashioned Vargas workout, taking every inch of solid man-meat and spewing the contents of his nads in the process. All nicely topped off by Vargas collecting his pay-cheque by blasting his goo all over the lad's pucker.
Scene 05: New-Look Angel Proves He's A Cock-Loving Devil In Disguise!
Cast: Gabriel Angel, Will Hornet
From: Snow Balls, Scene 2
In keeping with the wintry theme, young Frenchman, Gabrial Angel, is sporting a new blond look, but if anything that seems to encourage new boy, Will Hornet, all the more. In fact, Hornet's down on his pal's dick within what seems like just a few seconds of the two guys meeting – a move that Angel himself is then only too keen to emulate. But it's clear from early on that it's Angel's pert little butt that's gonna be the star of this performance; and, having had chance to say hi to each other by exchanging blow-jobs, Hornet's taking full advantage of the Gallic lad's ripe, eager button and rimming Angel for all he's worth.
The odd slap on the blond boy's ass underlines the point, for Hornet's the dominant party in this escapade – a point that's then emphasised when the fellow buries his hard, uncut dick deep inside the young lad's guts. Angel's initial reaction is arguable a little lazy – lying back with his eyes closed, taking everything that his new pal can throw at him. But if the youngster thinks that the newbie doesn't have a point to prove in his first scene with STAXUS then he's in for a rude awakening!
For Hornet soon has the guy riding that thick, meaty shaft of his cowboy-style, like a trained whore; before getting his whole body behind Angel and pounding the fellow's tight ass with almost terrifying gusto! No small wonder that both buddies are soon creaming themselves off as a direct result – first Hornet into his mate's mouth, then Angel over his own belly. A very fitting finale all round!
Scene 06: Cock-Bitch Blent Gets His Ass Rammed To The Hilt By Black Dick!
Cast: Gareth Grant, Kris Blent
From: Twinks Destroyed 4, Scene 3

England meets Holland in a terrific interracial pairing, with the wonderful Kris Blent once again showing off all his sluttish credentials - a performance that a hardened ass-lover like Gareth Grant is clearly quite unable to resist. Not that that's in any way a criticism of the horny Brit. After all, there aren't many guys around who could willingly hold back from taking full advantage of the kind of fine bubble ass that Blent has to offer!
Meantime, Blent is totally mesmerised by the terrific bulge that Grant is showing in his pants - a handsome mound that serves as a foretaste of great delights to come. Needless to say, it's no time at all before the Dutchman is peeling away the covers and taking a sneak at the treats inside - an act that signals the start of a delicious slurp on Grant's oversized ramrod! All this cock action evidently gets Blent in the mood - if indeed that was actually necessary! Before you know it he's grinding his hips back and forth in a totally explicit manner; inviting his buddy to first rim, then finger and then finally fuck his sweet, hungry ass-hole. And believe us, a lad like Grant doesn't need a second invitation!
So sit back and enjoy the sight of Blent taking that almost obscene salami right up to the hilt in a wild succession of positions; culminating in him riding the full length like the bitch he is, before throwing himself down onto the bed and having the jizz banged out of him. All of which is nicely topped off by the lad pouting out his ass so that his older mate can cream his dirty little pucker. In short, a filthy, sweaty, jizz-inducing display!
Scene 07: Underwear Fun Results In Forceful Raw Locker-Room Duo, Before A Late Entry Makes It Three!
Cast: Carl Ross, Alan Benfelen, Zac Todd|
From: Raw Lessons, Scene 4
Okay, let's be honest, who hasn't ever wondered to themselves what it's like to wear a mankini? Well, Zac Todd for one certainly allows his curiosity to get the better of him when he finds a pair in the school's changing rooms – an act that signals the start of what will eventually prove to be a fantastic threesome with Carl Ross and Alan Benfelen.
To begin, however, it's definitely a slow-burner, as Todd tries his discovery on for size; before Ross makes a sudden (and very welcome) entry, and immediately fires the performance into overdrive. Still, with a guy as sexy as this blond stud, what else would you fucking expect? He immediately bundles Todd over the nearby bench to give the lad's butt some energetic attention; stripping him of the mankini and then pushing his rock-hard ramrod down the boy's hungry mouth!
Needless to say, whilst Todd is the taller of the two fellows, it's Ross who's the clear master of this pairing; and it surely comes as no surprise to anyone that the buff blond is soon pounding away at the youngster's ass-hole. Todd is quite simply putty in his hands, taking every hardened inch of man-meat like the compliant pussy he clearly is – and loving every ball-banging minute of it! Could this scene get any hotter? Well, it sure as fuck can, as Benfelen now makes his entrance – sucking on Ross' knob, then squirting the contents of his balls all over Todd's face! It's a brief but very kinky performance; and it's more than enough to first bust Todd's nuts and then send Ross into a sticky, cum-laden climax over the faces of the other two beauties!
Scene 08: Ray Mannix Gets Commissioned To A Hard-Cocked, Spermy Ride!
Cast: Dick Casey, Ray Mannix
From: Big Fare, Scene 2
Director John Smith sends Ray Mannix out on a mission – take a car for a spin, track down Dick Casey on his way to the shopping mall and have sex with him. Whether or not Casey is in on the ploy is open to debate, of course; but what ensues is a fantastic, arguably risqué escapade that will almost certainly have you tugging at your zipper even before Mannix has pulled up in a lay-by and the two fellows are reaching for their dicks. What ensues is a brief but sensuous exchange of blow-jobs – the guy being blown keeping a keen eye out for anyone who might disturb them – before Mannix revs up the engine once again and the two beauties head for a quieter place to consummate their overriding lust.
Cue the introduction of a semi-derelict building for the second part of this coupling, which very quickly sees Casey rimming and fingering his buddy's tight little ass; prior to him burying the entire length of his handsome, uncut pole right up his butt. It's a move that, not surprisingly, has Mannix gasping and groaning in delight; as Casey eventually drills the fellow down onto the floor and continues to bang away at the blond boy's pert little pucker like a demon possessed!
As a result it's probably not at all surprising that the horny bottom is soon on the verge of sticky ecstasy, with Casey actually wanking his mate off as he carries on fucking. A cascade of jizz hits the floor as a result; but it's arguably nothing in comparison to the flood of man-batter that bursts out of the end of Casey's bell-end soon afterwards, coating the stud's abs with a stream of tasty sperm!
Scene 09: Fan Proves A Big-Dicked Pain In The Arse For Cute Football Star!
Cast: Florian Mraz, Jace Reed
From: My First POV, Scene 3
There's a distinctly "tongue-in-cheek" approach to the start of this locker-room scene, with Florian Mraz playing the part of a footballer who's accosted by his number one fan (Jace Reed). The joke, of course, is that Reed clearly doesn't know where to draw the line in respect of getting his young idol's signature; and the fact that the action is filmed POV-style, which perfectly captures Mraz's blue, puppy-like eyes as he looks up into the camera, seems only to emphasise the underlying humour all the more.
At the end of the day, however, this is porn, not a sit-com; and, having jollied away the opening few minutes, we're soon treated to the sight of Mraz hungrily feasting on the full, swollen length of Reed's enormous cock. It's a task that he undertakes with typical relish - and one that clearly leaves him with an appetite for something harder. As a result, it's not long before he's clambering up onto a bench and provocatively exposing his butt-hole as if begging to have it filled - a wish that's all-too-quickly granted by Reed, whose face we never actually see.
Don't be too disappointed in that respect, however. The fact remains that we get to see every gorgeous inch of the lad's most important part - though admittedly it's soon slipping easily into Mraz's ass and filling the lucky lad to the max! From that point on, the young bottom quite literally has the time of his life - emphasised ultimately by the almost unbelievable quantity of jizz that spews from his dick! Topped only by the tsunami of goo that Reed sprays over his pretty face a few moments later.
Scene 10: Two Horny Railway-Navvies Get Down & Dirty In A Cock-Sucking, Cum-Spurting Fuck-Fest!
Cast: Sam Williams, Benjamin Dunn
From: Tickets Please, Scene 2
Everyone loves a dirty man – and they don't come any dirtier than the guys who work on the railways. As ably demonstrated here by Sam Williams and Benjamin Dunn, two very sexy guys (as we surely all already know), who can't wait to strip out of their standard-issue dungarees so that they can explore the fine expanse of smooth, hairless flesh that lies beneath. Indeed, it's hard to decide which of these fabulous studs is the hornier of the two, as they both take it in turns to feast and slurp on the handsome rods that are very quickly exposed.
First Williams sucks Dunn, then Dunn sucks Williams; then the two buddies take full advantage of one of the engine-room's work-pits to repeat the exercise once again. Indeed, it's difficult to decide from watching this pair of hyper-sexed workers as to who will eventually succumb to the ultimate temptation and play out the role of cock-crazed bottom. In the end, however, that particular honour goes to Williams; whilst Dunn hammers home full advantage courtesy of a whole range of ass-splitting positions.
It's enough to send even the most self-restrained of porn fans (if there's such a person!) into a dick-tugging frenzy; and by the time Dunn creams the contents of his comparatively hair-free balls over his mate's expectant lips there's every possibility that a whole tsunami of hot jizz will have been spilled in appreciation. No question about it, folks, you are never gonna look at the guys who work on the railways the same again!
Scene 11: Cock-Hungry Blond Gets His Ass-Hole Fingered, Fucked & Jizzed!
Cast: Noah Matous, Shane Barret
From: Oil Up, Scene 2
You only have to take one glance at this sumptuous pairing to realise that young Noah Matous wouldn't ever stand a chance in any one-on-one contest between him and Shane Barret; although ironically it's Matous who starts this scene as the more physical party, training away in the park whilst Barret encourages him from the sidelines. Indeed, given their long-held reputations as horny top and power bottom respectively, it's pretty obvious to anyone who knows these guys that there's really only going to be one outcome and that Matous's ass-hole is gonna be seeing a whole lot of action before it's a wrap.
That, of course, could result in the scene being somewhat staid and formulaic – were it not for the fact that Matous, in particular, is the kind of fellow most of us could quite easily sit and watch all day long without any trouble at all. Add in a dynamo like Barret to the mix, give the shaved, hairless fuckers a bottle of oil to grease up the action ... and you have the makings of a bloody classic!
So sit back, unzip and savour the sight of these two hyper-horny buggers doing what comes oh so naturally to them; writhing all over each others' bodies to start, then taking it in turns to feast on all that cock and sweet, sweet ass! Culminating, of course, in Barret burying the hatchet right between Matous's butt-cheeks – a move that never, ever fails to quickly get the doe-eyed twink towards a very sticky crescendo. But it's Barret's signing off that takes the ultimate accolade – a stupendous, multi-shot barrage of jizz that leaves his buddy's pucker literally oozing with sperm!
Scene 12: Two Massage-Lovin' Twinks Take Time Out To Bust Their Nuts On An Open Fire!
Cast: Boris Orla, Richie Hajek
From: Twink Massage Dreams 2, Scene 4
Who can resist the allure of an open fire? Not Richie Hajek, that's for sure - a cute young fellow who takes his admiration of the naked flame to a whole new level by lying before it wearing just a skimpy thong! What's more his pleasure is further enhanced by the arrival of Boris Orla, who doesn't seem to take so much as a breath before beginning to energetically massage Hajek's back. Not that it's just the youngster's back that interests this hyper-keen masseur - as soon becomes all too apparent. No, Orla's soon giving his buddy's backside an equally vigorous rub-down; before flipping the lad over and providing the same kind of zealous massage to Hajek's front.
Clearly not wishing to be the only one getting all the fun, however, Hajek is very soon returning the compliment; oiling Orla's muscular frame and (either accidentally or on purpose!) exposing the fellow's handsome, uncut dick in the process. It's a move that can clearly only ever have one outcome, of course; and before you know it both guys are splayed out on the floor, stark-bollock naked, giving each other the kind of pleasure that every horny man dreams about.
So forget about the idea of a romantic foray on a rug in front of a fire, guys. This is a full-on, no-holds-barred round of cock-sucking, ass-rimming, butt-banging fun, which ultimately sees Hajek take Orla's dick up to the balls! And geez does this lad handle the onslaught like a master; riding the shaft pro-style, before Orla rewards the lad's pucker with a fine blast of jizz. That just leaves Hajek to sign the performance off with his own creamy climax.