Summary:
If you like your sex with a little bit of bite then you've definitely cum to the right place, as a collection of the hottest, horniest twinks in the biz get chance to explore their more experimental side in this double-disc classic. No plain vanilla sex in the missionary position here, folks. These lads like their action to be a little on the wild side, as a successive display of fisting, spanking, pissing, spit-roasting and double-penetrating serves only to prove. All nicely topped off with thick, creamy lashings of the very finest spooge ever produced for the camera!
2 DVD compilation set featuring the following scenes
Description / Review:
Scene 1: Pizza Boy's Payment In Kind: A Forced Fucking He Won't Forget!
Cast: Martin Love, Johan Volny, Mike Cage, Paris Neeo
From: Extreme Twinks, Scene 4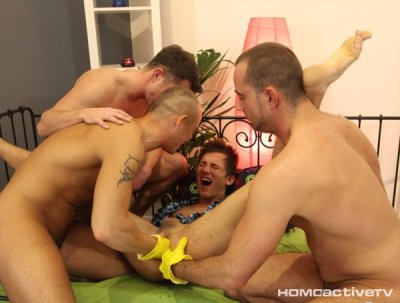 Who'd want to be a pizza delivery boy for this bunch of horny fuckers? Not Mike Cage, that's for sure, as he's confronted by a drunken and abusive trio in the shape of Martin Love, Johan Volny and Paris Neeo. Unfortunately for him, he never really stands a chance, as his feet are strapped high into the air and his arms to the bottom of the bed - rendering him completely at the mercy of the sick threesome, who promptly proceed to lube and abuse his ass. Beginning with the insertion of a collection of billiard balls and a whole raft of inquisitive (not to mention beer-coated) fingers. To his credit, Cage appears to keep a smile on his face throughout, no matter how many dildos his new-found friends try to stick up his ass at the same time - three being the max - but by the time he's being double-fucked by Neeo and Love you can't help feeling for the guy. Not that his abuse ends there, as he's then furiously fisted; before everyone takes turns to spunk over the lad's pizza so that they can force Cage to eat it with its tasty additional topping! Altogether, it's an unquestionably sick fiesta of hardcore sex that'll have all you evil fans out there tossing off time and again!
Scene 2: Horny Fucker Connor Levi Gets Banged Good & Proper In A Sling By His Mates!
Cast: Connor Levi, Zac Todd, Rudy Valentino
From: Up For It, Scene 2
Not all of us can afford a sling to have sex in, let alone a basement or cellar to house one, but young Connor Levi has no such problems. What's more, he's more than happy to share his good fortune with his friends, inviting Zac Todd and Rudy Valentino over for some spare-time frolics - two guys who are more than happy to indulge Levi's private fantasy and who are soon engaging in a little cock-sucking fun.
As it happens it's no time at all before the cool and classy Valentino has swopped feasting on Levi's dick for something a little more hardcore, thrusting that eight inch beauty of his deep into Levi's asshole; and it's a move that's quickly replicated by Todd, whose balls proceed to slap against Levi's rump with such timely precision that you could almost be forgiven for thinking that Todd was some sort of robot.
Not that there's anything that could be regarded as unfeeling or mechanical about the terrific performance that these three lads duly provide, with Valentino soon returning to his position in Levi's asshole so that Todd can pump a handsome wad all over sling-boy's face. A move soon replicated by Valentino himself, leaving Levi splattered in copious amounts of fresh hot jizz. A picture perfect end to a near-perfect fuck!
Scene 3: Handcuffed, Spanked, Fucked & Fisted - One Lucky Young Twink Gets Abused Like Never Before!
Cast: Benjamin Dunn, Robo Kopp, Christian Martin
From: Opened, Scene 1
Dressed in bright orange, with both his hands tied behind his back, it's hard not to think that young Christian Martin looks like some kind of sad renegade from Guantanamo Bay - but don't worry, guys, this horny little tight-assed fucker is most definitely here of his own choosing. What's more, he's clearly chosen the right people to be with him in the form of Benjamin Dunn and STAXUS new boy, Robo Kopp, if he's looking for some hardcore abuse.
Indeed, it doesn't take very long before both his new-found rough-boy buddies are getting out their paddles to give the youngster the kind of ass-reddening workout that a cropped-haired cunt like him deserves! Not that the abuse that he gets is reserved to a few careless smacks to his rump, it must be said. No, Martin definitely gets the full treatment here - a hard-nosed, furious assault that eventually results in both Dunn and Kopp taking it in turns to fuck him to an inch of his miserable life! It's most definitely an acquired taste; but if seeing a youngster being roughed-up like there's no tomorrow, then fucked for good measure, then this is for you.
The piece-de-la-resistance comes, however, once Kopp has spewed all over the lad's face and promptly fucked off; leaving Dunn to give Martin a good old-fashioned fisting, which (given the way the bottom creams himself in response) he most definitely appreciates! In fact, he almost enjoys himself as much as Dunn, who immediately erupts all over the lad's face like a fucking volcano! In short, a crude, brutal, breathtaking escapade that ticks all the necessary boxes!
Scene 4: Two Horny Straight Squaddies Pummel Blond Twink!
Cast: Evan Zero, Milo Taylor, Lex Blondie
From: Army Brutality, Scene 3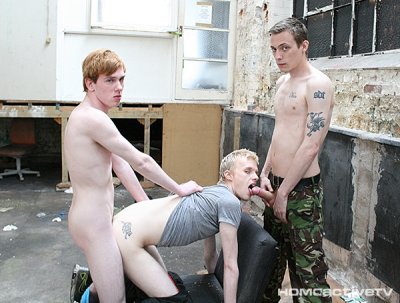 Evan Zero and Milo Taylor are a pair of army cadets with a little too much time on their hands - a recipe for trouble if ever there was one. Unfortunately for poor Lex Blondie (whose name pretty much tells you all you need to know), he's the guy who happens to stumble upon the two horny cunts at the wrong time and in the wrong place. Indeed, he hardly knows what's hit him as they force him down onto his knees and thrust their aching cocks into his mouth. Not that the lad appears to display any gross objection to being snared in such fashion; though whether he's quite as taken by their subsequent decision to tie him to a chair so that they can manhandle him into a spit-roast is another matter entirely. All the same, there's little that Blondie can do about the turn of events - save open up nicely and take everything that Zero and Taylor throw in his direction! Having gained a taste for cock, however, the young bottom is soon trusted enough to have his shackles removed - at which point the lad proceeds to take dick in every direction, before finally being subjected to a torrent of jizz from his assailants. Little wonder he ultimately spews a furious load of his own!
Scene 5: Army Buddies Quit Manoeuvres For A Four-Way Outdoor Fucking!
Cast: Timmy Taylor, Kevin Ateah, Heath Denson, Stanley Stone
From: Band Of Bareback Brothers 2, Scene 4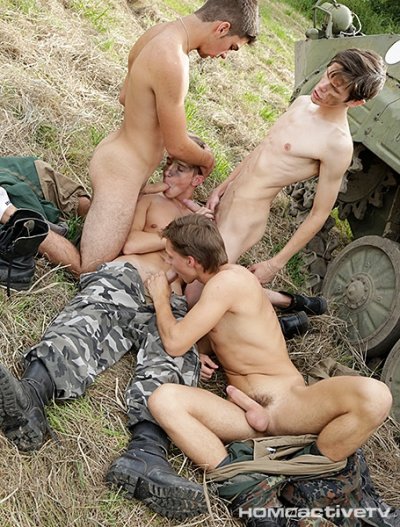 Starved of contact with the opposite sex and closely confined within the tank that they call home, is it any wonder that these four army buddies are feeling as horny as fuck and are ready to stick their dicks into pretty much any hole that becomes available? Indeed, no sooner has the vehicle come to a halt at the end of their manoeuvres than Timmy Taylor is copping off with Heath Denson and Kevin Ateah is giving Stanley Stone's handsome knob-end a good vacuum-tight suck! Matters continue in a startlingly similar vein once the four lads have alighted from their positions and are back on terra firma; with blond boy Denson serving as the centrepiece of oral affections. Needless to say it's not long before Denson and Ateah are both opening up their legs to accommodate Taylor and Stone's thick, aching cocks - both boys bouncing up and down on all that man-meat like a couple of dirty whores, before each has the spunk quite literally banged out of them! All told it's the kind of open-air fuck-fest that won't easily be erased from the memory and there's every chance that you'll have pumped out several loads before Taylor rounds things off by spewing over Denson's face!
Scene 6: Double-Dicked Recession? Chris Young's Ass Takes Every Inch!
Cast: Denis Reed, Chris Young, Damien Dickey
From: Cockout, Scene 4
We're not entirely convinced that it's everyone's idea of the ultimate fantasy, but Chris Young sure as fuck seems to get off on being carried into the bedroom by fellow wrestlers Denis Reed and Damien Dickey. Of course it's probably the fact that the lad has his hands tied together that gives the entrance that little extra sexual punch, and indeed Young's prompt release by his assailants seems only to kick proceedings up a notch or two still further.
Hence a spirited display of cock-sucking from our monster hung darling, which quickly develops into a fiery bareback spit-roasting as Dickey ploughs into Young's hungry little ass. More dick slurping follows, but again it's not long before Young's getting his hole banged once again by raw hard dick, this time sat on Reed's lap.
And that sets the scene nicely for what we've all been waiting for, namely the sight of Young getting crudely double-dicked by his two buddies. Believe us, this is something you don't wanna miss for a second, and will have you tugging on your own cock like crazy in appreciation. But if you think that's hot, wait until Young's face gets splattered with jizz! No fuckin' wonder he spews like a geyser at the very end.
Scene 7: College Boy Watches His Mates Savour A Piss-&-Jizz Fuck Fest!

Cast: Deon Fox, John Core, Drew Paskin
From: College Hazing, Scene 3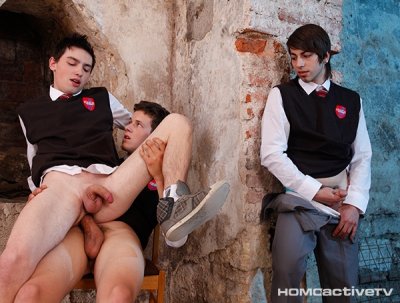 Maybe the college that you attended was blessed with the kind of underground catacombs that serve as the backdrop to this fabulous student-inspired threesome, and maybe it was filled with the kind of cute, boyish twinks that feature here, but chances are reality was somewhat disappointing in comparison. All the more reason, therefore, to savour this perverse escapade, featuring John Core and Drew Paskin as a pair of over-sexed students who clearly think nothing of hitting it off in front of fellow pupil, Deon Fox. The result is a stupendous foray into voyeurism, with Fox jerking off his big fat cock whilst Core and Paskin suck and fuck like young whores - exactly the kind of clientele we love to encourage to our own unique place of learning! It's the use of clean white shirts and school ties that's gonna do it for a good many of our fans, we're quite sure; but there's no disputing that the quality of cum-shot at the end is premier league, with Paskin's face literally coated in jizz courtesy of both his peers. Then it's a case of yellow nectar all round, as Core and Paskin take turns to piss on each other; before Core white-washes Paskin's cute face with spunk!
Scene 8: Innocent Playmates? With A Dildo & Three Hard, Uncut Cocks It's Not Fuckin' Likely!
Cast: Andrew Dunhill, Jaye Elektra, Noel Diamonds
From: Boy Games, Scene 3
Studies have long since demonstrated that play is the best means of learning – and if that is indeed the case then we've a sneaking suspicion that this horny trio (comprising of STAXUS stalwart, Jaye Elektra, and his two newbie buddies, Andrew Dunhill and Noel Diamonds) will be a doyen of sexual professionalism in no time at all. For it's with undeniable (and admittedly rather charming) boyish playfulness that the three lads gang up for what to begin with could almost be mistaken for an innocent bedroom frolic.
Not that it remains that way for very long, it has to be pointed out. Indeed, it quickly becomes apparent that young Diamonds – whose distinctive tattoos are clearly synonymous of his name – has the kind of appetite for hardcore action that we've all long since come to know and expect of STAXUS boys. For this mischievous little puppy has a longing for a very different kind of bone; and having bounced around on the mattress like an attention-starved wastrel, he finally gets the focus he craves from his buddies when they bundle him over on all fours and proceed to simultaneously rim his hairless ass and suck his aching dick!
It's a move that signals the beginning of a terrific round of mindless fornication (not to mention dildo-play) that's almost out of keeping with the easy start to proceedings; and which sees Diamonds fucked by both a giant black sex-toy and each of his mates, before they splatter his pale, fresh skin with a veritable torrent of pent-up jizz! In terms of an introduction to wide-eyed sodomy, it's almost as good as it ever fucking gets!
Scene 9: Horny Boy's Filthy Fantasy Fuck Provides A Jizzy Release For All!
Cast: Owen Moore, Timmy Taylor, Tim Walker
From: Study Buddies, Scene 3
Dark-haired beauty, Owen Moore, is at that time of life where all you want to do is have sex or wank – or alternatively, fantasise about having sex or about other guys having sex or wanking. In short, that period in your life when you're a non-stop sperm-producing machine and shooting your load three or four times a day is totally effortless.
All of which might help explain what happens in this intriguing little scene, as Moore lies back on his bed to indulge in a wanton session of self-stimulation only for the action to immediately flit to a set-piece between STAXUS favourite, Timmy Taylor, and blond-haired super-slut, Tim Walker. For Taylor and Walker appear to be figments of this filthy-minded pup's fervent imagination – though rest assured that there's nothing unworldly about the fervent, totally bareback action that ensues for your entertainment.
Far from it, in fact, as the two lads suck and rim like a pair of bitches on heat, before Taylor proceeds to pummel Walker up the ass in every direction. The jizz soon begins to flow; culminating in the two dream-boys slurping on Moore's dick as he jerks off in appreciation. Reality or fantasy? We can but wank and wonder.
Scene 10: Cop Watches On As Hot Twink Gets A Cum-&-Piss Vampire Ride!
Cast: Rudy Valentino, Timmy Taylor, Roger Lee
From: Twinkula, Scene 4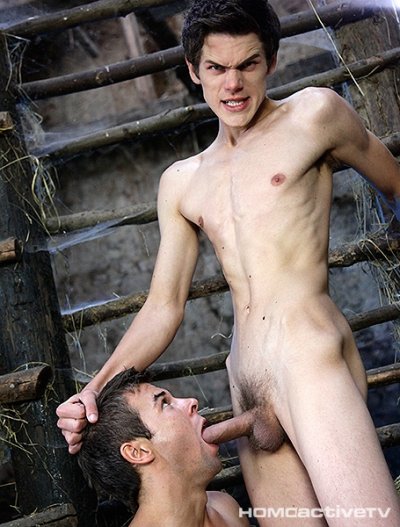 Even a vampire has his sexual lusts - as young Roger Lee discovers when he encounters Timmy Taylor in full spate at a local stable-yard. It's a rendezvous that's fully observed by CSI Rudy Valentino, now hot on Taylor's tale; but it's pretty obvious from the word off that there's absolutely nothing that the officer can do to spare Lee from the good old fashioned, unbridled fucking that he's going to get at the hands (or should that be the cock?) of the irrepressible Taylor. Indeed, Lee is very much the subordinate factor in this escapade, with Taylor making all the moves as he slurps on dick and then fingers young Lee's ass in anticipation of the hard fuck to come. And believe us, there's nothing shy or restrained about this act of fornication, with Lee bundled over a wooden crate and forced to take every hard raw inch that his assailant can deliver - leaving the somewhat dazed bottom to groan and gasp in appreciation, whilst his cock swings helplessly between his legs with every stroke. Lee's incomprehension only continues when Taylor follows up his cum-shot with a remarkably generous stream of hot piss, leaving Lee (now thoroughly soaked) looking like a used rag!
Scene 11: Horny Little Dick-Whore Blond Gets A Raw Spit-Roasting On A Pool Table!
Cast: Alex Candy, Xander Hollis, John Parker
From: Shore Leave, Scene 4
Having probably spent weeks or possibly even months out at sea, it's not at all surprising that guys in the navy eventually return to port feeling as horny as fuck and ready for action. So it's no wonder that Xander Hollis and John Parker make the most of their encounter with Alex Candy when the three guys meet up over a game of pool.
Fact is, there isn't so much time for even a single frame with these boys - Hollis and Parker are literally feasting on the landlubber from the very first moment, and there's actually less than four minutes on the clock when Parker first thrusts his thick, meaty, uncut shaft deep into Candy's hungry little asshole! From thereon in, Candy plays the part of total cock-slut with the kind of gusto that we know our fans are just gonna go wild about; as the two sailors proceed to spit-roast the fellow in a succession of kinky positions over the baize. And all totally bareback!
Suffice it to say that the young blond bottom really earns every penny - not least of all when his face gets splattered with hot jizz courtesy of the two sailors. He's an utter whore from start to finish; and by the time Candy himself has added to the cascade of spunk on offer the table's green cloth has gained a distinct hint of creamy white. All in all, bloody brilliant!
Scene 12: : Double-Dipping Fuck-Buddies Give Johny Cruz's Raw Ass-Hole The Stretching Of Its Life!
Cast: Johny Cruz, Mike James, Sven Laarson
From: Deliver This, Scene 1
Prague, like most big cities, can be a rather confusing place for those who don't know its streets and parks, so it's probably not too surprising that Johny Cruz and Sven Laarson should get completely lost whilst out on their deliveries. It's just as well, therefore, that this intrepid bicycling duo is fortunate enough to encounter none other than home-boy Mike James, who's only too willing, able and eager to point them exactly in the right direction - namely to that thick, meaty, uncut ramrod that he's got stashed inside his pants! Indeed, it's pretty much no time at all before all thought of the postal service has been utterly eradicated from their minds, as this trio of hot, horny cock-suckers engage in an impromptu open-air suck-a-thon that'll quite literally leave you gasping and begging for more. It's clearly all a little too much for Cruz, that's for sure.
Soon this filthy-minded fucker is laid out on the woodland floor, with his legs akimbo, having his horny little pucker eagerly rimmed by his buddies; before James puts him out of his misery and skewers his ass head-on with a rampant raw knob! This act of apparent kindness, however, is but the introduction of some of the hottest, raunchiest action you're ever likely to see; culminating in Cruz getting double-dicked by his domineering pals, prior to being sprayed with a cascade of creamy nut-juice as a reward for all his efforts. Little wonder the young fellow is hyped into a sticky crescendo of his own - as, no doubt, will his legion of fans!