Summary:
Totally perverse and fantastically horny, this is a definite must-see for all of you out there who love hot, young Czech lads making out with their favourite bodily fluids – piss and cum! Baby-faced, but with a definite kink to their personalities, these boys – including porn legends Kamil Fox and Alan Capier, together with favourite newcomer, Julien Heath – prove just how much fun being a patient in hospital can be when the doctors are as sexy and deviant as these medics!
Description / Review:
Scene 1: Young Patient Gets A Face-Load Of Cum & Piss - All Thanks To His Doctor!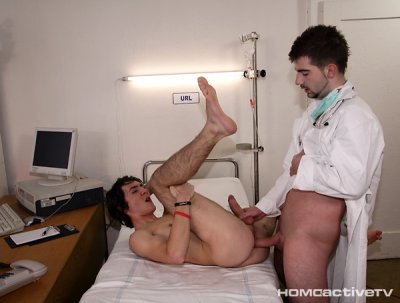 Marcel Bimore has a somewhat unusual bedside manner for a doctor, it must be said – a point that quickly becomes apparent in this opening scene at the Czech Republic's most infamous urology department. After all, he seems to pride himself in getting to know the people who visit him not just as patients but as individuals, which perhaps explains why he decides to make the most of his appointment with STAXUS new-boy, Andreas Felton. His medical diagnosis complete, he promptly turns his attention to his patient's thick, uncut cock, and encourages Felton to do much the same in return. As a result, it's not very long before Doctor Bimore is examining the insides of Felton's guts with his most trusted piece of equipment – namely his dick! Whether Bimore is able to add any insight to his previous diagnosis as a result is anyone's guess. What we can say is that Felton gets a magnificent facial for his troubles, followed by a heavy cascade of piss! If only all doctor's appointments were as intense as this …

Scene 2: Pervy Patients Savour A Cum & Piss Fiesta Thanks To Their Equally Pervy Medic
Also available: Spit Roasting Sluts (2 DVD compilation)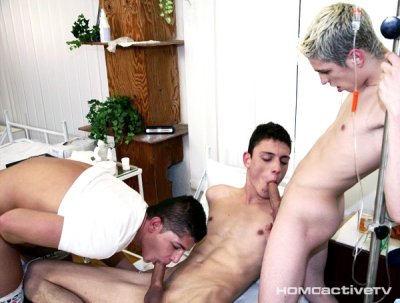 There are some who would argue that medical assistant, Alan Capier, has got the dream job – and this scene is living proof to that assertion. After all, not only does he get to examine some of the cutest twinks ever to walk this planet, but he also manages to check out some of the hot guys who come and visit those lads when they're cooped up in hospital. What's more, it's an aspect of his job that he undertakes with obvious relish. All that said, he's clearly blatantly unaware of the effect that his duties have on his patients, leaving the assembled threesome (Dan Westworth, Garry Brinkman and Falco White) to engage in a sordid threesome without him. His loss, however, is most definitely the viewer's gain, as the horny three get down to some very serious appreciation of each other's cocks, culminating in a fantastic spit-roasting and a now-trademark facial for Falco White. No doubt about it, this is one young lad who just lives for the taste of spunk, slurping the jizz down like it's the very elixir of youth!

Scene 3: Unconscious Patient Gets His Butt Stretched To The Max By The Notorious Dr. Fox ...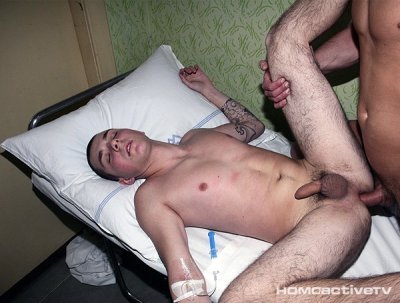 The first thing that has to be said here is that what this scene portrays is something that, professionally, is totally unethical. That said, it's also incredibly hot! After all, who hasn't fantasised about taking advantage of someone they fancy when that said individual is under the influence of alcohol or drugs? This scene, of course, takes the whole premise a whole step further, as Kamil Fox uses and abuses an anaesthetised patient (Justin Kingsley) – first rubbing his cock over the lad's cute face, then thrusting his hard shaft up the fellow's tight (but impressively keen) young butt! Of course, the fact that the whole event is being secretly watched by "Peeping Tom", Dylan North, only adds to the intensity of what we're seeing; with North only revealing his own interest in Kingsley once Fox is out of the way. Cue a cascade of hot piss all over the youngster from North's uncut hose to conclude the violation. As said, utterly unethical behaviour, but definitely a scene to capture the imagination!

Scene 4: Horny Patients Prove That The Best Way To Recovery Is Via A Diet Of Spunk & Hot Piss!
Cast: Julien Heath, Louis Brooks, Alan Capier
Also available: Piss Takers (2 DVD Compilation)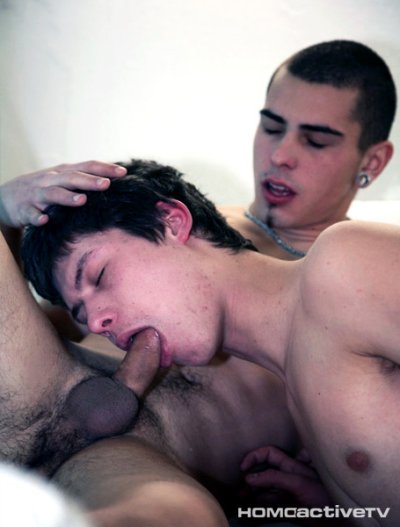 What goes on in Room 69? Well, given that it's occupied by two of the hottest, cutest twinks imaginable, in the form of Julien Heath and Louis Brooks – not to mention the significance of the room number itself – it's perhaps somewhat inevitable that it's gonna involve sex! Lots of sex!! Which, of course, will come as no surprise whatsoever to anyone who's ever already seen these boys in previous productions. Heath, in particular, is a lad who lives for cock; and indeed it's no time at all before both boys are assisting their recovery by slurping on each other's hard shafts. What's more, it's a medical philosophy that's clearly shared by Alan Capier, who stumbles into the room to find Brooks pissing all over his fellow patient, and who promptly decides to squirt the contents of his bladder all over young Heath's face as well. What follows, quite simply, is a piss-lover's delight. Just be thankful that you weren't the one employed to clean up the resultant mess.
Scene 5: Taking Advantage Of An Underling, These Kinky Doctors Love To Ride Raw & Wild!
Also available: Fuck 'Em Till it Hurts (2 DVD Compilation)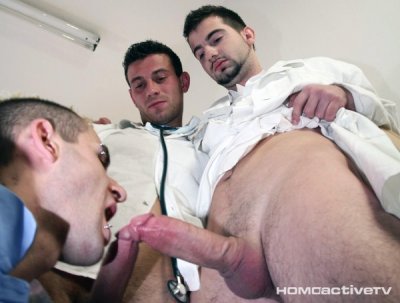 You're probably getting the impression now that this really is a hospital like no other – in fact, the more hypochondriac among you will probably be hoping for some sort of medical relapse that would warrant a lengthy stay at this establishment. Well, as if to underline just how perverse and kinky the staff are, here's a scene featuring Doctors Fox and Bimore taking full advantage of blond medical assistant, Dylan North. He's a young guy, as we already know, who's not adverse to a little kink in his daily routine; but whether he ever anticipated being a fuck-bag for his two bosses is another matter entirely. As it happens, he never gets the opportunity to express any opinion. Forced to his knees, his butt-hole is soon playing host to the raw cocks of both doctors in turn; before Fox and Bimore conclude their antics by first emptying their balls all over his face, followed by the contents of their bladders. Little wonder that the fellow looks totally spent and washed-out by the time his two superiors have finished!

Scene 6: Patient's Final Examination Quickly Turns Into A Bareback Extravaganza With Another Cute Patient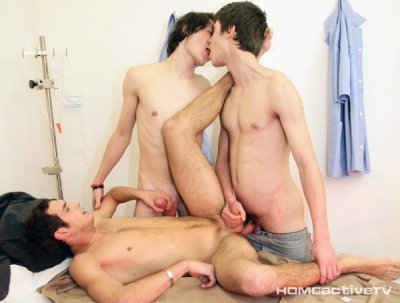 For most folk, having a medical examination is not exactly something that fills them with any kind of relish, never mind a sexual buzz. For young Mike Carter, however, it's a completely different matter entirely. Forced into a series of medical "probes" by his doctors, he's left feeling distinctly horny, and it's perhaps little wonder that he decides to take full advantage of the arrival of Andreas Felton once the medics have disappeared. Fortunately for him, Felton has just the sort of willing equipment that a guy in his predicament needs, and it isn't long before Felton is balls-deep in his arse! What's more, it's his lucky day, for the unexpected arrival of Sam Brooks means that there's a second cock for him to enjoy. Cue a stupendous threesome that sees Carter acting like a total whore for the camera; before Felton sneaks down to quite literally suck the spunk out of Brooks's knob-end, jizz spraying all over his face in the process. In short, absolutely fantastic!!

Additional Information
Categories: UK R18 / XXX Gay Adult / Bareback Sex, Bareback Youth, Pissing & Watersports
Running Time: 115 mins, Year: 2010
Price: Around £25*
Starring: Alan Capier, Andreas Felton, Dan Westworth, Dylan North, Falco White, Garry Brinkman, Julien Heath, Justin Kingsley, Kamil Fox, Louis Brooks, Marcel Bimore, Mike Carter
Director: Vlado Iresch
Studio: Dirty Fuckers
Buy Dirty Fuckers DVDs online at: Homoactive, Simply-Adult.com and Radvideo (USA)
Download Dirty Fuckers titles at: Homactive (UK/EU) and RadVideo (USA)
Gay Video On Demand / Downloads: Dirty Fuckers, See also: www.gaydvds.tv
Member site: Staxus.com
Country: Czech Republic, Language: Czech, with English subtitles
Additional info: No Regional Coding