Summary:
2 DVD Set! You like big cocks, hard fucking and lots of boys covered in loads of spunk? Then you've most definitely come to the right place, as a bevy of the hottest, horniest studs and twinks ever to appear in front of the STAXUS cameras join forces for the kind of non-stop spunk-fest that will almost certainly have you wanking off like fury! Featuring a poolside multi-boy fuckathon, as well as some of the hottest and horniest sluts in the biz, this top-notch double-disc classic will unquestionably ensure that no dick is left undrained. Just be careful, though – wankers-wrist may result in serious long-term injury!
This title represent great value for money given the amount of quality content and running time. However, to ensure you don't waste money buying the same content twice, this compilation features scenes from the following titles:-
Scene 1: Accidental Discovery Gives Cute Twink A Daddy's Hard Fucking!
Cast: Taylor Fotre, Will Simon
From: Daddy's Houseboy, Scene 1
Young, bespectacled Will Simon is in for a bit of a surprise whilst dusting Taylor Forte's bedroom – and discovering a gay porn mag under the bed is only part of it! After all, he surely wasn't expecting the horny stud to return home early and find him reading the said literature! Nor, for that matter, would he anticipate the reaction that the homeowner gives in the wake of such a discovery; for the very initial show of annoyance is quickly overtaken by Fotre's decision to make the most of the situation and to give doe-faced Simon the hard, uncompromising fucking that the nosey little oink surely deserves!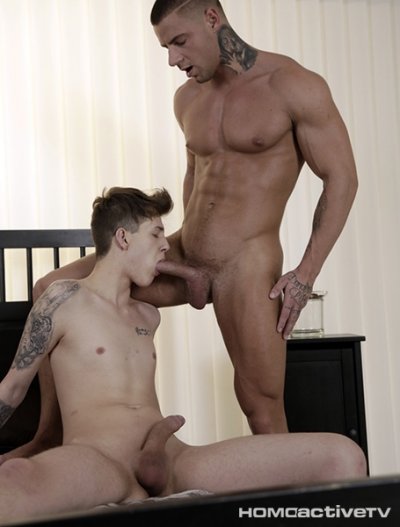 Looking to ease the lad to that ultimate goal, however, the handsome, tattooed hunk starts off by releasing the meaty ramrod that he's got tucked inside his own jeans – a move that quickly gets Simon into quite a lather, as he latches onto the hose with his mouth and proceeds to slurp on it like a good little pup should. Only then does Fotre follow on by stripping the youngster of his clothes and making a direct beeline for his hot little butt-hole, which he promptly fingers and rims – smacking Simon's pert rump in the process!
Of course, Fotre's only intention by this point is to get his dick firmly embedded into the lad's ass as quickly as possible – an objective that he achieves with the kind of breathtaking ease that you'd only expect from a total slut! Needless to report, Simon proves all his credentials in that respect – riding his daddy's dick in a host of positions like a pure pro, before unburdening his wad mid-fuck. All nicely topped off by Fotre jizzing over his cute little face!
Scene 2: Two Horny Twinks Get Their Empty Holes Well & Truly Stuffed!
Cast: Johnathan Strake, Milan Silver, Vince Todd
From: Double Me, Scene 4
On paper, of course, it might seem pretty obvious that Johnathan Strake is set to be the focal point of this handsome little threesome – and suffice it to say that director, John Smith, doesn't disappoint. Why should he? Strake is a born-again devotee where cock is concerned, and there's little fear of him turning his nose up when confronted with two of the tastiest, uncut schlongs in the biz. Yet the first part of the action here actually centres on new boy, Vince Todd – or, more specifically, Todd's hairless little pucker. For having produced a couple of anal beads from under his pillow, Strake promptly decides that it might be a really good idea to see whether Todd's tight, virgin hole can accommodate the said toys – a task that Milan Silver is only too willing to assist him with.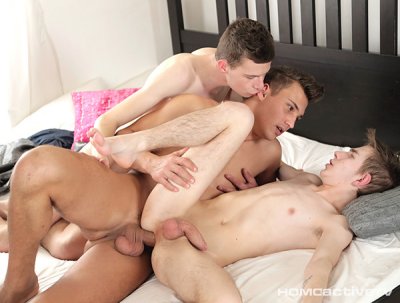 As a result, Todd's rump is given a really good workout by the lad's mates; with the appearance of hard dick being somewhat on the minimal side. All that changes big style, however, once Strake returns to type; taking the focus of everything that Silver can thrust in his direction, whilst Todd helps out with some vigorous rimming and sucking.
So if you enjoy watching some crazy little fuck-slut being banged in a succession of positions, before riding a stud like a bitch, then this is definitely your kind of scene. All of which culminates in Strake erupting all over himself; prior to the lad taking a full-on face-load courtesy of Silver. Leaving Todd to sign off his debut performance with a splendid, mega-voltage explosion of his own, whilst getting his guts pummelled again by those unforgiving beads!
Scene 3: Humped-Up Boyfriends Hammer Home To A Hot, Gooey Climax!
Cast: Andy Scott, Jacob Scott
From: Raw Cuddles, Scene 4
A cursory glance at their names might somehow give the impression that these two young buddies are somehow related – that maybe we're about to unleash some kind of incestuous debauchery on the world – and if that's what you're hoping for then prepare to be disappointed. However, there's a relationship of sorts in as much as blond lad, Andy Scott, and his namesake, Jacob, are real-life boyfriends; with all the relevant pros and cons that ensue from teaming up a pair of guys who clearly know each other very well. Fortunately, any jadedness that you fear might result from them knowing each other so well is avoided by the fact that both guys are self-evidently the energetic type, who evidently have real (though not exclusive) lust for their partner.
As such, the scene is barely seconds old before they're snogging like a pair of brazen bitches; with Andy arguably soon taking the slightly more dominant role. Indeed, anyone with at least half a sense of intuition will have gathered the roles in this duo long before Andy has started to feverishly rim out Jacob's hungry little arse; and it's with almost a feeling of pre-judged relief that the dark-haired buddy plonks himself down on his boyfriend's lap and begins to ride that greatly favoured shaft for all he's fucking worth.
What follows is a high-octane performance that displays all the benefits of being intimately involved with your fellow performer; with Andy giving his lover a real good seeing to, culminating in very sticky, open-mouthed crescendo that leave nothing to the imagination! Raw intimacy at its filthy best!
Scene 4: Tattooed Twink & Suited Solicitor Face A Flip-Flopping Jizz-Fest!
Cast: Alex Aurora, Mark Fontana
From: Hung Jury, Scene 3
Legal assistance comes in all shapes and sizes, and sometimes – when you're a bit of a jack-the-lad and accustomed to living on the edge – you have to grab a lifeline as and where you find it. Which in tattooed beauty Mark Fontana's case means accepting the advances of the fresh-faced suited-and-booted legal new boy, Alex Aurora. To be fair, given the fact that Aurora is hardly unattractive and clearly scrubs up very nicely in a shirt and tie, it's not exactly a burdensome endeavour; and before you know it Fontana is beavering away inside his mate's trousers, feasting on the deliciously impressive equipment that's hiding away inside.
It's an advance that Aurora clearly appreciates; taking the first chance to return the favour by gobbling on the chav boy's todger, then making a beeline for that sweet little slit that you just know is crying out for attention. Seconds on, and having rimmed the pucker for all it's worth, the charming newbie has managed to bury the head of his dick deep inside; and before you know it is quite literally balls-deep in Fontana's guts, banging away to his heart's content!
Whether the boy from the wrong side of town quite anticipated such a prompt invasion is anyone's guess; but given the spirit with which he subsequently sits on Aurora's lap and rides the fellow's schlong like a common tart, we can only conclude a favourable response. So much so, in fact, that he's soon replying to the onslaught with a sleek codicil of his own – a late-on return fuck that steals Aurora's on-screen cherry, leaving the lad's ass-hole oozing with fresh spunk!
Scene 5: Cock-Crazy Snow Boy Gets His Hairless Arse Rimmed & Fucked!
Cast: Alessandro Katz, Jack Ganley
From: Snow Blind, Scene 4
With snow on the ground and the skiing season at its height, Alessandro Katz savours the simple pleasures of the season – which include, not unnaturally, keeping warm with the help of his boyfriend, Jack Ganley. Suffice it to say that maintaining body temperature in this instance doesn't necessarily have to include wearing suitable clothing. In fact, what clothes the two lads have on at the start of this erotic encounter soon get stripped away; as they smooch and caress in anticipation of exploring the undeniable bulges that they both have in their pants.
It's not long, of course, before even their underwear has been vanquished – exposing their thick, meaty cocks in the process. That signals the start of some terrific fellatio from both buddies, as they take it in turns to feast on every inch of meat on offer; before Ganley turns his attention to the moist, hairless pucker that he knows is quivering in anticipation between Katz's butt-cheeks. Cue a splendid display of rimming that will appeal to any aficionado of the art; and which eventually leads to the handsome, horny dude sidling up to his mate and thrusting his unsheathed ramrod deep into his guts.
It's a move that some young lads would almost find too much to take in one shot – but not a cock-slut like Katz, who quite literally opens up like a flower, and proceeds to handle Ganley up to the balls with professional ease. No doubt about it, this is a lad who was born to fuck; and who isn't happy until Ganley marks his territory by spraying an almost life-enhancing wad of cream all over his expectant face!
Scene 6: Filthy Pool-Boy Gets Fucked & Creamed By Three Horny Twinks!
Cast: Alessandro Katz, Chad Johnstone, Jace Reed, Johny Cherry
From: Twinks In Love, Sc.4
There's no questioning Nick Vargas's commitment as a doctor – at least if the opening few minutes of this terrific scene is anything to go by. Indeed, this is a fellow who will quite literally go the extra mile for his patients, as his encounters with (first) Jacob Waterhouse and Jeffrey Lloyd amply demonstrate. Clearly not the kind of medic to flippantly dismiss their ailments, he's more than willing to use every tool at his disposal to find out what's wrong with them – even to the point of offering them his cock to suck in a bid to ease a sore-throat, or dipping his dick up their ass to help out with constipation.
But it's when these two horny young patients arrive at his surgery together that things sure as fuck heat up between these three fellows; and within seconds the thick, meaty, uncut cocks in their pants are coming out to play! What ensues is a truly fabulous threesome that we just know any STAXUS fan is going to quite simply love; with each dick taking it in turns to serve as the focal point of the action. Ultimately, however, it's Lloyd who takes centre-stage; beginning with an imaginative set-piece where Vargas and Waterhouse are either side of him, sucking each of his balls, before the doctor finally ploughs his joystick deep into the lad's ass.
It's a move that clearly excites the young bottom enormously. So much so, in fact, that having taken a brief respite whilst Vargas fucks Waterhouse instead, Lloyd gets his ass plugged so that his buddies can cream his gaping hole. Allowing him to jerk out his own pent-up load of boy-juice to call this would-be classic to a halt!
Scene 6: Hot & Horny Swimmers Take A Hard Fuck To A Splurge Of Spunk!
Cast: Shane Hirch and Joshua Levy
From: Super Size Me 12: The Big Picture, Scene 1
They've just enjoyed a lovely swim, but it's clear from the off that neither Shane Hirch or Joshua Levy are much in the mood to relax. In fact, as quickly becomes apparent, they're both looking for a very different form of exercise – and that, of course, can only mean one thing for you very lucky viewers! All the same, there's no denying the sensuous introduction to this horny little escapade, as the two lads smooch to a backdrop of instrumental music.
Don't be fooled for one moment, however. Once that score has faded away, these two horny young fuckers are quickly reaching for each other's crotches and pulling out the thick, meaty offerings inside. Hirch, in particular, doesn't seem able to get enough of his new buddy's joystick; before the pairing take up to 69-ing on the sofa so that they can mutually pleasure each other. Ultimately, however, it's clear that one of these filthy-minded whores is going to find his ass accommodating the other boy's ramrod; and it's almost with a sense of relief that Levy finally takes command of the situation, rims Hirch's horny little hole and then shoves every inch of dick that nature blessed him with deep inside!
No wonder that the filthy bottom groans his satisfaction in response; with Levy soon getting into his stride and pounding the pucker with near-mad fury. Little wonder that Hirch is quickly reaching the point where he just has to unload – mid-fuck, all over his belly! To underscore his sluttish credentials, however, he then proceeds to get down on his knees to allow Levy to unburden a fine wad of hot twink jizz over his mouth!
Scene 8: Twink Puts A Mobile To Handy Use Before Banging His Bud's Ass!
Cast: Angel Lopez, Lucas Drake
From: Face To Face, Scene 4
We all know how fucking annoying it can be when you're right in the middle of something important and your phone rings, so spare a thought for Lucas Drake and Angel Lopez in this kinky little bedroom adventure. After all, they're busy getting up to all sorts of filthy antics together when one of their mobiles sounds; although given the obvious pleasure that both of them are experiencing at the time it's perhaps not exactly too much of a surprise that they try desperately to ignore it. Unfortunately, the caller – identified only as "Boy" – is clearly a very persistent fellow, and doesn't give a flying fuck that Drake is deep-throating and rimming his hyper-sexy buddy.
Nor, for that matter, does the fellow care that he threatens to upset our enjoyment of these two beautiful boys in full rut. But for every problem, of course, there's always an answer – and it doesn't always necessarily have to be the most obvious solution. So when the phone rings for a second time, Drake decides to put the vibrations to good use – thrusting it into Lopez's greedy little arsehole and using it as a twisted little sex-toy.
Whether Samsung would ever recommend such a use for their equipment will most likely forever remain a mystery. What we can say, however, is that this imaginative exploration of Lopez's pucker quickly results in the lad getting the full-on, no-holds-barred fucking that he deserves; pummelled in a whole series of depraved positions and squirting like a geyser in the process. All of which is arguably only eclipsed by the lad getting his face whitewashed by Drake's eruption at the end!