Summary:
25 Fit and horny twinks enjoy the action after the match in the locker rooms as they ram their rock hard cocks into eager young holes! Twelve hot bareback locker room scenes on a never ending 2 DVD set!
Over 3 hours long, 10 scenes and 25 models.
This title represent great value for money given the amount of quality content and running time. However, to ensure you don't waste money buying the same content twice, this compilation features scenes from the following titles:-
Scene 1: Mark Doof and Chad Brown

From: Bareback Skater Twinks, Scene 4
Gym Sex between two dark haired and smooth twinks is the ultimate fantasy!! Buff young Mark shows his student how to work his way around the machinery before he then shows Mark he's more than qualified to get the blood pumping!! Chad's butt gets well and truly used by Mark as he pounds it at a rate of knots and the spunk showers are testament to how horny these two beautiful boys were!!
Scene 2: Offensive Threesome
From: Bareback Soccer punks 2, Scene 1
It's obviously not the result of a groin injury, but when Nick Deniels comes limping off the pitch it's pretty clear that his team-mate, Marco Bon Phoenix, will want to make completely sure by taking the time to sample the thick, meaty shaft that Deniels has got stuffed in his shorts. Nick Hansen, in the meantime, is not unnaturally distracted by the sight of these two twinks making out together – abandoning his session on an exercise bike in favour of a much more productive work-out on Deniels' hungry little pucker. Cue a terrific threesome that sees Deniels bouncing up and down on Hansen's shaft, whilst Hansen in turn gets a mouthful of cock (not to mention a super facial!) courtesy of Bon Phoenix. Money-shot of the scene, however, cums from Deniels himself: a fabulous eight-bolt climax that's literally fucked out of him by Hansen's oversized ramrod. A superb opener that'll have you gasping for more!
Scene 3: Diego Bero & Billy Jay
From: Prison Fuckers, Scene 2
A brief scene follows as dark haired, blue-eyed Bero showers, soaps and rinses his arse hole, sticking his fingers up in the process. As he jacks off his cut cock until the white cream spills on the floor, Jay watches in the background.
Scene 4: Thomas Dyk and Cley Ozzborn
From: Bare Witness, Scene 2
Close up barebacking boys!! Thomas and Cley work out all their aches and strains with each other in the horniest way possible. Thomas can't wait to feel Cley's cock pulsate inside him as he fucks him hard over the workout table. Slapping his smooth butt cheeks as he grinds against his top guy.
Role are swapped as Thomas lies back and Cley bounces down on Thomas with great views showing his delicious cock stretching Cley's hole, feeling it wrap around it, turning him on so much, the spunk flies from Thomas' cock and splatters around Cley's freshly fucked ass.
Scene 5: Thomas Pitt and Johny Hunter
From: Bare Shooters, Scene 4
Sex in the bathroom is always hot, and Johny Hunter and George Plozen feel just the same. Having tired from just photographing Johny, George gets himself naked and waits for him to come over. Constantly moving around the room finding different ways to suck and fuck, Johny moans and groans whilst George thrusts his big cock deep inside his hole and can't wait 'til he can do the same to George. Smooth young studs know how to please each other and the stunning cumshots spraying all over the face make this scene fucking awesome.
Scene 6: Horny Shower room fucking!!
From: Bare Conviction, Scene 2
Taking opportunity for a hot ass ramming, these two randy prisoners take time out in the shower room, so empty their balls over one another. The floppy haired blonde takes it like as bitch, having his peachy ass fully explored by our dark haired young fucker. His slim torso flexing and tightening as his cock probes deeper and deeper, causing our tattooed blonde to cry out in pleasure. Having his ass coated in cum, he's dick twitches as he joins the cumfest, releasing thick squirts of jizz.

Scene 7: Hardcore Threesome in the bathroom!!
From: Bareback Joy Riders, Scene 1
Starting off as a horny duo in the shower soon turns into an ass pounding display when the taxi man comes to see what's taking so long. As soon as Mark sneaks in, it's cocks out and asses in the air for a great spit roasting session. Leon Cook takes cock like the pro he is and is soon drenched in 3 loads of spunk!! Great opening scene which is just a taste for things to cum, especially from Mark?s fantastic rippling abs.
Scene 8: Tow Horny Defenders
Cast: Thomas Dyk and Joe Parkes
From: Bareback Soccer Punks 2, Scene 2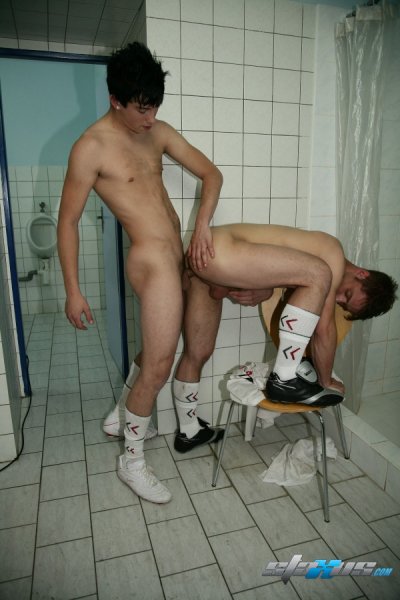 Any scene that features Thomas Dyk is half-way to being a classic in its own right before it's even filmed, but on this occasion the hype really does live up to expectation. Partly because director, Vlado Iresch, has teamed him up with Joe Parkes, who's a sexy little pup himself, and partly because Dyk is at his top-notch best – acting the complete whore as he sniffs Parkes' shorts, and then literally begging for his ass-hole to get the stretching that we all know it both needs and deserves. Indeed, when we tell you that Dyk takes Parkes' cock in every direction possible we really do mean that. From the back, from the front, from on top – Dyk is seemingly insatiable, as if determined to underline his credentials as the horniest Euro-model going. Still, there's unlikely to be any complaints given the way he dumps his load into Parkes' mouth at the scene's conclusion. Little wonder Parkes spurts like a trooper immediately afterwards.
Scene 9: 4 Man Orgy In The Police Showers
Cast: Zack Hood, Ian Dolman, Jacob Bishop & Jeff Stern
From: Raw Cops, Scene 2
Anything with Zack Hood in is always hot. But put the guy into a police uniform, add three other stunners into the sweaty, claustrophobic backdrop of a shower-room and make sure there isn't a condom in sight and you've got the makings of a classic. Indeed, we defy anyone not to have their cock out even before Hood has pushed new-boy, Ian Dolman, into the showers and is encouraging his colleagues, Jacob Bishop and Jeff Stern, to assist him in the ritualised abuse of the fresh-faced rookie.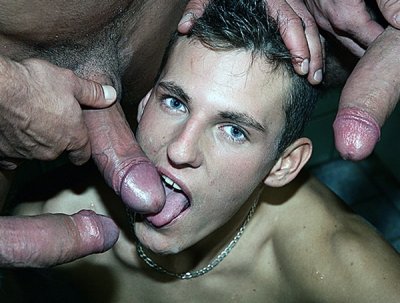 The narration is at pains to tell us that this is the first time that Dolman's hole has seen any action, but if that's really the case then the kid's very much a natural, with his crack brutally pounded by a succession of thick, uncut cocks (Hood's included) and his face ultimately whitewashed by the pent-up contents of three heavy sacs of cream. If you can hold off from wanking to the sight of this boy's mouth awash with sperm then maybe watching gay porn isn't quite as much your thing as you might think!
Scene 10:
From: Dr. Dick, Scene 2
Bursting in on the blond haired medic, broad shouldered and well built Franz has only one thing on his mind, to fuck that sweet smooth ass whether the doctor wants it or not. Forcing him to suck his cock, get sucked, hot 69's and ass splitting fucking, Franz gets exactly what he wants, and the blonde young man has to lie there and take it, although his dick gives away just how turned on he really is!! Bouncing on his cock, the cum soon streams out of his throbbing meat, shortly before Franz covers his butt in fresh cream.
Scene 11: Paul Shayne & Will Forbes
From: Bareback Swim Team, Scene 3
Sexy swimmer Paul returns, this time being told off by the coach for bad attitude. Wanting his place in the team, he drops to his knees and pulls out Will's hard dick, sucking down on it. Will gets so turned on, he's devours Paul's cock and pushes him against the shower wall, rubbing his smooth body against his, getting Paul to scream in pleasure as he cock is tongue-teased and balls are licked. Lubing up his own butt hole with spit, Will yanks Paul to the floor and pushes that cock all the way into his ass, feeling every inch inside him as he reaches his hilt and still pushes back more. Both getting a face and mouth full of spunk, these cum crazy lads share both loads, seeing it drip between their mouths as they kiss.
Scene 12: Rock Hard Cocks at the Car Wash!!
From: Raw Service, Scene 2
Stunningly sexy George Basten treats lucky Andre Young to a totally horny striptease whilst getting himself all lathered up. Washing a car has never been sexier than when George buffs up the windscreen with his peachy ass!! It's no wonder Andre can't stand the teasing and jumps out his seat to enjoy fantastic oral in great positions and then feeling a massive cock sliding in and out of his hole completely RAW!! You can see his hole being so stretched by George's thick meat you'll be spurting before you know it!!