Summary:
Buddies cum in all shapes and sizes – but the best buddies cum all over your face! A point that this second gang of horned-up, over-sexed fuckers are only too keen to emphasise, as they rut like fucking animals and then complete their dirty-minded antics by squirting the contents of their balls right between each other's eyes! In short, top-notch classic filth, as boy after boy gets his pretty little face well and truly plastered with lashings of spunk for your perverse entertainment! When you wanked to gay porn "Facial Buddies" volume 1, this second installment will make your cock explode!

*ZUSAMMENSTELLUNG: Einige der besten STAXUS-Szenen, die jemals gedreht worden sind - jetzt auf DVD!*
Freunde kommen und gehen - und die besten Freunde kommen in dein Gesicht! Diese Tatsache ist dieser zweiten Gruppe sexgeiler Ficker besonders wichtig, die es allesamt lieben, nach einem animalischen Arschfick den sahnigen Inhalt ihrer prallen Eier direkt zwischen die Augen ihres Liebsten zu spritzen! Kurzum, hier wird ein hübsches Gesicht nach dem anderen mit literweise heißer Ficksahne übergossen - und Du kannst ganz nah dabei sein!

Scene 1: Rescued Twink Thanks His Rescuer With His Cock-Crazed Arse!
Cast: Thomas South, Danny Franklin
From: Fire Me Up, Scene 1
We've all fantasised about being rescued by a handsome stranger, who takes us off and does fuck knows what to us afterwards. Well, for young Thomas South that's quite literally a dream that comes true when he's pulled from a building on the point of collapse by horny firefighter, Danny Franklin. To be honest, the two fellows don't actually wait until they're out of danger before engaging in a hot session of kissing and cock-sucking; but (excuse the pun) things really start to heat up when the chaps are out in the open-air and can concentrate on giving their passions some clearly much-needed attention.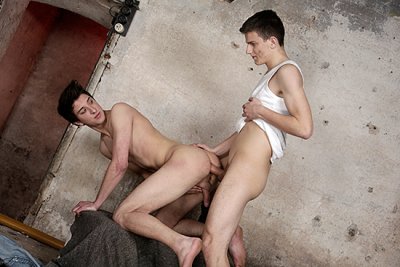 Indeed, South literally can't wait to get down on his knees so that he can slurp on his hero's joystick - a move that his rescuer shows no sign of resisting, as he savours the feel of his new buddy's tongue rolling up and down the complete length of his thick, aching shaft. That said, it's not too long before the firefighter decides to bundle South over onto all fours so that he can give the lad's arse a thorough inspection - fingering the tight little pucker for all it's worth, before finally plunging his hose deep into that hungry hole.
It's a move that certainly seems to encourage the young bottom all the more, as he proceeds to ride Franklin's schlong for all he's fucking worth; culminating in the fireman spewing a fine wad of jizz as a finale. But it's South's climax - a deliciously heavy, multi-shot spray of cum that blasts all over Franklin's handsome face - that surely warrants most acclaim; leaving the two lads to share one final smooch, as the baby-brew drips in all directions!
Scene 2: Twink's Sex-Toy Antics Result In Him Being Fucked Like A Toy!
Cast: Tony Conrad, Zack Hood
From: Daddy's Houseboy, Scene 2
It's always nice to get someone else to tidy up your mess, but when employing a cleaner the issue of trust is never too far away. After all, how on earth are you ever going to know what they get up to once your back is turned? Will they really be cleaning? Or will they be rifling through your belongings at the very first opportunity? It's a problem that muscleman, Zack Hood, has to contend with big-time when he gets young Tony Conrad to do some vacuuming in his office.
Returning back unexpectedly, he discovers that the horny little twink has been secretly perusing his collection of sex-toys - at which point the hunk quite understandably loses his temper and promptly engages in a heated programme of retribution! The first part of which involves him thrusting his cock into the lad's mouth! To be fair it's a move that Conrad seems to enjoy enormously; and before you know it Hood is rigorously returning the compliment.
All the same, you don't need to be a clairvoyant to realise where this scene is headed and whose arsehole is going to be seeing all the action; and indeed it's not too long before Hood has bundled his cute fuck-buddy over a table and is energetically fingering the pup's horny little hole. A few moments more and Conrad is being quite literally fucked like a toy - which, given the boy's response, is something that he quietly enjoys. All of which eventually culminates in the fellow creaming himself like a geyser; before Hood signs off by shooting jizz all over Conrad's face, which in fairness is no less than the pretty young scoundrel deserves!
Scene 3: Basement Fantasy Leaves New Boy Buggered, Creamed & Happy!
Cast: Leo Jenkins, Johny Cherry
From: Sperm Team, Scene 2
There's a very seductive and dreamy quality to the start of this intensely erotic escapade between Johny Cherry and STAXUS new boy, Leo Jenkins. Candles, coloured lighting, relaxing music - it might almost be nearly enough to induce a soporific stupor, were it not for the fact that you've got two of the hottest young twinks in Prague hanging around with their cocks in their hands! Indeed, these two buddies are soon engaged in what appears to be a face-to-face jerk-off; before the fantasy very quickly transforms itself into a full-on anal romp, with Cherry thrusting his meaty, aching shaft into his buddy's jock-strapped ass!
It's one of the quickest fucks we've ever seen in one of our scenes, that's for sure; but with the fantasy fading almost as quickly as it began, we're soon back to a position where the two lads are kissing and fondling their cocks in foreplay. At which point things take on a much more conventional route; with Jenkins taking the chance to feast on Cherry's handsome ramrod, before plonking himself on the fellow's lap so that he can ride it cowboy-style.
Just seeing the novice riding that gorgeous beaut, as his own cock bounces happily in rhythm, is possibly more than enough to get a good many of you reaching for the tissues; as will the sight, shortly afterwards, of Jenkins laid out on his back, legs akimbo, as his pal pummels his hungry little crack for all it's worth. All of which soon results in both guys taking it in turns to unload their money-shots on each other's lips; before they exchange a sloppy, sensual, open-mouthed kiss to call it a wrap!
Scene 4: Blond-Haired Beauties Take Time Out For A Facial-Creaming Flip-Flop Fuck!
Cast: Dylan Day, Erik Franke
From: The Sex Factor, Scene 4
If you're a fan of smooth, puppy-eyed, big-dicked blonds then you really are in for a treat with this terrific pairing of new-boys Dylan Day and Erik Franke - though in fairness what the fuck it has to do with the never-ending search for talent is, to be frank, anyone's guess! Then again, there's no disputing the raw, unadulterated skill that both these two hairless wonders display when it comes to giving head. These delicious beauties quite literally gobble away like a pair of prize turkeys, laid out in 69-position; and we defy anyone not to be charmed by a performance that is genuinely fresh and uninhibited.
But we're not stupid. We know that you're not gonna be truly impressed until you've seen both these young cherubs taking dick up the ass like their young lives depended on it; and the good news for all you dirty fuckers is that this horny little escapade does just that! Starting with Franke, who takes every inch of his buddy's handsome, uncut ramrod like the common tart he clearly is. Clearly not wishing to miss out on any of the fun, however, Day's equally keen to surrender his cherry; and, having savoured the sight of Franke riding his mate's dick cowboy-style, we're then treated to seeing Day pounded from behind - his rigid cock bouncing underneath him, as Franke thrusts balls-deep into his innards!
It's a sight that's gonna have you literally salivating in appreciation; but it's arguably topped by seeing both boys cream the contents of their barely-legal cum-sacs all over each other's faces! A fitting testimony to the besmirching of fresh-faced youth!
Scene 5: Up For The Job? Oscar Roberts Gets A Probing Interview At The End Of Connor Levi's Dick!
Cast: Connor Levi, Oscar Roberts
From: Twink Republic, Scene 4
No question about it, Connor Levi's interview technique is unconventional to say the very least - how many job interviews have you ever been to where the guy asking the questions has suddenly declared that he's got to "go for a piss"? But in fairness, Oscar Roberts is equally avant-garde in his approach, given the manner with which he positions himself naked on the desk in anticipation of Levi's return. As Levi himself exclaims, this guy is sure as hell keen to get the job! Mind, let's not knock the would-be flight-attendant's flagrant in-your-face approach in all of this given that Levi immediately responds by rimming the fellow's ass and sucking his thick, crimson cock.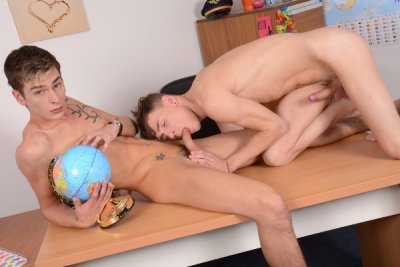 For in terms of gaining a sexual response this has to be one of the most successful ever adopted by one of our stars; and before long Roberts's achievement has secured him a very generous mouthful of Levi's knob-head, which the fellow clearly savours to the max. But it's the no-holds-barred desktop flip-flop fuck that really serves as the highlight of this encounter - first Roberts taking every inch of Levi's dick, before Levi adopts his more usual role of bottom and gets hammered by the newbie in an energetic, breathless explosion of rubber-free fornication.
It's all maddeningly sweaty and high-pitched, but we doubt they'll be any complaints. Nor is anyone likely to be disappointed by the fine sprays of jizz the emanate from both boys - Roberts's wad being of particular note as it coats Levi's face with thick goo!
Scene 6: Twink Gets A Big Dick Hard Up His Ass & A Load Of Cum On His Face!
Cast: Tristan Balboa, Kevin Ateah
From: Twinkula, Scene 2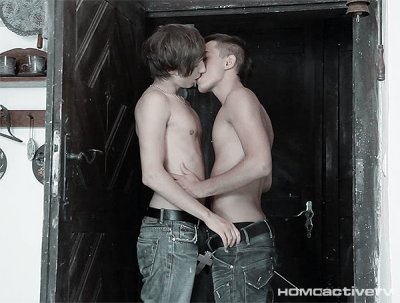 At first glance you could be forgiven to overlooking these two young guys, but there's something curiously appealing about both Tristan Balboa (with his trendy-styled hair) and his Roman-nosed pal, Kevin Ateah. Maybe it's the fact that they're appearing in a film about the supernatural that adds a certain dimension to their appeal; or maybe it's simply the donkey-sized dicks that they pull out of their jeans when they stop off in the woods for a piss. Either way, we've a strong suspicion that by the time these lads have pulled up for a hot, steamy session together in the local hostelry you're gonna be completely smitten. Director John Smith's clever use of lighting only adds to the overall atmosphere, of course, but there's no denying Balboa's pleasure as Ateah first finger-fucks his pal, then gives him the kind of no-holds-barred, condom-free fucking that the boy's tight little ass probably deserves. An excitement that all finally comes to a head when the horny bottom dumps his load mid-fuck, before taking Ateah's pent-up wad in turn all over his face. Seconds on and the poor youngster serves as a vampire's teatime treat - but fuck, what a way to go!