Summary:
Nothing beats sex in the great outdoors – as this bunch of horny STAXUS rascals are only too eager and willing to demonstrate. No mundane, vanilla, indoor sex for these boys. First opportunity and they're fucking away with the wind in their hair and the sun in their eyes; totally uninhibited in their wanton fornication, and maybe even getting a buzz from the thought of getting caught! Angel Lopez, Ray Mannix and Titus Snow are just a few of the legendary STAXUS buddies who like their action to be unrestrained by indoor orthodoxies!
Scene 1: Waiting For The Director's Call Leads To A Suck-&-Fuck Frenzy!
Cast: Gabriel Angel, Ray Mannix
From: Sunny Daze, Scene 1
Porn stars are not renowned for their patience, so Gabriel Angel and Ray Mannix show considerable restraint as they wait for director, John Smith, to show up for their shoot at their Spanish villa. All the same, there's no disguising the fact that both these young fellows are seriously gagging for action; and Smith's arrival - albeit off-camera - is greeted with unmistakable relief. So much so, in fact, that both buddies immediately get down to business without so much as a by-your-leave - Mannix, in particular, clearly only too eager to get a taste of hard cock, diving onto his French buddy's shaft and gobbling away like a bitch on heat!
His frantic playfulness only continues when he then decides to spice things up a bit by placing a sock over Angel's dick - an act that results in much amusement from both pals. Before you know it, however, the cock-sock has been tossed to one side and the two horned-up beauties are 69-ing across a bench without so much as a care in the world; which in turn soon leads to Mannix plonking his ass down onto Angel's lap and then riding the stiff, uncompromising shaft for all he's worth.
Never one to want to miss out, however, the young Parisian quickly changes places - taking his Czech mate's butt-stretcher with all the skill and dexterity we've long since come to expect from the boy - before roles are once again switched. Whereupon Angel literally pounds the jizz out of his mate; then sits back down on the seat and jerks out a truly stunning wad of hot jizz all over Mannix's face. That initial patience has finally gained its sticky, gooey reward!
Scene 2: Horny Drinking Buddies Quit The Ale For A Hard Session Of Dick!
Cast: David Sky, Josh Milk
From: Spanish Sun, Scene 3
It's not particularly unusual for a couple of Spanish guys to take advantage of the shade to enjoy a cool, refreshing beer, so this encounter between David Sky and Josh Milk doesn't come as too much of a surprise. Nor will it astonish those of you who know these two cock-crazed Iberians as to how quickly the drinking session descends into a much more carnal encounter. Indeed, you might even be left wondering as to why it takes these buddies so long to put their cans to one side so that they can concentrate on each other's thick, meaty boners!
Once they're ready to rumble, however, there's no stopping these two hyper-sexed fuck-buddies; with Milk immediately getting down on his knees to feast on every handsome inch of Sky's meticulously shaved shaft. How such a petite individual as Sky could have been blessed with such a fabulous ramrod continues to be one of the mysteries of our age, but needless to say Milk makes the very most of the said opportunity; before allowing his compatriot to return the favour. In the end, however, Milk's overriding appetite for dick simply gets the better of him on this occasion. Throwing himself back onto a nearby table, he's quickly encouraging Sky to give his hungry ass a good old-fashioned rimming, before stretching his legs akimbo to take the full length of his mate's rampant schlong.
It's an invite that the young Sky doesn't decline - marking the start of a terrific set-piece that'll have you squirting like a geyser long before Milk pumps out his wad riding cock cowboy-style and Sky delivers his goo into Milk's eager mouth!
Scene 3: Army Buddies Lock Horns In A Raw Stairway Suck-&-Fuck-Fest!
Cast: Johnathan Strake, Chad Johnstone
From: Army Dropouts, Scene 2
Not every young recruit enjoys life in the army - it's a fact of life - and it seems that Johnathan Strake is amongst that number. Luckily for him, he's got a guy like Chad Johnstone to show him that life in khaki isn't without its benefits - including mixing with some of the hottest, horniest young fellows in their prime. Certainly Johnstone shows no reticence in displaying his interest in the fellow; and within seconds Strake is reciprocating the move, taking a big handful of his mate's crotch to manhandle Johnstone's weaponry.
What's more, it doesn't take long for the blond conscript to get down on his knees in order to appreciate the said handsome ramrod - a move that Johnstone (not unsurprisingly) seems to eagerly relish. Indeed, Strake quite honestly doesn't appear to be able to get enough of his buddy's oversized fuck-tool, gobbling away like a complete slut; before Johnstone eventually grabs his own somewhat limited taste of hard cock in return. But there's never any doubting that it's Strake who's going to be the submissive party in this coupling; and it seems only fitting when his horned-up little pucker becomes the focal point of attention, with Johnstone earnestly fingering and rimming the tight fuck-hole. That sets the scene nicely for a truly great round of hardcore outdoor fornication; with Strake pounded in a series of positions, during which he even finds the time and energy to enjoy yet another suck on his mate's gorgeous joystick. It's no wonder that the little slut is quickly spurting like a volcano; before he disembarks to slurp on Chadstone's eruption!
Scene 4: Brokeback Revisited As Big-Gunned Casey Gives His Pal A Hard Raw Pounding!
Cast: Dick Casey, Jason Mike
From: Open Range 2, Scene 2
There's no denying the shades of Ang Lee's Brokeback Mountain in the opening moments of this superb set-piece between STAXUS favourite, Dick Casey, and his newest fuck-buddy, Jason Mike. Two guys wearing chequered shits and cowboy hats, hitting it off in the great outdoors whilst folk music twangs away in the background - why, this could almost be the X-rated version of Annie Proulx's tale of forbidden love. In this particular instance, it's most definitely lust rather than romance that gets the upper hand, as the opening kisses in the ranch's garden quickly make way for something far more intense.
Indeed, both lads are clearly in the mood to get their rocks off sooner rather than later, as they proceed to munch on each other's dicks before Casey pushes his pal across a conveniently placed table and gives Mike's ass-hole a very hearty rimming. Of course, we're all adult enough to know that this is but a foretaste of the main action to come, and unsurprisingly it's no time at all before Casey has replaced his tongue with his granite-like dick, pounding Mike's pucker for all that he's worth in the process.
It's a move that the blond bottom-boy savours to the full; before proceedings take on an even more intense persuasion when the lads move over to the grass and Mike sits on his mate's cock, riding Casey's pogo-stick to the hilt! No surprise therefore that it's no time at all before both guys are spurting like a pair of geysers in response - as indeed (no doubt) will you!
Scene 5: Raw Springtime Fornication For A Big-Dicked Bud & His Lover!
Cast: Angel Lopez, Mike Branco
From: Camp Fuckers, Scene 2
Outdoor adventures are all part and parcel of life as a scout, as young recruits, Angel Lopez and Mike Branco, are only too keen to demonstrate when they discover an inflatable boat and decide to take it out for a little row. If you're expecting them to have sex out in the middle of a lake, however, then we're sorry to tell you that you're going to be disappointed - even the great John Smith can't get our handsome lads to walk on water! That, however, is pretty much the only let-down as far as this terrific set-piece is concerned; with both beauties on top form as they make it back to land for some now much-needed cock-sucking.
It's not long, of course, before their uniforms have been tossed to one side; with both buddies feasting on cock like it's going out of fashion, and Branco taking the opportunity to rim his mate's arse whilst they 69 on the side of the inflatable! It has to be said that the contrast between Lopez's tanned skin and Branco's lilywhite physique only adds even more allure to the experience; and by the time Lopez plonks himself down on his pal's lap and rides the fellow's cock for all he's worth you'll be pretty much in love with both stars.
But there's clearly nothing predictable about this encounter, that's for fucking sure; and before you know it Branco is enjoying his own hard ass-pounding courtesy of his mate's deliciously aching schlong! But what makes this encounter unforgettable are the final few moments, with Lopez quite literally exploding like a volcano - only for Branco to top it further by literally whitewashing Lopez's face like a slut!
Scene 6: Monster-Hung Gym-Buddy Gives His Cute Charge A Raw Stretch!
Cast: Luke Volta, Titus Snow
From: Cum Harvest, Scene 1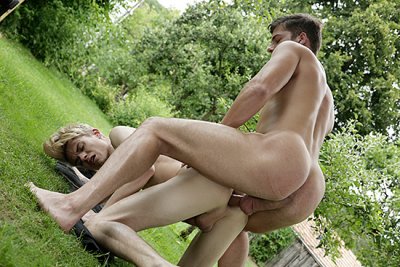 It's one thing to dream the dream, it's quite another to actually live it - as Brit boy, Titus Snow, discovers when he decides to buy a smallholding in Czechia so that he can farm the land. After all, this is a fellow who - by his own admission - knows absolutely nothing about farming! Fortunately, he's decided to hire a young local (Luke Volta) to help him out. Even more fortuitously, that particular assistant is drop-dead gorgeous and as constantly horny as fuck! So when Snow discovers the fellow with his feet up, enjoying a drink, it's no surprise that he decides to take full advantage of the situation and make a pass at the boy - a move that very quickly results in the two guys snogging each other's faces off and grinding against each other's already swollen crotches. The ripeness of the harvest is there for the picking; and suffice it to say that Volta is soon down on his knees giving his boss' hairless shaft a much-needed slurp.
It's a move that Snow himself is quick to replicate; before Volta takes complete mastery of the situation by bundling Snow onto a table and fingering the twink's clearly eager arse-hole. No question about it, Snow's pretty much ready for the taking; and you can almost hear the relief from both guys when Volta finally sinks his thick, uncut shaft into the farm-boy's guts.
From thereon in, of course, Snow is pretty much a total hostage to that handsome schlong, riding it for all he's worth in a series of positions before exploding midpoint cowboy-style. Leaving Volta the indisputable pleasure of jerking out his wad all across Snow's expectant face!

Themes: Big Dick, Dark Haired, Fingering, Gym Sex, Rimming, Studs, Twinks, Uncut Cocks