Summary:
For over ten years now STAXUS has been producing the very best gay porn with the help of some of the hottest, horniest young guys on the planet, to become Europe's biggest and best-loved label in the biz! So come with us – literally! – as we celebrate this achievement with a fourth double-disc bonanza of a dozen of the very raunchiest, spunk-sodden escapades; featuring 27 of the most cock-crazed, arse-obsessed fuckers ever to appear in front of a camera. Be they hot, horny duos or spunk-soaked threesomes, twink-on-twink action has never looked so absolutely fan-fucking-tastic! 2 DVD Compilation set
This title represent great value for money given the amount of quality content and running time. However, to ensure you don't waste money buying the same content twice, this compilation features scenes from the following titles:-
Scene 1: Horny Little Wanker Gets An Ass-Load Of Jizz From His Blond Pal!

Cast: Connor Levi, Kevin Ateah
SOURCE LOCATION: Bare Briefs, Scene 1
There are some boys that you could quite literally just watch forever, and believe us Kevin Ateah is one of those guys. Young, lithe, as cute as they come, he's a lad with a bright future in every sense. Put him in a pair of designer briefs and his appeal becomes even more apparent - as demonstrated here. But whilst his unique assets are ably presented in the opening moments of this scene, they're magnified a hundred-fold by the introduction of Connor Levi, a blond, tattooed twink who just can't resist unburdening Ateah of his underwear so that he can take full advantage of what he knows is nestling inside them.
And take advantage he does - big style! - slurping on every hard inch of Ateah's uncut cock and clearly getting our dream-boy hyper-excited in the process. Indeed, it's not long before Ateah is parting his smooth, pert butt-cheeks so that Levi can give his hungry little ass-hole the rimming it deserves; before Levi replaces his tongue with dick and pounds away at the pucker like you won't believe.
No fuckin' wonder that Ateah dumps a fine wad over his belly in the process! A fine display that's only trumped by Levi's volley directly into Ateah's ass. Bull's eye!
Scene 2: As Cute As They Cum, With Spunk Aplenty To Share Around!

Cast: Felix Webster, Rudy Valentino
SOURCE LOCATION: Too Big To Handle, Scene 4

Is there anything more satisfying that a good shoulder massage when you're feeling all worked up and stressed out? Well quite clearly there is – at least if this fabulous scene featuring Felix Webster and STAXUS favourite, Rudy Valentino, is anything to go by! For having given Webster's neck a good rub down, Valentino's quickly turned his attention to his compatriot's crotch, pulling away Webster's pants and feasting on the hard, handsome shaft that's stuffed inside them. What's more, it's not long before blond boy Webster is returning the compliment – and who the fuck can blame him? As pretty much anyone into gay porn knows, Valentino's dick is a veritable thing of beauty; and it's no great surprise when Webster's attention turns to getting that meaty shaft inside his hungry butt-hole.
An objective that he quickly accomplishes, riding the thick, throbbing ramrod cowboy-style like the true cock-lovin' pro he has become. Not surprisingly, it doesn't take at all long before both lads are reaching the point of no return – Webster spewing the contents of his heavy cum-laden sack all over Valentino's gorgeous face. As couplings go, this is most definitely top-notch!
Scene 3: Romantic Picnic Quickly Turns Into A Hard-Hitting, Ass-Splitting Kitchen Table Power Fuck!

Cast: Josh Milk, Kamyk Walker
SOURCE LOCATION: Country Pursuits, Scene 3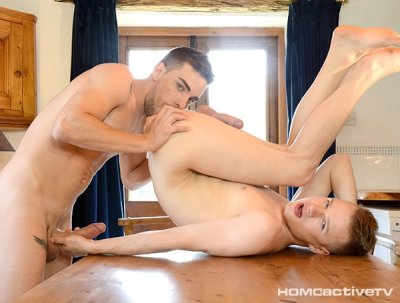 It's pretty obvious from the off where the champagne-picnic at the start of this marvellous, ball-draining escapade will soon be leading - after all, Josh Milk clearly hasn't bothered to wine-and-dine his lithe Polish buddy, Kamyk Walker, in the hope of merely enjoying the splendid scenery! No, this horny Spanish stud has much more intimate ambitions on his mind; and within moments of the pair returning to their Welsh cottage, he's pushing his mate down onto the kitchen table and ripping the lad's clothes away in a bid to get his hands (or, more precisely, his mouth!) on Walker's ever-eager ramrod. It's a relatively subdued beginning, however, in comparison to the energetic skull-fuck that quickly ensues - Walker deep-throating his mate's cock right down to those dark, Mediterranean pubes! Nor is Milk any less energetic when it comes to rimming his buddy's hole and subsequently ramming the entire length of his knob into Walker's guts! For our boy from Warsaw is clearly in the mood for a high-octane anal invasion, and Milk's more than ready and capable of delivering such a key-note performance.
The result is a truly superb rut between two of the horniest fellows you're ever like to encounter; the highlight of which is that of Walker riding Milk's dick cowboy-style like the total bitch we've all long-since known him to be! Finally, with the young twink being brutally hammered against the table, Milk signs off by creaming Walker's pert little ass; before the young Pole (very understandably) milks out a fine, multi-shot wad to call it a wrap!
Scene 4: Cute Rugby Pup Gets Spit-Roasted & Splattered By A Pair Of Oversized Hunks On Heat!

Cast: Damian Boss, Jonny Kingdom, Christian Martin
SOURCE LOCATION: Up & Under, Scene 1
All that time spent feeling each other up out on the rugby field has clearly left Damian Boss and Jonny Kingdom in a state of heightened sexual charge - a condition made all the more intense by the copious quantities of alcohol these two hunks have clearly been consuming. Under the circumstances, therefore, poor Christian Martin doesn't ever stand a chance - the cute little twink really is like putty in their hands, and before you know it he's being manhandled by both studs and forced down onto their thick, manly ramrods.
Not that Martin seems to be too upset at being used and abused, it has to be noted. In fact, the pretty, fine-featured pup looks like a pig in mud as he feasts on all that hard cock on offer. In fairness, mind, he's presented with two of the thickest, meatiest dicks on the circuit, and it's clear from early on that he's eager to get them banging away up his tight, horny ass-hole. As it happens, neither Boss or Kingdom are of a mind to let the lad leave disappointed; and before you know it the fellow is being energetically spit-roasted for all that he's worth.
What follows is a sweaty escapade of man-on-man sex that sees Martin fucked for all he's worth, and which will unquestionably leave you looking for the Kleenex in appreciation. Talking of which, there's no time for tissues when these guys blow. Instead, the two hunky tops blast their copious wads of goo all over Martin's comely little face - excuse the pun! - before the well-fertilised bottom wanks out a generous spray of his own ball-batter. All in all, a terrific result from everyone concerned!
Scene 5: Horny Jaxon Radoc Takes Every Hard, Hairless Inch Of Orlando White's Thick, Uncut Dick!

STARRING: Jaxon Radoc, Orlando White
SOURCE LOCATION: More & More, Sc.3
Location may be the defining factor where property's concerned, but in porn it always essentially boils down to one thing and one thing only: the models. Be they rutting in a slum or fucking in the grandest room in the Ritz, it's what the boys look like and how well they're hung that counts. As such, this fine little escapade - featuring two of STAXUS's favourites, Orlando White and Jaxon Radoc - pretty much has hit written all over it even before the opening frame!
What's more, neither fellow disappoints; as the lads kick off in a Budapest sex-sauna for your perverted entertainment. Beginning with a mutual suck-fest that sees both beauties slurp on each other's hard offerings like they've not tasted dick for weeks, culminating in them lying top-to-toe for a delicious, mouth-watering session of 69-ing that's almost an artwork in itself. For the ever-horny White, however, there's not gonna be any true sense of satisfaction until his big, oversized balls are knocking against his Aussie mate's ass; and having taken the opportunity to earnestly rim Radoc, he's soon pounding away from above like he literally owns the hungry bottom's rump!
Needless to say, Radoc gets the hard, raw fucking he both longs for and deserves; culminating in him spewing over his belly, before positioning himself under White's erupting shaft to chew on every last drop of pent-up Czech jizz! All topped off with a sticky, open-mouthed kiss.
Scene 6: Loud-Mouthed Chav Gets His Just (Hard Dicked) Desserts Courtesy Of Two Horny Geeks! |

STARRING: Rhys Casey, Oscar Hart, Tommy Lee
SOURCE LOCATION: Chic Geek, Sc.4

You have to be of a certain age to find the anatomy of the penis amusing, but clearly Rhys Casey and Oscar Hart are still young enough to snigger when confronted with such a diagram in a biology textbook – and good for them! Not that Tommy Lee shares their amusement, despite being of a similar age. Walking into the room to find the two nerds tittering away, the hard-nosed chav appears to take exception to their antics – but soon comes to regret his rather foolhardy response to the students. They might be a couple of bookworms, but Casey and Hart are clearly all too capable of standing up for themselves. A point that's very visibly underlined when they promptly bundle Lee over a desk and thrust their thick, straining dicks in his direction.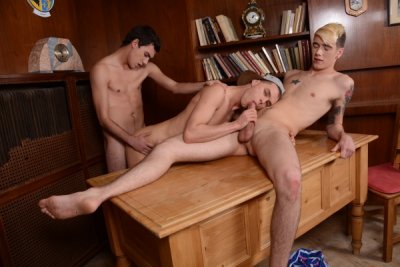 It's at this point, of course, that you'd be forgiven for assuming that the cropped haired youth would show a degree of resistance, but there's nothing of the sort on offer from Lee. Indeed, if anything you'd actually think that he's been living for just such an opportunity all his life, as he very greedily devours both knobs on offer with boisterous enthusiasm; before subsequently allowing Hart and Casey to bugger his ass in a spit-roasting, ball-slamming frenzy.
Needless to report it's not long before the jizz begins to flow, with the two tops blasting their pent-up wads all over Lee's face and Lee himself jerking out a healthy and very appreciative load across his own belly. Putting a knob in his place has arguably never been as satisfying!
Scene 7: Handsome Hunk Gives Cock-Slut Blond A Never-To-Be-Forgotten Poolside Raw Slamming!

Cast: Rudy Bodlak, Tim Walker
SOURCE LOCATION: The Italian Job 2, Scene 2

As pretty much everyone who's seen the guy in action already knows, young blond-bombshell Tim Walker is one of the biggest cock sluts in the Czech Republic. A reputation that he continues to uphold when he hits the beaches of northern Italy and encounters the hunky, tattooed form of Rudy Bodlak.
Fact is, the dick-crazed dude can't wait to go back to Bodlak's private villa, where he immediately pounces on the stud's gorgeous ramrod – diving under the water and demonstrating that his oral skills aren't just constrained to dry land! What follows is a truly stupendous session of cock-worship, which leaves Bodlak quite literally gagging to give the boy's ass-hole the kind of unrestrained pounding that it's clearly crying out for – and, more importantly, deserves!
A brief session of rimming completed, and Bodlak's out for the kill – forcing his meaty tool deep inside Walker's love-chute and then promptly proceeding to fuck the lad like a being possessed. No question about it, this is a passionate, almost animalistic act of unbridled fornication, with Bodlak totally dominating proceedings and quite literally leaving Walker's pucker wrecked in the process. By the time the handsome hunk spurts his wad over the boy's hole you're gonna have spurted on several occasions; but Walker's own climax is equally hot, and the sight of Bodlak feeding the lad's mouth with jizz may surely warrant one final nutting!
Scene 8: Work Loses Out To Fun, But Johny Cruz's Hungry Twink Ass Gets Rigorously Banged As A Result!

STARRING: Shane Barret, Johny Cruz
SOURCE LOCATION: Twinks Destroyed 2, Scene 3

Johny Cruz wants to be all serious and studious; Shane Barret, in total contrast, just wants to play and have fun. So, who do you think comes out on top? Let's put it this way, Cruz's resistance to his buddy's persuasions doesn't ever really amount to a great deal at all. Indeed, the fellow is tearing away at Barret's garish underwear in under two minutes, casting his pen and paper to one side in order to give all his attention to the thick, meaty, uncut dick that he very clearly knows is stuffed inside his mate's pants.
Not that Barret seems in any way less inclined to feast on salami given half the opportunity – particularly if his fine performance on Cruz's knob shortly afterwards is anything to go by. But it's not exactly a surprise to realise that it's Cruz who's going to be playing bottom to Barret's rampant buttpicker; and, having taken a chance to tease Barret's hole with an enthusiastic rimming, the lad is soon laid out prostrate over the writing-desk taking every butt-stretching inch that the top can thrust in his direction!
Cue a tremendous, ball-busting, sac-rupturing escapade that'll almost certainly have you reaching for the tissues long before Cruz (quite literally) gets the jizz banged out of him, having ridden Barret's love-handle like the veritable pro we all know (and love) him to be. But it's the sight of Barret white-washing Cruz's tongue and him spraying cream all over the lad's cute, young face that warrants keenest attention – the young bottom lapping up every last drop as if his next ten porn-placements existence depended on it. In three words – hot, hot, hot!
Scene 9: Kai Alexander Gets Bundled Into A Raw Spit-Roast By A Pair Of Donkey-Hung Red-Heads!

STARRING: Ivan Thundero, Kai Alexander, Lewis Taylor
SOURCE LOCATION: Twink Republic, Scene 3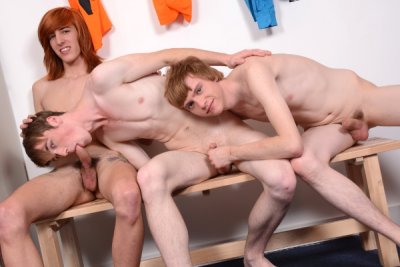 For those of you with a fetish with lads with red hair – and we know for a fact that you're out there – the coupling of Ivan Thundero and Lewis Taylor is going to come as a terrific boon. All too often the delicate appeal of the ginger gene is overlooked, but all that is ancient history when these two meet in the changing room of the local sports club where they work. These two copper-headed beauties are soon at it like a couple of alley-cats in season – their antics only to be abruptly interrupted by the unexpected arrival of their boss, Kai Alexander, who's clearly at a loss as to where the pair have disappeared to. Don't worry though. The said interruption lasts all of about three seconds – if that! – as Alexander is bundled down onto his knees and ignominiously forced to suck on Taylor's dick. And what a dick it is, guys.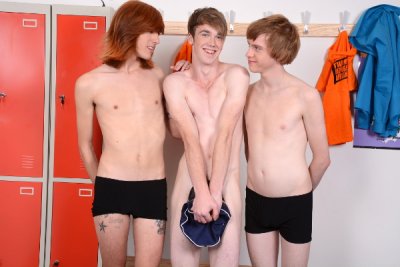 A thick, meaty ramrod that Alexander – who's promptly termed as a "bitch" by his two assailants – gobbles down with overexcited fury. Indeed it's clear from the very start of this threesome that Thundero and Taylor have very much hit the jackpot in this encounter; and so it proves, with the two red-heads having no difficulty in using Alexander as the perfect fuck-buddy.
Needless to say, their manager shows no complaints when it comes to being brutally spit-roasting by the pair, taking every hardened inch from both ends before being splattered in a veritable tsunami of spunk from both directions. Working at a leisure centre – or should that be a pleasure centre? – has never looked quite so appealing as it does in this super encounter!
Scene 10: Painter-Boy Kyle Dickson Gives His Workmate A Hard Suck, Then Takes A Raw Bang In Return!

STARRING: Kyle Dickson, Kristian Kerner
SOURCE LOCATION: On The Job, Sc.4

He may have turned blond since we last saw him, but Kyle Dickson is still very much the inimitable cock-slut that we all know and love – as this stupendous session with the chav-like Kristian Kerner very ably demonstrates. In fact, if anything the change of hair colour appears only to have turned the young lad into an ever bigger dick-crazed slut than he was before – if indeed that were in any way possible!
Certainly the manner with which the fellow drops to his knees to slurp on Kerner's knob appears to confirm such a conclusion – he basically has the burgeoning ramrod out of his mate's painting overalls in pretty much no time at all, though in fairness Kerner is soon returning the favour with almost identical enthusiasm. But there's still no disguising the fact that this is one dirty-minded young boy who literally lives for the hardness in other guy's trackies; and it's barely any time at all before he's laid out on the floor (still donning his baseball cap) taking every bare inch that Kerner can thrust in his direction.
What follows is a terrific Brit-boy fuck-fest that'll have every fan of the genre jerking like beings possessed – the lads even putting a small step-ladder to good use in the process! By the time that Kerner has sprayed his wad all over Dickson and Dickson has nutted over himself there's every fuckin' possibility that your own tight little sac will have delivered a delicious wad all of its own!
Scene 11: Sensuous Foreskin-Play Leads To Raunchy, Outstretched Fuck Fun!

STARRING: Justin Conway, Timmy Taylor
SOURCE LOCATION: Happy Holidays, Sc.1
Chestnuts roasting on an open fire, Jack Frost nipping at your toes - and what could be better at this magical time of year than spending a little quality time with the person you love? Alternatively, you can tune into this fabulous sofa-based escapade featuring two of STAXUS's favourite models, Justin Conway and Timmy Taylor, and knock out a load or two in their unforgettable company. Because let's face it, this is one fantastic coupling you won't want to miss.
Cute blond-boy Conway is as gorgeous as they come (as always), and clearly can't wait to feast on his mate's thick, meaty cock - nibbling and playing with Taylor's foreskin like any good slut should. In fairness the compliment is returned, but Taylor's attention is always firmly set on getting that handsome dick of his deep inside Conway's pert little ass - an objective he achieves with ease (you won't be surprised to learn).
Indeed, before you know it Conway's ass-hole is sliding up and down Taylor's shaft like it was born for the task, signalling the beginning of a spunktastic fuckathon that sees the young slut taken in every position known to man. Little wonder both lads eventually spew like New Year fireworks!
Scene 12: Locker room flip-flop spunk fest for two blond beauties!
STARRING: Heath Denson, Jesse Magowen
SOURCE LOCATION: In The Deep End, Sc.2
Okay so we're totally fuckin' biased, but we genuinely reckon there isn't gonna be a porn-loving gay guy alive who doesn't get off on this stupendous pairing: Jesse Magowan, bottle-blond and oh-so-deceptively innocent looking, and Heath Denson, who's pretty much as perfect as they come. To begin with, however, things get off to a gentle start, with Magowan sneaking into the locker-room for a sneaky sniff of his mate's briefs and an all-too-desperately needed wank. But the sudden and unexpected arrival of Denson throws a metaphorical firework into proceedings, and before you know it you've got a scorching escapade shooting off right before your eyes.
These boys are divinely gorgeous and both as horny as it's surely possible to be; and it doesn't take long before the mutual exchange of cock-sucking is replaced by some fabulous rimming of Denson's hairless ass-hole by young Magowan. Denson looks like he might genuinely blast a load there and then; but holding off from the inevitable the two beauties begin a mad flip-flop fuck-fest that'll set you jerking off like a sex-starved teen. By the time both have erupted like geysers we reckon you'll have spurted long since!