Summary:
For over ten years now STAXUS has been producing the very best gay porn with the help of some of the hottest, horniest young guys on the planet, to become Europe's biggest and best-loved label in the biz! So come with us – literally! – as we celebrate this achievement with a fifth double-disc bonanza of a dozen of the very raunchiest, spunk-sodden escapades; featuring 26 of the most cock-crazed, arse-obsessed fuckers ever to appear in front of a camera. Be they hot, horny duos or spunk-soaked threesomes, twink-on-twink action has never looked so absolutely fan-fucking-tastic! 2 DVD Compilation set
This title represent great value for money given the amount of quality content and running time. However, to ensure you don't waste money buying the same content twice, this compilation features scenes from the following titles:-
Scene 01: Winter Wonderland? Cock-Banging Fresco Results In Cum-Frenzy Whiteout!

Cast: Kris Wallace, Rudy Bodlak
From: Snow Patrol, Scene 1
Dark-haired beauties, Kris Wallace and Rudy Bodlak, love nothing better than to take time out to enjoy a winter walk in the woods together – or at least that's what they might like you to believe from the snowy introduction to this scene. In reality, of course, there is one other activity that eclipses their love of the great outdoors – and no prizes for guessing what that is, as the two oversexed talents take time out to explore each other's taut, muscular bodies in the warm comfort of a nearby cloakroom.
What's more, the gusto with which they engage in their favourite hobby tells you everything you need to know about these horny young lads. Cock-jousting, dick-slurping, ass-rimming frolics are all part of the fun as the boys work themselves up towards a sweaty crescendo of raw fucking – the kind we just know you're gonna love big time!
Wallace's man-cunt just doesn't stand a chance as his buddy pummels away like a wild animal, leaving the kid gasping for breath but yelping for more! Suffice it to say that it isn't long before Wallace is quite literally having the jizz knocked out of him; before Bodlak erupts over his face, leaving the youngster looking the total slut!
Scene 02: Privates Jaxon and Sven get ordered to tidy up their sleeping quarters

Cast: Jaxon Radoc and Sven Laarson
From: Officer's Mess, Scene 3
Camaraderie and comradeship are two of the most important – and arguably least recognised – aspects of maintaining a motivated, upbeat army, so any chance for young soldiers to get to know their fellow enlistees better has to be a good thing. As privates Jaxon Radoc and Sven Laarson are only too eager to demonstrate in this wonderful blond-haired suck-and-fuck-fest that we just know is going to appeal to anyone who likes their guys to be handsome, well-hung and uniformed. Not that either of these lads remain in their khaki for very long, it must be noted. Having been given orders by their superior, they're soon taking the very first opportunity to start getting intimately acquainted with their fellow private's privates – Radoc showing a particular keenness in slurping on every rampant uncut inch that his buddy has to offer.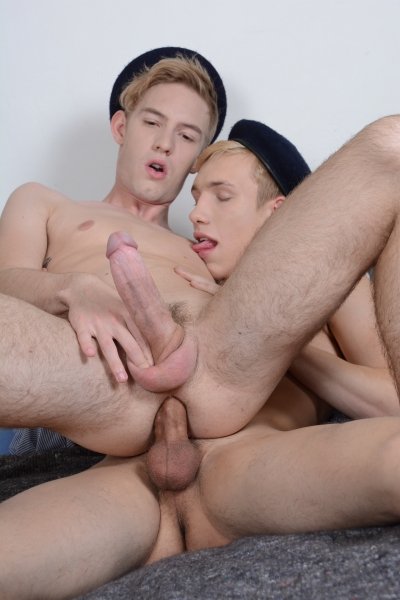 Of course, such keen enthusiasm will come as no surprise to anyone who's seen the Aussie beauty in action before. Here's a lad who lives for cock in every sense, and it comes as no surprise at all when he takes the first chance to plonk his ass down on Laarson's knob. From that point on, the boy is pretty much subject to the brutal fruits of his own desires, with Laarson given free rein to bugger him in a series of intimate positions on the army bed.
Not that Radoc appears displeased with his treatment – indeed, given the violent manner with which he spurts his wad as Laarson bangs away at his ass he's more than enamoured with his predicament. A feverish coupling that only concludes when Laarson fires his own heavy round!
Scene 03: Pert brit boy gets his ass pounded by hunky stud, Ennio Guardi!

Cast: Ennio Guardi, Kai Alexander
From: Bare Briefs, Scene 3
East meets West as Brit lad, Kai Alexander, encounters the incomparable talents of Ennio Guardi, one of the hottest Czech guys on the current scene. Not that the prospect of coming face-to-face with one of the most sort-after cocks in the biz seems to perturb young Alexander, it must be said; in fact it's pretty obvious from the start that the boy is well up for the hard fucking to come, which is just as well given that Guardi's clearly as horny as hell!
Mind, the physical contrast between these two beauties couldn't be greater. Guardi, tanned, muscular and looking every inch the dominant party, set against Alexander's pale, freckled, English skin and slight physique. It sure-as-hell makes for a firecracker of a scene – one that we just know you're gonna love big time! The sight of the young twink bouncing up and down on Guardi's raw cock is almost certain to get you bubbling on the brink; as will that of the Czech lad pumping away against Alexander's pert little ass in a whole series of other directions.
By the time Guardi is dumping a handsome load of jizz across his fuck-buddy's lips you'll no doubt be showing a sticky appreciation of the efforts of both these horny sluts!
Scene 04: Dance Time? Not Fuckin' Likely, As Dark-Haired Brit-Lad Proves Himself A Total Cock-Fiend!
Cast: Alex Candy, Kamyk Walker, Lex Blonde
From: Ballerino, Scene 2
Young show-time wannabe, Alex Candy, thinks he's in for a boring dancing lesson as he prepares himself for class, but is he in for the shock of his life or what? The arrival of Lex Blonde and Kamyk Walker turns any previous plans he had completely on their head, as the two pals immediately get to work on Candy's dick, taking turns to suck the handsome weapon into life.
Not that it needs much encouragement, it must be said. Candy is rock-hard in next to no time; and it's little wonder that the boy is soon quite literally gagging for the feel of meat inside him. A wish that Walker is only too eager and willing to help make come true, as he promptly makes his way into the randy little bottom's ass and starts to fuck away with merry abandon. Shortly afterwards, and having been worked into quite a lather by all this attention from Walker, the lad is then riding Blonde's raw pole cowboy-style – underlining his credentials as a total dick-slut whose only existence is to satisfy the sexual demands of his peers.
There's certainly plenty of evidence in this fine escapade to prove the point; and the manner with which he wraps things up by kneeling down and taking gooey, chin-dripping facials from both his kinky co-stars highlights the assertion.
Scene 05: Flip-Flopping Bikers Abandon Romance For A Ball-Bustin', Ass-Stretching Frenzy!

Cast: Mickey Taylor, Will Sims
From: Revved Up, Scene 3
Rightly or wrongly, bikers have a reputation for being hard-hitting, wild-living felons, who drive up and down the road network looking for trouble. But the truth is that even the wildest of biker boys – including members of the notorious Hell's Angels – have a softer side, and love nothing better than cuddling up on a sofa with a loved one. So when tattooed rogue, Mickey Taylor, arrives home to find Will Sims supping a beer on the couch, we shouldn't be too surprised that the boys are soon smooching away like a couple of love-birds.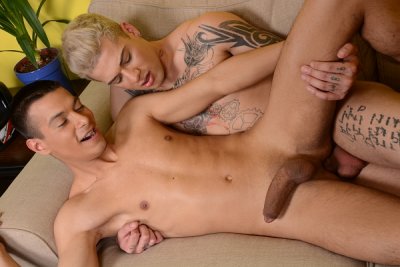 Not that the air of innocence lasts for very long, it must be said. Anyone who's seen Sims in action prior to this point knows that he's a lad who can't resist the temptation posed by a thick, swollen dick; and before you know it he has his face down in Taylor's crotch and is slurping away on the meaty offering that's nestled there! Not that Taylor's reputation for abstinence is any more convincing; and having returned the favour on his buddy's handsome ramrod, he's soon very eagerly prepping Sims' hungry little ass-hole with his tongue before finally thrusting his now rock-hard cock deep into the horny bitch's guts!
It's a rough, boisterous ride that follows; but it's one that's soon replicated in reverse, with the two lads flip-flopping positions (and asses!) in an energetic fuck-fiesta. As a result, any initial sense we had of romance between these boys is very quickly dispelled; culminating in a copious spray of spunk that's in keeping with the raw escapade!
Scene 06: Sweet-Faced Tim Law Gets Fucked By Older Mate & Receives A Face-Load Of Jizz For His Efforts!

Cast: Tim Law, Derrick Vandal
From: Dads Fuck Lads, Scene 3
Young cutie, Tim Law, has always been the submissive type, but even we were surprised at how quickly he seemed to be kowtowed by Derrick Vandal's buff, masterful physique when the two of them were introduced – over a game of cards, as it happens. Indeed, it's no word of an exaggeration to say that Law was bouncing up and down the length of Vandal's cock pretty much ten minutes after the said game concluded.
Mind, as this excellent scene clearly portrays, their encounter was very much a meeting of souls. Law, the compliant party, is only too eager and willing to be used by Vandal in any manner that his older, more aggressive partner sees fit. Hence the opening screw between the pair is promptly succeeded by Vandal face-fucking the youngster; before Law is thrust onto his back so that the elder lad can rim his pal's tight little hungry pucker in anticipation of the next energetic, bareback fuck.
Not surprisingly, Law's hole is soon being hammered once again for your crude entertainment – the lad tossed around like a fuck-doll before Vandal finally wraps proceedings up with a quite superb spray of spunk all over Law's sweet little face. If you enjoy the sight of "innocence" being kicked by the boot of experience then this scene is for you!
Scene 07: Yuri Adamov Gets His Horny Russian Hole Pounded & Creamed By Shane Barret's Raw, Uncut Dick!

Cast: Shane Barrett, Yuri Adamov
From: Twinks Destroyed 1, Scene 4
Maybe it's the effect of wearing sexy underwear – and let's be honest, that can be a mighty powerful aphrodisiac – or maybe it's the fact that they're just a pair of hyper-horny fuckers, but one thing's for sure and that's that Shane Barret and Yuri Adamov can't keep their hands off one another right from the very start of this terrific escapade. Then again, given their rather hectic histories with STAXUS, what else would we fuckin' expect?
Adamov, in particular, can't wait to tear his buddy's underwear away; sinking his very eager mouth tightly around Barret's hard shaft and giving it the sort of lip-service that we all like to see. Not that Barret is in any way less reserved. Having savoured the supremely satisfying efforts of his mate on his dick, he's soon returning the compliment; before teasing Adamov's ever-ready hole with his tongue and (briefly) with his feet! But let's face it folks, there's only one part of Barret's handsome anatomy that this young Russian wants inside him; and the good news for this horny punk is that he doesn't have to wait very long to see all his dreams come true.
Indeed, in no time at all his man-pussy is getting the sort of pounding that we've all long expected to see from a stud like Barret – a fellow who never holds back in any way when it comes to satisfying a bitch like Adamov! Suffice it to say that it's not long before the filthy-minded bottom is rupturing his balls as a result; before Barret spews his baby-brew all over his pal's pucker, then sinks his rod back inside to make sure that Adamov's hole is well and truly creamed!
Scene 08: Music Is The Food Of Lust For These Spunky Big-Dicked Fuck-Buddies!

Cast: Milan Sharp, Marco Rivera
From: Symphony 69, Scene 3
Is there anything more likely to attract a sexual partner than the ability to play the piano? Well okay, maybe there is – a big cock being the most obvious alternative quality! – but it's still a skill that doesn't seem to stop Milan Sharp from getting all the right sort of attention from the wrong sort of boys. Marco Rivera being one such horny admirer, whose dark, lean looks are bound to get pulses racing and knobs pounding! The STAXUS new-boy certainly seems to have a quickening effect on Sharp, that's for sure. Just a few seconds on from him entering the room, blond-boy Sharp is as hard as fuckin' nails, which gives Rivera the perfect opportunity to demonstrate his rather exquisite oral skills. True, they might not be quite as classical as Sharp's work on the old ivories, but we hazard a guess that you're gonna appreciate them all the same.
Certainly young Sharp seems to enjoy the attention, that's for sure; indeed it's not long before he's gasping for the opportunity to relieve his burgeoning sexual tensions by fucking the bejeebies out of the cute little pianist. A move that signals the start of a hot, sweaty, balls-busting set-piece that'll have you creaming in no time. All topped off by two spunky climaxes from both of those big, uncut dicks!
Scene 09: Skylar Blu Gets The Spit-Roasting, Ass-Bustin' Treatment From His Two Horny Mates!

Cast: Skylar Blu, Jay Middleton, Jaxon Radoc
From: Up North, Scene 3
Most lads would pretty much die of embarrassment if their buddies walked in on them having a wank, but not young Skylar Blu. A true exhibitionist and self-publicist, he barely seems to raise so much as an eyebrow when Blake Hanson and Jayden Middleton interrupt his private antics.
What's more, it barely takes him a minute to get both mates into the same clothes-free predicament; as he slips down onto his knees and begins to slurp on Hanson's dick, whilst mixed-race Middleton slaps Blu's pert little upturned ass for all it's worth. It's a prompt, energetic opening which will have any chav-lovin' viewer literally oozing with delight; and the temperature in the room only continues to rise when Hanson gets behind Blu and thrusts his big, meaty, uncut shaft deep into his pal's ever-eager crack.
A few more minutes on and it's Middleton's turn to fill Blu's butt-hole, leaving the dirty-minded bottom trapped between his mates and getting the full-on, spit-roasting treatment that he clearly so very badly needs and deserves. The sight of these three beauties in full rut is something that's gonna get the juices rising for sure; and by the time Middleton spews on Blu from one end whilst Hanson whitewashes from the other you're gonna have busted a nut (or more) for sure. Brit-sex has seldom looked so unbelievably fuckin' hot!
Scene 10: Horned-Up Blond Twink Quits His Music To Give Zac Todd The Suck & Fuck Of His Life!

Cast: Zac Todd, Adrian Smallwood
From: The Italian Job part 1, Scene 4
Adrian Smallwood loves his music and dreams of being a singer. But, as quickly becomes apparent when he realises that Zac Todd's in the room, he doesn't love it quite as much as he loves getting his cock sucked! Well let's face it, that's the only reasonable explanation that you can come to given the manner with which he tosses his music-player aside in the opening couple of minutes of this scorching little number.
Still, whilst the lad's singing voice is certainly not the worst that you've probably ever heard, we've a reasonable suspicion that it's not the part of him that you're keen to see exercised! As such, the immediate revelation of hard cocks from both lads will almost certainly be greeted with no small sense of relief from you, our ever-horny and demanding fans; and suffice it to say that we're extremely confident that what follows will not disappoint.
Both Todd and Smallwood are clearly well up for some intimate play, feasting on each other's dicks top-to-toe, before Smallwood eventually moves his attention to his mate's balls and ass-hole. It's a signal, of course, that both guys are more than eager and ready to copulate for your pleasure; and before you know it Todd's getting his gaping love-chute stretched in a succession of positions. It's no wonder then that he's soon literally getting the spunk banged out of him; before Smallwood calls it a wrap by spurting all over his pal's expectant face!
Scene 11: Horny homework for hard-dicked boys

Cast: Justin Conway, Alec Palk
From: Bare Study Buddies, Scene 2
We join sexy boys Justin Conway and Alec Palk for this hole stretching session of anal loving! They make a perfect duo too, complimenting each other in appearance and matching each other in their lust for hard cock and some tight ass!
Twink boy Justin is relaxing with a good book (no, not Fifty Shades of Grey!) when his friend Alec arrives for an after school session of cock fun. It doesn't take a whole lot of persuasion to get hung Justin hard and horny for some play, with Alec feeling the growing mound of his uncut cock in his uniform trousers.
Hard and leaking precum, Justin's thick and pink tool is soon free to be truly worshipped by his horny friend, and Alec wastes no time sucking the juice from the head and paying some attention to those dangling plums.Shared wanking and sucking ensues as the boys enjoy their meaty shafts between them, but the cock-rubbing frottage is what takes Alec to the point of needing that large dick inside him and he takes up position. Sliding down on his friends naked shaft, Alec takes every inch in his snug hole and riding it as best he can. But it's not good enough for Justin and he wants to go deeper, flipping the boy and getting him on his knees so he can really drive that cock home!
Taking it slow, he can get all of his cock in there, balls-deep, and that tight chute takes him right to the edge! He pulls his shaft free and gets to wanking as he feels the pleasure growing, delivering a hot mess of gooey boy juice as Alec gives his tight nads a spit bath! A slow motion cum squirting finishes things off as the boys tongue wrestle and Alec wanks his own watery load from his uncut boner. If homework had been like this when I was at school, I would have gotten even less actual work done!
Scene 12: Brit Beauty Gets A Bike-Based Fuck Courtesy of Rudy Valentino's Thick, Meaty Dick!

Cast: Rudy Valentino, Aaron Aurora
From: Dirty Riders, Scene 2
Director, Michael Burling, hits a pitch-perfect note here, with a truly superb "threesome" that'll surely have you knocking out load after load in appreciation. Threesome? we hear you ask. Is that right? But of course. Rudy Valentino, with his moody, sexy persona that literally oozes from the screen; Aaron Aurora, the cute Brit twink that a guy like Valentino is never, ever gonna be able to resist in a million years; and the motorbike from which the two lads alight during the scene's opening moments.
After all, the said bike is as much an essential feature in this stupendous display as the two models, serving as the backdrop to some delicious fellatio courtesy of both parties, before Valentino does what Valentino does best – namely fucking the living daylights out of the twink's hungry little ass! Not that Aurora puts up any significant resistance in the face of such an onslaught, taking every inch of his mate's hard dick like a man and pumping out a fine wad of jizz in the process.
That only leaves it for Valentino to unburden his own tight nads all over his pal's shoulder – by this point we reckon there's every chance you'll have spewed so much man-juice of your own that you'll hardly quibble that the cum might have looked better over Aurora's face!