Summary:
Not everyone's happy enjoying one cock at a time. Some lads just aren't content unless they've got two big, aching shafts pounding away at them – one at each end of their bodies! And it's these kind of horny, dick-crazed sluts that we celebrate here. Fresh-faced twinks like Ariel Glutton, Alex Silvers and Will Sims, who just love getting stuffed like pigs courtesy of their mates's meaty dicks – and who always get rewarded with rich lashings of hot, sticky spunk!!
Compilation DVD - 6 Scenes
To ensure you don't waste money buying the same content twice, this compilation features scenes from the following titles:-
Scene 1: Young Blond Modelling Slut Gets Spit-Roasted & Double-Dicked!
From Shoot This, Scene 5:
With his cheeky, knowing smile, it seems almost inevitable that any photo-shoot that has Carl Ross as the photographer is going to end with him making a pass at the model – especially when the subject is a horny fucker like Ariel Glutton, and there's encouragement on the sidelines from dark-skinned stud, Zoltan Goral! So don't be surprised when the camera is promptly put to one side and Ross strips Glutton out of his leather underpants; signalling the start of a juicy, spunk-inducing threesome that very quickly sees Ross and Goral following their buddy's lead and ending up stark-bollock-naked on the sofa, one either side of Glutton like a couple of horned-up bookends! Indeed, Glutton is very much the centre of attention throughout this escapade – his cock being the focal-point of the initial onslaught, before eventually Ross bundles the fellow over and gives him the kind of deep-tongued rimming we'd surely all cry out for.
But there's simply no denying that the bit of the action here that's going to warrant most attention from our fans is when Glutton first gets spit-roasted by his pals, then sits on both their dicks simultaneously. Not content, he then allows Ross and Goral to double-shaft him from behind, which, given the amount of gasping and groaning on his part, clearly proves to be a heady mix of pain (on his part) and pleasure (on yours)! Still, all that hard work on his part gets its own reward in the form of two terrific facials, which leave the lad quite literally dripping with jizz as he jerks off his own pent-up wad! All in all, it's satisfaction guaranteed!
Scene 2: Two Studs Abuse, Fuck & Piss On A Cute Smooth Twink!
Cast: Dick Casey, Will Sims & Paris Neeo
From: Hazing, Scene 1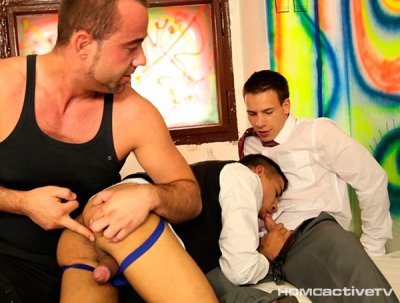 We're not exactly sure whether any director has ever featured setting fire to a model before, but it sure as fuck adds to the intensity of the opening action here as young Will Sims is abducted from a local supermarket by horny fuckers Paris Neeo and Dick Casey. To be fair, the truly incendiary nature of the action comes immediately after Neeo's efforts to ignite Sims with lighter fuel, with the lad's assailants promptly forcing their hostage into a stunning display of unrequested cock-sucking. Indeed, by the time Neeo is thrusting his fingers into Sims' tight little ass we'll warrant that you'll have completely forgotten the initial antics, and will be concentrating instead on the sure-fire action ahead – on this occasion featuring Casey banging away from the rear whilst Neeo forces his knob down Sims' throat! Of most memorable note, however, is Casey's ensuing cum-shot – a truly magnificent cascade of jizz that really does have to be seen to be believed! And just when you thought that couldn't be topped, the two kidnappers bundle their victim onto the floor and conclude the scene with oodles of hot, fresh piss. All in all, a brutal, unforgiving fuck that'll blow your load!
Scene 3: Cocky Young Blond Lad Gets All His Holes Filled By His Swim-Team Fuck Buddies!
Cast: Alex Silvers, Luke Desmond, Timmy Treasure
From: Swim Meat, Scene 3
We may be wrong, of course, but we've a sneaking suspicion that you, our loyal STAXUS fans, are just gonna love Alex Silvers – but then what's not to like about this cute-faced blond wonder? Slim, well-hung, pretty as a fresh daisy – he's exactly the kind of fellow you just pray will enter the locker room when you're out at the gym or down at the pool.
Well, for Luke Desmond and Timmy Treasure their luck is most definitely in here, as Silvers struts in with an almost arrogant manner and promptly makes a bee-line for Desmond, who as we all know is hung like a feckin' donkey! Seems like the news of the fellow's monster dick has got around to Silvers, and before anyone has chance to catch their breath the young fellow is down on his knees and slurping on that thick, uncut ramrod. Not wishing to miss out on the fun, Treasure's soon in on the action as well, marking the start of a fabulous, no-holds-barred threesome that'll have you knocking out a whole series of pent-up loads.
But what other possible way is there to show your appreciation of this horny trio, who are soon engaged in a stupendous spit-roast as the two tops take every opportunity to fuck their buddy over a locker-room bench. As a result, Silvers is soon violated in every stupendous way, and it's no surprise that he's soon reaching the point of no return as a result. A few minutes on and his ass-crazed lovers are reaching their own mega-sticky crescendo of grunts, groans and (naturally) lots and lots of jizz. Seems like young Silvers isn't quite as innocent as he looks – especially when he takes a wad of cum in his mouth – but that's exactly how we like them!
Scene 4: Billy Rubens goes raw & Aaron Aurora goes ga-ga for dick as a result! HD
From: Geek Peek, Scene 2
There's no doubting the uproar that young Billy Rubens has caused since he first stepped in front of the camera – and who can possibly claim to be surprised at that? With his gorgeous physique, pretty-boy face and a cock to die for it's no fucking wonder that he's almost single-handedly threatened to send STAXUS fans into meltdown en-masse! But this geek scene, with the ever-popular Aaron Aurora and the petite Chase Hunt, takes Rubens to a whole new level, as the toned-up beauty finally succumbs to the inevitable and throws his rubbers to one side for a fabulous threeway fuckathon! A decision that immediately gained Aurora's attention prior to the shoot, who quite simply begged us to let him be the one who the fellow's raw inches for the very first time.
That youngster is such a brazen slut – a fine credential that's only underlined here when he enjoys a very energetic spit-roasting over a desk! For not only does the lad allow both buddies to bang away at his ass with total impunity, but he also deep-throats Rubens's dick with the kind of gusto that only a pro could ever hope to emulate. The result is a truly stupendous display of man-on-boy rutting that'll have you jerking off countless times, and which threatens to shoot both Rubens and Aurora into the gay porn stratosphere! If the sight of these three beauties doing the biz doesn't do it for you then fuck knows what will. In short, if Kleenex sponsored porn then this is exactly the kind of scene that would seal the deal!
Scene 5: Dirty Blond Gets Blindfolded, Rimmed & Spit-Roasted By Mates!
From: Cum With Me! Scene 2
Edward Fox and Troy Vara are clearly in the mood for a little bit of kinky fun with their sleepy fuck-buddy, Tom Nutt – bounding onto his bed, blindfolding the fellow and playing that age-old game of "guess whose cock you're sucking"! Any pretence of disinterest on Nutt's part, however, is undermined by the fact that the young blond has a hard-on in his pants like a fucking tent. Indeed, both Fox and Vara seem to understand that their pal is well up for action; and it's no more than a minute or two before Nutt has removed the blindfold and is very eagerly devouring every meaty, uncut inch that his mates are able to thrust in his direction! What's more, it doesn't seem to take all that long before the fellow has positioned himself on the bed with his legs almost wrapped behind his ears, so that Fox and Vara can take turns to rim his gaping ass-hole.
Clearly this is a boy with a whole lot of sex on his mind; and it seems to come as almost something of a relief when Vara finally plunges his joystick into the fellow's hungry pucker, still jutting proudly into the air in a very open invitation to his over-sexed pals. No question about it, Vara takes full advantage, mercilessly pummelling the kid's man-cunt to full effect; whilst Fox takes a somewhat more gentile approach, allowing Nutt to ride his dick cowboy-style – a method that Vara himself replicates shortly afterwards. Not that Nutt seems the kind of boy to care how he's being fucked – so long as he is! – and the copious stream of jizz that he takes full-on in the face only underlines his total-slut credentials!
Scene 6: Brad Fitt takes a fireside wank whilst his scouting mates enjoy a threeway fuck! HD
Cast: Brad Fitt, Bryan Roico, Darryl Declan, Sven Laarson
From: Raw Scouts 2, Scene 4
Even those who've never been on Scout Camp know that sitting around a fire, singing songs and toasting marshmallows is a quintessential part of the whole Scouting experience. What most of you might not have considered, however, is how the camp fire is extinguished once all the songs have been sung and the marshmallows consumed.
Well now, thanks to director John Smith, another mystery of the Scouting world has been well and truly debunked, with Brad Fitt quite literally tossing off into the flames. Of course, we're not exactly convinced that this is the most efficient manner of fire-control; but we're barely left with a moment to catch breath before our minds are completely distracted by the return of Darryl Declan, Bryan Roico and Sven Larsson to the nearby chalet, for whom all that outdoor activity has left a distinct buzz of horniness in the air.
Needless to say it's no time at all before all three boys are out of their uniform and are feasting on the splendid array of dick on offer – egged on, no doubt, by the appearance of Declan's oversized ramrod, which you just know is going to be the main focus of all the ensuing fevered attention. And so it proves, with the meaty, uncut love-muscle giving both Roico and Larsson a real hard workout – much to their clear satisfaction, it must be said. The display of primeval rutting is a must-see for anyone who enjoys watching hyped-up lads in action; as is the sight of all three guys busting their nuts with a plethora of pent-up jizz. All in all, a top-notch performance that'll have you jerking faster than you know how!