Summary:
2 DVD compilation loaded with nothing but the sexiest twinks in streaming piss action! Watch these young guys suck and fuck before they take hot and hard streams of boy piss in their mouths and over their fit bodies! Ultra wet deal! 10scenes
This title represent great value for money given the amount of quality content and running time. However, to ensure you don't waste money buying the same content twice, this compilation features scenes from the following titles:-
Scene 1: Spit-Roasting Cum-Soaked Frenzy Gets Washed Down With Piss!
From: Taken & Tortured, Scene 3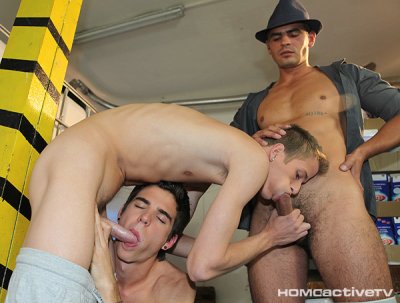 Okay, so we all know that Jack Cameron is as cute as fuck – but somehow he seems even cuter than usual when Nicolaj Pavlov convinces the lad to give Tom Nutt a blow-job. Not that it's just Nutt's knob that's getting attention. Before many moments have passed Pavlov has unzipped his own dick and Cameron is taking both shafts in turn. Indeed, it seems only natural that Pavlov – who's slightly older than the two twinks – should be the dominant party in this scene, dishing out the instructions and ultimately demanding that Nutt bends over and fully exposes that pert little ass of his. Needless to say, it's no time at all before Pavlov's knob is working its way in and out of the blond boy's pucker, as Cameron pushes his own ramrod into Nutt's all-too-eager mouth. The result is a scorching spit-roast that eventually sees Nutt banged by both his companions in turn, time and time again; and it's no surprise when all those tight young balls can no longer hold themselves back from the inevitable. In short, it's a veritable spunk-fest – topped off by a plethora of piss (courtesy of Cameron) that leaves young Nutt totally soaked and satisfied. Totally perverse, but totally hot!
Scene 2: A little Playful Abuse
Cast: Mathew Ross, Nikolas Cox, Julien Adagio, Daniel Emerson
From: Reservoir Cocks 2, Scene 5
Who can resist a little playful abuse? Or, for that matter, abuse that's just plain nasty? Not this bunch of cruel sadists, that's for sure – a horny trio of thugs who find Daniel Emerson tied up by his previous assailants, waiting for whatever retribution is set to come his way. It's an unquestionably short escapade – less than three minutes to be precise – but Mathew Ross, Nikolas Cox and Julien Adagio still manage to pack a mighty punch as they empty their bladders all over Emerson's face, laughing and joking as they do so. Given the quantity of piss involved we reckon these lads hadn't been for the toilet for hours prior to filming this scene; and it's little wonder that the boy looks every inch the picture of humiliation and dejection by the time his assailants have had their fun.
Scene 3: Horny Team-Buddy
Cast: Francisco Ruck, Jack Cameron, Mike Cage
From: Red Card, Scene 5
Blond stunner, Mike Cage, thinks he's scheduled to enjoy just the one cock when he hooks up with horny team-buddy, Francisco Ruck – but is he in for one hell of a fuckin' surprise! To be fair he's already well up for a hard fuck even before the gorgeous Jack Cameron enters the locker-room, but the sudden prospect of being the centrepiece of a hardcore threesome clearly thrusts the lad to a whole new level. And let's be fair now, why shouldn't it? Cameron and Ruck are two stunning individuals, and the thought of allowing them each to take turns to bang away at your ass is one that would float the boat for most guys! But whilst the scenario is destined always to be a fantasy for the rest of us, Cage get the once-in-a-lifetime opportunity to get fucked raw by both lads – and just to make it even hotter he even gets the chance to ride them at the same time like a cowboy! Believe us, this encounter is so hot it almost hurts – indeed given the size of the cocks in question it almost certainly did for Cage! – but the fact that Cameron and Ruck conclude proceedings by dumping spunk and piss all over the filthy bottom's face makes this a truly unforgettable romp!
Scene 4: Cute As Pie - And These Two Dick-Mad Twinks Just Love To Fuck In The Midday Sun!
From: Barebakc Park, Scene 5
Scene 5: Horny Lovers Punish Kinky Voyeur With A Cum & Piss Frenzy!
From: Bareback School Nightmare, Scene 2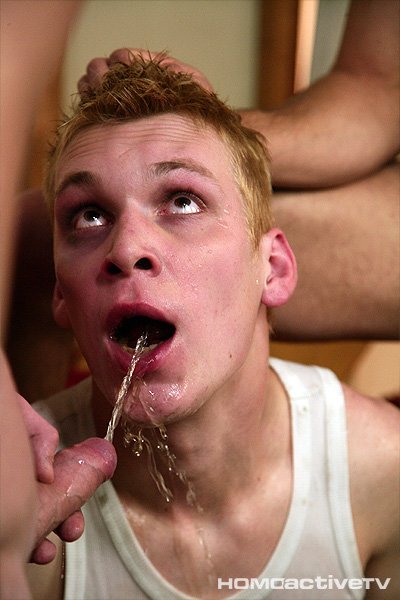 Fans of the chav look will be creaming themselves right from the start here, with Rick Carter's smoking physique lighting up the screen in every sense. With a baseball-cap and a thick, heavy chain round his neck, it's little wonder that the devilishly handsome Glen Hart has quickly fallen to his laddish charms and is soon allowing Carter to work his mouth up and down the meaty pole stuffed in his slacks. It's an exercise that's promptly reciprocated – at which point we realise what a magnificent weapon young Hart has to offer. No surprise then that Hart responds to the discovery like a man with a cock-addiction, slurping away with manly enthusiasm and no doubt bringing his mate close to the point of no return in the process. The sudden interruption of blond cock-hound, Ted Burke, brings an added dimension to the coupling, however, as both lads immediately attempt to force their shafts down the newcomer's throat like a couple of randy dogs on heat! Indeed, it's pretty much abuse all the way from this point on, as Hart and Carter proceed first to shoot their wads over Burke's face and then douse the fellow with the contents of their bladders. The fact that Burke appears to be donning a black-eye only adds to the overall sense of exploitation – a distinctly kinky sentiment that'll have a whole host of our fans in rapture!
Scene 6: Terrific ball-bustin' threesome
Cast: Christian Elliot, Luis Bigdog, Kevin Groom
From: Filthy Skater Sluts, Scene 3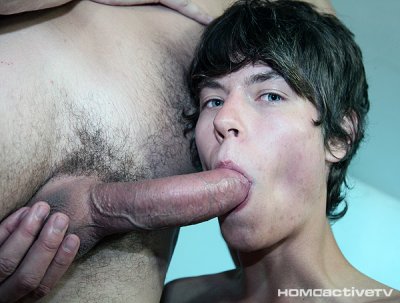 Today's youth may have a reputation for idleness, but it's a reputation that the likes of these three lads clearly wish to dispel with this terrific ball-bustin' threesome. Not that they're actually doing a great deal when we first join them – daydreaming the day along in their hideaway – but the arrival of our cameras seems to change their disposition completely, as a surge of energy sees them kissing and groping each other with the kind of gusto reserved to guys their age. Young cutie, Christian Elliot, takes centre-place to proceedings, as he slurps along the thick, meaty cocks of both his pals; with Luis Bigdog (who's slightly older) clearly having an almost unhealthy interest in Elliot's hungry little pucker, as he spits and fingers the crack towards ecstasy. Not that either the appropriately-named Bigdog or Kevin Groom are gonna be satisfied until they're firmly spit-roasting their horny little friend; and it comes as something of a relief when the lad's holes are finally playing host to all that hard dick! A cascade of hot spunk promptly follows – topped off by a superb blast of piss all over Elliot's perky little face. Hanging out with the crew has never been hotter!
Scene 7: Horny Youngster Gets Banged Both Ends!

Cast: Alex Granger, Mike Cage, Falco White
From: The Silence Of The Twinks 1, Scene 2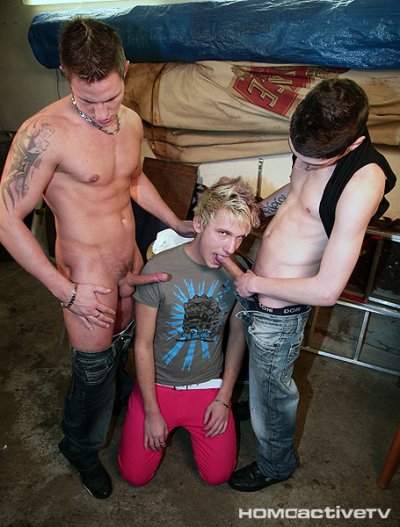 We're not exactly sure that music videos are usually shot in working prisons, but the arrival of singer Carol Smith sets off a chain of events that result in a terrific off-set threesome. Young blond, Mike Cage, wants Smith's autograph – but his enthusiasm leads him into direct conflict with her "protectors", Alex Grander and Falco White. Their punishment is swift and direct, as they force Cage down onto his knees and thrust their meaty, uncut cocks into his face . Then, as if to prove their point, they begin to work the lad's tight hole (first) with their fingers and (then) with their dicks. The resultant spit-roasting is all the more intense for the fact that Grander and White spin Cage round to take turns fucking either end of the boy; whilst the scene's conclusion – a breathtaking cascade of cum, piss and then more cum! – will have you jerking like crazy in appreciation. No doubt at it, your balls are gonna burst big time!
Scene 8: Horny Officers Give Youngster A Piss & Spit-Roast Cock & Fist Fuck!

From: Busted & Abused, Scene 1
Hold onto your hats, boys – not to mention your cocks! – it's gonna be a bumpy ride! Indeed, from the very moment this scene opens, with Alan Capier being dragged kicking and screaming to the "playroom" of Andy Toll and Chris Bolton, you just know that this is a film with added bite. Vanilla lovers, be warned – from the very moment that Capier is left hanging by his feet and forced to suck the two hard dicks that are thrust into his face, there's not a hint of moderation to be seen. Both Toll and Bolton – here acting out the roles of police-officers – throw themselves wholeheartedly into their roles, taking fiendish pleasure of pissing all over Capier's face and arse-hole, before systematically spit-roasting the poor unfortunate with their thick, uncut skewers! Little wonder that Capier should look so disorientated and dishevelled – though he does manage to take a mouthful and ass-load of cum with meritable gusto. He also takes a fist up his guts like a maestro to conclude the scene's antics. In short, a definite must-see for those who like their porn to be devilishly wild and without reservation.
Scene 9: Horny Patients Prove That The Best Way To Recovery Is Via A Diet Of Spunk & Hot Piss!
Cast: Julien Heath, Louis Brooks, Alan Capier
From: Doctor Piss, Scene 4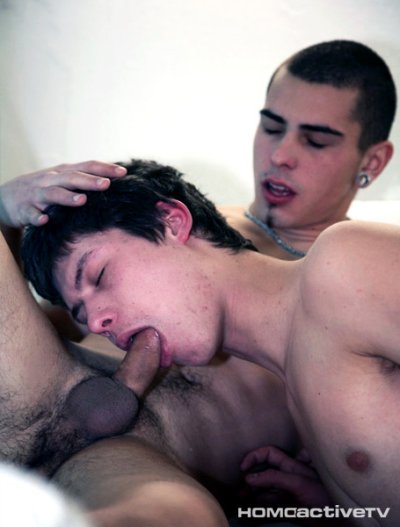 What goes on in Room 69? Well, given that it's occupied by two of the hottest, cutest twinks imaginable, in the form of Julien Heath and Louis Brooks – not to mention the significance of the room number itself – it's perhaps somewhat inevitable that it's gonna involve sex! Lots of sex!! Which, of course, will come as no surprise whatsoever to anyone who's ever already seen these boys in previous productions. Heath, in particular, is a lad who lives for cock; and indeed it's no time at all before both boys are assisting their recovery by slurping on each other's hard shafts. What's more, it's a medical philosophy that's clearly shared by Alan Capier, who stumbles into the room to find Brooks pissing all over his fellow patient, and who promptly decides to squirt the contents of his bladder all over young Heath's face as well. What follows, quite simply, is a piss-lover's delight. Just be thankful that you weren't the one employed to clean up the resultant mess.
Scene 10: A roomful of horny cocks!
Cast: Nick Deniels, Carl Baxter and Clode Volf
From: Piss My Cum Away 2, Scene 5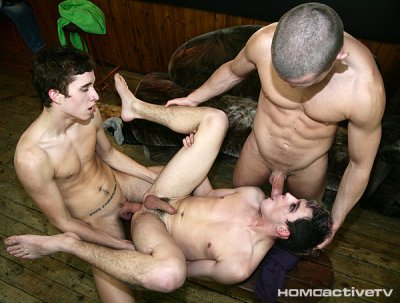 The final scene sees events turn full circle, as the action returns to the bar for another group effort – on this occasion focusing on the "Emo-esque" talents of blond cock-hunter, Nick Deniels. Fact is, he's gagging to be at the receiving end of some wicked dick action, right from the moment he walks into the room and provocatively whips his knob out to piss on a nearby coffee-table. It's an act that (quite rightly) gains the full ire of the other boys in the room (Falco White, Clode Volf, Tom Hyde and Carl Baxter), who immediately force the fellow to the floor and vent their fury by drenching his face with the golden nectar. For Volf and Baxter, however, there's still plenty of fun to be had even after the last drops of piss have been spilled, as they force Deniels down onto a nearby sofa and begin to give his body the sort of attention that it richly deserves. Volf, as always, is a fantastically passionate top, and neither he nor the comely Baxter is satisfied until their prey is being spit-roasted at the end of their meaty, uncut cocks. It's the kind of spunk-inducing show that'll have you jerking on your own rods like fury – not least of all when Volf spurts over Deniels' face and Baxter unburdens his heavy load into the young bottom's ass! In a word, magic!