Summary:
2 DVDs filled with ultra dirty twinks doing ultra dirty stuff! Multiple dildo insertion, twink fisting, hard ass pounding and loads of fresh cum on cute young boy faces! TIP
|
Awesome 2 DVD Set! Compilation DVD, 10 scenes
This title represent great value for money given the amount of quality content and running time. However, to ensure you don't waste money buying the same content twice, this compilation features scenes from the following titles:-
Scene 1: Pizza Boy's Payment In Kind: A Forced Fucking He Won't Forget!
Cast: Johan Volny, Mike Cage, Martin Love, Paris Neeo
From: Extreme Twinks, Scene 4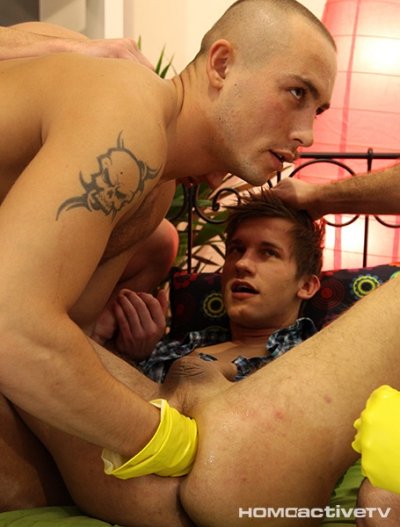 Who'd want to be a pizza delivery boy for this bunch of horny fuckers? Not Mike Cage, that's for sure, as he's confronted by a drunken and abusive trio in the shape of Martin Love, Johan Volny and Paris Neeo. Unfortunately for him, he never really stands a chance, as his feet are strapped high into the air and his arms to the bottom of the bed – rendering him completely at the mercy of the sick threesome, who promptly proceed to lube and abuse his ass. Beginning with the insertion of a collection of billiard balls and a whole raft of inquisitive (not to mention beer-coated) fingers. To his credit, Cage appears to keep a smile on his face throughout, no matter how many dildos his new-found friends try to stick up his ass at the same time – three being the max – but by the time he's being double-fucked by Neeo and Love you can't help feeling for the guy. Not that his abuse ends there, as he's then furiously fisted; before everyone takes turns to spunk over the lad's pizza so that they can force Cage to eat it with its tasty additional topping! Altogether, it's an unquestionably sick fiesta of hardcore sex that'll have all you evil fans out there tossing off time and again!
Scene 2: Boot Licking Bondage!!

Cast: Kink Boy UK and Anthony Daniels

From: Bound,Shaved & Fucked, Scene 3
Punk rocker Kink Boy drags suited Anthony up into a deserted room ready for a hot session that both these horny fuckers are dying for. Funky red Mohican and outfit, Kink Boy loves being in charge of out smooth young stud, tying him up and tasting his body, forcing his tongue everywhere. Anthony dives onto Kink's boot, licking them clean whilst wanking himself, his cock rock hard from the submission he's enduring. Showing off his big leather bound dick, he's slides it into his captive, hard and fast, getting it pumped up until cum splashes everywhere, even on the camera!!
Scene 3: Mad, Bad and Dangerous
Cast: Marty Love, Matthew Ross
From: Reservoir Cocks 2, Scene 3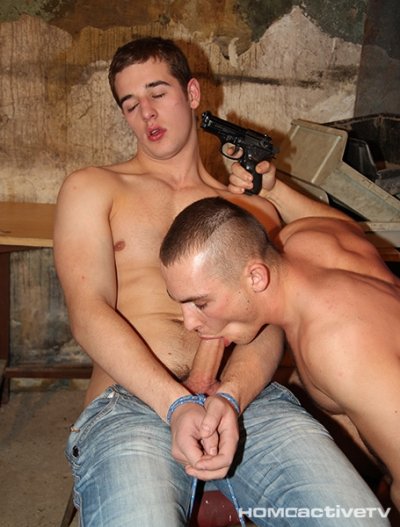 In a world of smooth, hairless chests you've just got to love a man with a bit of fuzz between his nips – in this case the very manly persona of Marty Love, who serves as the abusive (but extremely sexy) lead in this sultry coupling with young Mathew Ross. Indeed, if you like your men to have a little bit of a corrupting edge then Love is most definitely your man. He's clearly mad, bad and dangerous to know, as he wields his gun in Ross' direction, threatening to blast the youngster off the planet if he doesn't get his way – which in this instance means having his thick, meaty cock thoroughly satisfied! Thick-lipped Ross can't help but respond positively, giving the fellow's rod a feisty slurp before parting his legs and allowing the cropped-haired brute to stretch his undeniably eager butt. No question about it, what follows is a somewhat breathless escapade between two of the cutest pups around, eventually resulting in an ass-load of jizz for Ross and (in return) a mouth-load of hot, creamy spunk for Love. The concluding smooch really is as hot as you imagine!
Scene 4: Young Twink Gets Fucked Before Receiving A Face-Load Of Hot Jizz!
Cast: Ryan Quaid, Hari Marple
From: The Silence of The Twinks, Scene 1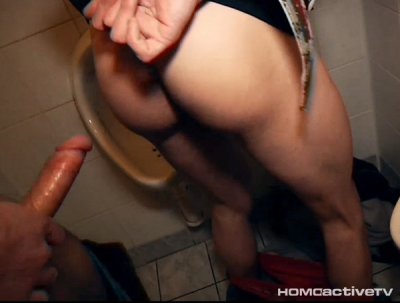 Addictions come in all sorts of different disguises. Nevertheless, it doesn't really matter what it is that someone is addicted to, be it drugs, drink, sex or whatever – the effect on the individual concerned is always the same. The cravings become increasingly intense with each "fix" – as young Ryan Quaid confesses when he reminisces back to the first encounter that left him hooked to the combined pleasures of sex and violence. Pushing Hari Marple into a toilet block, he immediately begins to repeatedly fuck his victim's mouth and ass, with a degree of brutality that leaves the viewer in no doubt of this feature's punch. For all the scene's brutality, however, there's no denying the appeal of these two guys; and the conclusion – Quaid spurting the contents of his tight balls all over Marple's face – is one that you won't forget in too much of a hurry. It's brief, it's brutal, it's sweaty ... but it's hotter than you might like to imagin!
Scene 5: 10 Inch Squaddie Fucks Two Queer Sluts!
Cast: Luke Desmond, Aiden Jason & Skylar Blu
From: Army Brutality, Scene 4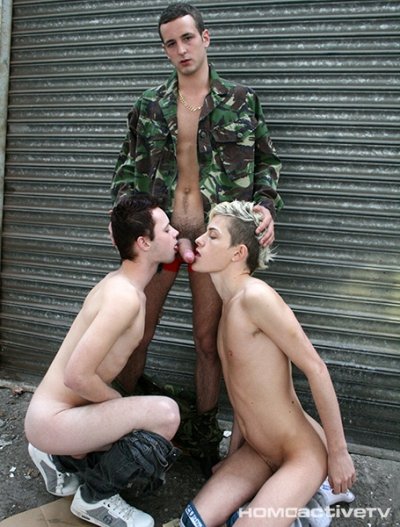 Luke Desmond is a young soldier with a mighty big weapon – one that he puts to find use when he just so happens to spy two young twinks making out in what they clearly believe to be the privacy of some old factory units. Truth is, blond-haired Skylar Blu and cute-as-a-new-button Aiden Jason only have eyes for each other; but the unexpected interruption on Desmond's part and the sudden exposure of his meaty, uncut dick in their faces, is more than enough to persuade the pair that whilst two is good, three's fucking better! Little do they seem to realise that the older fellow has a bit of a kinky side to him that he's only too eager and willing to bring to the fore once in on the scene; and before they know it he's busy clamping their nipples for a little mindless fun. By the time the guy brings out a double-headed dildo with which to skewer the pair of innocent babes, Desmond clearly has them completely under his control; so it's little surprise that he proceeds to fuck both lads in turn, beginning with Blu who quite literally has the cum banged out of him! In short, a master-class in how young twinks can be used and abused by anyone with the guts to do just that!
Scene 6: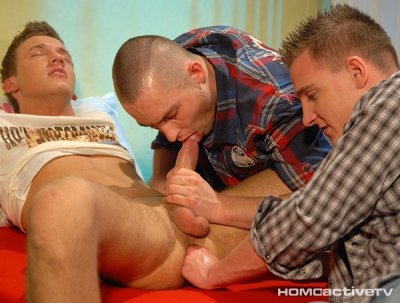 There's no disputing the size of Mike Cage's dick – it's been doing the rounds on and off throughout, and by the time his final fantasy here with John Parker and Marty Love is enacted it's looking even bigger than ever. Mind, the fact that Parker promptly begins to fist-fuck him only serves to engorge matters; though it's pretty clear straight off that only raw cock will satisfy the youngster, and he's probably somewhat relieved that Parker can't wait to thrust his own aching pole deep into that over-hungry crack. All that said, you can't help but get the impression that it's Love that this boy wants. No, not the sentimental, wishy-washy love that's inspired so many Clinton cards. Rather Marty Love, a hyper-toned hunk with just exactly the right amount of chest hair to make you go all weak at the knees. He certainly seems to press all the right buttons where Cage is concerned, and it's hard not to regard the sight of the young bottom being royally spit-roasted by Love up the ass and Parker down the throat as a noteworthy highlight. As is that of Love creaming Cage's pucker and then Love fisting the lad to ecstasy in return. In short, a terrific threesome that'll have you jerking off time and again – and wearing out the rewind button in the process!
Scene 7: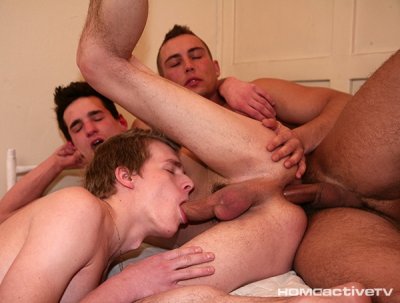 Prison's not usually the first place you think of when you imagine nice places to be, so it's little wonder that young Tod Garner's something of an unhappy soul at being incarcerated with fellow felon, Jon Roz. The arrival of prison guard, Marty Love, however, soon seems to bring the fellow out of his depression – and no small wonder because Love is a pretty gorgeous officer to say the least. So after a little arse-thrashing play on Roz, it's a case of the two twinks getting down to satisfy the rather amorous Love, who (if truth be known) can't wait to get his thick raw shaft deep inside Garner's tight little hole. An ambition he achieves with somewhat remarkable ease, and which leaves Roz yearning for a slice of the action himself. So it is that we're soon treated to the sight of Garner bouncing up and down on his cell-mate's shaft, whilst Love blasts arguably the finest bolt of cum you'll ever see all over the twink's extremely cute young face! All concluded with oodles of piss for an undeniably kinky finale.
Scene 8:
Having his prostate checked, young Kyle can't help but show an erection to the doctor, taking his opportunity for some young ass, Igor fingers his patient a lot deeper and longer than normal. Loving every second, Kyle gets harder and harder, especially when shown the thick dick standing in front of his face. Feeling the thickness stretch his ring is even hotter, jamming it all the way in and holding on, forcing even more to get inside him, deeper than ever before.
Scene 9: Football Fantasy Sees A Dirty Little Cunt Get Spanked & Fucked!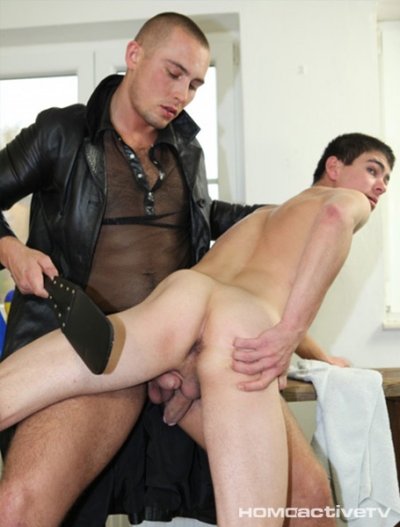 It's just a wild fantasy – but believe us, Damian Driek's footballing daydream is exactly the kind of perverse sport that you dirty wankers are gonna enjoy big time! Marty Love is the leather-bound, cropped haired, paddle-wielding brute who pulls Driek from out of the shower for a wanton, uncontrolled session of arse-spanking, ass-banging abuse – and, what's more, Driek clearly loves every dirty, filthy moment of action! Beginning with him slurping on Love's handsome cock and balls, before the two lads couple up for a magnificent episode of 69-ing that'll have you jerking on your own meat like some miscreant youth! What really excites, however, is the knowledge that Driek will soon be taking every inch of Love's hard dipstick deep inside his hungry crack – and loving it! And so it proves, with the youngster parting his legs for an unbridled course of bareback frolics and (ultimately) dumping a fine spray of jizz from his neatly shaved cock in the process. It's difficult to deny, however, that it's Love who eventually produces the classier money-shot, rupturing his nads into Driek's pucker and leaving the young bottom with a self-satisfied smile on his lips!
Scene 10: Tony London, Ashley Ryder & Brent Bow
From: Bound,Shaved & Fucked, Scene 4
Nipple torture and shaven heads, this threesome is pure abuse. Tearing off his jeans, our sub slut Tony is loving having his head shaved, nipples clamped and butt spanked under their red raw. Pierced top guy Brent loves having his two guys be shaven and then sucking on his meat. Ashley takes both at once before joining the daisy chain of hard cock suckers. Ashley tops Brent whilst Tony straddles him and give Ashley a mouthful of cock and cum, leaving Ashley ready to burst!!
Additional Information
Categories: UK R18 / XXX Gay Adult, Gay DVD boxsets and Compilation DVDs
Running Time: 180 mins, Year: 2013
Price: Around £15* (2 DVD set)
Starring: JMarty Love, Johan Volny, Mike Cage, Paris Neeo, Anthony Daniels, Kink Boy UK, Mathew Ross, Hari Marple, Ryan Quaid, Luke Desmond, Skylar Blu, Aiden Jason, John Parker, Mike Cage, Jon Roz, Tod Garner, Igor Lucas, Kyle Lucas, Damian Driek, Tony London, Brent Bow, Ashley Ryder
Director: Vlado Iresch
Studio: Staxus
Buy DVDs online at: Homoactive, Simply-Adult.com and Radvideo (USA)
Download Staxus titles at: Homoactive (UK/EU) and Radvideo (USA)
Gay Video On Demand: Staxus, See also: www.gayvod.co.uk
Member site: Staxus.com
Country: Czech Republic, Language: czech with english subtitles
Additional info: No Regional Coding