Summary:
These boys are lusting hard for each other's hard cocks! They can't get enough of making each other cum big loads in their mouths and holes! All holes filled for a budget price!
Scene 1: Extremely cute young face
Cast: Marty Love, Tod Garner, Jon Roz
From: Silence of The Twinks 2, Scene 2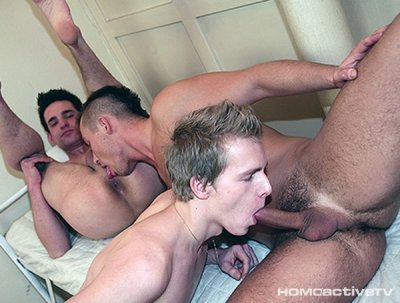 Prison's not usually the first place you think of when you imagine nice places to be, so it's little wonder that young Tod Garner's something of an unhappy soul at being incarcerated with fellow felon, Jon Roz. The arrival of prison guard, Marty Love, however, soon seems to bring the fellow out of his depression – and no small wonder because Love is a pretty gorgeous officer to say the least. So after a little arse-thrashing play on Roz, it's a case of the two twinks getting down to satisfy the rather amorous Love, who (if truth be known) can't wait to get his thick raw shaft deep inside Garner's tight little hole. An ambition he achieves with somewhat remarkable ease, and which leaves Roz yearning for a slice of the action himself. So it is that we're soon treated to the sight of Garner bouncing up and down on his cell-mate's shaft, whilst Love blasts arguably the finest bolt of cum you'll ever see all over the twink's extremely cute young face! All concluded with oodles of piss for an undeniably kinky finale.
Scene 2: Gym-Time Wank Sends This Cute Twink To A Ball-Bustin' Climax!
Cast: Nick Gill
From: Slalom Sluts, Scene 2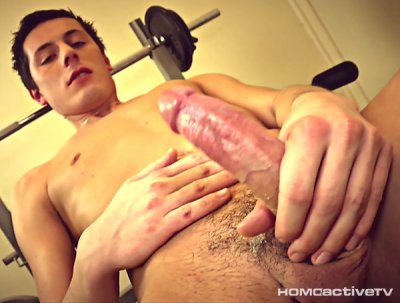 Fresh-faced and clearly as horny as fuck, young Nick Gill is clearly in urgent need of distraction – and where better to go in that sort of situation than the local gym, where you can work off the worst excesses of your sexual appetite by pushing weights and using the cycling and running machines. Except on this particular occasion no amount of working out is ever gonna subdue the greedy desires stemming from this boy's crotch – as quickly becomes apparent when we get to see Gill's semi-erect knob as the lad undertakes a sweaty, boisterous sprint around some of the equipment. Fact is, exercise only appears to make Gill's predicament all the worse, and it's really no surprise when the fellow finally concedes defeat, strips away his shorts and abandons his fitness regime for the kind of wrist-straining antics that one more expects from boys this age. Indeed, with youth most definitely still on his side it's really no surprise that it's only a matter of a few brief minutes before Gill is reaching the point of no return, pumping a generous wad of jizz all over his belly in the process. In short, an uncomplicated solo that'll have you spurting in eager appreciation!
Scene 3: Tim Law Rides Some Uncut Blond German Twink Dick!
Cast: Phil Raven, Tim Law
From: German Sex Holiday 1, Scene 2
It doesn't really take much in the way of genius to see why blond German beauty, Phil Raven, is attracted to STAXUS exclusive, Tim Law – after all, what red-blooded guy would be able to resist the young twink's pert good looks? Neither is it really rocket science to understand Law's brooding penchant for Raven, whose heavy mane of blond hair and handsome Teutonic frame is every inch what we'd expect given his nationality. Indeed, the on-screen sexual chemistry between these two sex gods is quite palpable almost from the very moment that the camera starts to whirr; and the prompt emergence of Raven's closely-trimmed uncut cock (whose size could almost warrant it a zip-code of its own!) only adds to the intensity of the encounter.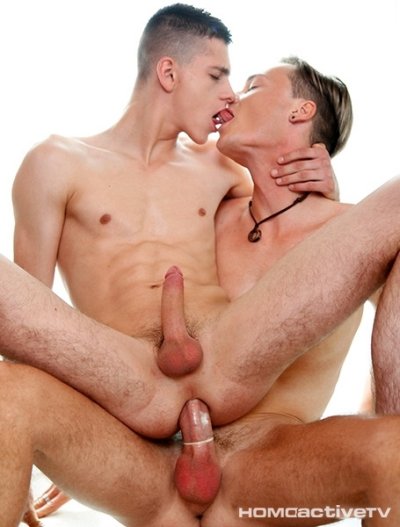 What follows is a fabulous display of fornication that'll have you reaching for the Kleenex time after time; as Law rides that thick, meaty member in pretty much every direction known to man and quite literally gets the spunk fucked out of him in the process! But it's the flood of jizz that the boy gets blasted over his face courtesy of Raven's knob that warrants greatest acclaim – a chin-dripping finale of the highest order!
Scene 4: A red raw ass creaming fuck

Cast: Will Jones, Zac Todd
From: Band of Bareback Brothers 2, Scene 2
Will Jones produces arguably the best cumshot of the show in this scorching, crotch-straining escapade with best friend, Zack Todd – but don't use that little revelation as an excuse to fast-forward to the end. Instead, sit back, unzip and enjoy the unparalleled delights of watching two horny twinks engaging in some alfresco cock-sucking fun, as the two buddies abandon their army duties – not to mention their uniforms – in favour of some hot, lingering smooching and (ultimately) a great deal of raw ass action!
Indeed, it's not at all long before the antics in the garden have been superseded by shenanigans indoors; at which point you might begin to appreciate the full scale of the weaponry on offer, as the two lads savour a wanton top-to-toe session, deep-throating each other's dicks like a pair of animals on heat.
All this is nothing, however, compared to the red raw fucking to come and the sight of Jones bouncing up and down along the full length of Todd's ramrod. Believe us, that boy's prostate gets the rubbing of its life, and it's no fucking wonder that he erupts like fury once Todd has coated his ass with spunk. A definite winner in every imaginary sense!