Summary:
Welcome to the world of the pleasure junkies – boys whose only thought each and every day is how they're gonna achieve their next carnal buzz! These lads will stop at nothing to savour the delights of raw cock and hot spunk, not to mention streams of piss on their cute, comely faces! From nipple-play to sneaker-sniffing, from cum in the mouth to cum dripping from their well-worn butt-holes, this collection of pleasure-dome beauties will get you high time and time again!
Scene 1: A Fine Wad Of Cream
Cast: David Gold, Jon Roz, Colin Adams, Kyle Davis
Did young Jon Roz realise just how much he liked being pissed on and generally being treated rough before he encountered the intrepid duo of Colin Adams and the ever-gorgeous Kyle Davis? Probably not, to be fair – but then that's what makes this horny threesome all the hotter. Fact is Roz is a complete novice when it comes to this sort of extreme action, but if anything that makes the encounter all the more intense as he's first pushed to the floor to suck cock and then forced down onto a table to be finger-fucked.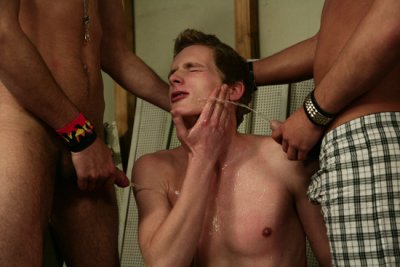 Meantime, the amount of piss that Adams and Davis seem able to produce almost defies belief – and, to his credit, Roz takes every drop like a man! Nevertheless, it's the blond youngster's ability to take raw cock that warrants the highest acclaim, first mounting Davis cowboy fashion and then allowing Adams to bang away at his ass missionary-style! Finally (and arguably best of all) Adams dumps a fine wad of cream deep into Roz's ass; before Davis (who really is as fit as fuck) spews over his shoulder and the whole initiation is topped off with yet more piss!
Scene 2: Romantic Evening
Cast: William Holder, Julien Adagio
Pleasure doesn't always have to be about pushing yourself to the limits. Some of the most enjoyable experiences we have are those that we simply share with someone that we love and want to spend time with – as both young William Holder and Julien Adagio ably demonstrate in this bedroom-based encounter. It's Holder who gets the carnal side of things going, tempting his floppy-haired lover with a sneaky blow-job and then pulling out his own aching uncut cock for Adagio to return the favour – an offer that the Latin beauty is very evidently only too eager and willing to respond to.
As a result, Adagio is soon forcing his big thick shaft deep inside Holder's ass, first from behind and then from beneath. The way Holder rides that handsome beauty it's no wonder that he's soon reaching the point of no return, blasting a generous spray of pent-up jizz in all directions whilst his mate's bare butt-pucker continues to bang away with the kind of unrivalled fury you'd expect! Little wonder that Adagio is soon finishing things off wit
Scene 3: Threesome Party
Cast: Ennio Guardi, Willian Holder and Damian Dickey
Young William Holder is quite the show-off – but then who can blame him when in the company of muscular sex-god, Ennio Guardi, and Damian Dickey, who if anything is looking more irresistible than ever! If nothing else, Dickey's smoothly shaved cock is the very definition of temptation, and it's no surprise that Holder's going down on it at the first opportunity. Truth is, this young lad is crying out for attention in every sense, and having paraded himself in front of his two horny compatriots he's soon on all fours with Guardi's knob thrusting down his throat and Dickey's fingers poking away at his tight (but clearly all-too-eager) ass.
Not that Dickey's the sort of guy who's ever gonna be content with a finger-fuck! Within a few moments he's balls-deep in that hungry hole, pushing every raw inch that nature gave him towards ecstasy. It's a position of dominance that always comes natural to the boy; and as if to underline his status he rounds things off by spewing into Holder's mouth whilst Guardi takes a piece of Holder's ass and then blasts his ball-juice over the youngster's crotch!
Scene 4: Experiencing Every Pleasure
Cast: Julien Adagio, Jack Ashrafi, Tom Nutt
Also available: Fuck 'Em Till It Hurts (2 DVD Compilation)
There's a distinctly dirty feel to proceedings at the start of this scene, as Colin Adams serves as the centre of attention to a group of sneaker-sniffing, high-smoking, piss-loving youths in the shape of Julien Adagio, Jack Ashrafi and Tom Nutt. Needless to say, the high jinks culminate in Adams getting thoroughly dowsed and then promptly kicked out of the room – leaving his three assailants to engage in a fabulous little threesome that'll have you reaching for the Kleenex long before the action reaches a crescendo.
Blond-haired Nutt, in particular, is totally irresistible, puffing nonchalantly away on his cigarette whilst the other two lads take turns to slurp on his cock. Nevertheless, by the time that Ashrafi is thrusting his cock into the Nutt's tight little ass, the twink has tossed the fag aside and is purely concerned with experiencing every pleasure that that thick, manly pole can give. As if to underline his lust for carnality, he actually pisses himself mid-fuck; before proceedings draw finally draw to a somewhat breathless close with Nutt amd Adagio spewing over Ashrafi's face!
Scene 5: A hard cock and an open mind
Cast: Matthew Ross, Nick Gill
Two foul-mouthed young tearaways find themselves incarcerated by the police – a somewhat claustrophobic set-piece that not surprisingly results in the pair of them discovering how much fun you can have with a hard cock and an open mind (not to mention an open ass!) Nick Gill is the hard man of the show, forcing Mathew Ross to get his cock out so that he can give it the sort of rough sucking that it deserves; but it isn't long before the fellow's attention has turned to Ross' ass-hole, as he rims and licks the hungry little pucker like you wouldn't believe.
Indeed, Ross has the sort of pert bubble-ass that is literally just crying out to be fucked, and it really comes as no great wonder that Gill is soon pounding away at it like a rabbit on heat! Suffice it to say that Ross gets to enjoy every inch of his cell-mate's bare shaft, culminating in him riding the knob cowboy-style whilst he wanks himself off unmercifully. It's not long before Gill has dumped the entire contents of his balls into Ross' crack – leaving Ross to return the favour by spraying his ball-juice all over Gill's cute face. Fabulous!