Summary:
Some guys just can't decide whether it's best to top or best to bottom – and who can blame them? Why pigeon-hole yourself when there's so much pleasure to be enjoyed from both roles? So join this bevy of decidedly undecided buddies as they fuck and get fucked in equal measure. Ray Mannix, Rob Nielsen, Bjorn Nykvist and Noah Matous join forces for a topsy-turvy, flip-flopping ride that has but one guarantee – namely, a jizz-sodden climax from every dick involved - including yours when you order this download to own!

Compilation Gay DVD - 6 Scenes
Description / Review:

Scene 1: Blond Buddies Enjoy A Flip-Flopping Fuck With A Dildo & Cock!

Cast: Bjorn Nykvist, Martin Rivers
From: Massage Me, Scene 2
Young Martin Rivers is taking way too long in the bathroom for his ablutions – much to the obvious chagrin of Bjorn Nykvist, who doesn't realise that Rivers is secretly trying out a new dildo in anticipation of getting his arse banged raw by his mate. The subsequent discover, however, soon gets Nykvist feeling as horny as fuck; and needless to say it's barely a few moments before he's dragged his mate out into the living room, pulled his shorts down, and is lubbing up the lad's pert little arse in anticipation of giving it the kind of mindless attention that it's clearly crying out for.
Of course, you don't need to be Miss Marple to work out that that hairless little pucker will soon be accommodating every inch of the big fat black dildo; and soon Rivers is quite literally riding it like the die-hard bitch that we already know he can be. But seeing his buddy bouncing up and down on a fake cock is never going to satisfy a dirty bastard like Nykvist, of course. No, he's not going to be happy until he's balls-deep inside his buddy's guts – and the really good news for him is that he doesn't have to wait very long for the opportunity!
Cue a truly tremendous display of top notch fornication, that sees Rivers screwed from behind; until temptation gets the better of the fellow and he decides to enjoy a bit of hardcore anal action for himself. No question about it, if this flip-flopping fuck-fest doesn't get you off we don't know what will. All of which culminates in Rivers firing out a veritable geyser-load of spunk, before both lads sign off with a sticky, gooey kiss that'll send you weak at the knees!
Scene 2: Flip-Flopping Firemen Get Creamed Big Time With Hot Teen Jizz!

Cast: Johny Cherry, Thomas South
From: Fire Me Up, Scene 4
Trainee fireman, Thomas South, has a bit of a problem – he just doesn't seem able to pass his practical training exam, which consists of rescuing someone from a burning building. Fortunately for the young fellow, his assessment is being conducted by Johny Cherry, who clearly has a bit of a soft spot for South and who's willing to overlook the chap's professional failings. We say "soft spot" – in reality it's most definitely more of a hard spot, as quickly becomes apparent when the two guys take the opportunity to strip out of their uniforms.
South for one clearly can't wait to get his lips around Cherry's cock, falling to his knees so that he can gobble on that burgeoning shaft; before continuing his rigorous adoration once Cherry has removed his remaining clothes and is seated down on the floor. Not that the more senior officer is averse to a bit of fellatio himself, it has to be said – as demonstrated shortly afterwards when Cherry takes his turn at gobbling on South's hose.
Indeed, this process of flip-flopping continues once the two lads have switched their attention to each other's asses; with both boys then taking it in turns to get their sphincters stretched to the max. First Cherry, who gets thoroughly rimmed and pounded by his erstwhile student; then South himself, who takes his trainer's shaft in a series of positions like a full-time pro. Given the intensity of the session it's not surprising that both lads are soon spurting – Cherry creaming South's ass, before South emits a multi-shot eruption all over Cherry's face that truly has to be seen to be believed!
Scene 3: Booted Farmhand Fuckers Enjoy A Kinked-Up Flip-Flop Nutting!

Cast: Clyde Walton, Ray Mannix
From: Cum Harvest, Scene 3
Given the country backdrop, it's perhaps rather fitting that young Brit, Clyde Walton, should have a penchant for country-and-western music – but to be fair that's not the element of his personality that particularly attracts Czechia's very own slut par excellence, Ray Mannix. Discovering the visitor in the local barn as gives a sweet rendition and sharpens his tools, Mannix immediately underlines his reputation as a cock-whore by making a beeline for Walton's crotch. Suffice it to say that it's barely seconds before he's down on his knees and savouring every fucking gorgeous inch that the boy from London has to offer; before very eagerly rimming the visitor's arse in anticipation of a hard fuck to come.
Clearly wishing to add a little spice into the encounter, however, Mannix decides to ease his mate towards ecstasy with a little tool play of a different nature – pushing the handle-end of a file into the hungry crack! Mannix being the boy that he is, however, it's not too long before his appetite for action gets the better of him and he forces his dick in its place; signalling the start of a terrific fucking that will almost certainly have you pulling on your zipper for relief.
Don't think for one moment that Mannix has turned top, however. Having pummelled Walton's cute pucker for all he's worth, he's soon demanding some attention of his own; at which point the horned-up Briton pushes Mannix onto a table and hammers the Czech lad with true British gusto. No fucking wonder that Mannix is busting his nut in no time at all; before Walton christens his pal's lips with a jizzy wad!
Scene 4: Gym Buddies Enjoy A Flip-Flop Workout With Oodles Of Hot Jizz!

Cast: Kellan James, Victor Rozas
From: Bareback Gym Buddies 2, Scene 2
Kellan James and Victor Rozas are a couple of handsome mates keen to work up a sweat together – but their opening press-ups and squat-thrusts are nothing compared to the sexual workout that promptly follows their opening gym antics. For having engaged in a hard cardiovascular romp of the traditional kind, the two buddies are quickly turning their attention to each other's cocks; with the ever-horny James making a beeline for Rozas's handsome, uncut dick, before the roles switch and Rozas takes a lengthy slurp on his pal's nicely upturned shaft.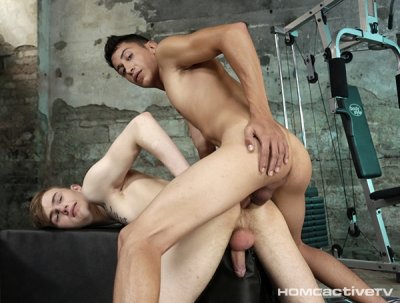 Of course, the contrast in skin-tones between these two fellows seems to make this encounter all the more exotic right from the off; and the electricity between them only charges upwards once James turns his focus to that inviting Spanish ass-hole, rimming and fingering the hungry little pucker. It's pretty obvious that Rozas is gonna get a very heavy pounding from his Czech mate; but what may come as something of a surprise is that James is feeling equally worked-up in the quest for dick. As a result, having taken time out to feed every inch of his knob into Rozas's fuck-hole, the lad is soon getting his arse stretched in similar fashion.
No doubt about it, this hardcore flip-flop session is definitely more than enough to get our fans into a jizz-laden lather; and seeing James take an ass-load of spunk courtesy of Rozas's rupturing ball-sac, prior to the lad spewing his wad all over Rozas's face, will surely guarantee a sticky conclusion for all concerned. Burning up calories has never looked so fucking appealing!
Scene 5: Horny Handyman Takes A Flip-Flopping Ride With A Suited Boss!

Cast: Bjorn Nykvist, Rob Nielsen
From: Do Me Daddy, Scene 1
London and New York aren't the only places in the world to have plush office blocks – Prague boasts its own civil engineering achievements too, as director John Smith is clearly eager to prove in the opening moments of this sexy little number. What's more, Czechia's capital has more than its fair share of divinely handsome young men – Bjorn Nykvist and an impressively muscular handyman, Rob Nielsen, amongst them! To be fair, there's something almost comical about the opening section – Nielsen spotting someone injured on the local railway line, then spying on the young fellow through binoculars as he's carried away to safety. But it serves as a pleasant enough intro to the main action, as Nykvist expresses his admiration of Nielsen's physique – which in turn leads to the two buddies falling into a passionate embrace.
Of course you don't need to be Miss Marple to appreciate where all this is headed; and soon Nykvist is down on his knees to take full advantage of the workman's now grossly swollen ramrod. What's more, having then engaged in a little bit of docking fun together, Nielsen is soon replicating the display by feasting on Nykvist's arguably over-generous member.
All of which leads nicely to a heady display of flip-flopping madness – first Nykvist hammering the point home in Nielsen's hairless arse, then Nielsen returning the compliment like a wound-up sex machine. Given the intensity of the encounter it's not surprising that both lads are soon creaming like fury – a turn of events that leaves them exchanging a sloppy, cum-induced smooch!
Scene 6: Flip-Flopping Hairless Beauties Enjoy A Raw, Jizz-Laden XXXmas!

Cast: Martin Rivers, Noah Matous
From: Cuddle Up 2, Scene 4
As the narrator at the start of the scene correctly points out, Christmas can be a truly lonely time when you're not with the person you love. Fortunately for the ever-resourceful Martin Rivers, imagination is a wonderful thing; and we quickly discover that his boyfriend, Noah Matous, is merely a simple wish away. It's all seasonal bunkum, of course – but who would deny a horny young beauty of River's calibre the chance to cavort with one of our all-time mega-sluts? Indeed, there's no getting away from the fact that Matous is on top-notch form right from the off, as he pounces down onto his buddy's hairless crotch and begins to do more gobbling than a festive turkey!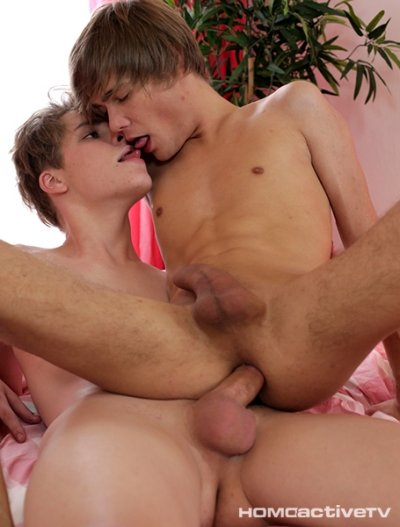 Clearly unwilling to be outdone, Rivers is soon replicating the performance – feasting on Matous's equally smooth dick, before promptly turning his attention to the lad's closely plucked butthole, which he eagerly rims in anticipation of thrusting his achingly rock-hard ramrod deep inside. Anyone anticipating a run-of-the-mill fuck is in for even more of a shock than Rivers was when his present magically transformed itself into a porn-star legend. For it turns out that both lads have a taste for some hard anal action; and, having banged Matous for all he's worth, Rivers is soon receiving much the same attention in return.
The result is a truly spectacular flip-flopping frenzy, which would make any Christmas morning perfectly unforgettable. All of which not surprisingly soon brings both boys to the point of no return – thick, creamy wads of spunk that have surely been welling up in those tight balls all Advent!