Summary:
Check out these athletic, hung sports studs who know how to score big! Massive dicks in ultra tight boy holes! 100% monster cocks!
To ensure you don't waste money buying the same content twice, this compilation features scenes from the following titles:-
Description / Review:
Scene 1: New Balls Please! The Grand Slam Begins
Cast: Eric Harper, Kamil Fox, Timothy Nixon, Jesse Shaw
From: Grand Slam, Scene 5
Having already provided us with an eight-man pile-up earlier in the flick, it might almost be tempting to assume that this final scene – a four-guy fuck-fest in the back of a white van – will be nothing more than a disappointment in comparison. Such an assumption, however, would be to ignore the indisputable talents of Vlado Iresch, whose decision to include superstar Kamil Fox is almost in itself a guarantee that this is one scene that you really shouldn't miss.
And so it proves, with Timothy Nixon and Jesse Shaw teaming up with Eric Harper from the previous vignette to provide the sort of blistering, spunk-fuelled finale that this superb addition to the STAXUS range deserves. Of course, quite what any of this actually has to do with the game of tennis is truly anyone's guess. Then again, who the fuck's watching it for the tennis?!! In short, another superb sports-inspired set-piece that'll have you wanking time and time again.
Scene 2: Sweaty Twink's Double Cum Frenzy
Cast: Levis Grant, Milos Zambu
From: Ball Busters, Scene 1
After a hard session of football training out on the pitch, luscious Levis Grant wants a shower. All that exercise has put him in quite a sweat – but it's nothing compared to the workout he gets once Miloš Zambu is fucking his sweet little ass. Having taken Zambu's thick, uncut rod between his lips, Grant writhes like an animal when Zambu licks his ass out from beneath. But the lad's not happy until his tight hole is hosting the full length of his partner's meat – riding the shaft like a veritable whore, as he moans and groans with true professional relish. Needless to say the boy's sweating like a pig by the time his cock finally yields two truly magnificent loads!
Scene 3: Baby faced bikers grind into ass!!
Cast: Dale Coke, Rasty Shut
From: Buttfucking BMX Boys, Scene 1
After a long bike ride, all those bumps seem to have got these two young fuckers incredibly horny!! Stripping off their lycra kit, skinny blond boy Rasty shows us his huge dick, perfect for sucking on, as his mate quickly discovers!! Getting their slick shafts to slide down their hot throats in an awesome 69, these twinks shoot all over their mouths so the hot spunk drips down past their hot lips!! The fun doesn't stop there as Rasty's butt soon gets paid more attention as his well hung twink mate slides his dick right up inside him, thrusting hard as Rasty jerks himself, dumping a ball load of spunk all over the floor!!
Scene 4: Horny Young Men
Cast: Robin Few, Chester Poole, Eamon August
From: Offside, Scene 4
Pretty much everyone who knows the boy knows that Robin Few is one of those lads who simply lives for cock – and if there's anyone out there who still doubts such sentiment then watch (and enjoy) this fabulous scene, in which he skilfully handles the combined attention of Chester Poole and Eamon August. Ironically, his two team-mates seem quite content with their own company at the start of the action, unaware that their off-pitch tryst is about to be interrupted by Few's arrival. That said, they don't seem at all bothered by the thought of a threesome – and is it any wonder?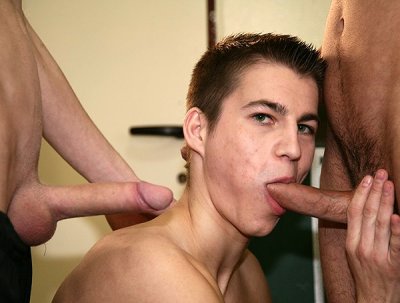 Few is a natural when it comes to dealing with the needs of horny young men, and having promptly engaged in giving head to his pals is quickly in his favourite position: on all fours, with tongues and cocks thrusting their way into his mega-hungry crack! As always, this lad is a total man-slut, allowing both guys to fuck him from beneath and behind, before getting covered in their thick, creamy juices. Believe us, you're gonna love it!