Summary:
We live in sedentary world – thanks to all the labour-saving devices that we've filled our homes and work-places with – so it's always good to find time to grab a little exercise to keep us fit. A philosophy that this collection of horned-up buddies are only too willing to follow to the letter. But having worked out in the gym, played a game of footie or even wrestled down with their mates, the likes of Vitali Kutcher, Bjorn Nyvist and Rudy Stone never forget that their favourite exercise involves countless quantities of hard cock squirting copious amounts of hot goo! It's a workout routine like no other – and one you'll unquestionably appreciate in this third show of high octane sporting prowess!
Scene 1: A nose for a good fuck
Cast: Kai Alexander, Luke Desmond
From: Chav Vs Footballers, Scene 1
You've gotta say that for Chavs – they always seem to have a nose for a good fuck. As ably demonstrated here by young Luke Desmond, who arrives at the local football club with almost psychic knowledge of floppy-haired blond Kai Alexander's need of a hard rub-down. Not that Desmond's knowledge of massage seems to extend much beyond groping the young footballer's crotch, but what he discovers in those tight, sweaty quarters is more than enough to convince him that Alexander's ripe for the picking.
And indeed so it proves, with the kit-boy almost immediately responding by taking Desmond's gorgeous cock in his hungry mouth for some deep-throated gobbling – quite an achievement given the dimensions involved. Thereupon anticipate a fine display by both lads as they 69 over the massage bench; before Alexander parts his legs for the fucking of his life.
Fuck knows how he takes every inch of Desmond's monster – you almost half-expect it to come popping out of the poor guy's mouth! – but the footballer proves himself to be more than adept at handling a big dick; before each chap spews copious amounts of baby-brew to seal a famous victory!
Scene 2: Newbie Calms An Angry Boxer With A Pert, Fresh Arse To Cream!
Cast: Pyotr Valentine, Vitali Kutcher
From: Fight Night, Scene 2
Vitali Kutcher is an angry young man – or at least that's definitely the case at the start of this boxing-inspired escapade with new boy, Pyotr Valentine. Not that Valentine has done anything to offend. No, Kutcher's fury is directed at the unnamed buddy who's gone and fucked his boyfriend behind his back; resulting in a splendid display of antagonism in the direction of his punchbag. In contrast, Valentine is clearly a reserved, thoughtful soul, who insists that his buddy gets ready for school and forgets all about the troubles in his life.
Kutcher, however, is having none of it; demanding that his pal join him in sparring, which given the arguably inept performance that ensues might not have been the greatest of suggestions. In fairness, however, the time spent together does at least result in the two lads getting to know each other better – which initially involves the newbie diving down onto Kutcher's handsome ramrod, before the roles are duly reversed and Kutcher gets his first taste of the new meat.
All of which is quickly eclipsed when Kutcher finally bundles his mate onto his back so that he can rim that fresh, tight-lipped pucker; before forcing the meaty shaft between his legs through heaven's door, with Valentine's legs still restrained by his jeans. Eager to enjoy the experience uninhibited, however, it's not long before every stitch of clothing is finally removed; marking the start of a stupendous rout of hardcore raw sex, which culminates with Valentine spewing mid-fuck cowboy-style, prior to Kutcher marking the new boy-pussy with an ass-load of spunk for his efforts!
Scene 3: Gym Buddy Daydreamer Gets His Pert Twink Arse Pounded Raw!
Cast: Jonathan Strake, Seb Priestley
From: Bareback Gym Buddies 2, Scene 3
Like lots of young men, Johnathan Strake wants to keep his body in real good shape. Unfortunately, that's a task that involves a great deal of energy and commitment – something that he seems to be lacking in the first few moments of this terrific little escapade. Truth is he'd much rather be imagining his dream date than exercising; though given that it's the gorgeous Seb Priestley who's the subject of his fantasies, who can really blame him? Indeed, any pretence of keeping fit the traditional way is promptly abandoned once the dream starts to become a reality; with the two lads enjoying an early smooch, before Priestley launches an attack on Strake's beautiful ramrod.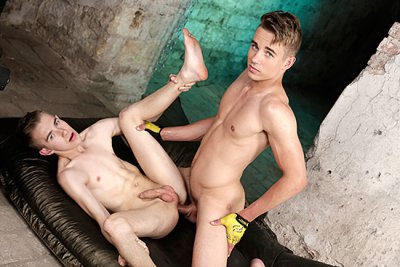 It's a move that most certainly seems to strike a chord with both buddies – Strake lying back to enjoy every stroke of Priestley's tongue over his shaft, before the roles are reversed. Finally, the two mates enjoy a simultaneous 69-ing session – feasting on hard cock in its prime like a couple of over-sexed whores. It's enough to get most fans to the brink in itself, but matters only intensify once Strake submits to the inevitable, gets on his back and allows Priestley to fuck his tight little twink ass for all that it's worth.
Anyone doubting that the young bottom is enjoying this stupendous session should take note of Strake's drooling end as his butt gets pounded; but his pleasure only intensifies as Priestley pummels him in a whole succession of positions, culminating in him spewing over his own belly in response. Leaving Priestley to blast his wad into Strake's mouth for a gorgeously gooey conclusion!
Scene 4: Flip-Flop Flip Gives His New Footie-Buddy A Right Hard Fucking!
Cast: Casey Filp, Rudy Stone
From: Offside Trap, Scene 2
It's no wonder that sporting buddies Casey Flip and new boy, Rudy Stone, are in need of a drink. Kicking a ball around together in the hot weather is very thirsty work, after all; but if you think they won't have any energy left to fool about then you're in for a big surprise. Fact of the matter is that more water goes over each other than actually gets drunk, which in turn leads to both lads having to take their shirts off. This, being porn, naturally only leads to one thing; and before you know it the two mates are exchanging a hungry smooch, with Flip taking an early dive onto Stone's already badly swollen ramrod. Unfortunately, a public park is not exactly the best place to enjoy a blow-job – unless, of course, you want to end up being arrested or something! – so the two lads head back home to take off exactly where they left off outside.
As such, it's a case of kits off and cocks out; with both lads taking it in turns to feast on the meaty shafts they had stuffed inside their soccer shorts, before Stone finally turns his eye to his mate's pert little rump. Cue a rigorous session of rimming and fingering of Flip's tight hole; before Stone – who, like his mate, is still donning his sporting jocks – thrusts his meaty shaft inside. Ever the sharing pair, however, all this is but a prelude to a flip-flop turnaround, with Stone promptly plonking himself down on Flip's cock and riding his buddy in return. Indeed, there's no denying the fact that it's Stone who probably enjoys most of the anal action here; before both team-mates call it a score-draw by creaming off to a gooey crescendo!
Scene 5: Ripped Runner Rewards Mate With An Ass-Load Of Hard Cock!
Cast: Boris Lang, Ezra Gibson
From: Run Away, Scene 1
Is it really any surprise that Ezra Gibson appears unable to sit down and relax? Why, the boy's quite literally little more than a bundle of nervous excitement – and when you realise that he's waiting for hunky new guy, Boris Lang, to get back from his run in the country you begin to understand his predicament. After all, who wouldn't find their emotions churned up at the prospect of welcoming home this sweaty beaut? Lang's a real handsome stud, after all – a fine example of toned, muscled athleticism. And suffice it to say that Gibson displays little if any reticence in making his intentions clear to his buddy right from the moment he returns; passionately smooching the fellow, and making an energetic beeline to get inside his pair of very skimpy shorts!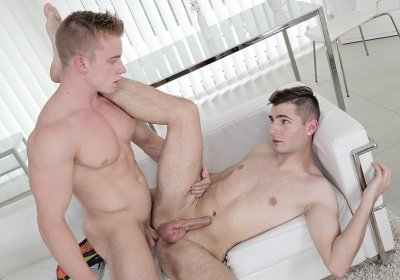 It's a fucking fine welcome if ever there was one – and suffice it to say that Lang makes the most of it, savouring the feel of Gibson's tongue as it first runs up and down every inch of his shaft and then darts up into his butt-hole. Little wonder that the hunk literally cannot wait to force his horny slut of a mate over the sofa so that he can ram his thick, throbbing weapon deep into that hungry arse; pounding away like a piston, and only pausing momentarily so that Gibson can incorporate a further heady slurp on his dick – all captured artfully (and beautifully) by John Smith's unforgiving lens.
All of which leads inexorably to the sight of the hyper horny bottom riding Lang's knob cowboy-style, before taking on his back with both his legs strained apart like a bitch. Cue spunk in all directions – most notably over Gibson's face!
Scene 6: Heavy-Loaded Courier Loads His Client's Arse With A Sticky Wad!
Cast: Bjorn Nykvist, Connor Rex
From: Willing Courier, Scene 1
The life of a courier isn't always easier – as young Connor Rex discovers when he quite literally has to pedal up hill and down dale during the sun-filled opening moments of this energetic fuck-fest. Indeed, it's little wonder that he's only too happy to sit down and take a break whilst he waits for Bjorn Nykvist to check the contents of his delivery – given all the cycling he's done it's a wonder he's not totally exhausted! If the young lad thinks this is going to be your average kind of house-call, however, he's in for a big surprise. Examining the parcel, the recipient quickly discovers that there's a problem – the contents (a bottle of the finest lube) having oozed out all over the place.
Clearly not wishing his purchase to go to waste, Nykvist then promptly seduces his young caller – which in all fairness is not exactly a difficult task given the fact that Rex is the kind of young man who lives for hot sex and hard cock! As such, it's no time at all before both lads are taking turns to gobble away on each other's dicks; before the horned-up visitor rims the blond boy's arse and then uses the lube to maximum effect by thrusting every aching inch of his knob into Nykvist's guts.
It's a move that has absolutely the right effect on Nykvist, who then promptly engages in a high-octane performance that will almost certainly have you reaching for your zipper in appreciation. But if anything it's the sight of Rex's sticky baby-brew dribbling and oozing out of his mate's well-worked hairless sphincter that will last longest in the memory – a fuckin top-notch, sure-fire ball-emptier if ever there was one!