Summary:
Three outings of these monster dicks just wasn't enough – but what the fuck did you expect? When you're hung like the proverbial donkey the urge to bang tight ass is simply insatiable, as Tom Nutt, Milan Sharp and Ethan White are only too eager to demonstrate in this fourth instalment. As ever, you might almost pity the poor bottoms who have to accommodate their mammoth ramrods – but don't overdo the sympathy. Fact is, these horned-up size-queens like their dick as it's given to them here – thick, hard and oversized! For when it comes to cock, these sluts just don't understand the concept of 'too big'!
These titles represent great value for money given the amount of quality content and running time. However, to ensure you don't waste money buying the same content twice, this compilation features scenes from the following titles:-
6 Scenes (Compilation Gay DVD)
Scene 1: Horny Twinks Sneak Off For A Suck 'N' Fuckfest Bareback Style!
Cast: Tom Nutt and Ethan White
From The Big Deal, Scene 2
If you had the opportunity to sneak off to a quiet apartment for a little intimate time with young Tom Nutt wouldn't you grab it with both hands? Well that's certainly the reaction that we gained from Brit boy, Ethan White, when we told him of our plans – and why, he even dressed up for the occasion! Not that he remains in his shirt and tie for very long, it must be said – and nor, for that matter, does Nutt! In fact, White's down on his pal's long, luscious ramrod like a bitch in season; before Nutt returns the favour a few minutes later with equal gusto.
Just seeing this pair of gorgeous doe-eyed twinks feasting to the full on all that hot, fresh flesh is more than enough to get you dumping a generous wad of white stuff there and then; but matters become even more blistering when Nutt takes the plunge and sinks his hungry little asshole onto his horny pal's thick, swollen dick. Whereupon he promptly gets fucked around the room for our delectable entertainment. Is it right or proper? Who gives a fuck! All that matters is that Nutt proves his reputation once again as one of the biggest sluts around, delivering a terrific spooge of jizz before White's nads add to the mix!
Scene 2: Cute Blond Gets Banged Raw By His Mate's Thick Monster Dick!
Cast: Kamyk Walker, Milan Sharp
From: Snow Patrol, Scene 5
You know damned well that we like our boys on the cute side, but we'll be perfectly upfront and admit that we surprised even ourselves when we managed to get young Kamyk Walker in front of our cameras. Blond, fresh-faced and as horny as fuck, this lad is everything you'd expect from a twink and much, much more besides. Certainly Milan Sharp's oversized dick doesn't stand a chance here – why, Walker has his luscious lips firmly wrapped around it pretty much from the word go!
Little wonder that Sharp's groaning in ecstasy almost from the start of proceedings – let's face it, if you had a comely little whore like Walker hanging off your dick like a vacuum pump wouldn't you react in just the same way? Indeed, it's the sheer audacity with which Walker deals with the thick, wrist-sized knob presented to him here that warrants greatest acclaim – not least of all when he finally plunges down on Sharp's lap cowboy-style for the kind of ride that could almost bring tears to the eyes.
Not for this slut, though. Fact is he has the fuckin' time of his life taming this monster; culminating in a blistering facial that surely leaves Sharp's nads totally drained of their contents!
Scene 3: Two Horny Christmas Angels Enjoy An Energetic Raw Fuck With Oodles Of Festive Cream!

Cast: Jaro Stone and Yuri Adamov
From: Twinks Destroyed, Scene 2
Christmas. A time for expressing your love to your nearest and dearest – a sentiment that STAXUS favourites, Jaro Stone and Yuri Adamov, are only too keen to demonstrate in this terrific festive encounter. And, unlike a good many gifts that we find under the tree on Christmas morning, this pair of cock-hungry beauties doesn't disappoint! Not that you'd ever expect them to, of course, given their reputation for producing some of the hottest twink action around; and needless to say it's barely sixty seconds before Adamov is firmly ensconced between Stone's legs and is giving his buddy's oversized missile-launcher the kind of heavy-lipped attention that it unquestionably deserves.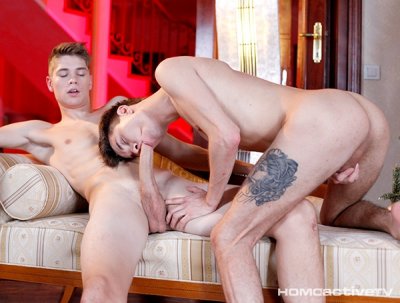 Indeed, let's be perfectly honest here, this is one horny young Russian who very clearly can't get enough of Slavic dick; and having enjoyed a top-notch session of energetic 69-ing against a twinkling backdrop of fairy lights, he's ready to ride every rock hard inch that Stone can fire in his direction. Like a bitch in season, this boy grinds his raw, open ass down on his mate's ramrod with characteristic gusto; before turning around and inviting Stone to pound away to his heart's content from behind!
No question about it, you're gonna just love seeing these two adorable Christmas angels giving it all they've got in the quest for seasonal satisfaction; and rest assured it isn't long before Adamov is knocking out a well-deserved load of pent-up twink goo! Leaving Stone to splatter his heavy wad all around his mate's mouth – Adamov happily slurping away on the spent shaft!
Scene 4: Postal Boy Gets His Own Special Delivery – 8"Of Hard Cock Right Up His Ass!
Cast: Aiden Jason, Finley Yves
From: Bareback Innit, Scene 1
Okay, so maybe the opening few seconds of this "randy delivery boy romp" is unlikely to get the nod at the Oscars anytime soon – let's be honest, the acting is a tad wooden – but don't let that prevent you from enjoying the inimitable pleasures of Aiden Jason and Finley Yves as they engage in the kind of office-time encounter that would surely appeal to even the most work-shy of porn fans.
Jason is the cropped-haired postal lad with the oversized package; Yves the dark-haired pen-pusher with the even bigger cock, who's more than willing and able to give his visitor the official once-over – in this particular instance, bareback over his desk! Indeed, the delivery boy has barely dropped off his load (so to speak) when Yves is making advances and working his way neatly into Jason's pants.
Suffice it to say that it's no time at all before the two lads are slurping merrily away on each other's dicks; before Yves bundles his guest onto the desk and thrusts his todger balls-deep into the hungry little fuck-hole before him. Cue a fabulous fuckathon that quickly brings Jason bubbling to the boil; before Yves concludes the encounter with a heady, spunk-inducing wank-off!
Scene 5: Office Fun With Lee Rider, Robbie Kasl & A Meaty, Oversized, Uncut Dick!

Cast: Robbie Kasl, Lee Rider
From Executive Monsters, Scene 2
Boredom in the office place is not exactly unusual or unheard of, but whether there's many businesses around which would condone what Robbie Kasl and Lee Rider get up to in a bid to counter their work-fatigue is another matter entirely. For no sooner has Rider declared his frustration and slapped his pen down on his desk to underline the point, than he's burying his face into Kasl's crotch and giving his workmate's thick, meaty, uncut monster-dick the kind of hearty, intimate attention that we all dream of. Needless to say, it's at this point that all the usual office attire – shirts, ties and trousers – is promptly tossed aside, but chances are you'll be so engrossed on the sight of Rider's lips being stretched to the max by Kasl's knob that you'll questionably even notice.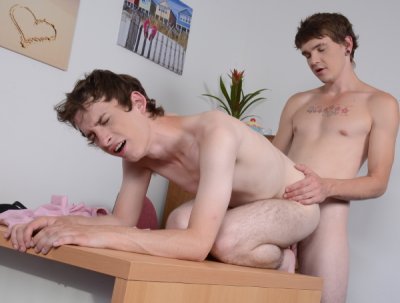 No small wonder that the young cocksucker can barely drag himself away from the oversized beauty – who wouldn't love to indulge in every abundant inch? But it's not too long before Kasl's attention is turning increasingly towards his colleague's ass, and it comes as no great surprise when Rider is being bundled over the nearest desk and being treated to a butt-bustin' escapade that he's most unlikely ever to forget.
And with that engorged salami stretching his ring it's no surprise that Rider is soon squirting the contents of his balls all over the office floor! A turn of events that's soon overshadowed by the sight of Kasl's king-sized ramrod blasting generously over Lee's face. A day at the office has never looked so hot!
Scene 6: Big Raw Cock Fits Snuggly Into Horny Twink's Ass
Cast: Aaron Aurora, Ethan White
From: Too Big To Handle, Scene 2
Young Aaron Aurora has seen more cock in his short life than most of us have had hot dinners but that didn't stop the boy from going a bit dick-crazy when we showed him a photo of Ethan White's knob, which (even to our oversized standards) is something of a freak of nature. Why, the young Brit could hardly contain himself at the prospect of coming face-to-face with such a beauty!
Little did he realise that White was equally enamoured at the prospect of being able to use his handsome ramrod on Aurora's hungry little pucker – which perhaps helps explain why it's White who takes mastery of proceedings as the two lads indulge in a sensuous massage together. Nevertheless, it's not too long before Aurora's exactly where he wants to be, right between White's thighs and quite literally hanging off his mate's engorged butt-picker.
Nor does it take very much longer after that before the lad is plonking himself down on the top boy's lap so as to enjoy every single hard inch that White's sweaty crotch offers. Rampant raw sex follows, just the way you like it; culminating in oodles of jizz (again, your favourite) and a look of total satisfaction on cute Aurora's splattered face!