Summary:
2 DVD Set! These European soccer sluts may have some skills on the pitch but really come to life in the locker room when undressed... Ultra hot non stop twink bareback action!
Description / Review
Scene 1: Monster-Cocked Fan Yields His Tight Arse For His Horny Hero
Cast: Joel Tamir, Ron Negba
From: Raw Twink Ass Fuckers Scene 2
"Do you remember me?" Joel Tamir asks Ron Negba at the start of this soccer-inspired duo, set in the changing rooms of some backwater football club in rural Czechia. It's a straightforward question, of course, given that this two buddies haven't seen each other in fuck knows how long – but an immensely stupid one all the same.
After all, with a donkey-sized cock like the one Tamir has between his legs, who the hell would ever forget? Indeed, there's no denying the relish with which Negba takes a trip down memory lane as he promptly strips his old buddy out of his trousers; and proceeds to gobble away on every delicious inch of man-meat with the kind of gusto that surely ought to be bottled up and sold! Not to be outdone, however, Tamir's equally keen to return the experience; and the two mates are soon 69-ing for all they're worth on the bench, before Negba focuses attention on Tamir's ever-appetising fuck-hole.
Given the intensity of the encounter up to this point – and we'd totally understand if you've already unloaded! – it almost comes as something of a relief when Negba finally secures victory by thrusting his raw shaft deep into Tamir's guts; but what respite there is proves somewhat fleeting, as the diminutive top buries his swollen manhood to the hilt and proceeds to violate his mate's most intimate quarters to the max! What's more, Tamir – as per usual – loves every fucking second of it; cementing his role as a premier-class slut in the process and sealing the deal by taking a top-notch load on the face, before yanking out a multi-shot rupture of his own!
Scene 2: Footballing Slut Kicks Off A Daisy-Chain Fuck & Oodles Of Cum!
Cast: Carl Chater, Jake Stark & Navon Raffi
From: Triple Whammy, Scene 3

Young, sporty lads tend to only have two things on their mind: soccer and sex – and not necessarily in that order! That said, the athletic trio of Navon Raffi, Jake Stark and new boy, Carl Chater, seem quite content to have a kick-around in the sunshine at the start of this horny session; and were it not for the fact that they end up knocking the ball through an open door, which in turn results in the boys literally falling onto a bed together, you might almost be tempted to think that the sex might never happen. Of course, this being a STAXUS scene, the hardcore action is always guaranteed; and suffice it to say that the guys have barely had chance to hit the mattress before Stark is very much the centre of all the attention and is getting his thick, uncut shaft gobbled by his teammates.
All of which soon results in a veritable suck-fest of almost biblical proportions; only to be topped off by the sight of Stark jumping up onto Raffi's lap so that he can take a cowboy-style ride of his mate's aching schlong. Not content, the filthy little slut – still donning his shin-pads and boots – promptly swops seats for a hot raw ride of Chater's love-stick. No doubt about it, Stark really is at his dirty-minded prime as he gets his guts pummelled for a few cheap bucks; and things only get even hotter when Raffi positions himself suitably mid-fuck to take every inch Chater has to offer, whilst continuing to bang Stark's hungry pucker. It's a cum-inducing vision of mindless fornication that soon results in spunk on tap; with Stark blasting like a geyser, before taking full-on facials from both buddies!
Scene 3: Overawed Fan Gets His Hungry Hole Called To Hot Raw Service!
Cast: Connor Rex, David Hollister
From: Offside Trap, Scene 3
It's not every day that a young man gets invited to a footballer's locker-room, but for the gorgeous Connor Rex – sat in a city park, savouring the foot-skills of the divine David Hollister – that's exactly what happens here. Don't think for one moment that Rex is going to end up admiring Hollister's various trophies and medals, however; for having quickly realised that his somewhat overawed visitor has a thing for socks, the would-be sports-star promptly invites his new-found buddy to join him on the bench, at which point (unsurprisingly) things take on a decidedly carnal bent. Indeed, Hollister's down on Rex quicker than you can say "Sparta Prague" – trailing his mouth across the youngster's hairy belly, before diving straight into Rex's box to enjoy every inch of meaty flesh that's already straining inside.
Not that Rex is any less keen to encounter the sportsman's dick face-to-face; slobbering along every inch of Hollister's joystick, before rimming the buddy's hairless pucker. But it's Rex's own hungry hole that serves as the setting for the anal action to come; with horny Hollister promptly packing a punch into the young lad's fuck-hole, much to the clear delight of Rex. Indeed, just seeing the lad ride cowboy-style on Hollister's raw ramrod is surely proof enough to anyone that this is a lad who's quite literally delirious for cock; and we doubt there'll be too many fans who aren't wanking furiously away to a hot sticky climax long before both these lads spew for all they're worth. An act that leaves Rex's furry treasure-trail coated in a rich, satisfying gooey brew!
Scene 4: Horny Players Head For A Spunky Shower-Room Spit-Roasting!
Cast: Mike Cole, Joel Vargas, Zane Pieters
From: Football Focus 2, Scene 4
For some guys it's the ninety minutes on the pitch that counts. But for others, it's what goes on after the game that really matters. If you class yourself in the latter of those categories, then rest assured this scorching hot trio - featuring STAXUS regular, Joel Vargas, and gorgeous newbies, Mike Cole and Zane Pieters - will most definitely be of significant interest. For having taken time out for a kick-around outside, the three beauties head for the showers, where they quickly strip down and start splashing about in the water. Of course, you don't need to be a genius to realise that their seemingly innocent cavorting is but a prelude to something far more hardcore - the fact that they're all sporting quite remarkable hard-ons tells you that! Indeed, all three lads are soon energetically gyrating against each other; before Cole and Pieters finally succumb to their youthful desires and simultaneously begin to slurp on Vargas's handsome cock. That signals the start of what can only be described as near hero-worship of the older lad's body, with the two buddies eagerly rimming Vargas's arse; before Vargas asserts his authority and starts to bang Cole's pert little ass.
Cue the beginning of a truly terrific fuck-fest that'll almost certainly blow you sky high - Vargas fucking Pieters, Pieters fucking Cole, Vargas fucking Cole fucking Pieters! All of which culminates (unsurprisingly) in a succession of cumshots - first Cole, then Vargas, then Cole again! Before Pieters finishes things off by jerking out a heavy wad of prime goo, which his two filthy-minded mates very eagerly lap up!
Scene 5: Horny Newcomer Gets A Kinky, Spunky Locker-Room Initiation!
Cast: Jaro Stone, Titus Snow
From: Football Focus, Scene 2
Titus Snow might not be any good at football, but one thing he doesn't have the slightest bit of difficulty in is letting Jaro Stone know just how sexy he finds the fellow after the two lads return to the changing-room at the end of a match. Of course, how anyone could ever find Stone anything other than fucking drop-dead gorgeous is something that no-one associated with STAXUS could ever hope to understand; and dressed up in his football kit the young beauty is quite simply even more stunning than usual!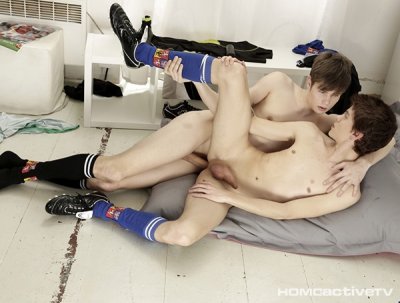 Certainly young Snow shows no quiver of hesitation whatsoever in sucking on his pal's nipples and reaching into his jockstrap – a move that immediately draws a very favourable response from the ever-horny Stone, who's soon slurping on his team-mate's shaft and then using his soccer-boot to stimulate Snow even further. Indeed, this rather kinky aspect to proceedings continues once Snow has had chance to feast on Stone's dick in return; with Stone using his feet (still donning football socks!) to first wank his pal's shaft and then rub against his arse.
Little wonder that young Snow is so eager to raise his legs in the air to underline his availability; with Stone then licking his boots, then rimming his tight, inexperienced hole. It's almost enough to get even the most seasoned viewer to the point of no return; and needless to say matters only intensify even further when Stone finally asserts his position as lead-role by ploughing the newcomer's pucker with characteristic gusto. All of which soon results in both boys splattering each other's faces with creamy goo!
Scene 6: Team-Mates Take On A Spunky Locker-Room Flip-Flopping Fuck!
Starring: David Sky, Xavier Sibley
From: Back Of The Net, Scene 2
One glance at his diminutive body tells you that young David Sky isn't ever gonna be a major threat to the regular studs in the Bundesliga or La Liga, but there's still a certain charm to the petite Spaniard as he struts his footballing credentials with Xavier Sibley at the start of this terrific locker-room duo. A charm that's only intensified by the contrast in physiques between these two fellows; with Sky clearly inches shorter than his French counterpart, who you almost suspect could easily scoop Sky up in his arms and throw to one side like one of the balls they're playing with!
Don't fall under the illusion that this sweet little coupling is all about Sibley fucking the living daylights out of his slightly framed friend, however. Truth is that that's only half the story. For having both engaged in a fine session of cock-sucking, and then having had Sibley pound away at Sky's ass over a desk – the two lads still both donning their fashionable underwear throughout! – the roles are promptly (and perhaps unexpectedly) reversed.
As a result, new-boy Sibley finds himself down on the floor with his legs splayed in the air, with only a blanket beneath him and Sky's surprisingly generous ass-pucker bearing down on his arse from above! Little wonder that the lad can't contain himself as his mate massages his prostrate with his cock – squirting out a fine load of teen-goo as a result. Seconds later and Sibley's face is getting squirted over thanks to the same shaft that's just buggered him raw; leaving this team-effort a definite score-draw, with both parties nicely drained!
Scene 7: Keepie-Uppie Fun Becomes A Raw Soccer Fuck For Two Cuties!
Cast: Carl Ross, Pyotr Tomek
From: Raw Score, Scene 3
Hey guys! Not only is Pyotr Tomek as cute as fuck, he's also quite good at keepie-uppie - a fact that he's evidently keen to demonstrate to his buddy, Carl Ross. In fairness, the young blond boy seems suitably impressed; but it's clear from the off that Ross' real interest in Tomek centres upon balls of a different nature, and it's no time at all before he's tempted the dark-haired beauty into bed and out of his kit. It's at that point, of course, that all the focus of these two sweet-faced angels quickly switches from the beautiful game to the beautiful physiques of those who play it; with Tomek burying his head down into his pal's crotch to enjoy the thick, meaty delights to be found there.
A move that Ross himself is soon keen to emulate, as he strips his buddy out of his jockstrap and feasts on the handsome ramrod within. No doubt about it, both these boys are meat-eaters in the extreme - a fact that's soon underlined when they engage in a passionate session of 69-ing, before Tomek takes time out to give Ross' pert little ass a good old rimming for good measure. It's a move that sets the scene for the vignette's final stages, as the dark-haired cherub finally does what he's probably been longing to do right from the start and buries his knob deep into blondie's fuck-hole! Cue a fantastic, ball-bustin' session of twink-on-twink action that'll have you tugging on your own shaft for dear life; culminating in Ross quite literally having the spunk banged out of him, before Tomek sprays his juicy wad all over his pal's rump, then pushes his spent cock back in Ross' ass!
Scene 8: Fan Proves A Big-Dicked Pain In The Arse For Cute Football Star!
Cast: Florian Mraz, Jace Reed
From: My First POV, Scene 3
There's a distinctly "tongue-in-cheek" approach to the start of this locker-room scene, with Florian Mraz playing the part of a footballer who's accosted by his number one fan (Jace Reed). The joke, of course, is that Reed clearly doesn't know where to draw the line in respect of getting his young idol's signature; and the fact that the action is filmed POV-style, which perfectly captures Mraz's blue, puppy-like eyes as he looks up into the camera, seems only to emphasise the underlying humour all the more.
At the end of the day, however, this is porn, not a sit-com; and, having jollied away the opening few minutes, we're soon treated to the sight of Mraz hungrily feasting on the full, swollen length of Reed's enormous cock. It's a task that he undertakes with typical relish - and one that clearly leaves him with an appetite for something harder. As a result, it's not long before he's clambering up onto a bench and provocatively exposing his butt-hole as if begging to have it filled - a wish that's all-too-quickly granted by Reed, whose face we never actually see.
Don't be too disappointed in that respect, however. The fact remains that we get to see every gorgeous inch of the lad's most important part - though admittedly it's soon slipping easily into Mraz's ass and filling the lucky lad to the max! From that point on, the young bottom quite literally has the time of his life - emphasised ultimately by the almost unbelievable quantity of jizz that spews from his dick! Topped only by the tsunami of goo that Reed sprays over his pretty face a few moments later.