Summary:
For some guys, having one hard dick inside their ass just isn't enough. Call them greedy, but they like to have to go one further! And if that makes them a slut then so be it. Fortunately, we know from many years of experience that our fans like an accommodating bottom – and let's face it, when it comes to accommodating these fellows are fuckin' masters! So get ready to rumble with a first collection of dick-crazy whores who just live and breathe to get their ass-holes stretched to the very max. Double helpings, anyone? Compilation DVD - 6 Scenes
These titles represent great value for money given the amount of quality content and running time. However, to ensure you don't waste money buying the same content twice, this compilation features scenes from the following titles:-
Scene 1: Dick Casey's Smokin' Hot Ass Gets The Interracial Double-Penetration It Deserves!

Cast: Dick Casey, Benjamin Dunn, Devon LeBron, Alejandro Marbena
From: Super Size Me 10, Scene 3

Now we've all heard of guys with smokin' hot asses, but this stupendous suck-and-fuck-fest gives that figure of speech a literal interpretation as Benjamin Dunn teams up with Dominican studs Devon LeBron and Alejandro Marbena to provide Dick Casey's rump the kind of rigorous workout it was created for! But it isn't cock that Casey's hole is entertaining – at least to start, anyway – rather (of all things) a cigarette, which Dunn fits snugly into the eager ring for a little comic relief. Not that Casey appears greatly perturbed by such unusual antics, which continue when his white compatriot stuffs the fag down the end of his cock and between his toes.
Clearly he knows that this is just a foretaste of the real action to come – and given that Casey's in the company of two of the hottest, hardest black studs around he's certain not to be disappointed. There's something of a warm-up for the lad's hole, however, when LeBron and Marbena lift the fellow up onto Dunn's raw dick. But it's what follows – a breathtaking double penetration – that really gives this four-way the edge, as Casey proceeds to accommodate two cocks up his ass whilst maintaining that trademark smile of his!
It's a prize-winning achievement, that's for sure; and it's one that's almost certainly gonna have guys around the world reaching for the Kleenex en-masse. Talking of which, we'll leave you to speculate how much tissue was needed to clean up Casey once director John Smith called it a wrap, but when you see the quantity of jizz these lads produce you'll know it was no easy task!
Scene 2: Two Horny Fuckers Give Aaron Aurora A Double Penetration Treat, Topped Off With Oodles Of Spunk!
Cast:: Aaron Aurora, Chase Evans, Mickey Taylor
From: Twink Fetish Club, Scene 4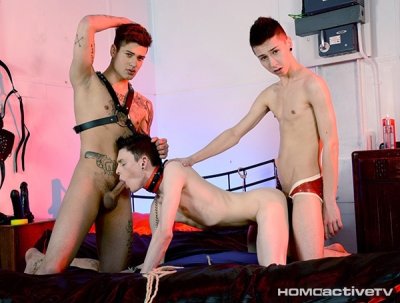 There aren't any official awards for sluttish behaviour – that we know of, at least – but if they did exist then Aaron Aurora would almost certainly be a leading contender for the prize. What's more, this sordid little scene with Chase Evans and Mickey Taylor pretty much underlines why. First strapped to a bed, then taking a big black dildo up his ass, this boy has a distinctly promiscuous side – and he's not afraid to show it! Good news for his two fuck-buddies, who can't seem to wait to give his ass-hole a real hard stretching; and even better news for you dirty wankers, who just want to sit back and stroke to one of the kinkiest displays filmed in a long time. Suffice it to report that it isn't long before Aurora – donning a collar and chain for even an even greater thrill – is being fucked by both his buddies in turn, which in itself is quite an achievement given the weapon that Evans has stashed between his legs. But the amazement only continues to grow when the horny young bottom finally succumbs to his perverse fantasies and allows Evans and Taylor to thrust both their dicks up his ass simultaneously. What's more, the action only seems to get even hotter – if indeed that's possible – when Aurora sits himself down on the two ramrods and gets buggered from below! Given the intensity of the action it's probably not too much of a surprise that all three youngsters are soon at the point of no return, at which point all three seem to quite literally rupture with jizz! The resultant tsunami of spunk proves a worthy finale to a pervy scene that's five-star filth!
Scene 3: Assaulted On Both Fronts! Tim Law Gets A Double-Dicked Army Inspection!
Cast: Boris Orla, Tim Law, Jace Reed
From: Stand To Attention, Scene 1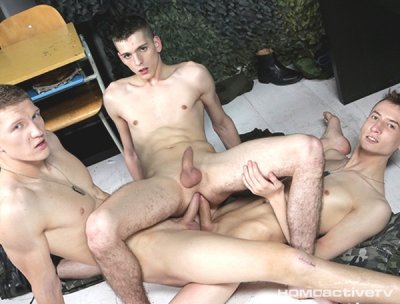 It's been the same since the Great War – maybe even before that. Young men taking themselves to the army recruitment office to sign up for what's promised to be the "great adventure" of battle! Only in young Tim Law's case, it's not so much armed conflict that recruiting officers Boris Orla and Jace Reed have in mind as a wanton session of cock-sucking and ass-fucking! Indeed, the only weapons that Law is likely to encounter are the two meaty knobs stuffed inside the army guys' khaki trousers! Not that a boy like Law's gonna complain. Having expressed his initial reservation about being ordered to strip, he's soon coming to terms with the rigours of army life when presented with the pent-up libidos of Reed and Orla. Not that a couple of thick, swollen dicks are ever likely to throw a fellow of Law's constitution. As anyone who's seen him in action before can testify, here's a guy who quite literally lives for the next fat cock, and it's no surprise that he's soon opening his mouth and parting his legs for every meaty inch that the army recruiters can thrust his way! The ultimate recruitment test, however, is yet to come. Having manfully handled the probing attentions of his "interviewers" – including a rigorous assault on his rear from Reed's monster-sized ramrod! – the lad finds himself taking both the recruiters' dicks up his ass at the same time. Needless to report, it's an assault that you're gonna love to watch almost as much as Law enjoys receiving; culminating in the twink's face getting splattered in goo. As the regiment's fuck-boy, Law's a definite shoo-in!
Scene 4: Cute & Innocent? Not Fuckin' Likely, As Johny Cruz Gets Triple-Dicked & Covered In Cum!
Cast: Johny Cruz, Benjamin Dunn, Mike James, Denis Reed
From: Dungeon Dreams, Scene 3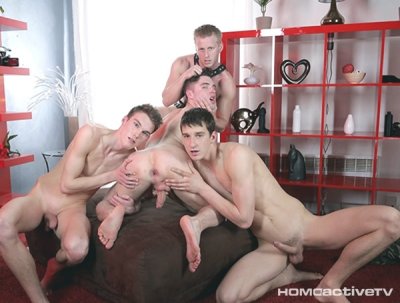 Poor Johny Cruz! Within minutes of being pulled out from the confines of a dark, dank hidey-hole, he's being subjected to a full-on sexual encounter with Mike James and Benjamin Dunn – all overseen by Denis Reed, dressed in leather straps and armed with a camera. His response? Well, like any self-respecting twink he's soon very much on the case, taking full advantage of the opportunity to fuck around with two of the sexiest dudes in the biz. And who can blame him? Given half the chance most of us would be reacting in exactly the same way, slurping on every dick in the room and acting the total whore. But there's no denying the somewhat menacing atmosphere to this encounter, underlined by Reed's continual manipulation of movements and positions. Indeed, Cruz's abuse at the hands of the German overlord seems only to intensify as the scene progresses; and what ensues towards the end of the sordid little escapade should come as no grand surprise. Spat upon, slapped and generally badly mistreated, the youngster slowly becomes almost something of a sexual object, there to satisfy the perverted whims of the others and little else. As such it seems only natural when ultimately all three guys proceed to stick their swollen dicks into Cruz's ass-hole at the same time – a triple edged fuckathon that just has to be seen to be believed. How the young lad takes it is anyone's guess, but needless to say the facial whitewash that ensues immediately afterwards seems almost tame in comparison. Don't ever claim that you haven't been warned!
Scene 5: Soldier-Boy Connor Levi Gets To Enjoy Two Hard Dicks Up His Ass At The Same Time!
Cast: Connor Levi, Oscar Roberts, Rhys Casey
Also available: Eye Candy Films, Hot Shots
Also available: Bareback Boarders 3, Scene 4
Camaraderie is always an important aspect of army life – if nothing else, mutual trust between soldiers can be the difference between life and death – but whether your average member of the army takes matters to the extreme of these three beauties is another matter entirely. Then again, maybe Rhys Casey, Connor Levi and Oscar Roberts are not your average combatants given that their idea of manhandling weaponry involves not so much battlefield-play as hungry mouths and even hungrier ass-holes!
A task that all three adopt with relish, with Levi (not unexpectedly) acting as the centrepiece of their sordid antics! This trio of hyped-up sluts is set at high-speed drive right from the start, taking turns to suck dick and finger ass with almost breathtaking gusto; before Levi finally establishes himself as the focal point of all that testosterone-fuelled fury, taking both his pal's hard, uncut shafts in turn.
But as is so often the case with a boy like this, whose existence appears to be wholeheartedly centred on the quest for the next spunk-inducing fuck-fest, Levi's never gonna be happy until he's got both his mates pounding away at his love-hole at the same time – a feat he achieves with typical dexterity and which acts (unsurprisingly) as the pinnacle of excitement. The result? A tremendous spew over Levi's face thanks to Casey's exploded knob-head, plus oodles of jizz over his belly from Roberts!
Scene 6: All Holes Filled In A Birthday Double-Penetration Spunk-Fest!

Cast: Skylar Blu, Eric Winterfield, Timmy Taylor
From: Doubled Up, Scene 1

Most of us have fantasised at some point about getting some horny, cutesome twink as a birthday present – either for ourselves or maybe even for someone that we love – but for lucky Timmy Taylor it turns out to be a dream-cum-true, as Skylar Blu introduces his horny lover to Eric Winterfield, a blond stud who's only got one thing on his mind!
Needless to say, there's very little small-talk as the gift puts himself to use – sitting down between Taylor and Blu and allowing the two boyfriends to take turns to slurp on his meaty, uncut cock. Mind, we've suspicions that Blu's apparent generosity may not have been quite as altruistic as it first appears, given the almost unrivalled enthusiasm which he himself displays during the course of this spunky threesome. Indeed, it's not long before the young Brit slut is offering his hungry little pucker to both Taylor and Winterfield – the kind of kinky invitation that neither Czech lad is ever likely to refuse!
It's the signal for the start of a fabulous double-penetration romp that'll have you jerking off like crazy, culminating in a veritable cascade of spunk that literally leaves Blu dripping from both ends. Totally filthy and indescribably hot!