Summary:
2 DVD Set! It's a real day at the spa for these boy toys. Watch as their milky white cheeks get a creamy facial.
These cock craving studs suck down every fat cock they can get their lips around. Every scene ends with a massive facial so cum along and catch an eyeful with these young twinks in action.
Awesome 2 DVD Set! Compilation DVD
This title represent great value for money given the amount of quality content and running time. However, to ensure you don't waste money buying the same content twice, this compilation features scenes from the following titles:-
Disc 1:
Scene 1: BARE ADVENTURE, Scene 4
The handsome, muscled lifeguard is reviving a distressed swimmer, and he has a noticeable effect on the tackle inside the swimmer's speedos. Cue two hot, defined lads in a great boy-on-boy scene with cool cum eating shots.

Scene 2: BARE BALLS, Scene 1
They've found a cute black boy, smooth, toned, with just the most enormous cock, which he uses with near lethal force first on superstar Cam Jackson, blond, bronzed muscle god, and then another young, smooth cutie in a bandana. The black boy looks seriously hot in his military fatigues, and he fucks like a pneumatic drill, made all the hotter by the lack of condoms. Scene ends with Cam's angelic face getting covered in fresh spunk.

Scene 3: BARE SKATERS, Sc.2
In a wood cutter's yard Fischer puts down his chopper long enough to shag fair muscled Ermann. Fischer has some lovely low slung balls that bounce about as he pounds Ermann's muscled butt.

Scene 4: Blindfolded, Leather-Licking Bitch Session
From: BAREBACK BITCH BREEDERS, Sc.2
Cutie, Nick Daniels, is the perfect bedroom companion - a young lad who does everything a handsome top like Marco Bill could ever ask of him. Blindfolded, he licks Bill's leather boots - but doesn't stop there! The youngster clearly wants to taste every inch of his partner's body, working his way up Bill's legs before finally removing his mask and using every orifice that nature has given him to satisfy his lover. The way he rides bare cock seems to imply he isn't quite the novice he might like you to think; and he certainly knows how to handle Bill's shaft when it finally reaches a very sticky climax. But it's his own multi-fired cum-shot that'll have you reaching for the Kleenex!
Scene 5: RAW RESCUE, Sc.4
This film has great looking smooth fit Eastern European men in it - some have sexy hairy legs and butt holes, all are handsome and uncut. The anal sex is very horny and quite energetic in parts, and of course bareback. It's rare to have so many threesome scenes in one film that are all so darn good.

Disc 2

Scene 6: BAREBACK SAILOR PIMP, Sc.2
Four lads soon get into some hot sex outside when they move away from the lake side, taking their inflatable with them. I have to say all the four lads are on the gorgeous side of things, smoothness and slimness are the only other things they have in common, you'll have to decide which ones you like the best, I'm a tart so I fancy all four. As you would expect it's not long before young bodies are all over each other on the grass and mouths are soon sucking on prime uncut cock. By the way you won't want to miss the cum eating in this scene especially the first mouthful.
Scene 7: BAREBACK SKATER TRASH, Sc.1
This begins with 3 young guys in just their underwear drinking beer in a field - and they may be a little bit under the influence of drink ;0). These Skaters are nice and slim with really well toned bodies and one decides he needs to take a piss. The camera gets up nice and close for you to see his piss come shooting out while the other two watch on. After he has finished pissing he goes to the first young guy who was watching and gets his cock out from his underwear and rubs him until he is semi-hard. He gets told he then has to piss and you see a hot stream shoot from his cock. The other two remove his boxers to leave him totally naked and they both take it in turns to suck on his fully erect cock and some serious mouth action.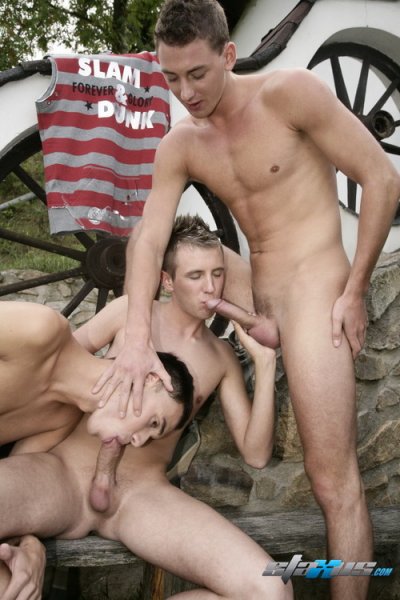 This soon turns into a really hot threesome fuck session as he then sits down on the 3rd guys cock, moving faster and faster up and down while the 1st guy jacks him off until he can take no more and shoots a massive amount of cum onto the guy's tongue as his other friend is still fucking away up his arse. There is a slow motion replay for this and it really lets you see the cum go all over his tongue - then oozing from his mouth back down the slim guy's cock - hot! The one doing the fucking cannot hold back any longer and he removes his cock just in time to shoot his hot cum all over his mate's arse cheeks. The last guy, being so aroused because of these two cum shows, jacks himself off into the open mouths of his two friends - his cum really thick (just how I like it!). These two suck and nibble on his cock, the cum dribbling down off their chins, a really nice finish to this scene.
Scene 8: BAREBACK SOCCER PUNKS, Sc.1
Tom and Sebastian, two very nice boy next door council estate types, but very posh looking as well, kick off the first scene as they kick a football about, until they get to some waste ground that is, then of course it's time to play with balls that are more for the grown ups so to speak. Both lads are slim and smooth; facially they look very sexy and cute. They both behave like passion pullers towards each other. They are soon stripped bare in the great outdoors, sucking on each others quite long, straight uncut cocks. It's not long before the two lads get frisky enough to bareback fuck and Sebastian gets the arse pounding he deserves, well and truly. Sebastian, who gets fucked, makes dam sure that he spunks his juices, all over his fuck buddies face, making him suck on his cum coated cock, all in return for allowing his fuck buddy, to plough his sexy peach pits. Sebastian Gould is one hot piece of eye candy in this scene.
Scene 9: BAREBACK TWINK STREET, Sc.4
Next up the two criminal Bob and Ross, both about twenty, very laddish, get busy with deep-throating each other humongous cocks. Bob then rims Ross' pink hole and rams his thick dick inside of it and pounds away. Bob pulls out his big purple dick from Ross' hole, and serves a massive load of his juice spunk straight into his mate's mouth.
Scene 10: RAW FIX, Sc.1
His first patient is a young stud, tanned, toned, dark hair, great build, pecs and six pack - but we soon skip to a highly pornographic flash back. The stud is paired with an adorable twink, young, slim, smooth, pale with a chunky cock and shaved pubes, and the stud's shaved ass gets ploughed red raw. We end with a cum facial. Back in the surgery now - not speaking in medical term for the procedure but in layman's terms, the Doctor gives the stud "one up the arse".