Summary:
A round dozen of the very best stars of the STAXUS screen cum together – quite literally! – for a second spell-binding, dick-stiffening, spunk-inducing celebration of the finest action that our lads from Prague have ever produced. From breakfast-time action between Joshua Levy and Kris Blent, to Victor Rozas getting banged by gym-bull, Ben Rasgar, these oversized beauties will quite simply stop at fucking nothing to satisfy their constant cravings for monster cock and their insatiable appetite for spunk. Prepare to enjoy and unload!
Scene 1: Breakfast Buggery Leads To A Sticky Cascade Of Hot Twink Goo!
Cast: Joshua Levy, Kris Blent
From: Skin Contact, Scene 3
Everyone knows that the best time for sex is first thing in the morning, when the mind and body are fully refreshed - a philosophy that Kris Blent and Joshua Levy are clearly determined to uphold when they each get up for breakfast and encounter one another over a dining table. After sharing a few niceties, their primeval urges are soon clearly getting the better of them - as any thought of eating cereal is eclipsed by the tantalising desire for hard, fresh meat. Suffice it to say that it's not many seconds before the two handsome beauties are sucking each other's faces off; before both are eagerly reaching into their pants so that they can enjoy the unrivalled delights that are straining away inside!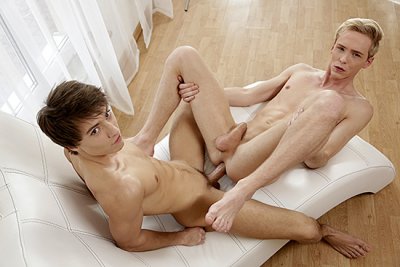 Blent, in particular, simply can't get enough of his buddy's gorgeous joystick, happily slurping on every inch and deep-throating the shaft in the process. But anyone who's ever seen this blond Dutch wonder before will know that his very keenest ambition is to get cock in his arse; and it comes as no surprise whatsoever that he's soon laid out over the table, legs outstretched, inviting Levy to bury his hatchet deep inside that hungry little hole. It's an invite that doesn't ever need repeating, of course.
Levy's soon balls-deep in his mate; signalling the start of a fantastic no-holds-barred coupling that sees Blent in a whole series of positions, culminating in him squirting the contents of his balls all over his belly. If that doesn't get you climaxing, then the sight of the boy from the Hague sucking the jizz out of Levy's erupting cockhead will almost certainly do the trick. Beautiful!
Scene 2: Horny Masseur Gives His Soccer Star Client A Hot Rub-Down & A Full-On Sticky Facial!
Cast: Adrian Smallwood, Sig Sinclair
From: Twink Massage Dreams, Scene 3
Adrian Smallwood is the masseur, Sig Sinclair the cute footballer in need of a massage - and needless to say it doesn't take many minutes before what appears to be an innocent rub-down turns into something much more sexually charged. Primarily because of Smallwood, who clearly has a penchant for young soccer players and who quickly takes the opportunity to sniff Sinclair's shorts. That's nothing to what ensues, however, once he's persuaded the athlete out of his jockstrap - pouncing on Sinclair's dick and giving it the kind of vacuum-suck that it deserves! It's a move that clearly presses all the right buttons as far as the football player is concerned; and before you know it the two lads are busily engaged in a top-to-toe suckathon, latching on each other's cocks and quite literally sucking the life out of them.
It's a wonder that the spunk doesn't shoot there and then; but Smallwood's intentions are now firmly centred on Sinclair's tight little ass-hole, and it's no time at all before he's abandoned all pretence of being a masseur and is instead pounding away at his young pal's butt like a dedicated pro. Sinclair for his part takes every inch on offer without so much as a flinch - the action ultimately culminating in him working his rump up and down the length of Smallwood's shaft cowboy-style. By this point, of course, there's every feasible chance that you'll have long since popped your cork. But if not then the sight of Smallwood blasting Sinclair's face with jizz will surely do it!
Scene 3: Horny Flip-Floppers Gorge On Hard Cock & Almost Drown In Jizz!
Cast: Mike Cole, Milan Sharp
From: Touch My Meat, Scene 2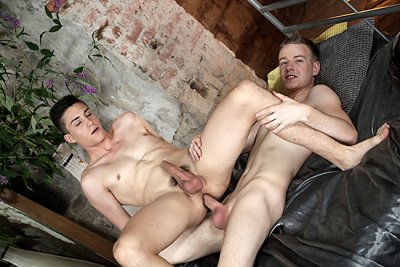 Given what he surely knows is stuffed inside Milan Sharp's pants, it's probably no real wonder that young Mike Cole can't resist tugging at them when he's given the opportunity to massage and caress his buddy's back. Indeed, let's be perfectly honest, failure on his part to make a beeline for Sharp's most private quarters would almost certainly rank as some kind of gross negligence! After all, the reputation of Sharp's cock almost certainly precedes it; and it will certainly come as no surprise to anyone that the schlong is badly engorged and clearly looking for action when Cole finally pulls it from its sweaty home and begins to feast on the hard, delicious flesh. Of course, it'll come as no surprise to anyone that the young Spaniard is soon slurping away like the complete whore that he is, taking almost every inch down his throat as he does so; whilst Sharp then replicates the move so that the two fellows are soon 69-ing each other side-by-side.
And it's with this shamelessly egalitarian spirit that the action continues, when the boys finally give in to their ultimate desires and proceed to take it in turns to pound each other's arses into oblivion. First Cole, who hammers away at his pal's butt like a demon possessed; then Sharp, who allows his horned-up buddy to ride his dick reverse-cowboy style, before lunging his oversized ramrod into the youngster's pucker from behind. No fucking wonder that Cole is quickly erupting like a geyser in response; leaving Sharp to wrap things up very nicely by squirting a terrific wad of pent-up boy-batter all over his pal's sore little arse!
Scene 4: Dreams From The Music Room See Justin Conway Getting Fucked & Spunked On!
Cast: Justin Conway, Stanley Black
From: Symphony 69, Scene 2
If music be the food of love, a certain William Shakespeare once declared, play on. In this particular instance, however, it's not so much love that dictates the pace as down-and-out lust - which for young blondie, Justin Conway, comes in the rather dreamy form of Stanley Black, a dark-haired, Latin-looking beauty who promptly (and all-too-easily) distracts Conway from his musical studies. Then again, given the choice of doing scales and arpeggios alone on the piano or enjoying a little "getting to know you much better" time with a horny mate which would you choose? Yeah, thought so - and it's exactly the same decision that our fair-headed beauty comes to as well, as the two lads immediately begin to exchange blowjobs before savouring a sultry session of head-to-toe cock-sucking.
Unsurprisingly, it's not at all long before Conway is lifting his legs into the air in order to be fucked in pretty much every conceivable position - from behind, from beneath, from on top ... no doubt you get the picture! No surprise, therefore, that the guy is soon squirting a generous wad of jizz in appreciation; whilst Black sprays all over Conway's tongue, before the two lads exchange the kind of cum-laden, open-mouthed kiss that ought to a prerequisite in all porn!
Scene 5: Raw Springtime Fornication For A Big-Dicked Bud & His Lover!
Cast: Titus Snow, Jace Reed
From: Twinks In Love, Scene 2
Springtime is always a perfect time to fall in love, and in Prague - where all the boys seem particularly cute and well-hung - the chances of it happening appear so much higher. It should therefore come as little wonder that young Titus Snow appears to have found his knight in shining armour in the form of Jace Reed, as the two fellows survey the cityscape amidst a backdrop of rising sap and tree blossom. Not that they waste much time admiring the view, it has to be said.
Before you know it the horny lads have abandoned their outdoor sojourn and are enjoying a little private time together - their pants very quickly abandoned as they promptly forget all that romantic slush and engage instead on a hard-hitting session of cock-sucking and ass-banging! All nicely prompted by Snow, who clearly can't wait to get his mouth around Reed's handsome chopper - and no fucking wonder given its infamous dimensions!
Not that Reed appears in any way less reluctant to return the compliment; but you don't need to be a rocket-scientist to appreciate where this coupling is headed, and before you know it Snow is enjoying having his arse-hole fingered and rimmed in anticipation of a good, old-fashioned stretching courtesy of his mate's oversized schlong. Indeed, it's a no-holds-barred fuck-fest as Snow quite literally gets banged to buggery in a whole series of positions; culminating in Reed creaming the lad's well-worked pucker. That leaves the bright-eyed visitor to sign off proceedings by squirting out an eye-watering blast of pent-up spunk, coating Reed's face in the process!
Scene 6: Monster-Hung Gym-Buddy Gives His Cute Charge A Raw Stretch!
Cast: Ben Rasgar, Victor Rozas
From: Bareback Gym Buddies 2, Scene 1
There's absolutely no denying that Ben Rasgar is a gym-trainer like no other - a fellow who quite literally oozes arrogance in the opening few moments of this superb escapade almost as much as he oozes sweat! From spraying a mouthful of water across the training-room, to cockily kissing young Victor Rozas's six-pack mid-session, this is a guy who clearly has a dominant streak and who isn't afraid to show it. Then again, of course, if you'd got the kind of cock between your legs that this fellow has got then you'd probably be pretty self-assured yourself!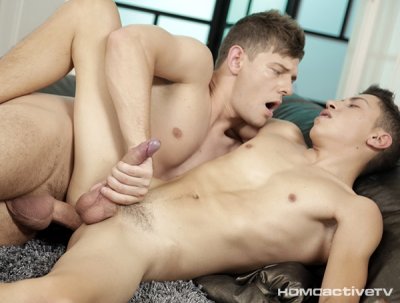 To begin with, however, it's the handsome Spaniard who takes centre-stage in proceedings; with Rasgar quite literally carrying Rozas over to a sofa, where he immediately begins to feast on that handsome Iberian ramrod. There's simply no denying the fact that the temperature notches up considerably once Rasgar's oversized mamba makes its appearance; leaving Rozas momentarily dazed in appreciation, before the young lad masterfully attempts to gorge on every fucking inch on offer.
But whilst you might be overcome with jealousy at the sight of the young twink slobbering over such a mammoth offering, chances are you'll be thanking your lucky stars you're not him when you see his arse having to take the full length of the said schlong - not least of all when the lad's riding it cowboy-style. The fact that he's clearly gritting his teeth says it all, of course; and the thin division of pain and pleasure is neatly encapsulated by his violent eruption. Topped off by Rozas pumping his own jizz into Rasgar's mouth!

Themes: Big Dick, Dark Haired, Fingering, Gym Sex, Rimming, Studs, Twinks, Uncut Cocks