Summary:
2 DVD Set! For over ten years now STAXUS has been producing the very best gay porn with the help of some of the hottest, horniest young guys on the planet, to become Europe's biggest and best-loved label in the biz! So come with us – literally! – as we celebrate this achievement with a double-disc bonanza of a dozen of the very raunchiest, spunk-sodden escapades; featuring 30 of the most cock-crazed, arse-obsessed fuckers ever to appear in front of a camera. Solos, duos, threesomes and a full-on five-way – rest assured, twink-on-twink action has never looked so absolutely fan-fucking-tastic! 2 DVD Compilation set
Scene 1: Hot Sex In The Shower-Room Leads To A Hot & Creamy Facial!

Starring:: Timmy Taylor, Kevin Leung
From: In The Deep End, Scene 3
It's hardly novel - it's been the very stuff of gay porn since the invention of the camera - but who can ever tire of watching young men in a hot and sweaty shower-room? Especially when they have the kind of bubble butts that Timmy Taylor and Kevin Leung seem to boast here. Not that it's their backsides that take centre-stage in the opening moments of this scene. Instead, it's hard cocks all the way as both lads take the opportunity to savour all that unrivalled hardness that they've each got stocked in their crotches, with Taylor displaying his usual heady energy for the occasion and Leung clearly enjoying all the attention!
Never more so, in fact, than when Taylor pins his pal up against the shower room wall and forces his thick, raw cock deep into his tight, hungry ass-hole - an act that signals the start of a truly wild, unrestrained coupling, during which Leung gets fucked in pretty much every imaginable position. Little wonder that the sweet fellow ends up spewing a fabulous wad of jizz all over his belly whilst Taylor pounds against that delicious butt of his; before Taylor himself delivers a killer shot all over Leung's face, leaving the lad dripping with cream!
Scene 2: Connor Levi's Bareback Pool Adventure Proves Scorching Hot As He Sucks & Fucks Hunky Pal's Dick!

Starring: Connor Levi, Rudy Bodlak
From: The Italian Job 1, Sc.1
If it's never occurred to you what a complete and utter slut young Connor Levi is, then now's the time to re-evaluate your perception. Faced with the vision of hunky Rudy Bodlak taking a dip in the pool during a summertime trip to Italy, the ever-rampant Brit boy just can't resist the urge to pull on his dick in voyeuristic appreciation. Not that anyone could possibly blame the guy.
Bodlak, after all, is built like a Greek god, with a magnificent cock and sac to match such an analogy. Who in their right mind wouldn't want to wank given such circumstances? But, of course, as we all know, a boy of Levi's disposition isn't ever gonna be content with a furtive hand-job. Nor is a fellow like Bodlak going to turn down the offer of a twink's pert ass to fuck. As such it's very much a marriage made in heaven, as the two chaps commence a heavy session of poolside cock-sucking and ass-rimming that'll have you jerking on your own rod in no time at all.
Don't nut too soon though. What follows is a truly terrific coupling that sees Bodlak give his twink-buddy the kind of raw, uncompromising buggering that a boy like Levi is crying out for, eagerly cementing the bottom as one of the hottest fucks around in the process. A reputation only enhanced yet further when he laps up Bodlak's wad as part of the post-fuck jinks, feasting on the hunk's jizz as if it were honey. No question, this is as fuckin' hot as it gets.
Scene 3: Repair-Shop Threesome Results In A Spit-Roasting, Nut-Wrenching, Cum-Firing Service!

Starring: Billy Rubens, Paul Ryan, Tristan Wood
From: Revved Up, Scene 2
We've all long-since grown accustomed to seeing Billy Rubens demonstrate his many "skills" on camera, but who'd have ever thought that one of those abilities included mechanics? A skill that he deftly puts to use here by servicing a motor-bike with the aid of a nut-wrench! As it happens, however - and as most of us who've watched this him in action prior to this point know - it's nuts of a very different nature that have always been his main interest; and the arrival of Paul Ryan and Tristan Wood quickly gives him the opportunity to hone in on that particular competence once again! Indeed, it's with characteristic flare that he has his dick out of his overalls quicker than you can go from nought-to-sixty!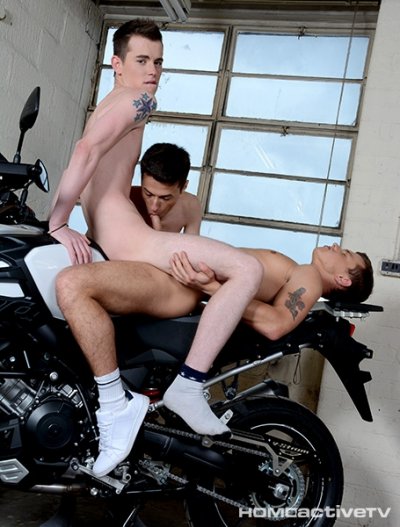 At which point young Wood is down on his knees to pay homage to that handsome phallus - as well as Ryan's aching manhood - with an eager, open-mouthed session that very clearly gets the entire trio firing on all cylinders. In fact, it's no time at all before Wood's been bundled forwards so that Rubens can take his hungry little ass from behind, whilst Ryan completes the spit-roasting from the other end!
Whereupon the threesome engage in a no-holds-barred display of ball-bustin' fun, which includes Rubens lying down on the bike so that Wood can have a ride on the machine like never before! Suffice it to say that the young bottom gets energetically shunted up the rear by both mates - ultimately resulting in him getting the spunk banged out of him, whilst Rubens dumps in his face and Ryan creams his rear for a garage-service that's out of this world!
Scene 4: Flip-Flopping Fuckers Suck, Rim & Ram Raw Ass For A Spunky, Big-Dicked Crescendo!
Starring:: Jaxon Radoc, Will Sims
From: Super Size Me! 8, Scene 3
They're both Caucasian boys, but there's no disguising the difference in skin-tone between Jaxon Radoc's lily-white features and the Latin looks of Will Sims. One thing these two beauties do have in common, however, is their love of cock - a personality trait that very quickly becomes apparent as they start to get intimate over a bottle of bubbly.
Not that anyone who's ever seen either of these lads in the past would have any doubt in that respect; and the good news is that they're both on tip-top form during this superb flip-flop session of dick-sucking, ass-rimming and raw fucking! But, of course, what else would you ever expect from these two STAXUS favourites, whose love of alcohol is clearly always destined to come a very poor second to their lust for each other's cocks! Moments on from sharing a drink, these boys are taking turns to slurp the life out of their swollen ramrods; before engaging in a terrific session of 69-ing that is arguably an act of beauty as much as an act of titillation!
But hardcore porn it most definitely is, as Radoc finally thrusts his oversized, Aussie shaft firmly into Sims's ass-hole cowboy-style - an act that very evidently gets the dark-haired cherub firmly in the mood, as he writhes and groans along every inch of man-meat that his buddy can muster. Unwilling to be outdone, Sims is soon shafting Radoc in return; before roles flip-flop back and forth in a wanton session of stunning man-sex that will almost certainly blow your balls long before these two guys manfully bust their nuts over each other. In short, fuckin' fantastic!!
Scene 5: Skaterboy Foot-Play Soon Turns Into A Hot Bareback Session Of Dick-Draining Fun!
Starring: Chase Hunt, Lucius York
From: Hangin', Scene 1
We've all known for a long time now that beneath the cool, clean-cut image that skaterboys love to promote, there's a whole litany of dirty-mindedness going on! As ably demonstrated here in the capable hands - not to mention mouths and asses! - of Chase Hunt and Lucius York, neither of whom look particularly old enough to be engaged in the kind of kinky filth.
For all their innocent looks out on the streets, however, there's no evidence of reticence from either of these boy-babes once they're alone in private; and it's pretty much no time at all before York has charmed Hunt out of his trousers and is giving his mate's handsome trouser-snake some hardcore mouth-to-mouth resuscitation. Shortly afterwards, both guys are stark-bollock-naked and engaging in a very tempting session of 69-ing, feasting on each other's dicks like a couple of old-time pros, by which time any suggestion that these fellows are inexperienced in any way has been fully dismissed.
York, in particular, clearly knows exactly what he's looking for in this encounter; and having enjoyed some full-on foot-play it's no surprise when the boy is seating himself down on Hunt's lap and taking every hard inch of his fuck-buddy's ramrod up his well-horned rear. An act that marks the start of a breathtaking and (more importantly) ball-bustin' union that'll have you creaming in no time - helped by the fact that Hunt spurts his own goo over his buddy's face in good old skaterboy fashion. Hangin' out with your mates has never looked so appealing - or concluded with so much pent-up nad-nectar!
Scene 6: Locker-Room Team Suck-Off Results In Spunk-Inducing Fuckathon!
Starring: Ryan Olsen, Justin Conway, Alex Candy, Kamyk Walker
From: Fantasy Football, Scene 3
It's blues versus greens, as Justin Conway and fellow team-mate, Ryan Olsen, put the ball skills of Alex Candy and Kamyk Walker to the test - and yes, you're right, it doesn't involve so much as taking a single step out of the locker-room! Indeed, Candy and Walker are busily slurping on Olsen and Conway's respective dicks right from the off, as any pre-tournament niceties are kicked firml-y to the touchline in pursuit of hardcore pleasure.
What's more, having all taken turns in giving head - including engaging in a somewhat kinky conga-style suck - it's no time at all before Conway is fucking the life out of Candy's ass, whilst Walker's butthole accommodates the raw delights of Olsen's meaty ramrod. As befits his elder-statesman porn status, Conway is very much the leading powerhouse here; and it's not too long before the fellow has his eyes firmly set on Walker's pert and clearly very hungry pucker.
As a result, it's soon time for the bottoms to swop round and take advantage of a different cock; before nature begins to take its course and Walker jerks off a handsome wad of jizz all over his own belly whilst Conway bangs away at his fuck-hole. Cue three further eruptions, one of which gets lapped up by Walker and another of which splatters all over Candy's face. All in all, a top-class performance worthy of the Premier League!
Scene 7: Kris Wallace Steps Out Of The Shower & Into Tight Raw Ass Action!
Starring:: Kris Wallace, Jason King
From: Symphony 69, Scene 4
It's no fucking wonder that young blondie, Jason King, can't keep his mind on his piano recital. After all, whilst he strums the notes on the old Joanna, Kris Wallace is busy soaping himself down in the shower next door, lathering his hot, toned body and making sure that his cock is lovely and clean. Needless to say, the lad's reaction to Wallace's return is exactly what you would expect, as all thought of musical exercise is replaced by decidedly more earthly manoeuvres.
Seconds on, and Wallace has pulled away the flimsy looking towel that he'd just wrapped around his waist and seated himself down on the ivories so that King can suck his cock - an invitation that immediately gets an eager response as the young pianist buries his face down on Wallace's meaty uncut dick. The favour promptly returned, Wallace is soon rimming his mate's eager little pucker before thrusting his thick raw knob deep inside for the ultimate pleasure.
A pleasure that Wallace himself is obviously unwilling to miss out on given that a few minutes later the roles have flipped and he's frantically working his own ass up and down King's ramrod! A frantic and very sticky conclusion is all but inevitable; with Wallace's oral reception of King's load serving as the highlight!
Scene 8: Sling-Time Wank Turns Into A Nut-Bustin', Big-Dicked, Cum-Soaked Fuckathon!
Starring:: Felix Webster, Milan Sharp
From: Chill Out, Scene 3
Like most boys his age, Felix Webster thinks about his dick pretty much every hour of every day, so it's not surprising that an opportunity to take it easy in a sling quickly transforms itself into something of a wank-fest, with Webster working and teasing his skin over his cockhead with gleeful ease.
Any thoughts he has of knocking one out alone are promptly dismissed, however, by the arrival of Milan Sharp onto the scene - a guy who always knows exactly what to do when there's a hard knob out in the open, and who duly obliges by falling to his knees so that he can slurp on Webster's ramrod. A favour duly returned by Webster, who's only too pleased to be given the chance to feast on Sharp's oversized tool in front of camera.
Like a pair of dirty whores the two lads are soon 69-ing each other with characteristic gusto; before Sharp takes his place in the sling, stretches his legs as far back as they'll reach and then invites his pal to first rim and then bang his clearly horny little fuck-hole. What follows is a crude display of exactly the kind of immoral filth STAXUS is famous for; only reaching a climax when Sharp jerks himself off mid-fuck and then Webster creams all over the bottom's face, leaving Sharp's face dripping with fresh jizz!
Scene 9: Group Sex Locker Room Fuck-Fest Sees Four Brit-Boys Bang Raw & Shoot Hard!
Starring: Aiden Jason, Aaron Aurora, MacKenzie Cross, Skylar Blu
From: Play To Win, Scene 4
Basketball can be a hard, sweaty, no-nonsense game - but if this terrific little foursome's anything to go by then so can the fun and frolics that go on after the final hoops have been scored. Introducing a fine selection of some of the hottest, horniest Brit lads currently on the scene, this is a definite must-see for all of you out there who like their boys to be young, lean and eager to please - not to mention big-dicked and with sacs full to the brim with jizz!
Suffice it to say that the scene's only seconds old before Aiden Jason, Aaron Aurora, Skylar Blu and MacKenzie Cross are stripping away their kits in favour of their birthday suits; signalling the start of a glorious display of cock-sucking skills from every party concerned.
But it's what takes place once the urge for fellatio has passed and the lads are longing for some serious ass-stretching action that really marks this episode out for attention; beginning with Aurora and Jason being buggered over the changing room benches like a pair of well-worked bitches, and then culminating in Jason, Cross and Blu enjoying a conga-style fuck that not very surprisingly results in every guy in the room spurting copious quantities of cum over each other and themselves. Your reaction, we suspect, will be identical!
Scene 10: Sensuous Masseur Gives Rudy Valentino's Well-Used Dick A Hard Raw Ride!
Starring: Xander Hollis, Rudy Valentino
From: Snow Patrol, Scene 3

Teaming up with Rudy Valentino is almost akin to meeting porn royalty, but take our word for it when we say that Xander Hollis doesn't allow that fact go to his head for one moment in this scene. The youngster's a bright lad and knows perfectly well that it's an esteemed honour to be added onto the list of guys that Valentino has fucked, but there's not the slightest sense that Hollis is overcome by the occasion. Instead he knocks out a teasing, sensuous performance that is almost worthy of an Oscar! First a little play with a piece of silk against the superstar's skin, then a well-honed massage, then a bit of cock-play ... it's a slow-burning build-up to the main event and every minute seems to add to the sexual chemistry between these lads.
And when the crescendo finally arrives - Hollis mounting Valentino's raw cock cowboy-style, having just rimmed and fingered the legend's ass-hole - it certainly doesn't disappoint. Hollis plays the role of power-bottom to an almost classical degree, allowing his ass to be thoroughly ploughed like a total pro. It's a coupling that'll almost etch itself onto the back of your retina; topped off by a superb spray of cum from both parties. In short, we defy you to view this cock-tingling display without nutting big-time!
Scene 11: Better Than An Alarm-Clock - Gabriel Cizek Gets A Hard Raw Fuck For His Early Morning Call!
Starring: Mike James, Gabriel Cizek
From: Raw Monster, Scene.1
Even a horny porn star has to get some shuteye occasionally, so we shouldn't be totally surprised that young Gabriel Cizek is fast asleep in bed at the start of this terrific little scene. Then again, the fact that Mike James wants to wake him up to play shouldn't surprise us too much either - wouldn't we all want to do pretty much the same in the same circumstances? Not that James appears to meet any great resistance to his advances, it must be noted. In fact, Cizek is wide awake and ready for action in two blinks of an eye; and within seconds the two lads are eagerly 69-ing each other's dicks with the kind of gusto that you'd expect from boys their age.
For James, however, giving his handsome pal a blow-job is only half a dream come true! This dirty-minded rascal is only going to be content when he's sinking his oversized ramrod deep inside Cizek's pert little ass; and it's surely only all part of his plan to fulfil that ambition when he starts to play with his mate's hole, rimming it with his tongue and getting Cizek all hot and bothered in the process.
In fact, by the time James has finished working and teasing his mate's pucker, Cizek is quite literally gagging for the hard, uncompromising ride that we all know he's gonna get - which is probably just as well! Cue a wonderful coupling between two of the cutest little fuckers around, which sees Cizek getting banged from behind, from on top and from beneath; culminating in a splendid early morning spray of jizz from both lads!
Scene 12: Spunky Massage Results In A Jizz-Loaded Bareback Threesome!
Starring: Tim Walker, John Parker, Kevin Ateah
From: Never Enough, Scene 3
Is there anything more enjoyable than a good oily rubdown courtesy of a horny handsome stud? Certainly young Tim Walker doesn't seem to be able to think of anything, that's for sure - indeed, the tent in his towel appears to suggest that he's more than impressed with John Parker's efforts on the massage front. Then again, how many masseurs are prepared to be quite as "hands-on" as Parker is here? Or who have sexy mates like Kevin Ateah, who are only too willing and eager to join in the fun ...?
Let's put it this way, they don't come two-a-penny! And nor do scenes like this, as our band of intrepid fuck-buddies promptly engage in a stupendous, breathtaking threesome that'll have you pulling on your todger like a being possessed! Ateah, in particular, is a star performer,from the moment he walks into the room, slurping on Walker and Parker's dicks before taking turns to ride raw on all that hard flesh like a pro-time slut.
Small wonder that the boy is soon emptying his ball-sac for all and sundry; before Parker splatters his ass-hole with a fine wad of hot jizz. In short, exactly the kind of bareback filth that we know our legion of spunk-lovin' fans will adore!