Summary:
For some guys, having one hard dick inside their ass just isn't enough. Call them greedy, but they like to have to go one further! And if that makes them a slut then so be it.
Fortunately, we know from many years of experience that our fans like an accommodating bottom – and let's face it, when it comes to accommodating these fellows are fuckin' masters!
So get ready to rumble with a second collection of dick-crazy whores who just live and breathe to get their ass-holes stretched to the very max. Double helpings, anyone? 7 scene compilation DVD
These titles represent great value for money given the amount of quality content and running time. However, to ensure you don't waste money buying the same content twice, this compilation features scenes from the following titles:-
Scene 1: Little Johny Cruz Gets His Ass-Hole Seriously Stretched In A Double-Dicking Bonanza!
Cast: Dick Casey, Johny Cruz, Will Sims
From: Dungeon Dreams 2, Scene 1
It's no fucking wonder that Johny Cruz is quite literally gagging for cock, trapped as he is at the start of the scene in a dark, dank dungeon with only a few candles for light. Geez, this boy probably hasn't seen dick for months! But if anything his appetite for hard, uncut meat seems only to intensify even further once the fellow is back in normal surroundings with Dick Casey and Will Sims on either side! Then again, who wouldn't be tearing at the bit in such terrific (and decidedly well-hung) company?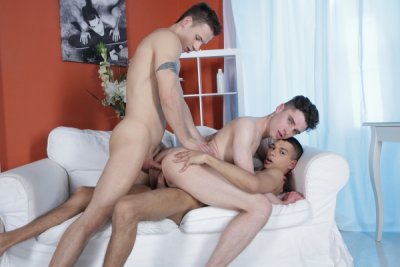 As such, it comes as no surprise that the lad is very quickly giving both his companions his fullest attention, slurping on all that rampant rod with youthful exuberance and quite clearly longing for the kind of ass-stretching that we all know is soon gonna cum his way – big time! Whether he's quite prepared for just how turned on and ready for action Sims and Casey actually are, however, is another matter entirely; but suffice it to say that we don't have to wait long before Sims is banging away at the lad's ass whilst his team-mate thrusts his cock down Cruz's throat.
Roles having then been quickly reversed, it's soon time for proceedings to take on an even more intense nature, as both tops proceed to squeeze their shafts into Cruz's ass simultaneously! It's exactly the kind of filth that we just know's gonna appeal to a whole legion of fans out there; but things get even hotter when Cruz changes position and sits down on both shafts for a cowboy-style double-dicking that neither he (nor you) will ever forget! No question about it, his hole gets seriously stretched; and with a plethora of jizz to top proceedings off, this is one fuck you don't want to miss!
Scene 2: Oscar Roberts Gets Double-Fucked & Fisted Before His Mates Whitewash His Ass-Hole!
Cast: Adrian Smallwood, Benjamin Dunn, Oscar Roberts
From: Stretched, Scene 4
Benjamin Dunn, Oscar Roberts and Adrian Smallwood can't think of any greater fun than shaking their booties to some crazy dance music – well, apart from fucking each other senseless, that is! Which no doubt explains the progression of events in this stupendous scene, as the three would-be disco-divas abandon their footloose antics in favour of some good old-fashioned, primeval cock-worship. And with three dicks like this on display there's plenty of rampant male flesh for everyone to enjoy!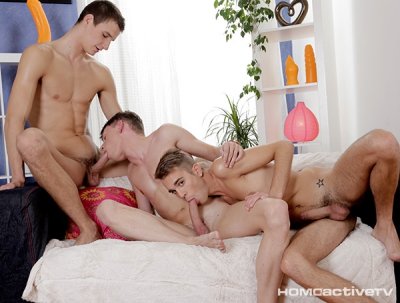 For some young lads, however, sucking dick is never quite gonna be enough; and whilst Dunn and Smallwood consume every knob on offer with their ever-greedy mouths, it's no time at all before Roberts is parting his ass-cheeks and inviting his mates to give his hungry little pucker the banging of a lifetime. An invitation that his compatriots are not in the nature of turning down! What's more, young Roberts is evidentally in the mood for something a little more intense than just a simple fuck from his mates. He wants both lads at the same time, and it's not long before the two tops are helping make all his wishes come true.
Still not content, the fellow then receives a stupendous fisting that stretches his ass-hole even further – if indeed that's possible! By the time that Dunn and Smallwood spew their balls all over the guy's over-worked rump there's every chance that this boy's antics will have left you totally exhausted and completely drained! In short, satisfaction guaranteed!
Scene 3: Young Kurt Maddox Gets Two Cocks For The Price Of One – Raw In His Ass At The Same Time!
Cast: Justin Conway, Kurt Maddox and John Parker
From: A Toy Story, Scene 4
All young Kurt Maddox wanted was a quiet rest, but were STAXUS favourites John Parker and Justin Conway about to grant his wish? Not friggin' likely. As is always the case with these two lads, they're as horny as fuck and don't so much as think twice when they find Maddox asleep on his bed. Before the youngster really knows what's happening he's got two hard dicks trying to thrust their way down his throat – a turn of events that doesn't actually seem to bother the lad too much.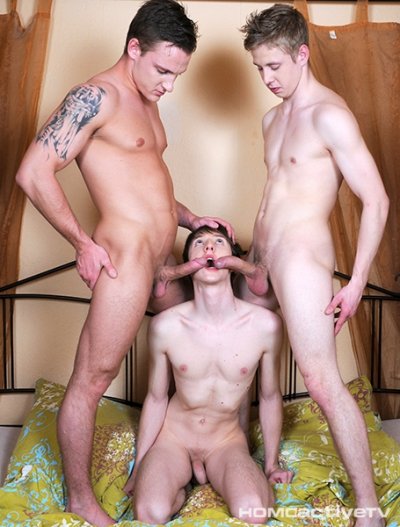 Indeed, soon all three boys are taking it in turn to feast on each other's cocks; and it's perhaps little surprise that it's not too long before Maddox is being crudely spit-roasted for our entertainment. If the sight of hunky Parker pounding away at the boy's ass whilst blond-lad Conway ploughs the fellow's mouth doesn't do it for you then maybe you need to reconsider your appetite for porn; but as if to give viewers a chance of re-evaluation it's not long before the two tops have exchanged places and it's Conway who's feeling Maddox's ass around his cock.
Matters reach a whole new level when both tops decide to fuck their pal simultaneously, signalling the start of a superb double-penetration escapade that'll have you jerking off like crazy. By the time the two studs have spewed all over Maddox's face and chest, chances are you'll be totally drained!
Scene 4: Brother Laarson Gets Two Cocks Up His Ass Before Getting His Face Splattered With Jizz!
Cast: Brad Fitt, Darryl Declan, Sven Laarson
From: Priest Absolution 2, Scene 4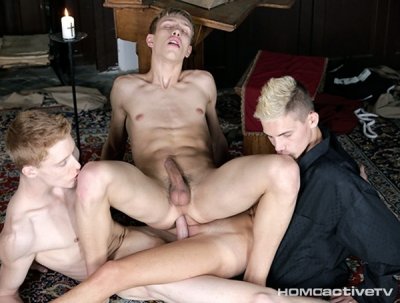 No disrespect to the individual talents of Sven Laarson and red-headed beauty, Darryl Declan, but we've a sneaking suspicion that it's the arrival of Brad Fitt half-way through this magnificent scene that most of our fans will regard as the real start of proceedings. And whilst we're not trying to distract from the climax to the set-piece – which involves Laarson getting ritually double-penetrated for your unrefined pleasure – that's something of a shame. For Declan's oversized dick is worthy of adoration all on its own; and the way that Laarson treats it like some sort of religious icon, slurping on its fine length and then taking it up the rear down on the floor, is enough in itself to get most of our fans knocking out an appreciative load or two. But admittedly this performance is always going to be overshadowed by what takes place once Fitt discovers the two young novices rutting on the carpet. Instead of the expected admonishment, the more senior cleric immediately joins in the fray, and before you know it Laarson is taking two cocks up his ass with such ease that it's almost frightening. No question about it folks, here's a fellow who really knows how to play the slut, sitting on those shafts simultaneously and riding the resultant double-dicked phallus like he was born for the task. By the time Fitt and Declan have finally relieved their knobs by jerking all over his face and Laarson has worked out his own pent-up load over his belly, there's a risk your balls will have ruptured in excitement!
Scene 5: Young Blond Gets A Raw Double-Penetration Birthday Surprise - Topped Off With A Face-Load Of Spunk!
Cast: Tim Walker, Benjamin Dunn, Neo Matthews
From: Super Size Me 5, Scene 1

Everyone loves to have a little fun on their birthday - it's your special day, after all - but how many people get to celebrate like young Tim Walker? Hooked up with his best buddies, Benjamin Dunn and Neo Matthews, he's clearly feeling wild and uninhibited; and, together, this is one very horny trio that's determined to mark the occasion with some unforgettable celebratory antics. Beginning with a game of fruit-bobbing, involving a bowl of fresh strawberries and three very hard dicks. Not exactly your everyday kind of party game, that's for sure; though it's not long before the lads are engaging in more intimate shenanigans, taking turns to blow each other off and to rim Walker's expectant little asshole.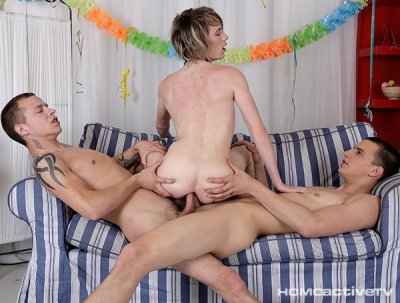 Indeed, it's that said hungry pucker that's soon serving as the main focal point for all the action in the room, as first Dunn pounds away from behind and then Matthews stretches it from beneath. Don't forget, however, that this is Walker's birthday, and his two mates would never forgive themselves if they didn't give the boy a present he'll never forget - namely, a full-on, latex-free, double-penetration!
It's pretty much at this point that you're likely to need the Kleenex, as director John Smith captures all the kinky perversion in close-up detail. But the cum-soaked finale, which sees Dunn and Matthews spurt simultaneously over Walker's cute little face, is certain to tweak yet more jizz from your balls!
Scene 6: Double-Penetration Cowboy-Style Ride For Prison Bitch Kevin Ateah!
Cast: Joye Dorantez, Kevin Ateah, Neo Matthews
From: Doubled Up, Scene 4
We're never precisely told what young Kevin Ateah's alleged crime is – other than being a friggin' filthy bastard, of course! – but we very much doubt that any of you horny fuckers out there will care. Whatever the exact nature of his misdemeanours, however, he sure as hell catches the attention of police officers Neo Matthews and Joye Dorantez, who are soon forcing the cutesome twink to give head on their two aching cocks.
To his credit, Ateah responds to their assertions with characteristic enthusiasm; and as a result it's not long before Dorantez is forcing his thick truncheon deep into the boy's man-cunt. It's a move that seems only to send Ateah into an even hornier frenzy than before; and it comes as absolutely no surprise at all when the action turns duplicate and the fellow has two cocks pounding his ass at the same time.
The way he rides those dicks simultaneous really does has to be seen to be believed, and it's only fitting that the two tops spray fabulous wads of hot jizz all over the lad's lithe frame at the scene's conclusion. All in all, a truly terrific, cum-inducing escapade – a performance that'll have you flicking the rewind button time and time again!