Summary:
2 DVD Set! For over ten years now STAXUS has been producing the very best gay porn with the help of some of the hottest, horniest young guys on the planet, to become Europe's biggest and best-loved label in the biz! So come with us – literally! – as we celebrate this achievement with a double-disc bonanza of a dozen of the very raunchiest, spunk-sodden escapades; featuring 29 of the most cock-crazed, arse-obsessed fuckers ever to appear in front of a camera. Solos, duos, threesomes and a full-on five-way – rest assured, twink-on-twink action has never looked so absolutely fan-fucking-tastic!
2 DVD Compilation set - 12 scenes
This title represent great value for money given the amount of quality content and running time. However, to ensure you don't waste money buying the same content twice, this compilation features scenes from the following titles:-
Scene 1: Hot, Horny Schoolboy Trio Get Top Grades In A Suck & Fuck Cum-Soaked Frenzy!

Cast: Tom Nutt, Louis Blakeson and Jason Radoc
From: Bad Boy Boarders - After Lights Out, Scene 2
It'd be fair to say that young Tom Nutt loves nothing better in an evening than to put his pyjamas on and snuggle up in bed with a nice magazine. Unless, of course, there's the prospect of a little physical companionship in the dormitory – in which instance you can rest assured that the pyjamas and the magazine are promptly abandoned, as is the case here when Louis Blakeson arrives in the room. Who knows whether the said visitor's intentions are innocent or not. What we can assure you is that it's not many seconds before Nutt's hanging off his mate's impressive dick and giving it a thorough oral examination. What's more, the situation only gains intensity when Jaxon Radoc arrives – still in his uniform and looking as fucking gorgeous as ever!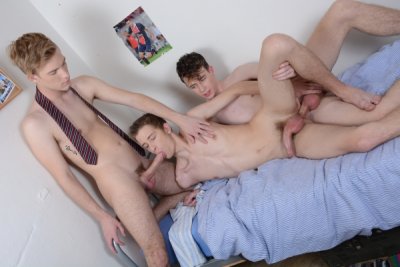 Suffice it to report that it's no time at all before the entire trio is devoid of clothes and sucking cock like a gang of hyper-sexed monkeys. A performance that gets turned up a further notch once the serial-fucking begins. First Radoc rides Blakeson, then Blakeson fucks Nutt, then Radoc bangs Nutt, then Nutt screws Radoc ... you get the idea, we're sure.
In short, it's a entire chronicle of the hottest boy-on-boy sex you can imagine; and it's little wonder that all three lads are soon brimming on the edge of a stupendous climax. Most notable of which surely has to be the explosion that erupts from Nutt's over-engorged shaft, spurting across
Scene 2: Early Morning Getaway Becomes An Early Morning Ass-Stretching For A Dick-Lovin' Beauty!
Cast: Orlando White, Tristan Wood
From: Country Pursuits, Scene 1

Let's face it, most guys would wake up next to STAXUS favourite, Orlando White, and probably be quite convinced that they'd died during the night and woken up in Nirvana! For whatever reason, however, Tristan Wood is not one of those guys! Maybe the young beauty has had a bump to the head during the nocturnal hours, or maybe he's a straight lad after all. Whatever the cause, he begins this scene by actually trying to leave his buddy alone in bed - an act of arguable rank stupidity, but which immediately leaves White with little choice but to pull out all the stops in an effort to get the early-morning fuck that a chap of his calibre and quality demands and deserves!
Of course, we probably don't need to tell you that White's advances quickly gain results. Before you can say "Bore Da", this little Welsh cottage bedroom has been transformed into a den of bareback iniquity - first by Wood deep-throating his mate's handsome ramrod; then by White returning the favour, before rimming Wood's hairless ass; and then finally by White pushing every inch of his raw knob deep into his mate's pucker in order to give Wood a salient lesson in man-on-man fornication! Not that a fellow of Wood's form requires any such instruction; but it's not every day that you get the chance to have your guts stretched by a sex-god of White's quality, and given the look of pained ecstasy that he displays during the course of his buggery we hazard a guess that this is one fuck he won't forget in a hurry - or for that matter want to! And the resultant cascade of jizz proves our point!
Scene 3: Plumber Gets His Pipes Cleaned Out Big Time With A Double-Climax Flip-Flop Fuck!
Cast: Dick Casey, Jason Mike
From: The Bigger The Better, Scene 2

It's a scenario that's almost as old as porn itself - namely, the visit of a sexy young plumber who comes to give his client's pipes a thorough investigation and clean-out. But the chances are that most fans will forgive director John Smith for any lack of originality in this sordid little escapade, given that both STAXUS favourite, Dick Casey, and new boy, Jason Mike, are in fine sexual fettle from the off. Mike's acting skills may not win him an Oscar - his comic floundering with a shower-hose serving as the catalyst for Casey's visit - but who the fuck cares?
The fact remains that both these lads are as sexy as fuck; and by the time they're hooked up together on the settee sharing an open-mouthed kiss there's every good chance that you'll be reaching for your zipper in anticipation of the fun to cum! Don't blow too soon, though. Whilst there's no denying the joy of watching these two beauties exchange blow-jobs and rim each other's asses, the highlight of their sexual antics doesn't come until Casey sits himself down on his client's lap and begins to savour every unforgiving inch that Mike's dick can offer.
Cue a absolutely terrific flip-flopping fuckathon that results in Casey producing one of the best cum-shots you're likely to have seen for years - the shots spraying over his head onto the arm of the sofa! What's more, having immediately fucked Mike to his own gooey climax, Casey knocks out a second load with such ease that you'd think the spunk was on-tap! All in all, a definite classic in the making that's guaranteed to hit all the right spots!
Scene 4: Navy Officer Dickey Drops Anchor In Horny Brad Fitt's Raw Ass!
Cast: Brad Fitt, Damian Dickey
From: Shore Leave, Scene 3

Damian Dickey's looking just that little bit older than he used to, but if anything the world's horniest twink, Brad Fitt, appears to love the said fellow all the more because of it. Let's be perfectly honest though, what isn't there to like about Dickey's fabulously toned body, complete with its six-pack abs and trademark tattoos? Indeed, from the very moment the officer walks into the club that Fitt is working in, the young cutie is agog with desire and jumping onto the bar in order to get the guy's attention.
Something that he gains with spades - and, given the raging hard-on that Fitt has straining from his groin, is it really any wonder? Why, Dickey's slurping on that thick, hairless knob pretty much before you have chance to catch breath! It's a move that's soon being replicated by the younger lad in return, though Fitt's ultimate ambition (as always) is to enjoy the feel of hard dick in his ass. And that's a wish that's all-too-quickly granted, as Dickey proceeds to use that generously-sized uncut knob of his to bang away at Fitt's ass-hole in a succession of positions.
All captured in filthy close-up detail, and culminating in Fitt squirting over his own belly and Dickey pumping a fine wad of jizz into his compatriot's mouth. All a little kinky - but still fuckin' hot!
Scene 5: Spit-Roasting School-Time Threesome Rewards Kamyk Walker With A Full-On Facial!
Cast: Billy Rubens, Kamyk Walker & Will Sims
From: Lights Out, Scene 4
The first thing that'll strike you at the start of this utterly terrific threesome is just what a studious trio Billy Rubens, Kamyk Walker and Will Sims make - each lad stuck with his head in a book, completely oblivious to the alternative fun that they could all be having if only the thought occurred to them! Fortunately for all concerned - most notably for us, the viewers! - that particular notion finally dawns on the band of horny buddies when Rubens tosses his reading material to one side, unbuttons his school trousers and invites Walker and Sims to investigate what he's got stuffed inside his zipper!
An invitation that the two youngsters readily accept with the kind of gusto that we've long since come to expect from such cock-crazed bastards! What's more they don't disappoint - though whether you'd expect otherwise from a couple of sluts such as Sims and Walker is another matter entirely. Walker, in particular, clearly can't wait to get his lips around Rubens's knob; and it seems only a matter of a few minutes before he's squatting down on the same handsome dick and riding it for all that he's worth. A move that opens the metaphoric floodgates for a hard-hitting session of wanton, bareback fornication, which sees the young Pole get banged in every direction by his two hot and horny buddies.
It's raw, it's raunchy and - most noteworthy of all - Walker clearly loves every fuckin' second of it, in particular when Rubens and Sims simultaneously splatter his cheeky little face with cum! The best days of your life have rarely (if ever) looked so appealing!
Scene 6: Paul Walker Talks Porn - Then Jerks Off That Beautiful Dick Of His To A Mega-Sticky Climax!
Cast: Paul Walker
From: Officer's Mess, Scene 5
Any porn star interview is a decidedly acquired taste, of course - you either enjoy getting to know the real person behind the performance or you don't - but even the most negative viewer surely cannot fail to be impressed by the performance of Paul Walker in this question-and-answer / jack-off session hosted by STAXUS director, Michael Burling. Arguably the real surprise of this horny little vignette for many of our viewers won't be the fact that Walker is one of the hottest guys on the scene right now - that's pretty much taken as read - but the fact that this is a fellow who dispels every myth that exists about those who have sex for the camera. Stupid? Not by a long chalk. Inarticulate? Fuck, by no means!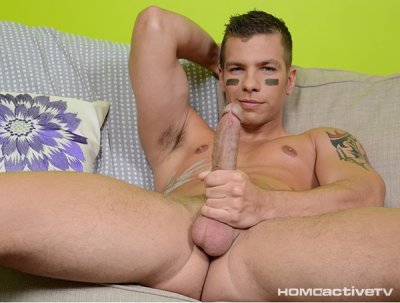 Instead, Walker comes across as an incredibly genuine straight guy who happens to have crossed over into the world of gay porn and who is actually finding it much more fun and rewarding than he first envisaged. Is he a mixed up bisexual who can't get his head around his true sexuality? Well, the jury's definitely out on that one.
What we can say with absolute certainty, however, is that this is one young man you're just gonna fall head-over-heels for - most notably when he eventually pulls off his uniform and begins to work that thick, cut shaft of his for your entertainment. Cue a fabulous jerk-off session that'll almost certainly get the blood rushing to all the right places and which will unquestionable result in appreciative (and copious) quantities of jizz!
Scene 7: Oiled & Greased, This Cute Uncut Twink Gets A Hard Raw Rub-Down!
Starring: John Parker, Kevin Ateah
From: In The Deep End, Scene 1
If you're looking for a top-notch masseur then you could do a lot worse than employ the enviable talents of John Parker, a young horny bastard who seems to fully understand the needs of his clientele and who will go the extra mile to ensure that his customers are fully catered for. A fact that quickly becomes all too apparent when Kevin Ateah walks in through the door and lies out on the massaging bench. For Parker's clearly intent on making sure that every single muscle in Ateah's body - and we do mean every single muscle! - is thoroughly rubbed to perfection. Hence the generous flow of massage oil that follows, greasing the filthy-minded bottom up towards the raw penetration that we just know is gonna follow.
Indeed, Parker's meaty uncut knob-end is soon pounding away at his mate's ass with almost unbelievable ease, taking every raw inch in almost every position imaginable in the space of a few short minutes. It's little wonder then that Ateah's dick is soon spluttering out a generous wad of hot jizz all over Parker's hairless chest; before the top returns the favour, albeit a little less forceably. All told, just the kind of spunk-soaked rub down we all dream of!
Scene 8: Two Kinky Dick-Crazed Fuck-Buddies Choose to Rim, Ride & Open Wide!
Starring: Sven Laarson, Mike Cage
From: Playing Dirty, Scene 2
They've got a collection of sex toys at their disposal, but Sven Laarson and Mike Cage are already so hot at the start of this superb escapade that they don't need any assistance when it comes to enjoying hot, dirty sex. Given the quality of both these fellows, however, would we honestly expect anything different? Both these beauties simply ooze desirability, and who in their right mind would ever kick either of them into touch?
So it's really no surprise when they turn on each other and begin to eagerly suck on all that terrific dick that's on offer - all culminating in a terrific 69-ing session that could seriously get you off right there and then given the chance. The very fact that they simultaneously rim each other's asses is totally ball-blowing in itself; but things only get even more intense when Cage finally succumbs to the ultimate temptation and slips down onto his mate's cock cowboy-style. What ensues is enough to get even the most reserved of our fans into a delirious lather; and the temperature in the room only gets even hotter when Laarson decides to replace his dick with his fist, stretching Cage's pucker to the max in the process.
To his credit, Cage takes every clenched finger like a true pro, though Laarson's decision to foot-fuck the fellow eventually proves to be the bottom's undoing. A delicious spray of jizz not surprisingly results; immediately coupled by Laarson dumping his own wad all over his mate's face to conclude this kinky, spirited, breathtaking performance!
Scene 9: Heath Denson Gets The Valentino Treatment - Long & Hard!
Cast: Heath Denson and Rudy Valentino
From: Happy Holidays, Scene 2
It's Christmas - and what better way to celebrate the season of goodwill to all men than by watching two of the sexiest men on the face of the planet getting unseasonably hot and bothered! Indeed, we defy anyone with an interest in gay porn not to get their feathers ruffled by the sight of Heath Denson and Rudy Valentino making out in the opening credits.
These two young guys really are like a pair of fallen angels; and by the time they're both sucking on each others' oversized, uncut cocks we reckon there's every chance that you'll be unzipping in appreciation and tugging on your own throbbing ramrod. Don't be tempted to reach a climax too soon, however. The rampant 69-ing might be good, but it's nothing compared to the bareback fuck that young Denson's about to savour - his hungry little pucker stretched to the fuckin' limit by Valentino's ass-crazed salami.
Little wonder that the horny bitch has the spunk quite literally banged right out him - Valentino's shaft pounding away at his ass as he spurts a fine wad all over his belly. It's left only for Rudy to add to the deposit in his own inimitably excessive style to make this one festive fuck you won't easily forget!
Scene 10: Fresh-Faced Rookie Gets Two Dicks For The Spit-Roast Price Of One!
Cast: Justin Conway, Marty Love & Victor Jones
From: Never Enough, Scene 2
Cute young Victor Jones was understandably a bit nervous when he was told of his impending encounter with STAXUS favourites, Justin Conway and Marty Love - and it shows. But if anything that only adds to the overall sense of pleasure in the opening moments of this terrific threesome; and suffice it to say that the two stalwarts are more than happy to put the new-boy at ease, filming each other as they take turns to slurp on Jones's handsome (and notably hairless) knob.
For all their patience, however, it's pretty obvious that Love and Conway have only one objective in mind here, teasing the rookie hole with their meaty, uncut shafts. In the end it's blond-boy Conway who gets to pop that pucker first, forcing his swollen dick deep inside the horny novice's ass and getting an animalistic groan of pain and pleasure in return. Jones's predicament is only just beginning, however.
Before he knows what's hit him he's the centrepiece of a stupendous spit-roast - one that he'll be no doubt be telling his grandkids about in years to come! No wonder that the scene ends with a plethora of jizz, neatly concluded with a mutual cockhead rub-off that'll quite simply blow you away!
Scene 11: Cute, Sun-Loving Blond Gets An Ass-Load Of Dick & A Face-Load Of Cum To Cool Him Down!
Cast: Connor Levi and Timmy Taylor
From: The Italian Job 2, Scene 1
Never one to refrain from indulging his exhibitionist tendencies, young blond-boy, Connor Levi, decides to make the most of his vacation in Italy by catching the rays au naturel - a choice that always ran the risk of attracting those of a voyeuristic tendency, namely Timmy Taylor! Oddly enough, however, Taylor's approach is arguably somewhat puritanical, covering Levi's exposed modesty (somewhat ironically) with a fig leaf - much to the twink's obvious chagrin.
It's a mood that doesn't last long, however, we're pleased to report. Taylor's charm is such that he's quickly able to talk Levi into a much more intimate encounter; and before the youngster knows it his older companion's lips are very firmly wrapped around his cock. Cue a somewhat intimate, oil-primed session of dick-rubbing between the boys, which is clearly more than enough to get Levi heated up and yearning for Taylor's shaft - both down his throat and (soon afterwards) between his pert little bum-cheeks.
What follows is a terrific, unrestrained fuck-fest that sees Levi's butt-hole stretched to the max on the sun-lounger by Taylor's badly swollen knob; climaxing in Taylor rupturing his tight little nads all over the bottom's comely face, before Levi spews his load all over the fabric below them. By the time this smart young couple are engaging in one final, cum-laded kiss, there's every chance you'll have blown your own gooey wad!
Scene 12: 5-Guy Fuck-Fest Featuring Hot Raw Action & A Shower Of Jizz From Every Direction!
Cast: Milan Sharp, Chase Anderson, Kris Wallace, Xander Hollis, Michael Moon
From: Chill Out, Scene 4

Playing in the snow can be real good fun, but would anything truthfully compare to the opportunity of getting together with a gang of your favourite fuck-buddies for a hot, horny session of raw cock action? That's the dilemma faced by this gaggle of wide-eyed, big-dicked mates - and take it from us it doesn't take them long to make a decision. Before you know it Milan Sharp, Chase Anderson, Kris Wallace, Xander Hollis and Michael Moon are stripped to their underwear and engaged in a scorching set-piece of rampant cock worship.
Culminating in a fellatio daisy-chain that really does have to be seen to be believed! Needless to report it's not long before all that oral attention has left this gang feeling very much on the raunchy side, as they begin to finger and rim each other's asses in anticipation of the inevitable hole-filling antics to cum.
Perhaps unsurprisingly it's Sharp and Hollis who serve as chief bottoms, eventually acting as two parts of a three-guy pile-fuck; together with Wallace, who ultimately serves as the centrepiece to this fine escapade of male-bonding and whose slim, lithe body gets showered with jizz for his efforts. By the time all five lads have nutted you can literally sense the mutual satisfaction and almost smell the stench of spunk!