Summary:
Only massive cocks allowed! See the cutest twinks around being impaled by the biggest rock hard cocks.....and they seem to love it! Compilation Gay DVD - just £15
Description / Review:
Scene 1: Damion Harrison and Luke Desmond
From: British Football Orgy
One of the greatest pleasures about playing football is the fact that once the game's over you can jump into the showers with your team-mates – a fact that clearly hasn't escaped either Damion Harrison and Luke Desmond, who show no hesitation in doing just that! Mind, it's no fucking wonder that Harrison should be enthusiastic – young Desmond is quite literally hung like a horse, and the sight of that meaty wand swinging around is more than enough to get Harrison into quite a lather.
No wonder that he's soon down on his knees giving the said monster a real good slurping. Not that that does anything but get the boy even more excited. Indeed, he's not really happy until he's thrusting his own poker-stick deep into Desmond's hungry ass-hole! A turn of events that clearly works a fair degree of magic on Desmond, who promptly spurts a load whilst bouncing on Harrison's shaft. In short, hot, sweaty shower-sex at its very best!
Scene 2:
From: Chavs Vs Hoodies, Scene 2
So what do you reckon happens when you put a horny chav in the same police cell as a couple of randy hoodies? Will the animals fight? Will they mate? Well, it's a question that's been bothering us for some time, and as such as just had to trial this curious threesome to get an answer for ourselves. Initially, said the introduction appears to produce a few sparks – the chav naturally trying to display signs of dominance, before the hoodies clearly put the fellow in his place by thrusting their straining crotches into his face.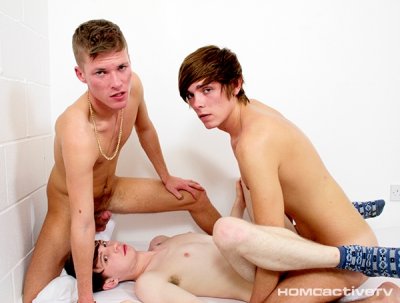 It's a move that immediately gets the kind of response that the hoodies were no doubt looking for, as the chav slips his mouth around each of their knobs in turn; whilst some deep-throating on the part of the hoodies underlines that the sexual urges on display are completely mutual. Indeed, it's not long before all three lads are stark-bollock naked and engaging in a spit-roasting frenzy that you're just gonna love. What's more, the action's topped off with a full-on facial and oodles of hot jizz!
Scene 3: Jay L'Amour and McKenzie Cross
From Chavs Vs Skaters, Scene 2
Jay L'Amour and McKenzie Cross are a couple of young straight boys with very different outlooks in life, given that L'Amour is a floppy-haired Skater and Cross a proud, baseball-cap-wearing Chav. But there are a couple of things that they do share in common, namely beer and sex! Unfortunately for them, whilst downing a can isn't a problem the nearest thing they can get to bedding a girl is getting their hands on a cheap porn mag – which, when you consider these boys' libidos, is never gonna be enough to placate all those raging hormones!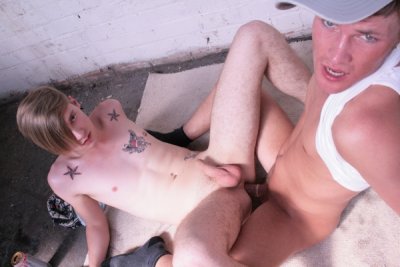 It's perhaps just as well, then, that they're clearly the sort of lads who are willing to compromise their expectations and turn their attentions on each other – which in L'Amour's case means taking Cross' thick, uncut knob-end down his throat and up his ass! Cross for his part proves himself to be a energetic little fucker, and it's no wonder that L'Amour dumps a generous load in response. Promptly followed by Cross busting his own nuts all over L'Amour's bubble butt!
Scene 4: Kai Alexander and Xander Hollis
We defy anyone not to be seriously turned on by young Xander Hollis – the kind of dreamy, pitch-perfect twink who surely delivers as perfect wet dream fodder each and every time! Indeed, when we informed Kai Alexander that we were arranging a shoot for him and the Czech beauty, the horny Brit-boy almost creamed his pants in excitement. He knew (as did we) that this was gonna make for one of the hottest couplings in a long time – and we're pleased to tell you that neither lad proves to be a disappointment in any way, shape or form.
Hollis, in particular, is as beautiful as ever, and the sight of his soft tanned skin against Alexander's pale body is almost enough to get you dumping a load right at the start. But the heated session of giving head that gets things started is soon trumped by some kinky sneaker play; before all that shoe-sniffing leads to a terrific display of 69-ing on the sofa.
Is it any wonder that both boys are as high as kites by the time Hollis is ready to dock balls-deep into Alexander's ass? What follows is a terrific, sweaty fuckathon; but it's the energetic facials and the ensuing cum-laden French kiss that we reckon will last longest in the memory.