Summary:
Some boys like their adventures with cock to involve dicks that are decidedly on the big side – and let's face it, those are the lads we've always liked the best! Dudes who feel totally uninhibited when confronted with horse-hung, horny studs, and who know exactly what to do with every throbbing inch on offer. Milan Sharp, Joshua Levy and Martin Cusan are just some of the oversized beauts; Martin Rivers, Angel Lopez and Florian Mraz just some of the size-queens who will quite literally stop at nothing to get the maximum stretch on offer!

*ZUSAMMENSTELLUNG: Einige der besten STAXUS-Szenen, die jemals gedreht worden sind - jetzt auf DVD!*
Einige Jungs haben gerne eine extra Portion Fleisch in der Hand und im Arsch - und seien wir ehrlich, genau diese Jungs haben wir doch am liebsten! Kerle, die völlig hemmungslos werden, wenn sie gut bestückten und sexy Burschen gegenüberstehen, die dazu auch noch wissen, wie sie jeden Zentimeter ihrer langen Fickstängel einzusetzen haben. Milan Sharp, Joshua Levy und Martin Cusan sind nur einige der Hengste mit Überlänge - und Martin Rivers, Angel Lopez und Florian Mraz stehen ganz vorne in der langen Schlange von größengeilen Bürschlein, die nichts von einer maximalen Ladung Fleisch im Arsch abbringen kann!

Scene 1: Sparky Gives Hot Office Guy A Heavenly Bolt Up The Ass!
Cast: Joshua Levy, Martin Rivers
From: Do Me Daddy, Scene 4
He claims to have come to the office to inspect the electricity sockets; but given the fact that he's wearing a sleeveless vest and gives only a half-hearted check of the equipment in the office, you'd be forgiven for making the assumption that Joshua Levy's intentions are somewhat more carnal than he'd have you believe. Especially when he decides to put on an almost sickly display of charm towards Martin Rivers, complementing the fellow on his hair and giving suggestive looks. Suffice it to say that the young office worker soon finds himself to be little more than putty in Levy's hands; as the horny electrician quickly demonstrates that it's inspections of a very different kind that warrants his attendance.
Moments later and Levy is indeed giving a close examination - of his buddy's cock! Not that Rivers is against providing his own oral assessment in return, feasting on Levy's handsome ramrod with eager relish - whilst still positioned in his office chair! Not that he's sat there for very much longer after this point, it must be said. Soon Levy's got him bundled over the desk and is rimming that tight little arse of his for all he's worth; before energetically thrusting every inch of his dick deep into the lad's lucky pucker. It marks the start of a truly wanktastic display of boy-on-boy fornication, which ultimately sees Levy pounding his mate down on the floor with full-octane fury; and which eventually sees Rivers getting his rich reward in the form of an ass-load of jizz. Little wonder the fellow celebrates with a mesmerising multi-shot wad of his own all over Levy's still straining dick!
Scene 2: Cock-Loving Angel Takes A Raw Ride On New Recruit's Big Dick!
Cast: Martin Cusan, Angel Lopez
From: Camp Fuckers, Scene 4
You don't need to have ever been a scout to know that learning how to do knots is an integral aspect of scouting life - a skill that the absolutely divine Angel Lopez puts to excellent use when he quite literally ties up handsome newcomer, Martin Cusan, and proceeds to manhandle the young fellow. That, of course, makes it sound as if the newbie is forced into action against his will; but given the swollen nature of his dick when Lopez unzips the fellow's jeans it's obvious that that's not the case at all. Far from it in fact; as both boys smooch and strip off their uniforms, before Lopez continues with some kinky rope play on his pal's rampant joystick.
It's clearly more than enough to get Cusan to an even higher state of arousal than he was before; and he promptly gorges on Lopez's finely curved shaft, before turning his attention on the fellow's arse. By this point in proceedings it's pretty obvious that the action is only headed in one direction, and indeed it comes as no surprise that Cusan's hot rimming of his friend's cute little pucker is quickly followed by him impaling every inch of his thick, uncut ramrod into that hungry ass-hole.
It's a move that quite literally brings out the sexual animal in Lopez, who then proceeds to ride the new boy's cock like a slut on steroids - bouncing up and down on Cusan's knob with such fucking gusto that his own dick flaps around like a yoyo! Of course, the fact that he's donning his neckerchief only adds to the kink; and by the time he sprays an unbelievable wad, before gobbling Cusan's load in return, your balls will be utterly drained!
Scene 3: Bike Mechanic Gets To Screw His Cute Pal's Tight Ass - Literally!
Cast: Johnathan Strake, Kellan James
From: Biker Boyz, Scene 4
Kellan James is a young man of many talents - one of which, it seems, is the ability to pick things up off the floor using his feet. Whether that's the aspect of this spunktastic scene with Johnathan Strake that you'll end up remembering is open to question, of course; but it certainly adds a certain curiosity to the first few moments here, as he carries out some maintenance to his bike ahead of the arrival of Strake, who (not surprisingly) immediately distracts the fellow with a horny smooch. It's a move that quickly has the desired effect on James, that's for sure; as the now horned-up biker promptly switches his attention away from his cycle in favour of his pal's thick, engorged salami, which he begins to feast upon with undisguisable relish.
Then again, who can blame the guy? Strake has a dick to die for, after all. Not only that, however, but the lad also possesses a handsome pair of bollocks that James is only too eager to nuzzle and worship. But there's no denying the fact that James's keenest attention is on his buddy's hungry little ass-hole; and having allowed Strake a rigorous slurp on his own cock in return, the fellow is soon rimming and fingering Strake's pucker like a being possessed.
Cue a fantastic arse-buggering session that sees the young lad pummelled in a series of hot positions; and culminating in some rather kinky sex play that involves James thrusting a screwdriver up the sweet boy's hole. It all proves way too much for Strake, who is soon exploding right across his own belly; before James finishes the round by jerking out a wad into his pal's mouth!
Scene 4: Bunged-Up Pal Gets His Arse-Hole Fingered & Fucked To Health!
Cast: Milan Sharp, Martin Muse
From: Raw Medics 2, Scene 3
We all know fast-food isn't good for us, and yet we all continue to eat it on a regular basis - as Milan Sharp does here, whilst strolling around town. It's not long, however, before the bad choice of food is playing havoc with the fellow's digestive system. As a result, he's soon calling in at the doctor's, hoping to get an appointment with Martin Muse. Fortunately for the lad, the medic is available and is soon able to diagnose the problem. The bad news, however, is that the remedy is not your usual prescription. Instead, Muse insists that Sharp gets on all fours so that he can start to finger his arsehole - assumedly in the hope that the painful blockage can be loosened.
To be fair we never actually discover if the treatment genuinely works. What does become very apparent, however, is that all that finger-work has a direct effect on Sharp's oversized cock, which is soon very badly swollen and crying out for attention. Luckily, Muse is on hand to provide some treatment to that part of his patient's anatomy as well; signalling the start of a terrific session of cock-sucking that sees both lads feasting away on meat like a carnivore's dream!
But it's Sharp's bunged-up ass that serves as the main focal point of the action - though it's hard to see how the decision to thrust a handsome ramrod deep inside the fellow's guts is gonna help matters. To the medic's credit, however, the insertion of his hard cock inside the fellow's butt definitely seems to hit the spot; so much so that Sharp is soon squirting a watery wad of jizz in response, before Muse creams his buddy's face in return!
Scene 5: High Octane Fuck-A-Thon Gets These Cute Lads Spurting Like Mental!
Cast: Paul Cube, Aslan Brutti
From: Bareback Vibes, Scene 5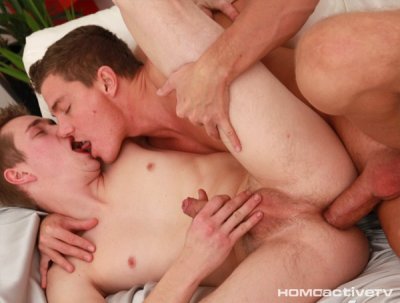 There are occasions when porn can seem just that little bit - well, staged. Lacking in passion or charisma. Well rest assured that this is most definitely not one of those scenes, as Aslan Brutti and Paul Cube come together (quite literally) for a scorching fiesta of pure lust. Indeed, it's obvious from the very start that these are two boys who are really into the task at hand - a pair of highly-charged fuckers who would arguably be jotting down each other's numbers at the end of the shoot to arrange more of the same behind closed doors. Be that as it may, prepare to savour the sight of two beautiful young men sucking, licking, rimming and (ultimately) fucking like a couple of wild dogs on heat! We defy anyone not to be blown away by the sight of pert, pale-skinned Cube bouncing up and down on Brutti's unsheathed knob or - a little later - being screwed from behind on the sofa. Indeed, we reckon that any self-respecting porn pro will have shot their load several times by the point in the encounter that these boys take turns to spray generous loads of cum all over each other. Raw, energetic and totally wicked, it's a spunk-churner all round!

Scene 6: Benjamin Dunn Gives His Little Buddy A Very Big Cock To Take Up His Bubble-Butt Arse!
Cast: Benjamin Dunn, Florian Mraz
From: Brief Encounters, Scene 5
There's no disguising the simple contrast in height between these two gorgeous demi-gods - Florian Mraz is quite simply inches shorter than Benjamin Dunn, as evidenced when the two fellows stand together in the doorway at the start of this terrific cock-wrangling scene! But the one thing they do have in common - other than an apparent interest in underwear! - is a love of raw, impassioned fornication. An interest which they are both clearly keen to explore almost from the very start.
As a result, it's not too long before the pants have been tossed to one side and the two lads are taking it in turns to greedily devour each other's dicks; before Dunn's desire to master the situation appears to get the better of him and he pushes Mraz over an armchair so that he fully investigate his sweet, bubble-butt! Mind, with a cute, ass-winking beauty like that on offer is it really any wonder that Dunn is entranced from the off? Why, he eagerly rims the hungry little hole like a being possessed; and before you know it he's resigned totally to his instincts and is burying his meaty, uncut shaft deep inside Mraz's pucker. A move that clearly makes for the horned-up bottom's very obvious satisfaction!
What follows is, quite simply, a beautiful display of man-on-man rutting at its best, with Mraz riding that handsome donger throughout like it was what he was always born to do. The wide-smiled boy's pleasure remains self-evident throughout - right up to his own magnificent cum-shot and the almost-equally spray of his buddy, which combine to splatter his abs in a wave of goo!