Summary:
A 2 DVD compilation Set crammed full with hot twink action with a lot of fresh boy spunk flying around everywhere! These are the most jizzy scenes you will see this year and the good news is, they never end! Over 4 hours of excitement here!
This title represent great value for money given the amount of quality content and running time. However, to ensure you don't waste money buying the same content twice, this compilation features scenes from the following titles:-
Scene 1: Young, Horny Scoundrel Gets Fingered, Fucked & Double-Fucked!
Cast: Dick Casey, Florian Mraz, Joel Vargas, Milan Sharp, Sam Williams
From: Police Prowlers, Scene 1
Young Milan Sharp is in trouble with the police. In fact, given the fact that he's being bundled into a room with four angry officers at the start of this scene you could say that he's in real BIG trouble! After all, they seem to be under the impression that he's got drugs stuffed up his ass-hole – and they're not going to be happy until they've undertaken a very thorough search of that cute little pucker.
Cue an inquisitive probing led by Florian Mraz and Sam Williams, whilst their colleagues Dick Casey and Joel Vargas stand on the sidelines; but the fact that all this fingering leaves Sharp with a raging hard-on only encourages the foursome to take their investigations to a whole new level. As a result, it's not long before all five guys in the room are stark-bollock naked; with Sharp now very much the centrepiece of the action, whilst the officers suck and jerk each other off as they await their chance to fuck the young twink.
So Sharp first gets fucked by Williams, as Mraz thrusts his dick down his throat. Then Mraz takes his turn on the lad's hole; before Vargas joins Williams to double-fuck the boy. That just leaves Casey as the only one not to have had his chance to give Sharp's ring a good stretching. Fear not, however. Having taken two cocks up his ass in one go, Sharp finally gets to ride his fourth dick of the session – by which point every guy in the room is pretty much on the edge. In the end, it's Mraz who gets the honour of creaming the young bottom's arse; whilst Casey, Williams and Vargas splatter Sharp's face with a tsunami of jizz. In short, bliss!
Scene 2: Sam Williams Gets Used Like A Fuck Rag By His Horny Buddies!
Cast: Jace Reed, Lukas Leung, Roman Smid, Ryan Torres, Sam Williams
From: Cum With Me, Scene 4
Given his reputation as a top, it might surprise you somewhat to discover that it was Sam Williams who initiated this scene in the mind of director, John Smith – a multi-guy fuck-fest in which the fellow gets fucked by pretty much everyone! Not wanting to throw the dark-haired stud in at the deep end, however, Smith made the rather sensible decision to split the performance into two halves – one featuring Ryan Torres and Roman Smid, two young labourers who seem to take exception to Williams' errant ways, the other adding Jace Reed and Lukas Leung into the mix. As a result, it's probably best to pace yourself when appreciating what turns out to be a truly top-notch escapade; though given how horny our fans are there's undoubtedly every expectation that your appreciation may not be limited to just one creamy eruption!
However, it'll be a hardened fan who can hold back when seeing Williams getting spit-roasted by Smid and Torres – the stud writhing on all that hard, uncut cock in much the same manner as so many young twinks have gasped and groaned on his own dick in the past! But perhaps not surprisingly, the atmosphere in the room goes stratospheric once the trio has spawned into a no-holds-barred five-some; with Reed's mammoth member proving a definite draw for Williams, who by this point seems to have quite literally transformed himself into a newly discovered cock-bitch! Suffice it to say that it's not long before the quartet of horned-up buddies are creaming Williams' face; leaving the bottom to jerk off as they fight to lick the spunk from his lips!
Scene 3: Fuckin' Wild Fuckfest Gets These Boys Splattered In Paint & Jizz!
Cast: Connor Levi, Jesse Magowan, Kevin Ateah, Randy Faulkner, Timmy Taylor, Xander Hollis
From: Never Enough, Scene 1
If Dulux or Crown were to sponsor gay porn – and who's to say no for sure in these straightened times? – then they could do a lot worse than pick this fabulous escapade featuring half a dozen of the sexiest boys around. Whether seeing a bunch of horny twinks spraying paint all over each other is quite what these chemical giants would have in mind when it comes to advertising their products is anyone's guess; but we reckon our target audience will be more than suitably impressed by the gaggle of sex-gods on offer.
Besides, it's not too long before everyone's nicely cleaned up and the escapade takes on a much more sexualised nuance; as the array of cocks on offer strain and swell, and seemingly every mouth and ass in the room becomes a sweet, tight haven for all that pulsating flesh.
All culminating in a fantastic fuck-chain that'll have you quite literally gasping in amazement; before the inevitable cascade of pent-up jizz that almost threatens to flood the room and which we guarantee will have you jerking off in equally fervent fashion in response. In short, a breathtaking orgy scene that will appeal to pretty much anyone who loves wild, dirty sex!
Scene 4: A Young Boy Slut

Cast: Jack Rider, Marty Gray, Max Candy, David Bruckman
From: Police Orgy, Scene 1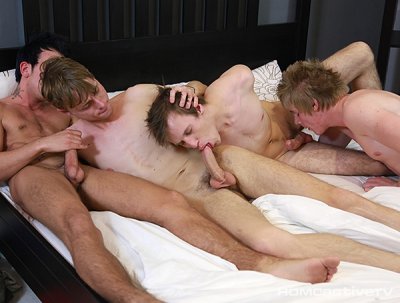 It's got all the hallmarks of a straightforward foursome, but with director, John Smith, clearly keen to hold back from an immediate foray into orgy territory it's perhaps no surprise that he should decide to split these boys into two duos – David Bruckner and Max Candy heading off to an adjacent room, whilst Marty Gray and Jack Rider get to know each other better alone. The result is a scene where the action swings back and forth between the two rooms – the better encounter of which is arguably between that of Bruckner and Candy, whose sexual chemistry seems a little more natural and intense. Bruckner, especially, seems particularly keyed up for the occasion – a young blond slut whose cock-play in the kitchen with Candy soon develops into something much more intense and memorable. Gray and Rider, meantime, exchange blow-jobs on the bed; but it's the sight of Bruckner being skewered by Candy's raw hard shaft that serves as the highlight here, before the boy quite literally has the spunk banged out of his balls. A return to four-way antics – and the sight of Candy finally splurging all over Bruckner's face – marks a fine finale to this opening salvo.
Scene 5: A Celebratory Gangbang Gets This Bunch Of Horny Beauties All Fucked Up & Spurting Spunk!
Cast: Benjamin Dunn, Brad Fitt, Connor Levi, Kris Wallace & Milos Milis
From: One Erection 2, Scene 4
It's celebrations all round as the members of the world's latest hit boy-band take time off their heavy schedule of concerts and guest appearances to spend a little quality time together, which in effect means sipping champagne and then banging each other senseless! Of course, anyone with half a knowledge of the STAXUS stable of boys will anticipate Kris Wallace and Benjamin Dunn being the dominant parties in this five-guy fuck-fest, but in the course of events it's not just Brad Fitt, Connor Levi and Milo Milis who surrender their ass-holes for your entertainment.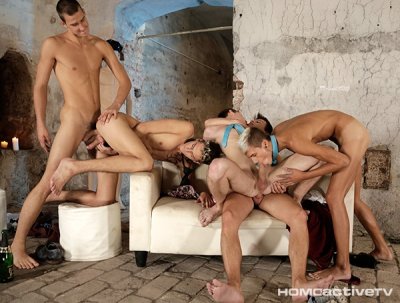 The fact of the matter is that young Wallace clearly can't resist the idea of getting his pucker stretched by Dunn's handsomely-sized ramrod – and who the fuck can possibly blame him? Seeing the likes of Levi and Fitt getting pummelled by all the hard dick on offer clearly leaves the fellow aching for some stiff attention of his own, and before you know it he's sitting on Dunn's lap and getting stuffed cowboy-style like some cock-lusty whore.
In the meantime, anticipate enjoying the sight of hard, uncut knobs getting the kind of no-holds-barred oral attention that most guys can only ever dream of; plus a rimming-chain that'll quite literally leave your asses tingling in appreciation. But it's the sight of five handsome young bucks rutting like horned-up alley-cats that'll really endear you to this sordid escapade; culminating in a pyrotechnic display of jizz that leaves Milis coated in baby-brew and the rest of the gang looking keenly buzzed-up and content. Your own heavy wad is nigh on assured!
Scene 6: Smooth Young Twinks Get Their Boy-Cunts Brutally Banged!
Cast: Aaron Aurora, Drake Law, Luke Desmond, Skylar Blu & Jonny Parker
From: Chav Vs Footballers, Scene 5
With absolutely no disrespect intended to director Michael Burling, it's pretty damn obvious that this scene's gonna score big time even before the lads have left the field after the game and headed for the locker-room. After all, it's a veritable cornucopia of gay sporting fantasy. What's more, it includes some of the sexiest, horniest Brit twinks in the business – boys that you could quite easily fall in love with there and then, and whose sexual antics you could easily watch forever without ever tiring.
Picking a favourite from the five lads is a somewhat difficult task given that all the boys are as cute as new buttons and decidedly blessed on the cock front; but Luke Desmond's dick is (as always) an unmistakable monster, which in this instance gives young Drake Law's ass a real good workout, whilst Aaron Aurora's spit-roasting at the hands (or more accurately the cocks!) of Skylar Blu and Jonny Parker serves as a truly unforgettable focal point to the debauchery.
There's always gonna be someone who quibbles otherwise, but we defy the vast majority not to have dumped a generous wad long before these boys declare a wrap with their cascade of jizz!
Scene 7: Passive Israeli Stud Worked Over By 3 Of Our Exclusive Czechs!
Cast: Dick Casey, Mark Nill, Rudy Valentino, Tim Law
From: German Sex Holiday 1, Scene 3
In short, we defy anyone not to absolutely love this scene. Why? Well, put quite simply, because it features four of the most goddamn adorable fresh-faced creatures that you could ever wish to see put together in a porn flick – three of whom (Rudy Valentino, Dick Casey and Tim Law) are all STAXUS exclusives and who by the looks of things had been saving themselves up for some time to give young curly dark-haired cherub, Mark Nill, the kind of holiday escapade that he'll remember for the rest of his life.
Needless to report, Nill serves as the unquestionable centrepiece of all the action from beginning to end, as the three Czech lads service his cock and ass with the kind of unforgiving gusto that we've long since come to expect from the boys of Prague. Indeed, you might almost feel sorry for the lad as Casey and Valentino take it in turns to pound away at his tight (but clearly very hungry) arse, whilst Law continues to hang his young lips around his knob.
Suffice it to say that the action concludes with all three Czech lads drenching their visitor with the very finest Slavic DNA – all to Nill's undeniable pleasure. A top class escapade that'll leave you begging for more!
Scene 8: Sam Williams Conducts The Best School Lesson Ever – Topped Off With Oodles Of Hot Teen Jizz!
Cast: Sam Williams, Alan Benfelen, Darko Simic, Ryan Olsen and Jace Reed
From: Raw Lessons, Scene 2
How we must all wish that we'd had a teacher like Sam Williams when we were at school. Not only is he an extremely sexy dude – as everyone who's seen him in action prior to this point will surely tell you – but his educational techniques are ... well, how can we put it? Somewhat unconventional? Progressive? Judge for yourself, as he takes charge of a small group of students – Alan Benfelen, Darko Simic, Ryan Olsen and Jace Reed – and quickly takes the opportunity to demonstrate a blow-job on Olsen's dick in front of the class.
He then openly encourages Olsen and Simic to show off their own oral techniques to the rest of the group; before overseeing Simic as he thrusts his handsome shaft deep into Olsen's ass-hole and fucks the fellow over one of the desks. To be fair, this is not your everyday lesson by any stretch of the imagination; but it clearly makes a deep impression on Reed and Benfelen, who finally proceed to strip off their uniforms in order to relieve themselves of all the sexual tension that's resulted as a result of watching their mates fornicate like a couple of dingos in season!
And what better way to sign off a lesson like this than to gather round in a circle and wank off over one of your mates? In this instance that lucky fellow being Simic, who takes every drop of jizz that his hyped-up buddies can produce. But it's the sight of Williams joining in at the end, adding to the tsunami of cum on Simic's cute young face, that really puts the magic in the moment; and we defy anyone not to jerk themselves silly to what must be the best school lesson ever!