Summary:
Mr. Blond, Mr. Blue, Mr. Brown, Mr. Orange ... they may be anonymous but this is one fuckin' gorgeous gang of horny fuckers! As one unfortunate punk after another discovers. These guys will stop at nothing to secure their place as top dog, using every weapon in their disposal – thick, uncut cocks included! – to pull off the perfect heist on the next hungry, willing ass. Cum-soaked urban legend or the stuff of real-life nightmares? Either way, you're not gonna want them to stop until they've drained every drop of jizz from your aching balls!
Description / Review:
Scene 1: Toby Cress, William Holder, Aron Kervin & Luis Yuk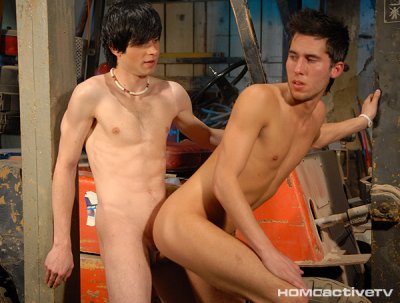 Sometimes a guy just finds himself in the wrong place at the wrong time – and in this instance it's poor Luis Yuk who unexpectedly stumbles upon trouble when he arrives uninvited at the gang's secret meeting place. Needless to say, the five clan members are not at all amused at the interruption and immediately begin to show their annoyance by subjecting the official to a wanton show of abuse; forcing the lad into a plastic mask and then proceeding to piss all over his face. It's certainly not the kind of reception he was probably anticipating, that's for sure; and whilst Nicolaz Cruz and Julien Adagio get to know each other better on the back of a forklift truck, Toby Cress, William Holder and Aron Kervin continue to abuse Yuk by face-fucking the fellow and finally spewing the contents of their balls all over the poor fellow! It's more than enough to get you horny bastards reaching for the Kleenex; but with Adagio now thrusting his red raw poker into Cruz's hungry pucker you might find that you need to hold off for a few moments more. Not that it takes long for both lads to dump generous loads over each other, marking a fabulous end to this sticky, sweaty escapade!
Scene 2: Mike Cage and Todd Reid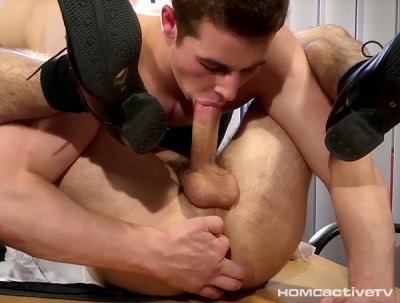 Young Mike Cage might be getting all hot and bothered at the thought of meeting up with the notorious gang of thugs in question, but cropped-haired executive Todd Reid doesn't share those feelings at all. Fact is he's hoping to give the crew as wide a berth as possible, but unfortunately for him it's not long before young, hung Mathew Ross comes knocking on his door. Minutes on and Ross has taken every last penny that Reid owes the fraternity and is busy adding interest by forcing Reid to unzip his pants and deep-throat his thick, aching cock! Cue a fantastic flip-flop session that sees the two guys engage in a horny 69-ing session over the office desk; before Reid sinks his own meaty, uncut weapon deep into Ross' hole, and then Reid takes the opportunity to ride Ross' shaft cowboy-style! It's a superb pairing that's gonna grab you by the balls and never let go; and we defy anyone not to unburden a load or two at the sight of Reid's cute young face receiving a veritable cascade of jizz courtesy of his assailant's throbbing, spurting ramrod! All that cum dripping from Reid's chin (and the boy's own sticky climax over the floor) is the very stuff of wet dreams!
Scene 3: Francisco Ruck - Solo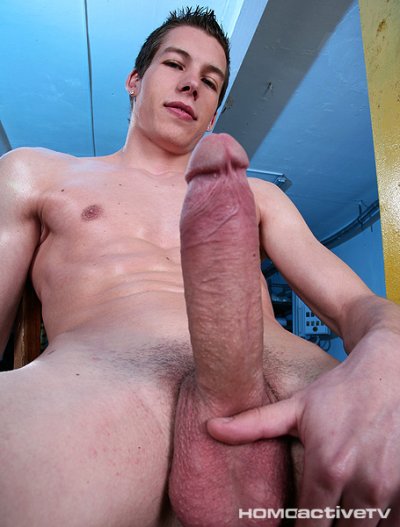 It's not very often that director, Vlado Iresch, chooses to concentrate on one model in an entire scene, but on this occasion he decides to make a clear exception – and it's not difficult to see why! Young Francisco Ruck is already quite a hit, thanks to appearances in titles such as OFFSIDE and RAW RUNNERS, and with his cute face and toned physique he's a natural star in front of the camera. No question about it, you're gonna love every single second that you get to spend in this young fellow's company, as he takes time to drag on a cigarette before reaching into his zipper and pulling out that oversized knob-end that he keeps stashed in his jeans! Seconds on and Ruck is working the entire length of his shaft with his tightly-clenched fist – something that we just know you're gonna appreciate big time! It's a short scene, admittedly, but then what else would you expect from a horny, over-sexed youngster; but it's more than enough to get the juices rising in all the right quarters, and chances are you'll have busted a nut even before Ruck has busted his. If you like simple, uncomplicated action with a dream boy then this scene is all yours!
Scene 4: Cock-obsessed Stud Muffins
Cast: Ali Montero, Damien Dickey, Denis Reed, Luis Bigdog, Nick Deniels, Jon Roz, Nick Gill
Also available: Fuckin' Orgy Sluts (2 DVD Compilation)
Having a drink with the boys is one thing; but, as Ali Montero discovers, having a drink with this particular gang of cock-obsessed stud muffins is quite another. Fact is that the beer comes a very poor second in the affections of these lads, whose idea of a good drinking game appears to involve pouring the contents of the cans all over their cocks and forcing Montero to suck it all off! What's more, Montero doesn't appear to show any degree of objection, throwing himself manfully into the task as monster cock after monster cock gets thrust into his direction.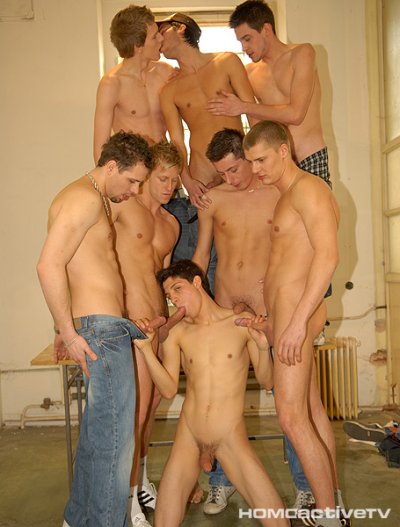 No doubt about it, the likes of Damian Dickey and Luis Bigdog are in their seventh heaven; and it's a predicament made all the more intense when Montero bows to the inevitable and lies down on a desk to allow every guy in the room to fuck the living daylights out of him! This boy is skewered and spit-roasted more times in ten minutes than most of us get to enjoy in a whole lifetime, and the perversion is only made all the more intense when the gang of fuckers proceed to spray their loads all over Montero's cute little face. Dickey's climax is particularly noteworthy; and it's little wonder that the horny bottom should be looking like the cat who got all the cream (literally!) at the final cut!
Scene 5:
Cast: Mike Cage, Marty Love & John Parker
Also available: Fuck 'Em Till it Hurts (2 DVD Compilation)
There's no disputing the size of Mike Cage's dick – it's been doing the rounds on and off throughout, and by the time his final fantasy here with John Parker and Marty Love is enacted it's looking even bigger than ever. Mind, the fact that Parker promptly begins to fist-fuck him only serves to engorge matters; though it's pretty clear straight off that only raw cock will satisfy the youngster, and he's probably somewhat relieved that Parker can't wait to thrust his own aching pole deep into that over-hungry crack. All that said, you can't help but get the impression that it's Love that this boy wants.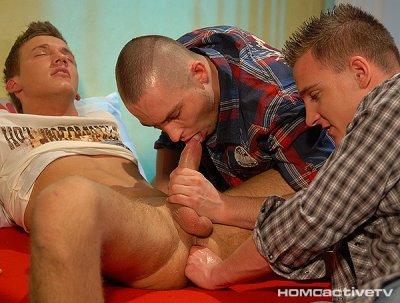 No, not the sentimental, wishy-washy love that's inspired so many Clinton cards. Rather Marty Love, a hyper-toned hunk with just exactly the right amount of chest hair to make you go all weak at the knees. He certainly seems to press all the right buttons where Cage is concerned, and it's hard not to regard the sight of the young bottom being royally spit-roasted by Love up the ass and Parker down the throat as a noteworthy highlight. As is that of Love creaming Cage's pucker and then Love fisting the lad to ecstasy in return. In short, a terrific threesome that'll have you jerking off time and again – and wearing out the rewind button in the process!