Summary:
A round dozen of the very best stars of the STAXUS screen cum together – quite literally! – for a spell-binding, dick-stiffening, spunk-inducing celebration of the finest action that our lads from Prague have ever produced. From high school rebels, Dick Casey and Kris Wallace, to an all-male locker-room fuck-fest featuring Sam Williams and Jason King, these oversized beauties will quite simply stop at fucking nothing to satisfy their constant cravings for monster cock and their insatiable appetite for spunk. Prepare to enjoy and unload!
Scene 1: Detention Proves To Be Ball-Bustin' Fun For Dick Casey's Dick On His Horny Mate's Ass!
Cast: Dick Casey, Kris Wallace
From: School's Out, Scene 1
They're a couple of high school rebels, whose characters are such that being in trouble is almost second nature. As such, being put into detention for smoking by their teacher, Johan Volny, merely serves as just another opportunity for mischievousness for Dick Casey and Kris Wallace; and it's little wonder that the two beaus are very soon engaged in some rebellious fun together, courtesy of a banana! In fairness, Casey's response to Wallace's sensual provocation is only all too understandable - how else would you expect him to react to the sight of his mate teasing the end of the fruit with his tongue?
Indeed, the mutual cock-rubbing that follows almost seems understated in comparison; although it has to be noted that both boys are soon out of their jockstraps and feverishly relishing the contents of each other's crotches. It's at this point, of course, that any notion of innocent foreplay is thrust to one side as the pair engage in a sweaty, double-barrelled act of hardcore fornication - the initial act of fellatio promptly overtaken by Casey's obvious desire to fuck the living daylights out of his buddy and by Wallace's all-too-apparent wish to let his mate do just that!
The mating session that follows is quite simply top-notch, with Casey's oversized ramrod providing Wallace's unprotected ass-hole the kind of pounding that it deserves; before both lads let nature take its course, splattering each other with volcanic-style jets of goo. The ensuing relief is almost palpable - though whether you notice in your own desire to work out a load (or three!!) is quite another matter!
Scene 2: New Boy Gets It Big In Every Hole Thanks To Jace Reed's Cock!
Cast: Tony Conrad, Jace Reed
From: Super Size 11: Breed 'Em Big, Scene 3
Talk about being thrown in at the deep end! New boy, Tony Conrad, dreams of making it big in the world of gay porn - and he really couldn't have asked for a bigger or better introduction than here, when he quite literally comes face-to-face with Jace Reed's oversized mamba! In fairness, there are guys aplenty who would claim to be able to handle such material, only to balk at the final hurdle - but not this young cock-whore! No, he's down on Reed at the first opportunity - slurping over every handsome inch, and very obviously loving the experience.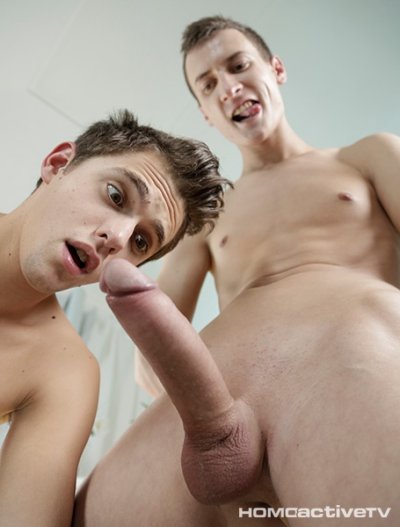 It's an impressive opening gambit; and one that clearly pleases Reed, whose cock seems even bigger than usual, if that's actually possible! By this point, of course, most viewers will probably be wondering whether Conrad's appetite for Reed's dick will transfer quite as easily to his ass-hole; but first the two fellows take time out to 69 each other, before Reed's attention inevitably turns to his newfound play-buddy's pucker, which he rims and fingers in anticipation of the hardcore wrecking to come. To the big boy's credit, Reed eases Conrad in nice and gently at first - working his crown in, but little more.
We all know, however, that that's unlikely to satisfy a guy of Reed's credentials; so it comes as no surprise that he's soon adopting a variety of positions in a bid to get more of his dick inside. He doesn't fully succeed, however, until Conrad adopts a reverse-cowboy - at which point Reed is quite literally balls-deep and banging the jizz out of the slut, before creaming Conrad's arse in return just a few seconds later!
Scene 3: Connor Levi's Oily Massage Results In A Greased-Up Fuck-Fest With A Gorgeous Muscle-Hunk!
Cast: Connor Levi, Ennio Guardi
From: Twink Massage Dreams, Scene 1
As well as being one of the sexiest studs on the planet, Ennio Guardi is also one of the hottest masseurs around - as blond Brit-boy, Connor Levi, discovers when he calls on the fellow's services in this terrific, oil-drenched escapade. To be fair, Guardi's glorious physique is such that he doesn't need to possess any such massaging skills - in fact, Levi is pretty much putty in his hands right from the very moment that he walks through the door.
But credit where credit is due, as the Czech hunk starts by working every inch of his client's flesh and almost brings Levi to a premature boil without so much as a hint of penetration! Not that it's all that long before the horny English lad is allowing Guardi to give his mouth a good workout, slurping on that Slavic ramrod with typical STAXUS gusto - by which point the oil is most definitely flowing without the merest hint of restraint!
As such, the foreplay that ensues is a decidedly greased affair, with naked flesh slipping and sliding sensuously against naked flesh, and it comes as no surprise that Guardi's thick, meaty dick ultimately slips into Levi's ass with only a modicum of resistance. Moments later and the over-excited top is quite literally up to his balls in rump, Levi clearly savouring every swollen inch of premium cock in the process. What follows is a magical display of man-to-man fornication, with Guardi banging away at his client's hungry fuck-hole in a succession of positions before both guys spew furiously in appreciation. In short, a deliriously wet adventure courtesy of two of the dirtiest fuckers on the circuit!
Scene 4: Designer Pants Make Way For Bare Dick For These Sweet Boys!
Cast: Rudy Valentino, Shane Barrett
From: The Nutcracker, Scene 3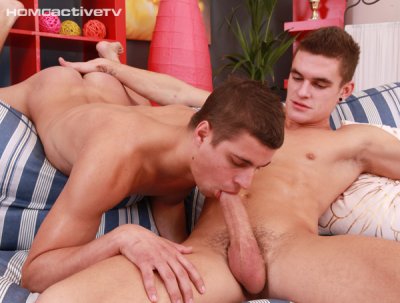 They're each as cute as fuck, so it's perhaps no surprise that both Shane Barret and Rudy Valentino are sporting quite magnificent hard-ons in their designer underwear right from the very beginning of this scene. After all, how could either of these boys fail to have been turned on by the other? Not that the briefs stay on either of them for very long, it must be said. Before you know it, Valentino is tugging away at his mate's last remaining shred of dignity and is giving the thick, meaty, uncut cockhead that he's discovered in Barret's pants the kind of mouth-to-mouth resuscitation most of us ordinary mortals can only ever dream of. Believe us, this young man seems seriously obsessed with Barret's dick, feeding off its hard length and lapping at its tender, swollen end like it's the first bit of meat he's had for years; but if he thinks his dick's gonna get reciprocal treatment then he's in for a rude surprise. After all, Barret has only one intention here - to fuck Valentino's ass red raw and to coat it with a splash of jizz. An ambition that he achieves with remarkable ease; leaving Valentino the chance to erupt for the camera courtesy of a tight-fisted hand-job!
Scene 5: Hot-House Deep Throat Suck Leads To Torrid Cum-&-Piss Finale!
Cast: Lukas Leung, Sam Williams
From: Twinks In Heat, Scene 4
Is Sam Williams being deliberately provocative when he visits Lukas Leung's sauna? Certainly he seems to go out of his way to openly flaunt his assets as he flits between the toilet and the hot-room - a fact that Leung cannot possibly fail to notice given that at one point Williams runs past the fellow with his meaty, uncut cock displayed over the top of his towel! It's enough to get even a devout celibate in the mood for action - and, as we all know by now, Leung ain't no fucking celibate! Indeed, he's soon marching in on Williams and getting down on his knees to feast on the fellow's ramrod - a move that doesn't seem to bother Williams in the slightest.
Then again, with the prospect of getting his equipment serviced by this over-experienced cock-whore, why would it? Mind, Leung isn't the only fellow here with a hyper-keen taste for dick given the manner with which Williams proceeds to deep-throat his buddy - literally bringing tears to his eyes - whilst Leung underlines his credentials as a total slut by replicating the show and taking his mate's cock right down to the root! It's a truly terrific act from both buddies; and the performance notches up a further gear when Leung eventually succumbs to temptation and allows Williams to thrust his dick up his ass. It's a move that excites the horny bottom big time - at least if the gloop of pre-cum that drips from his jap-eye is anything to go by! - and his enjoyment only increases when he then rides Williams cowboy-style, creaming his wad as a result. But it's the finale cum-and-piss-facial that arguably makes this a classic!
Scene 6: Hot Session In The Changing Room Results In Raw Fucking & Oodles Of Jizz!
Cast: Benjamin Dunn, Jason King
From: Raw Twink Twister, Scene 3
An all-male locker-room is arguably one of the very few places left in this life where guys can simply be open and honest with each other in a way that's generally impossible in the "straight" world beyond its doors - which may or may not explain the proficiency of the setting in gay porn. Then again, it might just simply be the fact that hot, sexy men seem ever hotter and sexier within its sweaty confines - as keenly demonstrated here when Benjamin Dunn and Jason King find themselves alone together among the soccer shirts and shin pads!
Suffice it to say that it's not many minutes before both lads are taking it in turns to feast off each other's dicks - and believe us there's plenty to feast on! - before Dunn proceeds to rim King's pert little ass and then fill it to bursting point with his thick, uncut shaft. A fabulous fuck-session ensues, with not the slightest hint of rubber - all deliciously captured in full-on, close-up detail for your amusement, as Dunn bangs away at his mate's pucker courtesy of every position imaginable.
Most touching, maybe, is their final coupling down on the floor, with King's legs firmly wrapped round Dunn's body in a clinch that's as romantic as it is pornographic. But it's the sight of Dunn spooging over King's face and King knocking out a fine load over his belly that ultimately clinches it.

Themes: Bareback, Dark Haired, Facial Cumshot, Locker Room, Rimming, Twinks, Uncut