Summary:
Sex is sacred for these uncut twinks, and bareback is a religious experience! Watch these young sinners giving up their virginity within the holy church walls.....amen!
Compilation DVD
However, to ensure you don't waste money buying the same content twice, this compilation features scenes from the following titles:-
Scene 1: Toy Loving Priestly Brothers Commune With A Hard, Jizzy Fuck!
Cast: Johnathan Strake, Mike Branco
From: Kneel & Pray, Scene 3
Who would've ever imagined that young priests had such a fascination with sex-toys? It's certainly a startling revelation, as Mike Branco and Johnathan Strake each go hell for leather on their own sweet arse-holes; before Branco switches his full attention on Strake's butt, whilst simultaneously gobbling on his buddy's dick. Indeed, Strake's appetite for a good old-fashioned anal pounding is clearly almost insatiable, given the way that he continues to take every inch of that big black dildo whilst munching away on Branco's swollen shaft.
Given the high-octane nature of this lad's desires, it's perhaps little wonder that his mate's only too eager and willing to take full advantage of the situation; lifting Strake's arse into the air and energetically rimming and fingering the horny little slit. To say that Strake takes everything that his fellow disciple thrusts in his direction is a statement of the fucking obvious – and, what's more, he's very quickly parting his cheeks to accommodate Branco's handsome ramrod.
It's a move that signals the start of a terrific set-piece, with Strake royally buggered in a whole series of positions – most notably reverse-cowboy style, when he bounces up and down on Branco's thick meat like a bitch in season. Little wonder that the fellow can't hold back from a sticky crescendo for long, spewing all over his belly. But his credentials as an out-and-out slut aren't totally signed off until he's taken a full-on facial courtesy of his mate's erupting cock-head; leaving him quite literally dripping with spunk and looking every inch the kind of whore we know and love!
Scene 2: Bible-Banging Threesome Sees Will Sims Spit-Roasted & Splattered With Hot Jizz!
Cast: Adrian Smallwood, Sven Laarson & Will Sims
From: Priest Absolution, Scene 2
The notion of sin, damnation and the possibility of divine salvation don't usually serve as your typical backdrop for gay porn. Nor are they subjects that we suspect will trouble you a great deal as you watch this tremendous threeway – especially given that all you're probably interested in is seeing Sven Laarson, Adrian Smallwood and Will Sims strip out of their religious attire so that they can worship hard, uncut cock! Fortunately for everyone concerned, the heavy natured backdrop is promptly dispensed with in the opening moments, as these three horny bastards use the opportunity to express the eternal search for love in the most carnal manner imaginable. Indeed, any subtlety is abandoned right from the very moment that Laarson and Sims bundle novice monk Smallwood out of his habit; and before you know it Sims is being energetically spit-roasted by his spiritual mates like a common whore. Clearly abstinence is not something that they teach at this church community – a fact that's promptly underlined by the manner with which Smallwood then switches his attention back and forth between the ass-holes of both his buddies, fucking the pair in quick succession and stretching both man-cunts to within an inch of their lives in the process. It's no bloody wonder that the spunk is soon beginning to flow – in this particular instance all over Sims's cute (and seemingly unprepared) little face! Now if that isn't a religious experience to remember then we really don't know what is!
Scene 3: Holy Lads Spread The Love With A Raw Fuck & A Baptism Of Goo!
Cast: Connor Rex, Zach Law
From: When The Bells Ring, Scene 2
Connor Rex and Zac Law are a couple of wholesome, devout Mormons, who clearly feel called to spend time out on the town. Not to drink and party, as you might expect with boys their age; but to act as a witness to their faith and to do good wherever they see the opportunity. That's not their only calling, however. Back in the privacy of home, where they spend time reading scripture together, they also feel called to express their love for each other in the only way they know how – something we feel might not go down so well with their Church's hierarchy.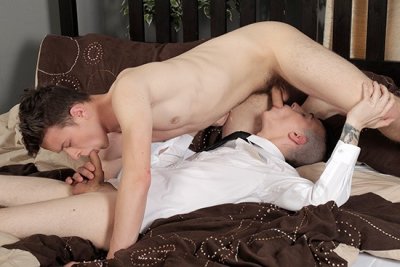 But horny boys will be horny boys; and it doesn't take many minutes before the two spiritual brothers are expressing their lusts and affections in the only way that they know. As a result, Law's down on Rex's handsome ramrod like a hungry dog with a bone; before Rex responds in kind, and then the two lads engage in a heated mutual exchange in the form of some delicious 69-ing. All of which culminates in something of a playful tease from director John Smith, with Rex eagerly rimming Law's pert little ass – a move that might lead anyone to assume that it's Law who's gonna get heartily buggered.
On the contrary, however, Rex then promptly bounds onto Law's rock-solid shaft to prove that he's the only bitch in this relationship; riding dick like a pro in a succession of hot positions, interspersed by him gobbling on the source of his pleasure. It's a top-notch performance for sure, and one that soon has Rex squirting out a hot load; before he receives a much-welcomed baptism of jizz all over his cute face!
Scene 4: Daniel Hausser, Peter Polloc
From: Sexual Indulgence: Scene 2
It comes as no surprise that Daniel is in a difficult position deciding between the lord or a hot twink that will corrupt him. Needless to say this wouldn't be on staxus if it wasn't sexual, so after the moral debate, he decides sin is the only way. And who else but little angel Peter to make the decision easier for him, with some kissing and some bulge rubbing action, Daniel has soon forgot about most of his worries as Peter now has his lips wrapped around Daniels cock!
It's not long now for Daniels ass to be gaping missing the feeling of Peter's cock inside, but Daniel forgets about that also before commencing the final assault, which is on Peter's ass, which leaves this boy of god bursting his load all over Peter's hole!
Scene 5: Priestly Threesome Results In A No-Holds-Barred Suck & Fuck-Fest ... Plus A Raw Double-Penetration!
Cast: Jace Reed, Johny Cruz, Yuri Adamov
From: In The Ass Of The Father, Scene 5 (not released)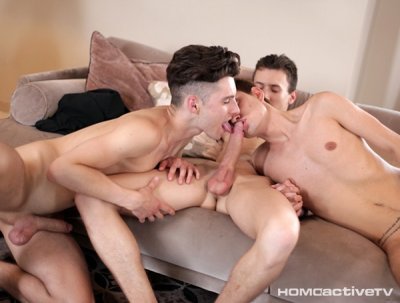 It's time for revelations, as Jace Reed discloses the truth to Johny Cruz and then promptly invites the horny young priest to enjoy an impromptu threesome with the ever-delightful Yuri Adamov. It's a proposition that Cruz tries hard to resist – for about all of two seconds! Thereafter all three lads are quickly stripping out of their dog-collars in order to feast on the bounty of hard dick that quickly becomes available – Reed's gorgeous, oversized ramrod being (understandably) the focal point of much of the attention. Indeed, we defy anyone to watch and not be completely overawed by the sight of Reed face-fucking Cruz, who in turn is being simultaneously blown by Adamov! But don't get carried away just yet. The action is only just starting to heat up by this point – a fact that's underlined by the succession of stunning set-pieces that promptly ensue, one after another. Reed and Adamov worshipping Cruz's dick; Adamov sucking on both his mates at the same time; Cruz and Adamov 69-ing whilst Reed first fingers, then rims and then finally fucks Adamov's ass; Cruz getting his fuck-hole pounded by Reed; and a chain-fuck that sees Reed pummel Cruz, who in turn is pumping away into Adamov! It's almost too much to bear – but geez, the best is yet to come. For not only does Cruz get double-fucked by both his buddies – a sight to behold in itself – but we're also treated to the sight of Reed getting jizz splattered all over his hair and face in the scene's cream-inducing finale. Little wonder Reed's own donkey-sized cock is soon rupturing in spunky appreciation! No doubt about it, if this is what being a priest is about then count us all in!
-----------------------------------------------------------
NB: We recommend that you check out the great value 2 DVD sets from Staxus which offer much longer running times, more content for around £5 extra and therefore possibly represent better value.