Summary:
2 DVD Set! There's a definite buzz to sex in the great outdoors – the skies hanging above your heads, the fresh air on your face (not to mention your balls!) and the thought deep down that you could just be caught in the act. It's certainly an aspect to sex that gives this collection of boys the edge, as a third band of outdoor cock-warriors get naked and horned-up al-fresco!
Rudy Valentino, Tim Law, Brad Fitt and Leo Ocean are just a few of the legendary STAXUS buddies who like their action to be unrestrained by indoor orthodoxies!
Over 3 hours long, 10 scenes and 28 models.
Scene 1: Daniel Prince Takes His Friend For A Forest Walk - Then Fucks His Pretty Brains Out!
Starring: Daniel Prince, David Hanson
From: Outdoor Pursuits, Scene.4
Daniel Prince and David Hanson put their best collective foot forward for a walk in the woods - except (as quickly becomes all too apparent) their quest for exercise is perhaps a little more carnal than they might ever wish to admit. For upon discovering a quiet corner of the forest, in a clearing next to a ramshackle cottage, the two fellows spread out a blanket and settle themselves down to a lengthy session of cock-sucking and ass-fucking - the kind that so often appears to be a feature of life in the Czech Republic where horny, over-sexed boys are concerned.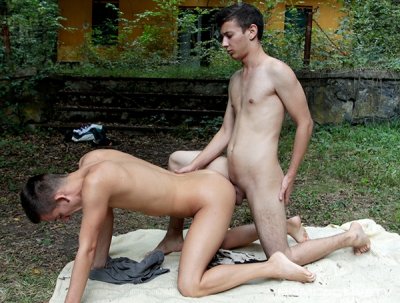 Not that we're complaining, of course. We defy anyone to watch this pair of unmitigated beauties without reaching for their zipper - most notably when the two guys have exchanged obligatory blow-jobs and Hanson lies himself down on his shoulders with his butt in the air, legs akimbo, ready for raw penetration. Something that young Prince is only too happy and willing to provide, it must be said. Cue a variety of fuck-positions that see Hanson's hole duly hammered good and proper for your perverse entertainment.
Indeed, who could have possibly complained had director, John Smith, called it a wrap there and then? As it is, however, the coupling reaches a dramatic conclusion in the form of two of the hottest, stickiest facials we've seen in a long time, leaving both lads dripping with goo and clearly extremely satisfied. As you yourselves will be when you witness these pretty, innocent faces looking totally violated!
Scene 2: Outdoor Twink Reunion Sees Justin Conway Getting His Ass Stretched By His Biker Buddy!
Starring: Benjamin Dunn, Justin Conway
From: Open Range 1, Scene 2
Benjamin Dunn and Justin Conway are almost the antipathy of each other. Dunn is tall and dark, and loves making tracks here, there and everywhere on his motor bike. Conway, in contrast, is blond and comparatively short, and is a fellow who enjoys nothing more than idling time away in his hammock. What, you may ask, could these two respective beauties have in common? The answer, of course, is fucking obvious - right from the very moment that Dunn whizzes into the scene on his two wheels and Conway jumps up to greet him with a firm hug and an even keener kiss.
Indeed, the manner with which these two beauties tear each other's clothes off pretty much confirms their mutual love of naked male flesh and raw hard cock - a penchant that is only underlined further as they take turns to trade blowjobs, before engaging in a sultry, rather energetic session of 69-ing on the grass! But matters only intensify when Conway lubes his lover's dick with spit and then proceeds to plonk his ass down on the thick, meaty member, riding the ass-splitting shaft like the veritable pro he's long-since become. It's a high-octane, explosive encounter from the very first thrust of Dunn's hips, interrupted on several occasions by Conway's desire to suck on his pal's knob; and concluded only when neither boy can hold back from the inevitable, resulting in a sticky, messy spray of pent-up ball-juice!
Scene 3: From Venice With Lust - Brad Fitt Gives His Blond Lover A Raw Table-Top Fucking!
Starring: Tim Walker, Brad Fitt
From: The Italian Job 1, Scene 2
Who could visit Venice and be unmoved by the raw romance of this amazing city? Not Tim Walker and Brad Fitt, that's for sure - having experienced the delights of the pearl of the Adriatic and enjoyed the pleasures of a fine Italian red wine together, the two boys decide to sign the day off by savouring a little carnal knowledge. And who the fuck can blame them?
Beginning with a gentle smooch, that very quickly unfolds into something much more passionate, with Fitt sucking his mate off over the table! Indeed, it's clear from the start of their encounter that this particular piece of dining furniture is going to be put to some very good use in this scene, as is highlighted when the lads engage in a superb session of 69-ing right across its length! And needless to say it also features as the basis for the ensuing fuck, when Fitt finally forces his meaty, uncut shaft deep inside Walker's pucker during what proves to be a very energetic, almost primeval session of open-air fornication.
The delicate line between pleasure and pain is clearly etched on every inch of Walker's face throughout. What's more, there's no disguising Fitt's relief when he finally spews all over his mate's butt-hole, or indeed any denying the chemistry between both guys in the lingering final kiss. Has sex in the sun - be it in Italy or elsewhere - ever been hotter?
Scene 4: Blond Schoolboy Humiliated And Fucked Wide Open Outdoors!
Starring: Will Jones, Martin Love
From: College Hazing, Scene 2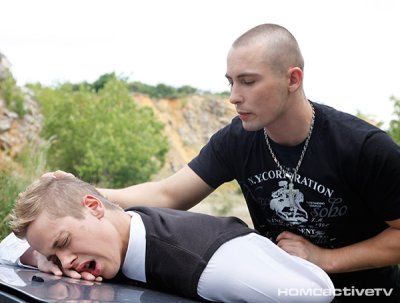 Hitch-hiking has always been a perilous business - after all, who's to say you won't end up being given a lift by some sadistic sex fiend who wants to take you off to some quiet secluded spot to fuck your brains out ...? Indeed, exactly the fate that awaits cute blond Staxus Academy student, Will Jones, when he flags down Martin Love. What we get to see here, of course, is pure unmitigated fantasy; and whilst the reality would neither be hot or exciting to watch, the drama here is all that and more as Jones is quite literally bundled onto his knees with his hands tied behind his back so that Love can finger and fuck that pert little ass-hole of his. It's a truly unforgettable act of illicit fornication, all played out in the open wilds of the Czech Republic and filmed in the kind of beautiful close-up detail that'll have you reaching for the tissues time and time again! Little wonder that both boys finally end the escapade with the kind of jizz-splurges that porn directors dream of, with Love dumping a magnificent load over Jones' face and Jones in turn spurting all over his own school jumper. It's hard-hitting, it's uncompromising, but this scene is satisfaction guaranteed!
Scene 5: Forever Blowing Bubbles? These Boys Would Rather Be Blowing & Fucking Each Other!
Starring: Adrian Smallwood, Ryan Olsen
From: Open Range 2, Scene 3
Forget the hackneyed joke about Michael Jackson forever blowing Bubbles - the monkey, that is! - Adrian Smallwood and Ryan Olsen are a couple of small-screen stars who clearly find the combination of fresh air and a bubble-machine highly erotic. Then again, it could be the thought of all that juicy fresh meat that they so evidently know is stuffed inside each other's jeans!
Certainly neither of the lads shows any reticence when it comes to stripping off and making out - dark-haired boy, Olsen, gobbling on his mate's oversized knob like the consummate whore we've all quickly grown to know and love. In return, the ever-pert beauty that is young Smallwood can't wait to bury his cute little face into Olsen's hairless crotch, practicing his oral skills in the process. It's no great surprise, therefore, that the lads are soon laid out top-to-toe, pleasuring each other's groins and groaning out their own tight-lipped satisfaction.
All of this is positively civilised, however, in comparison to the animalistic rutting that very promptly ensues - first Smallwood pounding into Olsen's ass over a table, and then Olsen returning the compliment by providing his dick for Smallwood to ride cowboy-style (appropriately enough) until his own cock quite literally explodes, splattering cum in all directions in the process! That Smallwood should respond in much the same fashion just moments later underlines the intensity of the coupling - a jizz-stained signature that'll see you nutting umpteen times over!
Scene 6: Horny Twinks Head For The Woods For A Raw, Uncompromising Suck & Fuck!
Starring: Ethan White, Rhys Casey
From: Brit Lads: Runners High, Scene 2
If you go down to the woods today, as the song says, you're sure of a big surprise. Except in this instance it's not so much teddy bears enjoying a picnic that you're gonna be seeing as hot, horny twinks in full rut! Ethan White and Rhys Casey head for the wild outdoors for a forage amongst the trees, but needless to report it's not the flora and fauna they're interested in. Rather it's each other's meaty, uncut dicks that are the focal point for all their attention, as they quickly make the most of the opportunity to take turns in sucking cock like a pair of randy vixens on heat.
For young blond, Rhys Casey, however, that's clearly never, ever going to be enough to dampen his sexual ardour. He won't be content until his hungry ring is being given the stretching of a lifetime, and it finally comes as some relief when his mate eventually bundles him against a tree and thrusts every hard inch in his arsenal into that pert little butt. From which point Casey proceeds to ride dick like the veritable pro he obviously is, eventually sitting on White's lap and allowing his rump to savour the feeling of being filled to the max.
Given the intensity of the encounter, it's not exactly surprising that it doesn't take long for Casey to quite literally have the jizz banged out of him; before the youngster gets down on his knees and allows White to fire the entire contents of his nads all over his sweet, expectant face!
Scene 7: Rookie Gets Measured For Hard, Outside Fuck By Horny Officer!
Starring: Kevin Ateah, Rudy Valentino
From: Band Of Bareback Brothers 1, Scene 1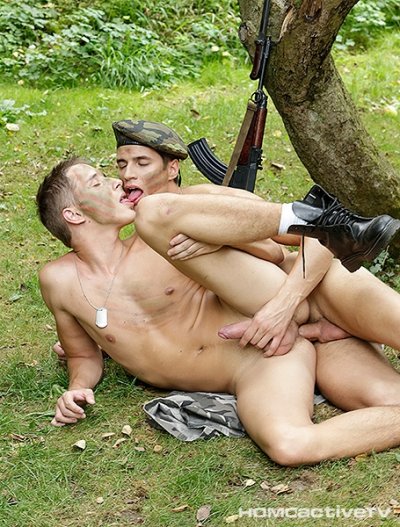 Taking the inside-leg measurements of young army rookies is surely everyone's idea of a dream job - especially when the cadet in question is horny Czech twink, Kevin Ateoh. So it's not surprising that officer Rudy Valentino makes the very most of his position within the ranks, recording the dimensions with utmost care and attention. Valentino's keenest regard, however, is unquestionably for Ateoh's crotch - and it's not long before the fellow has pulled the newbie's stiff cock from his khakis and is providing the thick, pulsing shaft with the kind of attention that such a beauty deserves. The action then immediately continues outside, with both boys exchanging sensuous blow-jobs on each other's ramrods; before Valentino takes Ateoh across to the officer's bunks for the fucking of his young life. The sight of Ateoh with his booted feet in the air whilst Valentino pummels his ass with raw cock is one that we just know is gonna get you jerking off big-time. As will that of seeing the lad subsequently fire a huge wad of jizz in the process! But arguably it's Valentino spurting over Ateoh's ass and then shoving his cock back inside that serves as the scene's crowning glory!
Scene 8: Leo Ocean Has A Dream Cum True On The End Of A Monster Dick!
Starring: Jace Reed, Leo Ocean
From: Camp Out, Scene 2
We've all become very familiar with Leo Ocean's taste for cock since he first blasted onto our screens - an appetite that shows no sign of abating and that only seems to get more intense when the dicks in question are dimensionally challenging. In other words, when the guys we team him up with are hung like fucking donkeys! One of those fellows is Jace Reed - a chap that some of you will remember Ocean first encountering in TWINK HOTEL, when the lad was unceremoniously double-fucked by Reed and Roman Smid.
Ever since then, the horny English boy has heckled and cajoled director, John Smith, for another encounter with Reed's oversized ramrod - preferably one-on-one. Fortunately for the fellow, a camping trip in rural Czechia provided the perfect opportunity to make that dream cum true - and needless to say, Ocean doesn't fall short in his performance, diving straight onto Reed's oversized shaft and slurping down on all that meat like a devil possessed! Remember though, he's waited a fucking long time for this moment; and, having joined Reed down on the floor for an arduous session of 69-ing, is soon energetically rimming his mammoth hero.
What the horned-up slut really wants, of course, is to get Reed's weapon of mass destruction firmly embedded in his guts - an ambition that he very quickly achieves, taking every inch in a variety of positions. It's not long before all that hard-hitting attention gets the lad spewing mid-fuck; before Reed concludes the boy's pleasure by splatting his face, cementing what will be a life-long memory!
Scene 9: Tim Law Delivers A Hard Package To His Horny Client For An Outdoor Flip-Flop Fuck!
Starring: Alexander Dorch, Tim Law
From: Deliver This, Scene 2
Tim Law has always had a very nice package on him, so to speak - but on this particular occasion the package in question is a physical parcel, which the every-horny young cyclist delivers to a clearly expectant Alexander Dorch. Not that what's inside the box actually seems to concern the recipient too greatly, it has to be said. He seems far more interested in getting Law out of his cycling gear, and within a few seconds is pulling out his dick from his trousers in a bid to tempt his courier buddy into staying for a little extra-curricular fun! Perhaps unsurprisingly given Law's reputation, it's a move that almost immediately gains the required response - Law is down on Dorch's cock like a little vacuum-pump, slurping on his mate's handsome ramrod with the sort of enthusiasm that we've all long since come to expect of the lad.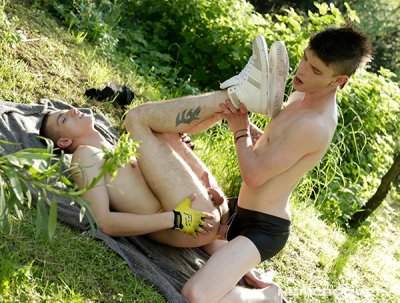 Not that Dorch is in any way less keen on engaging in some oral fun. Before you know it he's abandoned his hammock in favour of a blanket on the floor, whereupon the two fellows top-and-tail on each other's dicks! By this point, of course, both boys are quite evidently as sexually-hyped as it's possible to be, and it comes as little surprise that they're quickly engaged in a tremendously hot outdoor flip-flop session - the kind that will almost certainly get you working out a load (or two)!
What may raise an eyebrow, however, is the fact that Dorch never abandons his unconventional-looking pants throughout the entire coupling - even when he eventually creams himself all over Law's tongue! Sticky finales have rarely looked so feckin' kinky!
Scene 10: Biker Boy Gives His Smooth, Horny Lover A Heavyweight, Open-Air Raw Fucking!
Starring: Tom Crua, Vadim Lust
From: Easy Riders, Scene 1
It's not without good reason that Tom Crua has been described as the new Zack Hood - tall, dark, dominant and sexy - and this fabulous scene with young Vadim Lust will do little to stem the fellow's ever-growing fan-base. Mind, putting him in motorbike leathers at the start of the encounter will only add to the guy's appeal - geez, you could almost blow your load watching him remove his crash-helmet! - and it's no surprise at all that Lust lives up to his name and promptly heads south to feast on his boyfriend's swollen ramrod.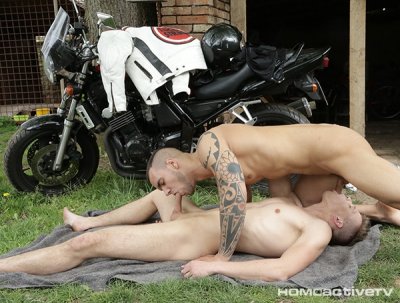 It's a response that Crua himself promptly replicates a few minutes later; but, having taken the chance at an initial introduction, both lads are soon laid out on the grass next to Crua's bike and are taking the time to indulge in a more leisurely session of fellatio. For those who appreciate it, the presence of the bike almost serves as a third party in the act of fornication; but there are surely very few who will not be won over by the seductive mix of Crua's brute masculinity and Lust's totally hairless physique.
Indeed, there's every strong possibility that plenty of pent-up jizz will have been spilt even before Crua takes full control of proceedings and first rims and then raw fucks his buddy's ass-hole! If this does prove to be the case, however, the sight of Crua bashing Lust's pucker up against the bike will surely give opportunity for a second blast - director John Smith capturing every disgusting, debauched detail for your peverse enjoyment! Needless to say, both guys are soon squirting copious ropes of spunk in exchange for a fist of Euros!
Scene 11: Ari Bow Gets The Full Benjamin Dunn Treatment - And A Sore Arse For His Efforts!

Starring: Ari Bow, Benjamin Dunn
From: The Italian Job 2, Scene 4
Ari Bow and everybody's favourite fuck-buddy, Benjamin Dunn, head into the woods with a blanket, but you can rest assured that they're not planning to have a picnic. No, they're much too interested in engaging in some sweaty, hardcore action in the Italian sunshine to be bothered with something as mundane as food - and, rest assured, they don't disappoint.
Not that you'd ever expect them to, of course. With their fine, slim frames, meaty cocks and low-hanging balls, both these boys are everything you'd hope for and expect from the STAXUS crew; and by the time Bow's down on his knees giving Dunn's oversized knob the slurping it surely deserves we reckon there's every excellent chance that you'll be feverishly tugging on your own cock in appreciation! But whilst the engaging top-and-tail suck-fest that follows is a veritable feast for the eyes - not to mention the crotch! - it's the subsequent Dunn-on-Bow fuck that really catches the imagination. And no small wonder.
These lads are literally on fire as they grind together against a tree, eventually culminating in a very gooey, sticky climax that any pair of lads would be proud of. No question about it, this is the perfect backdrop for a classy, high-climax wank that'll surely leave your own dick worked to the max and your balls well and truly drained of jizz!