Summary:
Two discs full with arses spread open wider and wider to receive plenty of young rock hard goodness! Nothing but twinks spreading holes and filling them up with cocks and toys!
Awesome 2 DVD Set! Compilation DVD
This title represent great value for money given the amount of quality content and running time. However, to ensure you don't waste money buying the same content twice, this compilation features scenes from the following titles:-
Scene 1: Horny jock takes a cock, a billiard ball and a cue up his arse!
Cast: Jack Rider, Jack Cameron, Alex Master
From: Bare Score, Scene 5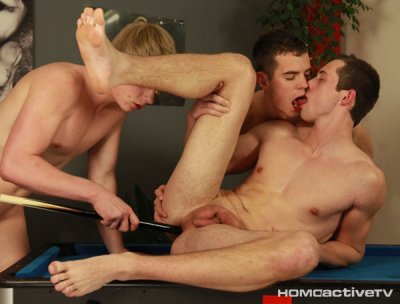 Any scene that includes the absolute gorgeous STAXUS exclusive, Jack Cameron, and his lovely fat cock is almost inevitable destined to be a winner, but add a bit of kink into the mix and you're awarded with a scene that's truly unforgettable. Jack Rider is Cameron's partner in crime, as the two twinks take the opportunity to play a somewhat unorthodox game of pool that involves Alex Master's pert ass pocketing the cue and some of the balls! Not to be outdone, Rider gets his arse coated in beer, which Cameron and Masters lick up with their tongues. No doubt about it, this is a scene with a distinct kink – somewhat different to your usual Czech twink escapades and one that we just know you're gonna love big time! Needless to report it isn't very long at all before Master is laid back out on the table, facing upwards, with Cameron and Rider's handsomely uncut cocks bountifully dumping the entire contents of their balls (or so it seems!) all over his sweet face. It's a defilement of the utmost order, and one that we just know you're gonna love big time. Suffice it to say that no billiard balls were harmed (or lost!) in the making of this perverse escapade!
Scene 2: It's A Lesson In Thuggery All The Way As Police Officer Fucks Youth Raw!
Cast: Caleb Moreton, Jim Austin
From: Busted and Abused, Scene 3
For some, the thought of police abuse is a complete anathema. Assuming you're not amongst that number – at least in terms of your fantasies – then the following scene is all set to float your boat big time! Caleb Moreton is the offending officer in question, who clearly loves nothing better than to spend his time torturing unwilling inmates such as Jim Austin – a dark haired, well-hung youth whose only crime is to find himself in the wrong place at the wrong time. All that said, Austin's not an altogether unwilling victim once he's been released from his state of bondage – indeed, he's clearly only too eager to allow Moreton the opportunity to examine his tight little ass at close quarters.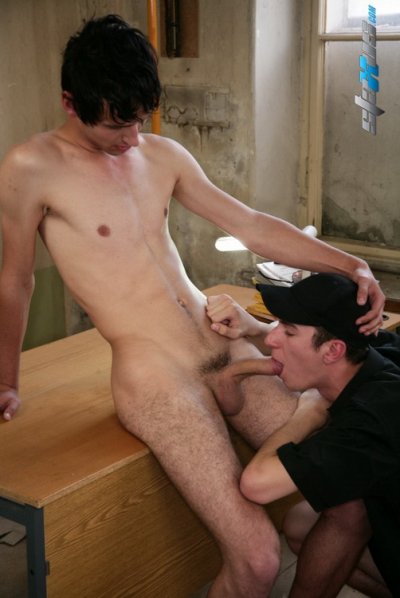 Officer Moreton for his part is soon fingering that tight horny pucker with undeniable relish – preparing that hungry hole for that thick role of man-meat he has hanging between his thighs. Minutes on, and Moreton's shaft is exactly where it was born to be – balls-deep inside Austin's pooper, banging away raw for all that it's worth! What follows is the kind of brutal, sweaty coupling you'd expect, signed off by a stunning facial that leaves Austin's face dripping with oodles of jizz!
Scene 3: Young Cute Twink Gets Fucked and Splattered With Thug Jizz!
Cast: Marty Love, Damian Drake
From: Extreme Twinks, Scene 1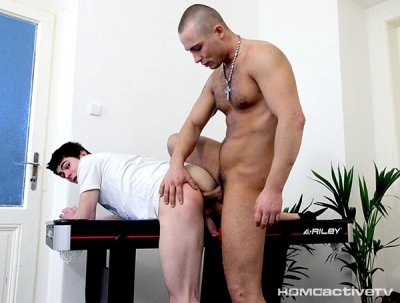 Sometimes a young guy can find himself in the wrong place at the wrong time, through no obvious fault of his own. As dark-haired cutie, Damian Drake, discovers when he encounters a rather horny and bad tempered Martin Love. Why, before the youngster knows what's happening, he's been forced prostrate over a billiard table, had his hands cuffed behind his back and is getting his arse well and truly tormented and tanned by his cropped haired counterpart. In fairness, Love is an unquestionably hot article in dominant mood, but it's hard not to feel for Drake as he's forced down onto his knees and has the older fellow's dick thrust down his throat. What's more, the boy's predicament gets little easier as the scene unfolds, as he's forced to sniff trainers and then has a baton knocked up his ass. But the piece de la resistance comes when Love finally fucks Drake over the games table, then underscores the total humiliation involved by emptying what appears to be the entire contents of his balls all over the young lad's face. Little wonder that Drake looks totally used and dejected by the scene's end – but it's that kick, of course, that marks the magic of it all!
Scene 4: Cellar-Bound Fun For A Blond Twink Means All Manner Of Abuse!

Cast: Micky Di Carlo, Nick Kelson
From: Extreme Pleasures 2, Scene 1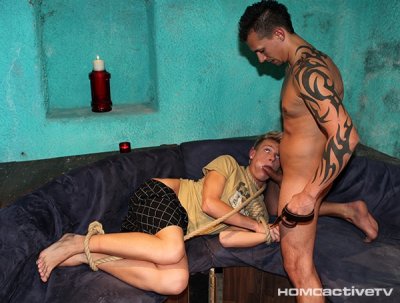 Down in the cellar, tattooed hunk, Micky di Carlo, wants to play with his new toy – namely young blond twink, Nick Kelson. Being a sensible guy, of course, he's taken every precaution to ensure that the youngster doesn't get cold feet when it comes to the fun and games, strapping the lad up with ropes before thrusting his thick, veiny shaft into the youngster's mouth. To his credit, Kelson displays little sign of being an unwilling party in proceedings; indeed it's hard not to glimpse a twinkle of anticipation in the boy's eyes when Carlo pulls out a big black dildo and begins to thrust it deep into the hungry bottom's ass. And where a big black dildo goes, a rampant dick is sure to follow! Cue a fabulous session of hardcore fornication, which sees Kelson reamed from behind like a common whore before taking a ride up and down on Carlo's lap. It's the kind of action that's almost bound to produce a terrific blast of pent-up cum from pretty much anyone – and Kelson doesn't disappoint, spewing out the contents of his balls whilst that meaty rod of Carlo's continues to pound his arse. Only to be topped off by Carlo himself blasting a generous load of jizz over the cute blond's face!
Scene 5: Fisted & Fucked Raw – Just How Every Horny Twink Loves To Be Treated!
Cast: Mike Cage, Andy Nash and Chris Reed
From: Taken & Tortured, Scene 5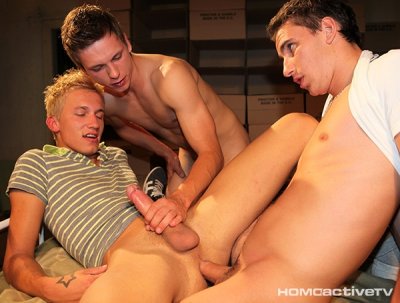 This is a scorching threesome in every sense, but there's no doubt that bottle-blond Mike Cage is the guy you'll remember. Why? Well, this is one young fellow who clearly thinks nothing of being the sexual play-thing of compatriots Andy Nash and Chris Reed, and who allows them to take turns to fuck him like he was a common whore! Believe us, this lad's ass must have been ridden sore by the time these two fuck-buddies were finished – but it's still absolutely nothing compared to what happens once they've decided to test Cage's ass-hole to the max and give that tight little crack the fisting of its life. The sight of Reed's clenched hand working its way in and out of Cage's pucker is quite literally something to behold; and it's little wonder that all that furious prostate rubbing quickly brings the dirty little bottom to the point of no return. What's more, neither Nash or Reed remain unimpressed. Given the raging hard-ons they've got showing between their legs by this point they're clearly well-taken by their pal's performance, and it's no great wonder when both boys take turns to splatter Cage's face with cum! Totally perverse – but, as always, utterly fab!!
Scene 6: Two Prisoners Get Forced To Suck & Fuck In The Name Of The Law!
Cast: Logan Boxley, Mark Godlin, Chris Bolton
From: Busted & Abused, Scene 4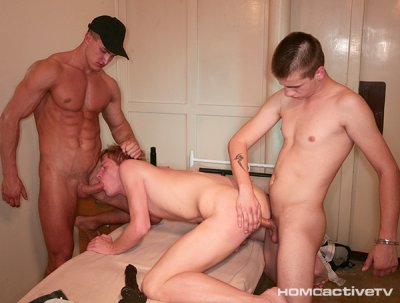 More police brutality ensues now, with Chris Bolton bundling young strawberry-blond Nick Kelson into a cell with dark, cropped-haired Mark Godin. What the human rights lawyers would say is anyone's guess, but prisoner dignity is the last thing on Bolton's mind as he promptly demands that Kelson start sucking on Godin's dick, then thrusts his own beefy member into Godin's mouth. That, of course, is only for starters, however. A few minutes on and Kelson is taking the full length of a thick rubber dildo up his ass – courtesy of his fellow prisoner – whilst Bolton spanks the youngster's rump so hard that it actually leaves a red hand-print on the flesh! A hard-nosed, raw spit-roasting is now very firmly on the cards, as Godin takes full advantage of Kelson's hungry little hole and thrusts that meaty shaft of his deep inside. If anything, however, it's Bolton who has the thicker shaft, and bearing in mind that this is one police officer who won't be satisfied until his balls are bouncing off the youngster's butt, it comes as no surprise when Godin is pushed right out of the way so that Bolton can fuck the living daylights out of the boy. Needless to report, it's a jizz-fest all the way as all three guys daub the scene's conclusion with a cascade of hot spunk!
Scene 7: Two Horny Straight Squaddies Pummel Blond Twink!
Cast: Evan Zero, Milo Taylor, Lex Blonde
From: Army Brutality, Scene 3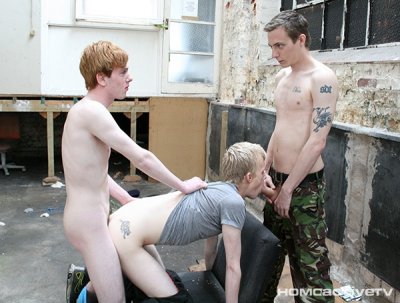 Evan Zero and Milo Taylor are a pair of army cadets with a little too much time on their hands – a recipe for trouble if ever there was one. Unfortunately for poor Lex Blondie (whose name pretty much tells you all you need to know), he's the guy who happens to stumble upon the two horny cunts at the wrong time and in the wrong place. Indeed, he hardly knows what's hit him as they force him down onto his knees and thrust their aching cocks into his mouth. Not that the lad appears to display any gross objection to being snared in such fashion; though whether he's quite as taken by their subsequent decision to tie him to a chair so that they can manhandle him into a spit-roast is another matter entirely. All the same, there's little that Blondie can do about the turn of events – save open up nicely and take everything that Zero and Taylor throw in his direction! Having gained a taste for cock, however, the young bottom is soon trusted enough to have his shackles removed – at which point the lad proceeds to take dick in every direction, before finally being subjected to a torrent of jizz from his assailants. Little wonder he ultimately spews a furious load of his own!
Scene 8:
Cast: Nicolas Cruz, Caleb Moreton
From: Silence Of The Twinks 1, Scene 6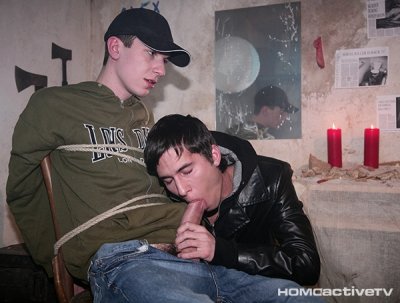 Needless, nerveless killing is now the order of the day, as Nicolas Cruz makes his move on the daddy of all cocks, Caleb Moreton. Tied to a chair, with a gag over his mouth, Moreton is made to endure Hannibal's lustful advances – Cruz sucking on that thick, humongous dick between Moreton's thighs with the sort of gusto that one would expect from a man clearly obsessed with size. That said, Cruz isn't really content until he's climbed on Moreton's lap and is taking every single inch that the fellow has to offer inside his ferociously hungry hole! Considering the package in question it's not at all surprising that Cruz is soon groaning in a rich mix of agony and pleasure. Nor is it any wonder that the fellow is quickly unburdening his balls of all their sticky brew. But Hannibal isn't truly content until Moreton has shot a creamy wad of his own; before slicing off the offending member to add to his collection. It's a magnificent ending to a truly unforgettable story – but remember, this is only the beginning ...
Scene 9:
Cast: Brice Farmer, Ivo Coast, Neo Ryan
From: Abused 2, Scene 1
Threesome fucking in the toilets!! Hot Gallic beauty Brice and hung stud Ivo use and abuse a poor young guy, getting him on his knees and shoving their thick cocks into his pretty mouth. Blindfolding and cuffing him, his cute butt is masterfully prepared by Brice, for Ivo to ram his perfectly formed cock deep into him, stretching his sweet butt-cheeks apart whilst he's munching on Brice's cock and butt in fantastic spit roasting to make your rock solid in seconds. Brice soon swaps position, fucking the youngster until he spurts; Ivo joins the cum fun and spunks over our boys blindfold and face as he jerks himself off, completing the cumfest!!
Scene 10: No Safety At Home For This Poor Beauty In Unprovoked Assault!
Cast: Nick Deniels, Denis Reed
From: Extreme Twinks, Scene 3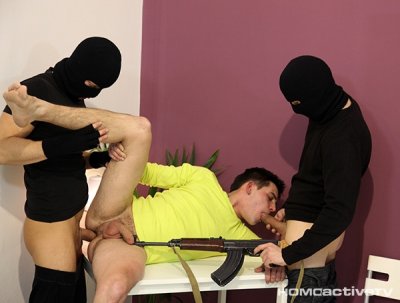 We're not one hundred percent sure as to who's idea it was, but this scene – featuring the "rape" of Nick Daniels by a pair of masked gunmen – will either be regarded as being in the worst possible taste imaginable or a piece of creative genius. Either way, we reckon there's gonna be a whole horde of folk who are just gonna get off big time to the sight of the cute little youngster being brutally manhandled by Benito Moss and Denis Reed. For all the surprise of the assault, mind, there's no denying the evident pleasure that the unfortunate victim seems to display at the prospect of being forcibly spit-roasted by his assailants; and by the time Moss is thrusting his raw shaft up the lad's ass and holding down the boy's head so as he chokes on Reed's hard dick it's pretty obvious that Daniels is quietly getting off on the encounter. As will you bunch of dirty-minded fuckers no doubt, not least of all when Daniels is ultimately forced down onto his knees and gets a faceful of jizz from the intruders for his efforts. Finally, as if to cement his worthless status, Reed pisses all over him and Moss forces him to drink the golden nectar from a beer-can. Abuse has never looked so fuckin' fun!