Summary:
2 DVD Set! They say blonds always have more fun – and given the evidence displayed here it's almost certainly true. Indeed, who wants to be a brunet when the biggest, hardest cocks always cum a blond boy's way! Join Phil Raven, Carl Ross, Connor Levi and Jaxon Radoc as they put their fair-headed skills to the test – proving, without doubt, that if you have a mop of blond then you're assured of the best action around. All culminating, of course, in the kind of spunk-sodden finale that any blond boy worth his salt spends each and every day dreaming of!
This title represent great value for money given the amount of quality content and running time. However, to ensure you don't waste money buying the same content twice, this compilation features scenes from the following titles:-
Scene 1: Keepie-Uppie Fun Becomes A Raw Soccer Fuck For Two Cuties!
Cast: Carl Ross, Pyotr Tomek
From: Raw Score, Scene 3
Hey guys! Not only is Pyotr Tomek as cute as fuck, he's also quite good at keepie-uppie - a fact that he's evidently keen to demonstrate to his buddy, Carl Ross. In fairness, the young blond boy seems suitably impressed; but it's clear from the off that Ross' real interest in Tomek centres upon balls of a different nature, and it's no time at all before he's tempted the dark-haired beauty into bed and out of his kit. It's at that point, of course, that all the focus of these two sweet-faced angels quickly switches from the beautiful game to the beautiful physiques of those who play it; with Tomek burying his head down into his pal's crotch to enjoy the thick, meaty delights to be found there.
A move that Ross himself is soon keen to emulate, as he strips his buddy out of his jockstrap and feasts on the handsome ramrod within. No doubt about it, both these boys are meat-eaters in the extreme - a fact that's soon underlined when they engage in a passionate session of 69-ing, before Tomek takes time out to give Ross' pert little ass a good old rimming for good measure. It's a move that sets the scene for the vignette's final stages, as the dark-haired cherub finally does what he's probably been longing to do right from the start and buries his knob deep into blondie's fuck-hole! Cue a fantastic, ball-bustin' session of twink-on-twink action that'll have you tugging on your own shaft for dear life; culminating in Ross quite literally having the spunk banged out of him, before Tomek sprays his juicy wad all over his pal's rump, then pushes his spent cock back in Ross' ass!
Scene 2: Blond German Twink Gets A Hard Stud Pounding!
Cast: Rudy Valentino, Phil Raven
From: German Sex Holiday 2, Scene 1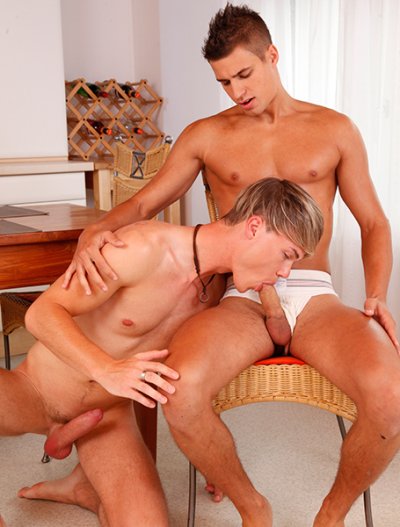 He's one hell of a fuckin' cute blond German fuck-baby, so is it any great wonder that Czech-boy Rudy Valentino can't wait to relieve Phil Raven of his jockstrap? A mission that the STAXUS exclusive star achieves in pretty much next to no time, it has to be noted. Then again we'd expect nothing less of the sex-god that is Valentino, who quite literally lives and breathes for the next pert ass to head his way. Indeed, having taken the time to exchange a heady fray of cock-sucking and wanton 69-ing, the young Czech is soon pushing Raven down onto the kitchen table and thrusting the entire weight of his slim, athletic frame against Raven's hungry ass - which, it must be noted, opens up with almost exquisite eagerness. Indeed, Raven is soon proving himself to be an insatiable host for hard cock, riding Valentino cowboy-style before eventually dumping what appears to be the entire contents of his nads all over the place whilst his buddy continues to slam from beneath. Not that it's very long before Valentino explodes with similar gusto, rupturing his nuts into a condom and then casually dripping the spent cum from the rubber into Raven's mouth. Kinky - but hot!
Scene 3: It's A Blond-Boy Chav Fuck-Fest As Kamyk Walker Gets Banged Raw & Hard Innit!
Cast: Kamyk Walker, Jaden Fox
From: Special Brew, Scene 2
Of course it's wrong to generalise, but there's no getting away from the fact that some chavs are just plain and simple sluts - Kamyk Walker being a name that immediately comes to mind! With his comely little face and seemingly innocent smile, you'd be forgiven for thinking he was sweetness and light personified. Put him in a room with another horny member of the underclass and his true character comes shining through.
Why, he's dangling his dick out of his trackies almost from the word go in this sordid encounter with Jaden Fox; and suffice it to say that it's an invite that doesn't go unreciprocated. As a result the pair of dirty hounds are soon exchanging blowjobs on the sofa like they're going out of fashion; before Walker ups the ante by opening out his ass so that Fox can give his hungry crack the kind of energetic rimming that it deserves.
But let's not kid ourselves. It's not a tongue that Walker wants - as enjoyable as it is to have one poking away up there - it's a hard dick; and it's with evident relief that he eventually gets to feel Fox's thick, raw cock stretching his fuck-hole. It's a move that quickly makes a spunky climax nigh-on inevitable; and chances are you'll have nutted generously by the time Fox squirts over Walker's expectant face!
Scene 4: Brit Bitch Gets Fucked Raw & Ragged By Hot Czech Power Top!
Cast: Denis Reed, Kai Alexander
From: The Big Deal, Scene 4
Denis Reed has long since built a reputation for being a player - a guy who'll pretty much have sex with anything so long as it has a pulse - whilst young Kai Alexander is the kind of boy who'll rut with any dick so long as it's thick, hard and able to give him the sort of ride he's long since grown accustomed to. So put these two fabulous performers together and you can pretty much imagine straightaway what kind of ball-draining escapade it proves to be.
A coupling made all the more intense by the contrasting skin tone on display - Reed's tanned physique pounding away at Alexander's pale butt. It's the simple animalistic passion on show here that serves to make this a truly unforgettable encounter, however; with the Czech top dishing up yet another power-fuck that leaves Alexander's pucker in absolutely no doubt who's the daddy.
Indeed, one can't help wondering how the Brit boy managed to sit down following on from the shoot given the pummelling that his hungry hole receives - a raw barrage of stiff cock that not surprisingly sends him spurting over the edge mid-ride, before the dirty bitch kneels to take the kind of full-on facial that he deserves!
Scene 5: Cock-Crazed Blond-Brit Gets His Ass Hammered - Just How He Loves it!
Cast: Jamie Sykes, Connor Levi
From: Hoodie Sluts, Scene 4
Sometimes it's good to get to know our porn stars just a little bit better - otherwise the boys in question can seem somewhat two-dimensional. And it's with this in mind that director Michael Bruning introduces us to young Brit beauties, Jamie Sykes and Connor Levi, asking them a series of questions before inviting them to get on with the job at hand (so to speak).
To some viewers all this banter will appear a tad superfluous - especially if you're simply gagging for a good wank. But to fans of the reality production technique it'll all serve as an added bonus to what eventually proves to be a fantastically hot coupling! Levi, in particular, is a real joy to watch - a terrific blond boy-babe who clearly just exists for the next hard fuck. Which (as it turns out) Sykes is only too willing and able to give him!
As such it isn't at all long before Levi is tossing out a fabulous load of pent-up teen jizz for your delectation; whilst his partner in crime gives up an equally delicious wad of baby-batter just a few minutes later. In short, we defy anyone with a taste in hot, young flesh not to
Scene 6: Young Blond Gets His Back Massaged - Then His Ass Fucked Raw & Filled With Spunk!
From: Boris Orla, Sven Laarson
Cast: Twink Massage Dreams, Scene 2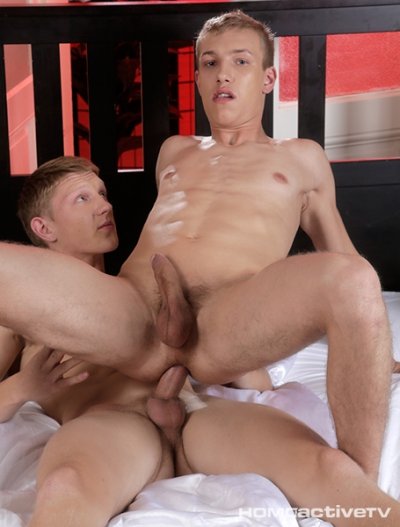 Young, sexy Sven Laarson is at the age in his life when he can think of nothing but sex – his whole existence ruled by that handsome, meaty dick that he has dangling from his neatly trimmed crotch. So it's little wonder that the fellow should pass so much of his time quietly enjoying the simple pleasure of his own naked body, pleasuring himself on his bed like so many other lads his age. But whilst a bit of solo action can be fun, it's never, ever going to compete with the pleasures that being with some other horny fucker can provide – in this instance Boris Orla, who promptly begins to administer a very enjoyable massage on the fellow. Unsurprisingly, of course, given that this is porn, it's not long before the said rub-down has developed into something much more intimate and intense, as Orla introduces those firm, inquisitive hands of his to Laarson's dick – a move that immediately signals the start of some deliriously enjoyable cock-sucking and ass-rimming.
By this particular point there's every chance that you'll be engaging in much the same kind of solo play as Laarson himself was savouring at the start of the scene; and it's a predicament only set to get worse when Orla finally embeds his meaty, swollen ramrod deep into his mate's ass, signalling the start of an energetic, bareback fuck that sees Laarson banged from behind and beneath in turn. All culminating in a superb cum-on-ass climax that quite literally leave's the young bottom's fuck-hole dripping copiously with fresh jizz!
Scene 7: Horny Army Stud Gives His Blond Underling A Fuck & A Facial!
Cast: Brad Fitt, Zack Hood
From: Band Of Bareback Brothers 1, Scene 4

He might not be quite as young as he was, but there's no questioning the fact that Zack Hood is still very much a major player in front of the camera, with the kind of physique that most of us would surely die for. Certainly Brad Fitt, a horny blond twink, finds himself completely overawed by Hood's overbearing personality, immediately falling into line the moment that Hood barks his orders and pushes the sweet, pert beauty into a session of sweaty, hard-hitting exercises.
It's at this point that you first begin to recognise and appreciate the contrast between these two guys, with Fitt proving as delicate and fresh-faced as Hood is robust and thick-set; and we defy anyone not to be overcome by the sight of Hood pushing his partner onto the bonnet of his jeep so that he can rim the boy's hungry, hairless pucker.
Needless to say it isn't at all long before Hood's tongue has been replaced by his thick, raw bell-end, signalling the start of a stupendous session of outdoor fornication that ultimately sees Fitt spurting like a geyser mid-fuck and Hood squirting merrily over the twink's pretty face. If all that doesn't get you pumping a load of hot jizz then we don't know what will!
Scene 8: Horny Hunk Tries Out Jaxon Radoc's Trunks - Followed By Every Inch Of The Aussie's Fuck-Pole!
Cast: Jaxon Radoc, Darius Ferdynand
From: Swim Meat, Scene 2
He's a young, good-looking gay guy, so it's little wonder that Jaxon Radoc has a somewhat enviable taste in fashion, but how Darius Ferdynand knew about the Australian lad's collection of top-class swimwear is anyone's guess. However the disclosure was made, Ferdynand's clearly determined to make the most of his buddy's love of classy clothes, and, seeing Radoc's collection, he's soon taking the opportunity to trial a sexy pair of crimson briefs.
It's a move that's only ever going to have one effect on Radoc, who - as we all know so well by now - has never been the kind of guy who can resist any sexy man, least of all one who's dressed in nothing more than a skimpy pair of trunks. But the fact that the Aussie is confronted by a muscled dude with a dick like a tree-trunk makes the resistance all the more futile. As such it comes as absolutely no surprise at all when the lad is almost immediately down on his knees giving the said joystick a generous embrace; before Ferdynand returns the favour as any good buddy would. Indeed, by the time Radoc is giving his mate's ass a rigorous rimming in anticipation of the somewhat inevitable fucking to follow, you'll have almost certainly come to the conclusion that Ferdynand's antics were all premeditated, and that everyone's favourite boy from the bush was the victim of a long-planned sexual advance.
Still, who the fuck cares? All that really counts is that we get to enjoy a fabulous fuck, with Ferdynand taking every inch of Radoc's cock like a trooper; before both guys spurt like whales in an all-out whitewash!
Scene 9: Sven Laarson Rims, Fucks & Creams His Hot, Horny Jock-Buddy!
Cast: Johny Cherry, Sven Laarson
From: The Mirror, Scene 4
If only the rest of us had a magic mirror like the one Kris Blent has in his loft - one where sexy young guys pop out and engage in the hottest, raunchiest action imaginable! As it is, we just have to make the most of horny escapades such as this one between Sven Laarson and recent newcomer, Johny Cherry - two sexy, cock-hungry pals of the blond Dutch lad, who quite literally jump out of the looking glass into Blent's very own wonderland! Fortunately for them both, there's a bed on hand to accommodate their rutting session; which begins with some rather sensuous (but arguably innocent) kissing, but which quickly transforms itself into something far more hardcore.
At which point the stunning jockstraps that they're both wearing promptly get removed and the two young beauties begin to take it in turns to feast on all the deliciously hard dick that's now been uncovered! Cue a terrific session of 69-ing that sees Laarson giving his horny mate's tight little pucker a real good licking; before replacing his very eager tongue with his thick, uncut schlong! It's a move that certainly doesn't seem to meet with any objection from Cherry, that's for sure.
Why, the horny fellow takes every inch of Laarson's dick in a whole series of positions like a full-time pro - maintaining his usual cheery countenance throughout. Then again, with Laarson's handsome cock up his ass what else would you expect? Finally, he mounts his pal and rides him cowboy-style, promptly exploding as a result; before Laarson responds in kind by splattering the guy's ass-hole with hot jizz!
Scene 10: Daniel Prince Gives Jaden Fox More Than Just A Massage!
Cast: Jaden Fox, Daniel Prince
From: Runners High, Scene 3

Blond beauty, Jaden Fox, is feeling rather stiff – and not just in his crotch! It's a good job, therefore, that he has the healing hands of Daniel Prince to help soothe his troubled back; though it has to be said that it's not long before the young, dark-headed masseur is turning his attention instead to what Fox has stashed in his jockstrap. At which point – as if by magic – Fox's back problems are quickly forgotten and the whole escapade takes on a much more carnal aspect.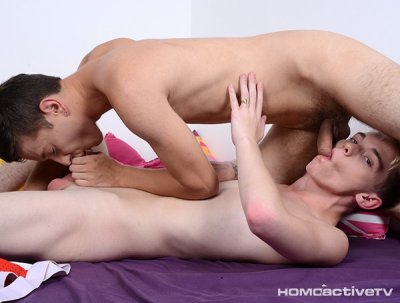 Still, what else would you fuckin' expect from these two over-sexed cuties? It goes without saying, of course, that the removal of Fox's pants – and the revelation of the lad's hairless groin – signals the start of a sensuous session of dick-crazed fellatio, with both boys exchanging slurps on each other's cocks; before Prince cajoles Fox onto the floor and rims his mate's tight little pucker for all that it's worth in anticipation of the red-raw fucking that he's now clearly got planned. And Fox doesn't have to wait long for the plan to become hard reality!
Before the fellow seems to know it, his ass is playing host to every swollen inch of Prince's knob – something that he enjoys so much that it's no time at all before he's sat on his pal's dick and riding it like a bitch on heat! Little wonder that the guy is soon on the brink of ecstasy, jerking out a heavy wad of jizz. But it's the sight of Prince squirting over Fox's face that serves as the ultimate boon!
Scene 11: New Boy Gets His Arse Rimmed & Fucked Raw By A Horny Blond On A Park Bench!
Cast: Blake Hanson, Max Bishop
From: Open Range, Scene 1
Young eagle-inked blond, Blake Hanson, has never been the kind of guy to turn down the attentions of a pretty face, so it's no surprise that his gun is distinctly primed when encountering new-boy Max Bishop on a park bench. Not that he dresses for the occasion, it must be said - a cowboy hat and the skimpiest pair of shorts imaginable are all he's wearing! - but of course that only makes it all the easier for Bishop to gain immediate access to the thick, veiny shaft that Hanson keeps stashed in his crotch!
And gain it he does - big style! Before you know it, Bishop's hungry lips are sliding up and down his pal's knob, feasting on all that hard flesh with the kind of gusto we love from our boys, and which is soon replicated by Hanson himself. But don't assume it's just cock-sucking that these two beauties are interested in. Soon Bishop is indulging in some rather enthusiastic tea-bagging, sucking on Hanson's low-hangers whilst laid out on the bench; before roles are reversed and Hanson returns the favour by eagerly rimming his mate's pucker.
No doubt about it, these lads are both as horny as fuck - a condition that's only confirmed when Hanson finally buries his dick deep into Bishop's ass-hole. What follows is a jizz-churnin', nad-bustin' fuckathon that sees the new guy banged in almost every conceivable position, and which only concludes when both lads spew copious quantities of pent-up boy-juice courtesy of mutual hand-jobs. Your own appreciative hand-job is nigh on guaranteed!
Scene 12: Young Monk Gets A Hard-Cocked Initiation - Not To Mention A Face-Load Of Jizz!
Cast: Troy Stevenson, Will Sims
From: Priest Absolution, Scene 4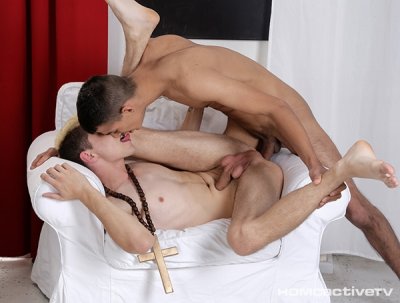 Troy Stevenson is scandalised when he discovers gay porn on the computer of one of the novices - clearly he's a young man of the old school. Fortunately, Will Sims is definitely of the liberal wing of the Church, and is more than capable of persuading the fellow that such antics as man-on-man fellatio and sodomy are God-given pleasures that at the very least deserve to be investigated. As such it's not at all long before cute-as-a-button Sims is inviting his blond-haired pal to find out what all the fuss is about - an invitation that Stevenson accepts with such aplomb that it's difficult not to conclude that his initial revulsion was s tad disingenuous. Indeed, it's clear from the start that the fellow is as excited as anyone at the prospect of indulging in a sweaty oral workout, followed by an even more heated fuck; and having savoured every inch of Sims' gorgeous shaft with his mouth, the boy is soon riding the thick, meaty ramrod with that hungry little ass-hole of his. What's more, as if to underline his credentials as a total slut, the lad takes great pleasure in sucking off Sims between every change of position - no doubt tasting the scent of his own well-worn butt in the process! But it's the simple sight of Stevenson's pale, slim form being banged by Sims' ethnic-looking knob that presents the greatest joy here - the eager bottom used like a rag doll without so much as a please or thank you from his lover. Given the amount of jizz that both boys spew in the scene's final moments, however, it's an arrangement that clearly meets with the approval of both these kids.