Summary:
Not everyone's happy enjoying one cock at a time. Some lads just aren't content unless they've got two big, aching shafts pounding away at them – one at each end of their bodies! And it's these kind of horny, dick-crazed sluts that we celebrate once again in this second instalment of spit-roasting madness. Fresh-faced twinks like Justin Conway, Leo Ocean and Lucas Tree, who just love getting stuffed like pigs courtesy of their mates's meaty dicks – and who always get rewarded with rich lashings of hot, sticky spunk!!
Compilation DVD - 6 Scenes
This title represent great value for money given the amount of quality content and running time. However, to ensure you don't waste money buying the same content twice, this compilation features scenes from the following titles:-
Scene 1: Three Horned-Up Recruits Enjoy A Double-Cocked Raw Fuck!
Cast: Rudy Valentino, Marty Love, Justin Conway
From: Band Of Bareback Brothers 1, Scene 3
Life in the army can sure be exciting - as Rudy Valentino and Marty Love discover when they're out on patrol in the Czech countryside. Content to take it easy with a cigarette, they suddenly become aware of the unwelcome antics of young Justin Conway, donning a balaclava and clearly up to no good. After a brief but dramatic chase, they then bundle the blond newcomer into a nearby office, where (you've guessed it) the two tops proceed with a very thorough and exacting investigation.
It's the kind of investigation that horny bottoms around the world have wet dreams about, as Conway is pushed and pulled in every direction whilst Love and Valentino take turns to force their hard, uncut cocks down his throat. It's pretty obvious, however, given the reputation of the two studs, that a good old-fashioned spit-roasting is on the cards for the kid, who's laid down on his back over a table whilst the two army guys take turns to fuck him raw. But the highlight of proceedings comes when Conway sits himself down on Love's hard chopper cowboy-style. Little wonder that Valentino spurts like a whale in appreciation; before Love dumps his load all over Conway's face!
Scene 2: Blond Brit Takes On A Spit-Roasting, Daisy-Chain Fuck Fantasy!
Cast: Florian Mraz, Leo Ocean, Victor Diamond
From: Twink Hotel, Scene 2
Come on, guys, let's be perfectly honest now – who could possibly for one single moment suggest that finding yourself pinned in bed between Florian Mraz and Victor Diamond wasn't quite simply a dream-come-true? No fucking wonder that young Brit, Leo Ocean, is literally like a rabbit-in-headlights at the start of this magnificent threesome; though to his credit he manfully takes everything that these two beauties throw in his direction. Beginning with Mraz, who very quickly works his fingers, then his dick, into the youngster's pucker; whilst Diamond completes the spit-roasting by jamming his oversized ramrod down the young lad's throat.
It all happens incredibly quickly, and under the circumstances it's perhaps no surprise that Ocean isn't the only one left with a yearning for dick. But this time it isn't Mraz – who we've all seen given a good pounding in the past. No, the next thing we see it's Diamond who's taking cock like a bitch, plonking himself down on the handsome Czech boy's butt-picker and riding it raw for all that he's worth; whilst Ocean takes full advantage of the situation by slurping on the Italian's resultant hard-on. Don't think the young Brit's finished yet, though.
Having previously taken everything that Mraz could offer, it's time for him to get his arse stretched to the max by Diamond, who's still being pummelled from behind by the guy from Prague. Cue the nad-draining sight of a daisy-chain fuck-line, which only concludes when Mraz and Diamond decide to call it quits by dumping their much-needed wads of spunk all over Ocean's face!
Scene 3: Bible-Banging Threesome Sees Will Sims Spit-Roasted & Splattered With Hot Jizz!
Cast: Sven Laarson, Adrian Smallwood, Will Sims
From: Priest Absolution, Scene 2
The notion of sin, damnation and the possibility of divine salvation don't usually serve as your typical backdrop for gay porn. Nor are they subjects that we suspect will trouble you a great deal as you watch this tremendous threeway – especially given that all you're probably interested in is seeing Sven Laarson, Adrian Smallwood and Will Sims strip out of their religious attire so that they can worship hard, uncut cock!
Fortunately for everyone concerned, the heavy natured backdrop is promptly dispensed with in the opening moments, as these three horny bastards use the opportunity to express the eternal search for love in the most carnal manner imaginable. Indeed, any subtlety is abandoned right from the very moment that Laarson and Sims bundle novice monk Smallwood out of his habit; and before you know it Sims is being energetically spit-roasted by his spiritual mates like a common whore.
Clearly abstinence is not something that they teach at this church community – a fact that's promptly underlined by the manner with which Smallwood then switches his attention back and forth between the ass-holes of both his buddies, fucking the pair in quick succession and stretching both man-cunts to within an inch of their lives in the process. It's no bloody wonder that the spunk is soon beginning to flow – in this particular instance all over Sims's cute (and seemingly unprepared) little face! Now if that isn't a religious experience to remember then we really don't know what is!
Scene 4: Two Hard Mechanics Use A Smooth Twink As A Cum Rag!
Cast: Dick Casey, Zack Hood, Lucas Tree
From: Raw Repairs, Scene 4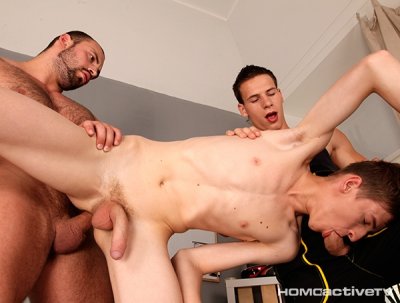 You can't help feeling that director John Smith perhaps had a little bit of mischievous fun putting young twink, Lucas Tree, in a scene with STAXUS exclusive, Dick Casey, and porn stalwart Zack Hood. Talk about a lamb getting thrown to the lions! Tree plays the role of a water-cooler guy who (accidentally or not) delivers an under-filled bottle to the hard-pressed workers. Needless to say, Hood is far from impressed and is soon forcing his gym-built frame down onto the hapless water guy. It's a turn of events that Casey quickly takes full advantage of, and before you know it Tree has a pair of hard dicks pushing their way into his mouth. That, of course, is only the beginning of the poor twink's misfortunes. There's no way that he's ever gonna be able to fend off Hood's advances, and before the kid knows it he's got the gym-buddy's raw knob pumping him from behind for all he's worth. It's the catalyst for a breath-taking romp of raw sex that results in Tree getting buggered and spit-roasted like a rag doll; culminating in Hood dumping a load in his ass and Casey splattering his face big style. Believe us, if you don't find this scene hot then porn ain't for you!
Scene 5: Raw Ridin' Threesome Gets Skylar Blu Spit-Roasted Like A Whore!

Cast: Skylar Blu, Connor Levi, Kevin Ateah
From: The Big Deal, Scene 1
Youth, so they say, is all about broadening your horizons, pushing boundaries, meeting new people and experiencing things that might never come your way again. Whether those who espouse such sentiments have ever had the thick and gorgeously uncut cocks of Kevin Ateah and Connor Levi in mind, however, is surely open to serious debate - but that's exactly what young Brit Skylar Blu comes face to face with here in the course of this terrific threesome.
Indeed, a fellow's salad days have rarely looked quite as appealing as when Blu - whose lust for dick is second to none even on a quiet day - is bundled over a sofa by his two co-stars and has hard male flesh thrust in his direction from both ends! If the prospect of seeing such a rampant beauty being royally spit-roasted risks offence then look elsewhere, but we personally defy anyone not to be blown away by this fantastic escapade. Indeed, by the time that the three sets of balls on show are squirting for all they're worth we reckon you'll be unburdening a hefty wad of pent-up jizz yourself - though whether you'll have as much spunk over you as Blu gets here thanks to his fuck-buddies is another matter entirely!
Scene 6: Crime-Scene Investigation Gets The Hardcore Touch As Two Horny Officers Fuck Their Man!
Cast: Andy Fisher, Erik Franke, Sven Laarson
From: Raw Response, Scene 2
There's no escaping the long, strong arm of the law – as young, baby-faced Eric Franke discovers when crack police-officers Sven Laarson and Andy Fisher hunt the blond beauty down in the depths of some Czech basement. What crime he's committed is never actually revealed, but unless you're some highly-paid barrister it's unlikely you're ever gonna care.
What will concern you, however, is the fact that the sweet-looking twink is then taken back to a nearby apartment and subjected to a totally degrading (and fucking hot!) personal assault – the like of which way too many of us have probably fantasised about when faced with fellows in uniform. Hand-cuffed and gagged, with his legs parted and his ass-hole fully exposed, Franke finds himself no match to his assailant's onslaught, which includes having a truncheon thrust into his rear; before both Laarson and Fisher take it in turn to bang the living daylights out of that cute, highly-charged fuck-hole.
It's a display that will almost certainly bring even the most world-weary porn-lover to the edge of a tight-fisted climax; but matters get even more intense when the three fellow engage in a daisy-chain fuck, before Laarson and Fisher reach the point of no return and conclude their afternoon's work by spewing (big time!) all over Franke's face. That only leaves Franke with the pleasure of rupturing his own balls courtesy of a last-minute jerk-off – a fitting multi-spurt eruption to accompany your own satisfying wad!