Summary:
Bareback piss sex action! See these young twinks engage in hot action ending with streams of fresh boy piss!
Compilation DVD
However, to ensure you don't waste money buying the same content twice, this compilation features scenes from the following titles:-
Scene 1: Martyn Fox Quits Dancefloor For A Feast Of Hard Cock & Piss!
Cast: Martyn Fox, Zac Law
From: Fucking Pissed Off, Scene 4
Sometimes you go to a club for a dance and the place is simply buzzing – but unfortunately that's not the way things seem to be turning out on this occasion for poor Martyn Fox. Every cloud, as they say, however, has a silver lining; and the fact that he encounters a very horny Zac Law sure as fuck compensates for any initial disappointment. Indeed, it's not long before the two fellows have quit the floor and have headed to a strategically placed sofa in an adjacent room; whereupon they're soon passionate snogging and ripping away each other's (admittedly already scant) clothing.
Suffice it to say that the cocks of both boys are quickly – and thankfully – on proud display; with Fox taking eager aim on Law's crotch so that he can enjoy a delicious session of wide-mouthed fellatio. To Law's credit, it's a favour soon returned; but it's obvious from the off that his keenest interest is on Fox's hairless pucker, which is soon being fingered and rimmed with the kind of no-holds-barred enthusiasm that a tight little crack like that surely deserves.
Having taken a quick break to engage in some kinky foot-on-dick action, Fox is soon responding in kind – legs akimbo, fuck-hole winking at the camera and ready to take every inch that Law can muster. An invitation that the horned-up top simply can't refuse; ploughing energetically into Fox's guts and soon reaching a very sticky, gooey climax in the process. All of which promptly leads to the scene's highpoint – oodles of piss from both lads, before Fox pops a heavy wad of jizz courtesy of a hand job from his freshly soaked pal!
Scene 2: Cocktail Fun Shakes Up To Be A Spunk & Piss Soaked Fuck-Fest!
Cast: Alessandro Katz, Chad Johnstone
From: Fucking Pissed Off, Scene 1
Ever the excitable young pup, Chad Johnstone is only too happy to show off his bartending skills to Alessandro Katz; but his seemingly boundless energy only appears to increase yet further when he decides to make a pass at his friend by whispering sweet nothings in his ear. We never actually get to hear what's said, but suffice it to report that Katz's response speaks volumes. Before you know it the lad is down on his knees, reaching into Johnstone's shorts, and giving his mate's hairless dick a very tight embrace with his lips.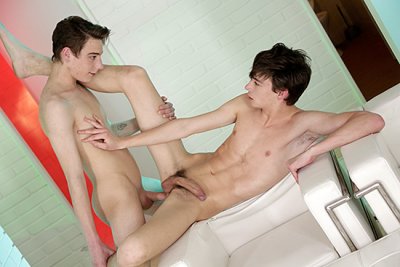 You could almost imagine Johnstone creaming in delight right there and then; but to his credit the horned-up beauty manages to contain his excitement for the moment and promptly returns the favour, gobbling on Katz's knob for all he's worth. Of course, anyone who knows this filthy-minded fucker by now realises that his restraint is purely self-serving. What he really wants, after all, is to get that perfectly preened cock of his deep inside his mate's arse-hole; and having taken a few moments to rim the hungry pucker in preparation, he proceeds to do exactly that, pushing Katz up against a full-length mirror in the process.
Cue a truly terrific display of raw fornication between these two gorgeous bastards; with Katz taking the chance to ride Johnstone's shaft cowboy-style in order to maximise the penetration. It's no great wonder, under the circumstances, that the cream is soon flying. What may come as more of a surprise is the fact that both guys are so hyped-up by the occasion that they both emit a tsunami of piss to accompany all their spunk!
Scene 3: Filthy Flip-Floppers Enjoy A Piss & A Kinky Cum-Stained Shot!
Cast: Angel Lopez, Chris Jansen
From Rick Bitch, Scene 2
We've all known Chris Jansen long enough now to realise that he's a really filthy bastard, so perhaps catching him in the shower almost seems like the perfect introduction to this kinky little episode with the equally dirty-minded Angel Lopez. Not that any amount of soap could wash away his reputation, it has to be said; and it'll come as no surprise to anyone that the introduction of his buddy to the scene quickly sees his behaviour degenerate gloriously. Falling down onto his knees, he's soon revelling in every drop of piss that Lopez can muster – the kind of fabulous filth on which the young Dane has built his entire reputation! It certainly serves as a stupendous reminder of just how low this boy can go; and the great news is that the succeeding minutes do precious little to undermine that notoriety.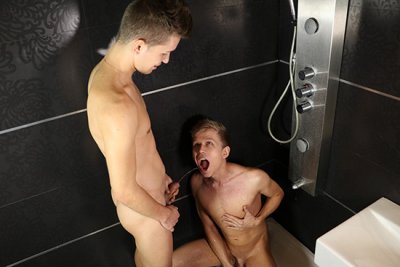 Of course, the fact that he's been teamed up here with a lad like Lopez – face of an angel, mind of a sewer! – helps matters enormously; and having taken the opportunity to sip a glass of wine, then suck on each other's cocks, the boys heap up the ante by Jansen burying his face into his buddy's hungry little arse in anticipation of a hard fuck to come.
But don't for one single minute think that this is all set to be a simple one-on-one fuck. No, these pretty little sex-pigs proceed to engage in a blissfully explicit flip-flop set piece; which culminates in Lopez rupturing his nads all over the two wine glasses. It's a divinely twisted finale that will surely attract and repulse in equal measure; but which leaves the viewer in no doubt that these beauts are as lewd as boys cum!
Scene 4: Cute Yuri Gets His Arse Banged & Creamed, Then Takes The Piss!
Cast: Pyotr Tomek, Yuri Adamov
From Twinks In Heat, Scene 3
If cheeky-chappy Pyotr Tomek was hoping for a quiet time in the sauna then his dreams are very firmly shattered the moment that Yuri Adamov sits down next to him! After all, we all know what Adamov is like when he thinks he has the chance of enjoying some hard, uncut cock; and the sight of Tomek in nothing more than a towel, his naked, tanned skin sweating in the heat, is enough to get the young, eager bottom into quite a heated frenzy! Fortunately for all concerned, there's a pool nearby to enable both lads to let off a little steam; but it's only the briefest of respites, and before you know it they've headed off to make the most of a nearby sofa in order to give each other deep, sensuous blow-jobs.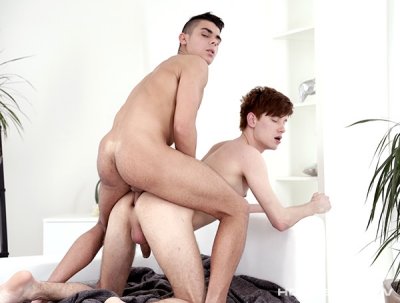 Of course, just watching these two beauties as they 69 each other could get most fans creaming off right there and then; but proceedings only intensify still further when Adamov finally succumbs to all temptation and plonks his arse down on Tomek's thick, rigid love-stick! Needless to say, this cute little slut is soon riding away like a consummate professional, his own dick standing proud as he does so; but, after unsaddling to give his buddy another good sucking, his performance becomes a lot more guttural when Tomek begins to pound him from behind.
What's more, the volume increases still further when he's banged from above – his arse stuck up in the air, enabling him to jizz into his own face whilst Tomek first whitewashes his hole and then sticks his sticky, gooey cock deep inside! The sight of Adamov being pissed on at the end simply serves as the cherry on the cake in a scene that's pretty much a born classic!
Scene 5: Skater Boys Take An Impromptu Swim & A Ride On Raw Dick!
Cast: Kris Blent, Ray Mannix
From: SK8 M8S, Skate Off, Scene 4
Kris Blent and Ray Mannix have a dilemma. Should they go off and skateboard? Or should they make the most of Blent's father's swimming pool? In the end, the temptation of the water simply proves too much for them – so much so, in fact, that they actually jump into the pool with all their skater clothes on! Not that the said gear stays on them for long, it must be said. Both boys are clearly well horned-up right from the off, after all; and before you know it they're busily engaged in tearing each other's garments off so that they can get total access to the parts that count!
Suffice it to say that Blent, in particular, can't wait to get his tight little Dutch mouth around Mannix's handsome dipstick; slurping on its handsome length with real energy, before the two lads head poolside so that they can continue their antics out of the water. It's at this point, of course, that the intensity of the scene steps up several notches; with both lads eagerly 69-ing on a massage-table, before Blent finally gives up to the ultimate temptation and takes every aching inch of his mate's dick in his ass!
Cue a fabulous display of wanton fornication from the blond beauty and his friend from Prague, which would surely be more than enough to satisfy even the most ardent of porn fans; but which only gets even better (if that's possible!) when the two pals flip-flop roles. All of which not unnaturally results in both hairless buddies squirting their wads over each other. Then, as if still not satisfied, they top the performance off by taking it in turns to piss over each other as well! In short, fucking wonderful!
Scene 6: Dr. Hirch Gives His Young Patient A Session Of Cum & Piss Fun!

Starring: Logan Lech, Shane Hirch
From Raw Medics, Scene 1
He sure as fuck makes for a handsome medic, but there's no denying the fact that Shane Hirch proves himself to be a bit of a Peeping Tom when he sends his young patient, Logan Lech, off to another room to take a urine sample. Cue some early piss action as the patient drains his bladder for the cameras; before Lech returns to the examination room so that Hirch can undertake some closer investigations. Of course by this point you just know that the doctor will have the teen out of his clothes in no time at all; and suffice it to say that Hirch's medical probing soon begins to concentrate on Lech's crotch.
Pulling Lech's cock from his trousers, Hirch gets down on his knees and slurps eagerly on the boy's handsome cock – a move that's promptly replicated by Lech, whose appetite for hard, uncut man-meat is arguably even more intense than that his of co-star! Chances are, of course, you'll be unzipping in creamy anticipation; yet matters only intensify still further when Lech turns his focal-point to Hirch's fuzzy little arse-hole and begins to fingers the doctor's pucker.
That, of course, sets the scene for a stupendous session of hardcore anal action, with the dark-haired stalwart taking every inch of Lech's handsome ramrod in a whole succession of positions. Little wonder that it's no time at all before his balls simply can't take any more of the rigorous stimulation, as he spews his wad over his own belly; before Lech concludes proceedings by jerking out a load, whilst Hirch sips the piss from the start of the scene and spits it all over his buddy's now-spent shaft!
Scene 7: Water-Sport Loving Neighbours Enjoy Poolside Cum-&-Piss-Fest!
Cast: Alex Goldwin, Milan Silver
From: Give Me Wood, Scene 2
Titus Snow continues to stroll through the woods, eyeing the antics of his horny neighbours – in this instance, Alex Goldwin and Milan Silver, who (according to Snow) have a taste for water-sports. Needless to say, we're not talking about swimming or water-polo – although admittedly their antics do begin harmlessly enough, with the two handsome buddies cavorting around in the house-pool. Being the bulkier of the two, it's perhaps not too surprising that Silver appears to take the lead in their frolics; tossing Goldwin playfully around, before lifting the boy onto the side to reveal Goldwin's fabulously curved hard-on for all to see.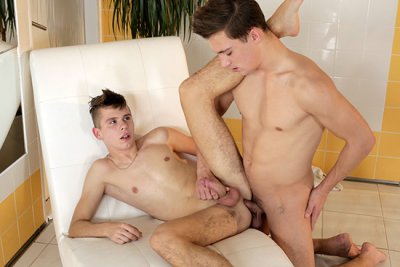 It's a revelation that immediately notches up the temperature in that room by about ten degrees at least; as Silver promptly dives down on that divinely swollen head and gobbles away for all he's worth. Not that he's alone in a taste for hard dick; as Goldwin then retires to a nearby lounger so that he can enjoy replicating the pleasure on Silver's now grossly engorged shaft, before eagerly parting his legs so that his mate can thrust every aching inch of manhood deep into his cute, hairless arse.
Given the almost professional manner with which he takes the offering, it's hard to believe that this is a virgin display. But the sheer intensity of the occasion still clearly has an amazing effect on the young lad, who promptly pisses all over himself mid-fuck. Cue an absolutely breathtaking showpiece of top-notch twink action, that combines the joy of spunk and piss pleasure; and that leaves young Goldwin coated and soaked in equal measure!
Scene 8: Dark Lusts Lead Hot New Boy To Titus Snow's Spunk & Piss Fest!
Starring: Andy Scott, Titus Snow
From: Give Me Wood, Scene 1
There's a distinctly Czech-noir feel to the opening moments of this horny little escapade, as the almost deranged Titus Snow creeps around a local wood trying to find someone to love. It's a bizarre concept for sure; but it gets even creepier when he stumbles upon new boy, Andy Scott, who's happily whiling away his time lying on the forest floor, looking up at the autumnal canopy. Suffice it to say the young newbie doesn't get to remain undisturbed for long; with Snow dragging the poor lad to his feet, smooching the unsuspecting fellow and then bustling him back to his lair – in this instance, his city apartment!
By this point, there's no denying that Scott is completely under Snow's spell – and with little wonder really given the eager manner with which the young Brit pulls the chap's cock out and begins to deep-throat him. After all, who in their right mind would refuse that kind of attention? Moments later and Scott is returning the favour – arguably even more enthusiastically! – with a blow-job on his assailant's totally hairless shaft that is completely at odds with his initial reluctance.
Anyone who's seen Snow in action previously, however, knows that what he really wants is the feel of Scott's handsome ramrod in his butt – an ambition he promptly achieves by mounting his newfound lover's lap and bouncing up and down on the fellow's rod for all he's worth. No surprise that Scott is unable to hold back for long – delivering a fine wad of cum on his hole, before pissing it away. Cue a frenetic finale of jizz and the golden yellow nectar that leaves both lads utterly soaked!