Summary:

We've heard all the arguments about whether Britain should be in and out of Europe – but now get ready to see a third fantastic collection of Brit boys getting in and out of each other's arses! Indeed, these lads don't give a flying fuck about the pros and cons of the Single Market or Schengen. All they're interested in is the next hot fuck and load of hot cum! Lads like Paul Walker and Alex Silvers, who – along with continental visitors such as Kamyk Walker – won't be satisfied until every hole has been filled and every drop of Brit jizz has finally been drained!
This title represent great value for money given the amount of quality content and running time. However, to ensure you don't waste money buying the same content twice, this compilation features scenes from the following titles:-
Scene 01: Fit, Horny Fuckers Do It Raw & Wild In A Disused Warehouse!
Cast: Kai Alexander, Tom Nutt
From: Bareback Innit, Scene 4
Young Tom Nutt is surely everything you could ever hope to encounter in downtown Scallyville – blond, slim and constantly horny as fuck! Certainly he doesn't fail to catch the eye of Kai Alexander, that's for sure – a young chap who's always made it his priority to keep a keen watch on lads like Nutt. That perhaps explains why Brit-boy Alexander finds himself playing Peeping Tom on our Czech buddy, who's sneaked off to a local disused warehouse in search of a quiet smoke and a crafty hand-shandy.
Such voyeuristic tendencies soon get very richly rewarded when Nutt beckons the fellow forward and thrusts his thick, uncut shaft into his mate's face – an act that immediately sparks a fantastic set-piece between these two spritely youngsters. It isn't long, of course, before Alexander's insatiable hunger for cock has taken a much more anal turn, with Nutt buried balls-deep and bare in that tight little ass; before the inevitable flow of jizz takes over proceedings.
The highlight of which involves Nutt blasting a fine wad all over his partner-in-crime's pretty face, courtesy of the handsome shaft that he keeps stuffed in his trackers. In short, a chav lover's raw delight!
Scene 02: Young Tennis Wannabe Proves Himself An Ace When It Cums To Taking Cock Up The Ass!
Cast: Louis Blakeson and Paul Walker
From: Aced, Scene 4
Not wishing to sound harsh, but we've a sneaking suspicion that Louis Blakeson is gonna need a whole legion of tennis coaches to get him up to Grand Slam quality. Indeed, on the evidence of the opening few moments of this scene it's unlikely that Andy Murray or Rafael Nadal have much to worry about! But what the youngster lacks in ball skills on court, he more than makes up for in ball skills between the sheets – as the ever horny Paul Walker discovers when he invites his sporting charge to take a break from training.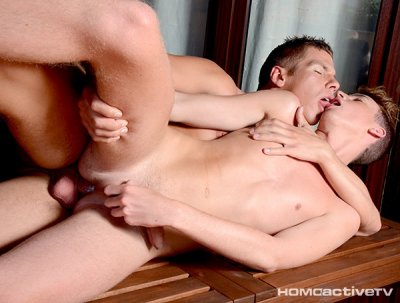 Indeed, the two guys have barely made it back indoors before Blakeson is down on his knees and giving his trainer's nicely cut dick a very thorough inspection – with his mouth, of course! It's a move that a guy like Walker – who pretty lives for sex morning, noon and night – is always going to appreciate; and it's not too long before the fellow is sufficiently aroused to want to first finger and then fuck the tight little ass-hole that Blakeson's got stashed between his buns. And what a coupling it proves to be, with the trainer feverishly slamming that meaty knob of his balls-deep into the eager twink's pucker – much to Blakeson's evident delight!
Yes, this is a boy who clearly loves to be taken and dominated by an alpha male; and it's no great wonder that the lad is soon squeezing out a handsome wad whilst Walker continues to bang him senseless. But that's nothing compared to the geyser-like spray that Walker knocks out over Blakeson's face – a magnificent fountain of cream that leaves the pup helpless and dripping, just like his tennis!

Scene 03: Toilet Sex Footie Chavs Enjoy Hard Cock & A Sack-Load Of Jizz!
Cast: Leo Fox, Jamie West
From: Chavs Vs Footballers, Scene 3
You ever been to the urinals and noticed that the guy standing next to you is actually jerking off rather than having a piss? Well that's exactly what happens to soccer player, Leo Fox, when he comes off the pitch to take a slash – Jamie West taking full advantage of the situation to show off the finely proportioned equipment that he's got stashed in his trackers.
In fairness, Fox doesn't once appear to show any reluctance in responding; indeed it's pretty much no time at all before the sports-crazed youngster is displaying his other great love – hard cock! What's more, West is more than capable of providing for the fellow's deep-seated desires, thrusting his meaty uncut shaft down Foxx's throat like you won't believe.
On this occasion, however, it's the chav who's ultimately gonna be providing ass for the camera, with Fox sheathing up for the task of fucking West's tight man-cunt over the urinals and then promptly thrusting forwards to give the na'er-do-well the kind of screwing he probably always deserved. Little wonder that neither of the lads have difficulty in providing the money-shots at the scene's climax – Fox's dump over West's head serving as the crazed finale!
Scene 04: Horny Geeks Savour A Passionate Raw Flip-Flop Fuck With Lashings Of Hot Jizz!
Cast: Jaye Elektra, Kurt Maddox
From: Chic Geek, Scene 1
We all know what geeks can be like – taking whatever chance comes their way to read and expand their minds – but it's definitely expansion of a very different kind that grabs the horned-up attentions of Kurt Maddox and Jaye Elektra as they hook up together in the bedroom to peruse a comic together. Not that the said publication holds their attention for very long, it must be said. Indeed it's no time at all before the two bespectacled beauties are tossing the rag aside so that they can concentrate on sharing an impassioned kiss, which in turn quickly develops into something far more intimate.
So it is that Elektra is soon feasting on his buddy's knob, before Maddox returns the favour with equal enthusiasm. Not that either of these lads are set to be content until they've banged the other good and proper, however; and it ultimately comes as some relief when Maddox finally plonks himself down on Elektra's swollen dick-head and rides the beast cowboy-style with characteristic fury.
Not wishing to be outdone, however, the roles are then subsequently reversed when Maddox decides that he'd rather enjoy banging the life out of Elektra's ass, signalling the start of a second round of prime class fornication that will almost certainly have you jerking your own engorged ramrod for all it's worth. Be careful not to squirt too soon, however – not least of all because we're sure you'll be wanting to savour the sight of Maddox blasting all over his mate's face. Friendship has never looked so hot!
Scene 05: Jonny Castle Plays The Field - And Gets To Ride Billy Rubens's Uncut Cock As A Reward!
Cast: Jonny Castle, Billy Rubens
From: Penalty Shoot Out, Scene 1
You'd think they'd get enough exercise out on the pitch, but it seems that Billy Rubens and Jonny Castle still have plenty of energy left over to engage in a totally different kind of exercise – their insatiable libidos aided, no doubt, by the consumption of a bevy or two. Indeed, there's enthusiasm aplenty as the two lads waste no time at all in getting out of their kits for some feverishly wild cock-sucking – first from Castle, who feasts on his buddy's dick like it's almost going out of fashion; then from Rubens, who can't resist fondling his own dick as he does so.
It's a feverish kick-off to proceedings, that's for sure; and by the time that Rubens unfurls a rubber over his knob-end both lads are hyped up for the main course of action. Once again, young Castle holds nothing back, diving straight into fifth gear as he quite literally plonks his ass down on his team-mate's lap, taking every solid uncut inch in the process.
It's almost enough to make a grown man wince, but given by the manner with which he proceeds to ride the ramrod – his own hard dick bouncing up and down wildly in the process – it's clear that this is a fellow who revels in deliciously wild fornication at any opportunity. And believe us, he doesn't disappoint here, ably savouring every single thrust that Rubens can muster whilst laid out on his back, legs akimbo, on the sofa. Even this little sex-fiend can't hold out forever, though; and it's with a distinct air of relief that both lads finally unburden their swollen sacs of all that sweet, sticky man-juice. Fuck over, and it's time to break open the beer!
Scene 06: Young Blond Dude Gets Well-Pounded By An Older Monster Dick!
Cast: Jesse Magowan and Riley Smith
From: Hoodie Sluts, Scene 1
It's hard not to like a boy with a big dick – no matter what his personality might happen to be – so you can pretty much understand the mutual attraction that seems to exist between Jesse Magowan and Riley Smith, both of whom are more than adequately equipped in the cock stakes. A fact that won't escape your attention, that's for fucking sure, as the two lads take the chance to slurp on each other's knobs over the sofa.
Smith, in particular, has the kind of salami in his pants that you're just gonna love – thick, meaty, uncut and clearly in eager mood to give some horny twink's butt-hole a real good pounding. It's perhaps just as well then that blond-guy Magowan is more than ready and willing to meet his older pal's insatiable tastes, mounting Smith's chopper like a real pro and giving it the kind of hard, ball-bustin' ride that a beauty like that deserves.
Of course, with a ramrod like that banging away at his ass in pretty much every direction imaginable it's no great surprise that it's not long before Magowan is dumping a hefty wad of jizz all over his own belly; leaving Smith to jerk his oversized cock into its own juicy climax. In short, a stupendous full-octane fuck!
Scene 07: Hot & Horny Chav-Bitch Gets The Connor Levi Bareback, Hard-Fuck Treatment!
Cast: Cody Reed and Conner Levi
From: Y Not, Scene 3
Connor Levi's never been the kind of lad to turn down the opportunity to fuck some horny little bitch, so his eagerness to meet up with Cody Reed for some dick-slurpin', ass-stretchin' action was totally understandable. What's more, it's an enthusiasm that quite literally oozes from the screen as these two tattooed chavs lie on a bed together getting keyed up for the pleasures ahead – the fellow literally can't wait to get inside Reed's pants, and is soon feasting on his cock as if to work his pal into sexual overdrive.
Indeed, if that's Levi's motive then it's one that quickly gets the anticipated response. Reed opens his throat for Levi's knob like a old-time pro, and is soon parting his legs in much the same fashion. And that, of course, is exactly what Levi was hoping for from the off, as he takes total control of the action by promptly thrusting his thick bare ramrod balls-deep into the eager bottom's fuck-hole.
Cue a stupendous, daring, breathtaking sex-session that sees Levi using both his dick and his fingers to stretch Reed's pucker to the max – culminating in Reed having the spunk fucked out of him, before he slurps on Levi's shaft as it explodes its gooey goodness and then shares the nectar in a messy, lingering smooch. Filthy – but total fun!
Scene 08: Young Twink Gets Used & Jizzed By A Pair Of Hyper-Horny, Cum-Filled Soldiers!
Cast: Alex Silvers, Billy Rubens, Paul Walker
From: Officer's Mess, Scene 4
Paul Walker and Billy Rubens may claim to be a couple of straight army buddies, but given the eagerness with which they "entertain" Alex Silvers (having trawled the internet to find him) it's difficult not to suspect that they each harbour a slightly queerer persona than they'd possibly like to admit. One thing is certain, however, and that's that blond twink Silvers has absolutely no doubt about what he likes; and, having been invited over by the guys in khaki, he's round like a shot to enjoy every hard, uncompromising inch of dick on offer.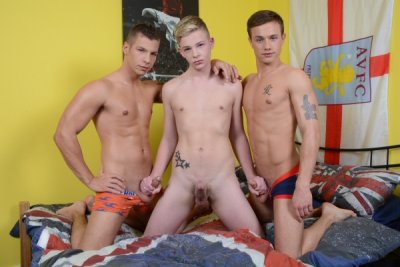 It's a move that doesn't fail to go unnoticed by Walker in particular, who promptly engages in some colourful language as Silvers deep-throats Rubens; but you don't need to be an expert to appreciate the young lad's enthusiasm, and it's no surprise at all that the fellow is soon being energetically spit-roasted like some common slut. Then again, of course, that's pretty much what Silvers is – a characteristic that's only underlined when he promptly sits on Walker's oversized knob and rides the bastard for all he's worth.
In truth, this is a guy who'd be out in the community being banged by every stud going even if he wasn't doing it for the money as a porn-star; and it's pretty obvious that he's in seventh heaven when the two military boys finally squirt an almost unbelievable quantity of goo – in Walker's case, rather noisily! – all over his smooth, hairless chest. Not that either soldier seems to appreciate his efforts. Balls emptied and their libidos satisfied, they immediately tell the youngster to fuck off. And who said romance was dead ...?
Scene 09: Start Your Day Like These Hot, Horny Twinks - With A Hard Fuck & A Tsunami Of Hot, Sticky Spunk!
Cast: Louis Blakeson, Andrew Dunhill
From: Boy Games, Scene 4
So maybe a little bit of raunchy kink with a stranger is good, but sometimes it's just as equally satisfying to simply wake up next to the person that you love and to engage in some early morning playfulness – as Brit-boy, Louis Blakeson, and Romanian starlet, Andrew Dunhill, discover in this fantastic bedroom coupling. Mind, let's be perfectly honest right from the start, the seemingly innocent cuddling and smooching that kick starts this escapade doesn't last all that long – and for honest good reason.
Both of this handsome beauties are at an age when sex is pretty much the only matter worth considering most of the time; and within a few moments both boys are kicking off the covers to expose a fantastic display of rampant man-meat. A display that (not surprisingly) is demanding a great deal of attention – which both Blakeson and Dunhill are very clearly all too eager and willing to give!
Cue a tremendous demonstration of mutual cock-sucking from both parties, culminating in a ball-busting session of 69-ing that will almost certainly leave you at serious risk of an early (but very satisfying) discharge! Edge your excitement though, guys. Young Blakeson's in the mood for the kind of energetic pounding that only porn can provide; and before he knows it he's parting his legs and enjoying every inch of cock that his fuck-buddy can muster! What follows is no less energetic than what's gone before, and is only finally quelled when both fellows jerk out generous wads of jizz all over Blakeson's washboard belly, leaving the lad awash with lovely goo!
Scene 10: Fucked By A Chav Beauty, Brad Fitt Gets An Eyeful Of Hot Spunk!
Cast: Brad Fitt and Sean Savoy
From: Office Deliveries, Scene 2
Brad Fitt has never been able to resist a horny chav, even on his off days, so his introduction to Sean Savoy has rather predictable results. Minutes after the two of them meeting the young twink is quite literally sat on Savoy's lap and eagerly chewing the fellow's face off – well let's face it, Fitt has always been a bit of a dirty little slut, and this episode does nothing to dispel such a fine reputation.
Indeed, you just know that the lad is quite literally gagging to have Savoy's dick deep inside him right from the very beginning. That said, it's an equally valid point to say that Savoy is not exactly reticent when it comes to wanting to fuck the pup; and by the time the two lads have taken turns to blow each other off it's difficult to say which one of these guys is the keener.
Let's just take satisfaction from knowing that both boys are hot to trot when it comes to the actual fuck, and what follows – Savoy banging away at Fitt's tight ass like a dirty animal – is not going to disappoint anyone. Ultimate judgement, however, may arguably rest with the cum-shots – that produced by Savoy proving a veritable multi-shot shocker that poor ill-prepared Fitt is unlikely to ever forget!
Scene 11: Back-Of-The-Bike Bareback Fornication Gets This Screwdriver-Lovin' Pair Into Overdrive!
Cast: Xander Hollis, Skylar Blu
From: Dirty Riders, Scene 1
We're not overly convinced that Skylar Blu's mechanical skills are as robust as this scene might like to convince us, but is there any gay guy alive who wouldn't love to have him provide a full service with that handsome tool of his? Double entendres aside, however, this is one young man who oozes sex from every pore. Throw in the additional allure of the fantastically hot Xander Hollis and a motorbike (has man ever invented a sexier piece of machinery?) and you have the makings of a STAXUS classic.
Given the circumstances it'll probably cum as no surprise that both boys are on top-notch form right from the off, taking turns to blow each other off; before Hollis turns up the heat by thrusting one of Blu's own screwdrivers into the mechanic's ass. It's a somewhat appropriate tool to use, of course, but it doesn't compare to Hollis's cock – and the good news is that that's exactly what follows the screwdriver up Blu's pucker!
As such, Hollis is soon balls-deep in his pal's raw love-hole; and things only intensify when Blu mounts Hollis's dick on the back of the bike! Believe us, it's a turn of events that's surely gonna blow your nads there and then, so whether you ever see the lads spew their own loads is open to question. In two words, unforgettable filth!
Scene 12: Kamyk Walker Gets Worked Over Big Time By A Horny, Well-Hung Fucker!
Cast: Lewis Taylor, Kamyk Walker
From: Twink Republic, Scene 2
Job interviews can be a very stressful experience, so it's probably no surprise that Kamyk Walker looks so nervous when faced with question after question from Twink Republic airline's chief recruiter, Lewis Taylor. With his twinkish good looks and insatiable libido, however, Walker really has absolutely nothing to worry about – though whether it's ethically right for an interviewer to invite a candidate into the bedroom for a more intimate personality test is another matter entirely. Not that this dirty-minded cutie is in any way phased by the unexpected turn of events. A formal interview may have him quaking, but when it comes to handling the advances of a determined sexual predator like Taylor there's nothing that Walker can't deal with. Indeed, the fellow goes down on his would-be boss' dick quicker than you'd think humanly possible – somewhat unsurprisingly really given the size of phallus we're talking about here.
Nor (as we've long since known) are the boy's talents limited to giving head. For having wrapped his luscious lips around Taylor's knob, Walker's soon proving himself further by ably handling one of his interviewer's sex-toys before taking every inch of hard flesh that Taylor is able to muster of his own. The ensuing display of raw, unbridled copulation is a joy to behold – and made all the kinkier by Walker's decision to don an officer's cap half-way through whilst riding Taylor's shaft. By the time both lads are eagerly (and handsomely!) busting their nuts there's no doubt that you'll be knocking out an appreciate wad of your own!