Summary:
Only massive cocks allowed! See the cutest twinks around being impaled by the biggest rock hard cocks.....and they seem to love it!
Scene 1: Cute Brad Fitt Gets Every Hole Stretched By A Thick, Uncut Monster!
Cast: Ben Fisher, Brad Fitt
From: Too Big Too Handle, Scene 3
Young cutie, Brad Fitt, has always been the mischievous sort, so it's no great surprise that he takes big delight in disturbing Ben Fisher's sleep in a bid to gain some physical attention. Fact is he's feeling as horny as fuck – and the good news is that his playmate is soon rallied into an equally favourable frame of mind. As such it's not long before both fuck-buddies are stripping off for a hardcore session of amorous attention; with Fisher particularly enamoured with Fitt's closely shaved cock, which he feasts upon with the kind of greedy gusto that only lads his age ever seem to display.
Given the handsome package that Fisher has stuffed in his boxers, however, it's not surprisingly that Fitt is eager to replicate such attention; though clearly the young Czech's ultimate ambition is to sit on his pal's lap and give that thick, uncut schlong the kind of ride that it was clearly made for. As such it's almost like a dream-cum-true when Fitt finally mounts the monster and dumps a tremendous wad of jizz over the bed-covers in the process. That leaves Fisher to replicate the pyrotechnics with a furious spray of his own, coating Fitt's lithe young frame with the goo it richly deserves!
Scene 2: Cute Twink Gets His Raw Ass Stretched To The Max By Dick Casey's Thick Ramrod!
Cast: Dick Casey, Xander Hollis
From: Super Size Me 3, Scene 2
With his cute face and those winsome eyes of his, you'd be forgiven for thinking (if you didn't already know better) that Xander Hollis was the very picture of youthful innocence. How wrong could you possibly be, of course – as becomes all too apparent (for the umpteenth time in his porn career) when the youngster walks into a room to find Dick Casey having a wank.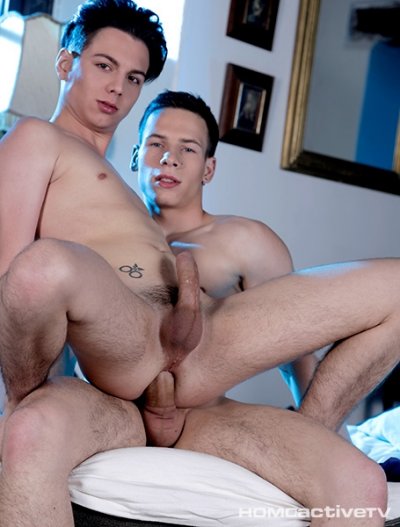 For instead of turning around on his heels and making the sharpest of exists, Hollis immediately does what all of us dirty-minded fuckers would probably do under the circumstances and falls to his knees in admiration of Casey's rampant love-rod. An act that will appeal to anyone who loves to see filthy-minded twinks getting intimate with hard dick – excuse the pun! Not that a slut of Hollis's calibre is going to be anywhere near remotely satisfied with just a suck. No, he's not gonna have a smile on his face until that thick, uncut cock is planted firmly between his butt-cheeks – an ambition that he soon achieves once the two lads have enjoyed a hardcore session of 69-ing.
Needless to say, the fuck that follows is a terrific set-piece of man-on-man fornication; with Hollis banged raw in every position, before literally squirting like a fountain in pleasure. An act that just leaves time for Casey to spray Hollis's mouth with the contents of his tight, manly balls!
Scene 3: Interracial Fornication Sees Young Twink Going Totally Black!
Cast: Johny Cruz, Tyler Johnson
From: The Nutcracker, Scene 1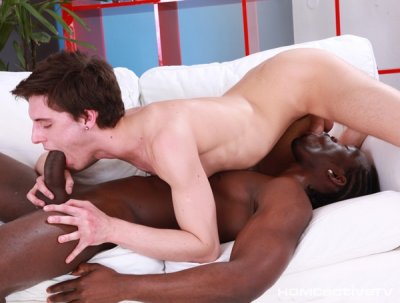 All great artists have one thing in common, namely their commitment to their chosen art. So it's no great wonder that wannabe dancing prima-donna, Johny Cruz, arrives in Prague with steely determination in readiness for his forthcoming interview at the ballet house. Unfortunately for him, however, he's accompanied by a sex-crazed boyfriend in the shape of Tyler Johnson, a muscle-bound black Frenchman who takes every opportunity to lure Cruz from his exercises. Of course, it would take a fellow of inordinate resolve to resist a sex-god of Johnson's magnitude, and before you know it Cruz has pirouetted to the sofa and is having his horny little pucker rimmed in readiness for the hard pounding to come. Prior to that point, however, the young white boy pays homage to his boyfriend's upturned schlong, deep-throating the fabulous trouser-snake; before finally allowing the raw monster to fuck his pert ass in pretty much every position imaginable. It is, without doubt, a superb performance from both boys, which concludes with a veritable flood of jizz from both parties followed by a sensuous cum-laden kiss that'll blow you away!
Scene 4: Hot Horny Blond Twink Gets An Ass-Load Of Jizz From His Cute Little Fuck-Buddy!
Cast: Denis Master, Nathan Levi
From: Super Size Me 4, Scene 2
Nathan Levi's found himself another sex-toy, this time in the form of Denis Master. The two boys are making out in bed, with Levi's hand wandering into Master's jockstrap. Master's hand soon finds its way into Levi's tight boxers; but before he can really grab a hold of that juicy cock, Levi takes control and starts sucking Denis off. Levi really goes to town on that dick, licking the shaft, then sucking his balls and giving real pleasure with his tongue and lips.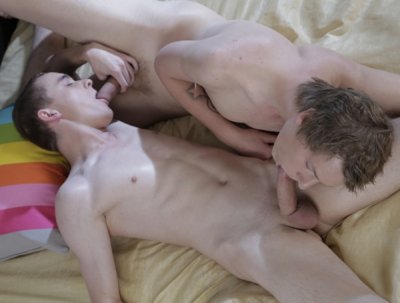 Levi finally French-kisses Master to give him a taste of what's to come, leaving his mate hungry for cock, who gobbles the monster up whilst Levi grabs hold of his head to fuck his face. After a while the boys change position for some hot 69-ing and mutual rimming. Then, having lubed Master's ass up with his tongue, Levi slides his meaty cock inside his pal's tight little hole and treats him to a good raw fuck. A switch of position has Master slamming Levi's ass doggy-style, until eventually the lad can't hold out much longer and he shoots his creamy load deep inside that hungry butt-crack.
Levi then pushes the cum out of his hole and Master sticks his dick in again to fuck the cum back inside. Finally it's Master's turn to get the face full of cum he has been waiting for all along, which he sucks out of Nathan's cock and swallows like the good obedient little twink he clearly is.
Scene 5: A Red Raw Ass Creaming Fuck
Cast: Will Jones, Zac Todd
From: Band of Bareback Brothers 2, Scene 2
Will Jones produces arguably the best cumshot of the show in this scorching, crotch-straining escapade with best friend, Zack Todd – but don't use that little revelation as an excuse to fast-forward to the end. Instead, sit back, unzip and enjoy the unparalleled delights of watching two horny twinks engaging in some alfresco cock-sucking fun, as the two buddies abandon their army duties – not to mention their uniforms – in favour of some hot, lingering smooching and (ultimately) a great deal of raw ass action!
Indeed, it's not at all long before the antics in the garden have been superseded by shenanigans indoors; at which point you might begin to appreciate the full scale of the weaponry on offer, as the two lads savour a wanton top-to-toe session, deep-throating each other's dicks like a pair of animals on heat.
All this is nothing, however, compared to the red raw fucking to come and the sight of Jones bouncing up and down along the full length of Todd's ramrod. Believe us, that boy's prostate gets the rubbing of its life, and it's no fucking wonder that he erupts like fury once Todd has coated his ass with spunk. A definite winner in every imaginary sense!
Scene 6: Big Black Cock Anyone? Tim Law Proves His Slut Credentials By Taking Every Rock Hard Inch!
Cast: Devon LeBron, Tim Law
From: From: Super Size Me 5, Scene 3
Some secrets just can't be kept secret for long – Devon LeBron's mammoth dick being one of them! – which perhaps explains why young Tim Law is so keen to get to know our Dominican sex-god when the two fellows encounter each other in the local park. Fact is, a total cock slut like Law is quite simply left gasping at the sheer prospect of getting his mouth (not to mention his ass) around that whopper; though in all fairness LeBron's ramrod is so fucking massive that it's almost impossible for a lad like Law to fit it into his mouth.
All that said, we're pleased to confirm that the horny little bottom doesn't have the same problem when it comes to accommodating the big black beast between his butt cheeks! No doubt about it, the sight of Law being pushed to the limit by LeBron's oversized mamba is the stuff of an instant classic; not least of all when the lad quite literally sits on the thick, meaty staff and rides the weapon like the total bitch we all know he is.
Poor Law might as well be sitting on a fucking tree-stump as resting his ass on that colossal beauty, and it's little wonder that he's soon jerking himself off in response. Nevertheless, it's LeBron's own pyrotechnic climax that warrants the ultimate acclaim; before the black master thrusts his cum-soaked cock back into Law's pucker to whitewash the sweet twink's hole!