Summary:
Some guys just can't decide whether it's best to top or best to bottom – and who can blame them? Why pigeon-hole yourself when there's so much pleasure to be enjoyed from both roles? So join this bevy of decidedly undecided buddies as they fuck and get fucked in equal measure. Tony Conrad, Martin Rivers and Titus Snow join forces for a second topsy-turvy, flip-flopping ride that has but one guarantee – namely, a jizz-sodden climax from every dick involved!

Compilation Gay DVD - 6 Scenes
Description / Review:

Scene 1: Would-Be Star Finds He Has To Fuck & Be Fucked For His Chance to Ride Raw In The Big Time!

Cast: Florian Mraz, Troy Vara
From: The Sex Factor, Scene 2 (unpublished DVD)
Everyone young person's looking for their big break, their opportunity to make the most of their talents, so it's no small wonder at all that Florian Mraz jumps at the chance to show off his busking talents when he's spotted by a reporter in the street. But whilst no-one could dispute his ability to blow a pipe, Troy Vara's interest in the boy is somewhat less unconventional. In fact, you could say that he's much keener to see Mraz performing a very different kind of blowing on a very different kind of pipe – as quickly becomes all too apparent when he whips out his dick and thrusts it in the youngster's direction.
Such a provocative advance is a daring move to say the very least; but Vara's judging skills are second to none, and before you know it Mraz is slurping on the handsome dick like a being possessed. It signals the start of a fantastic, open-mouthed session of energetic cock-sucking; which only concludes when Vara's anticipation gets the better of him and he bundles the visitor over his desk to bang the lad like a common whore! At which point you'd be easily forgiven for thinking that this was to be a straightforward fuck-and-run.
Think again, however, guys. Clearly not wishing to miss out on his own share of the fun, Vara's soon switching roles with the trendy Mraz, riding the would-be star's ramrod right up to the hilt and squirting a fantastic wad of spunk in the process. That leaves Mraz the pleasure of creaming out his own sticky load of fun against Vara's ass – a clear mark of enjoyment that will almost certainly be matched by your own appreciative spew!
Scene 2: Big-Hearted, Big-Dicked Lovers Enjoy A Flip-Flopping Fuck-Fest!

Cast: Lucas Drake, Titus Snow
From: Raw Cuddles, Scene 2
When you're young and in love the whole wide world seems a blissful place, and there really is no greater pleasure than to stroll hand-in-hand by the river or to kiss and exchange woodland flowers – as Lucas Drake and Titus Snow are only too willing to demonstrate in the opening moments of this romantic encounter. Indeed, such is the intensity of their good mood that they don't even so much as bat an eyelid when a pillow splits during a playful bedroom fight, sending a cascade of feathers in every direction.
Under normal circumstances, all manner of curses and bad language would result. Here, however, the lads nonchalantly start scooping up the mess, which in turn quickly results in them falling into a lusty embrace – at which point (not surprisingly) their handsome, meaty cocks quickly become the focus of the action. What's more, it's from here that a more observant viewer will begin to realise just what a partnership of equals this pair of horned-up beauties represents. Snow slobbers eagerly on Drake's dick; Drake returns the favour. Snow rims his boyfriend's hairless arse; Drake replicates the greedy performance. Snow gets his arse pummelled furiously; Drake eagerly enjoys his turn as the bottom.
It's as if these two lads really are truly in perfect tune with one another – as, of course, true lovers should be. Only in the final few minutes does any differential show; with Drake spurting out a heavy wad of boy-batter over his own belly mid-fuck, before allowing Snow the perfect honour of creaming over his outstretched tongue for a gooey and very satisfying finale!
Scene 3: Hot Flip-Flopping Fuckers Enjoy A Flood Of Piss & Creamy Spunk!
Jeffrey Lloyd, Tony Conrad
From: Fucking Piss Off, Scene 2
Pity the poor folks who had to clean up after Tony Conrad and Jeffrey Lloyd met up for this tremendous piss and spunk fiesta, which begins – innocuously enough – with Conrad jigging his butt for the camera in a deliciously hot pair of cheek-exposing Barcode Berlin shorts. Not that he's alone in his antics for very long. Soon Lloyd is joining the fray dressed in a butt-clinging wrestling suit; at which point the action turns decidedly hardcore, with both boys taking it in turns to unleash their meaty, uncut swords and in order to engage in a hot, sweaty session of cock-sucking.
That in turn soon results in Lloyd deciding to give his mate's pert little ass-hole a closer inspection; before finally succumbing to the overriding urge to plunge his shaft deep into Conrad's arse. It's at this point that you'd be totally forgiven for thinking that the rest of the scene was set to be a predictable romp, leading up to a predictable climax; but proceedings are dramatically interrupted by the sudden decision of both guys to engage in an early piss-fest, with Lloyd taking the full brunt of the yellow nectar!
It's a move that certainly seems to add fresh impetus to their animalistic fervour; with the lads flip-flopping positions so that it's now Lloyd's pucker that's the centre of attention. Needless to say, the ever-horny Conrad shows little if any reserve when it comes to pounding his pal's fuck-slit; and before you know it he's quite literally spurting like a fountain into Lloyd's rump. Leaving Lloyd himself the opportunity to jerk out his own gooey wad of spunk all over his own furry belly!

Scene 4: Rookie Dives Straight In With A Flip-Flop Suck-&-Fuck-A-Thon!

Cast: Connor Rex, Martin Rivers
From: Face To Face, Scene 1
We already know that Martin Rivers isn't the kind of young lad to waste time when he encounters some handsome little slut, but it seems he's encountered a soulmate in new boy, Connor Rex. Indeed, neither of these buddies hang about when it comes to the task of slobbering off each other's dicks – geez, the action has only just started and they're taking it in turns to feast on all the hard flesh on offer. And who the fuck can blame them, of course? Both buddies are as cute as the day is long, and both have definitely been blessed by mother nature in the cock stakes!
Given the fast-paced nature of proceedings, it's perhaps not at all surprising that Rivers – as the more experienced of the pairing – is quickly pushing for a little progression in the antics, parting Rex's legs apart and getting his tongue firmly embedded in the lad's tight virgin arse. Of course, you don't need to be Einstein to realise that what he really wants to stick in that hungry little hole is his thick, uncut shaft – a wish that's soon being granted!
However, don't think for one moment that just because Rex's a newbie it means that he's not got his own kinky ideas. For having taken every inch of Rivers' delightfully oversized schlong in a variety of positions – most notably riding it cowboy-style like a five-star whore – the young lad is promptly returning the favour; stuffing his meaty member deep into his buddy's pucker and banging away for all that he's worth. No fucking wonder that Rivers is soon spewing like a fountain as a result; before Rex underwrites his first money-shot all over his pal's pretty face!
Scene 5: Horny Twink Hits The Glass Ceiling With His Flip-Flopping Buddy!

Cast: Bjorn Nykvist, Mike Cole
From: College Cock, Scene 2
Pity young Mike Cole. He really is trying his damn hardest to study, but all to no avail. Fact is there's just too many distractions to keep his head in his book – as opposed to his hand in his pants! – not least of all the African statuette with a big, black dick. Valiantly he decides to take a piss and a shower in one final bid to maintain his resolve – only to find himself promptly interrupted by none other than his good buddy, Bjorn Nykvist. At which point, of course, any remaining hope of maintaining his resolve is finally destroyed.
That said, having clearly abandoned himself to a much-needed session of carnal debauchery, he gives in to his urges in a very big way; diving down onto his knees so that he can suck the very life out of Nykvist's handsome ramrod. It's the kind of reception that surely anyone would appreciate – Nykvist arguably more than most – and it will no doubt come as any surprise to see that the handsome blond is very quickly returning the favour by eagerly rimming Cole's hairless little pucker. That move is but a prelude to the main feast, of course; with Nykvist taking full advantage to slam every inch of his thick, meaty salami straight into the Spaniard's hungry fuck-hole.
Cue a stupendous, no-holds-barred flip-flop session that sees both lads take dick like they were fucking born to, and which makes the most of the plush surroundings – not least of all the section of glass floor. All of which soon results in Nykvist blowing mid-fuck; and Cole hosing his buddy's ass with such a tidal-wave of boy-batter that the clip has to be re-wound to watch it all again!
Scene 6: Flip-Flop Veg Lovers Taste Raw Dick & Exchange A Spunky Kiss!

Cast: Mark Fontana and Lucas Drake
From: When The Bells Ring, Scene 3
It's breakfast-time at the mission house, and the boys are not unnaturally very hungry; but for Mark Fontana and Lucas Drake it's an appetite of a much more carnal nature that's concentrating their attention. So much so that at the first opportunity they're snogging each other's faces off and ripping off their clothes. Of course, anyone who knows these boys would never expect anything less; and it will come as little surprise to see fall to his knees in order to worship his pal's succulent, uncut shaft and beautiful low-hangers. Nor will anyone be particularly amazed to see Drake returning the favour – feasting on Fontana's nicely curved ramrod and acting out the bitch.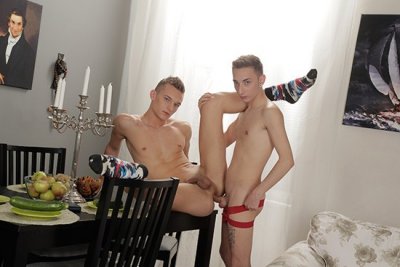 What may come as a little bit of an eye-opener – not to mention an ass-opener! – is when Fontana decides to spice things up a little bit by thrusting a handsomely sized courgette into Drake's very welcoming hole; playfully tonguing the vegetable as if to lube it for the occasion. It's a very kinky, imaginative introduction to the fucking that promptly ensues; with Drake manfully taking his mate's dick like the veritable pro that he is, prior to Fontana deciding to enjoy his share of the action by plonking himself down on his mate's knob and riding it reverse-cowboy style.
Ever the greedy one, however, Drake can't resist another taste of hard dick in his guts before the encounter comes to an end – a fitting testimony to the lad's cock-crazed reputation, and which soon brings him to a sticky climax. All of which leaves Fontana to cream Drake's cute little face with a sac-load of jizz, before both exchange a gooey goodbye kiss!