Summary:
There's just something about a guy in uniform that makes him totally and utterly irresistible – a sentiment that underlines every single one of these hot, horny, spunk-inducing encounters on this great twink xxx DVD. Whether they're firemen, scouts or priests, those special garbs make these young beauties as sexy as fuck; and it's not long before they're taking full advantage of their sexual kudos. That said, the likes of Angel Lopez, Tony Conrad and Mike Cole don't stay clothed for long; as the urge for hard cock and sweet, pert ass ensures a sticky climax every time!

Compilation Gay DVD - 6 Scenes
Description / Review:

Scene 1: Horny Scout Goes For His Suck-&-Fuck Badge On His Pal's Dick!

Cast: Mike Cole, Simon Caress
From: Camp Fuckers, Scene 3
One of the great joys of scouting is all that time that you get to spend in the great outdoors – something Mike Cole and new boy, Simon Caress, very clearly appreciate in the opening moments of this gorgeous little number. Whether they are chatting half-way up a tree or just smooching next to a river, these young fellows love to be outside! Even so, the temptation of spending time together indoors can sometimes prove too much – no less so than when there's a nice cosy bed in the offing!
Not that there's even the slightest hint of either of these lads closing their eyes for a little shuteye, of course. Indeed, with their uniforms promptly cast to one side, both fellows are quickly taking it in turns to slurp on each other's cocks – a move that the slightly exotic-looking Caress evidently greatly appreciates given the manner with which his eyes roll in his head when Cole gobbles away at his straining ramrod.
It's a turn of events that quickly encourages the newcomer to give his mate's arse-hole a thorough examination in return – fingering and rimming the hot little pucker in anticipation of what we all know is the inevitable invasion of Cole's ever-insatiable guts. The Spaniard is already renowned for his love of hardcore sodomy, after all; and this very latest escapade only adds to that reputation, as Caress takes full advantage to plough into that once-tight crevice for all he's worth. The highlight of which is surely the sight of Cole riding cowboy-style like a bitch on heat; before underscoring his solid credentials as a slut by lapping up every drop of jizz from Caress' cock!
Scene 2: Underwear Emergency – One Young Twink Can't Resist A Big-Dicked Cop In (Or Out Of) His Uniform!

Cast: Harry Vakker, Nathan Dale
From: Raw Response, Scene 4
What Imelda Marcos was to shoes, so Nathan Dale is to underwear – or at least that's what it looks like at the start of this scene. Has anyone ever had such a tremendous collection of pants? Indeed, such is the young lad's obsession with the said garment that he actually goes so far as to call the emergency services to come over and see the collection for themselves – which in ordinary terms would almost certainly be met with a police caution for time wasting! Putting realism to one side, however, on this particular occasion the officer who makes an appearance at Dale's apartment is none other than Harry Vakker, who (it must be said) cuts quite a magnificent figure in police uniform.
To that end, then, Dale's response is most understandable; promptly making an advance on his visitor and quite literally licking Vakker's boots in order to impress – which is something he most definitely does, big style! Suffice it to say that it's not many moments before the handsome stud in uniform is responding just the way that Dale very clearly wanted right from the start; and, having each engaged in a quick session of fellatio on each other, the two guys are soon eagerly feasting on each other's dicks 69-style.
The highlight of the action, however, surely comes when Vakker – who by this point has been eagerly rimmed by the horny young twink – ploughs his dick into Dale's ass, signalling the start of a powerful, ball-bustin' session of hardcore fornication. It's a show that simply shouldn't be missed, and it only concludes when both lads cream themselves into a very sticky but appreciative climax. As police investigations go, it's a definite winner!
Scene 3: Firefighter Hero Gets A Gaping Arse Courtesy Of His Horny Beau!

Cast: Chad Johnstone, Danny Franklin
From: Fire Me Up, Scene 2
They say that every cloud has a silver lining – and whilst a bad fire isn't good news for those whose property it destroys, it does at least give firefighters the opportunity to put their training into use. For the handsome, uniformed Danny Franklin, it also provides the opportunity of promotion – a turn of events that certainly appears to meet with the approval of his horny young boyfriend, Chad Johnstone, who's laid in bed with champagne, awaiting Franklin's return.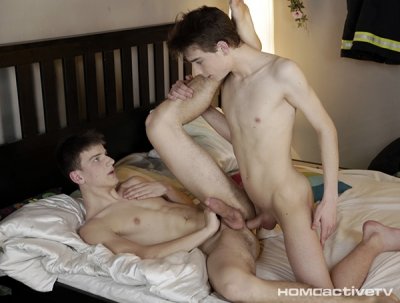 Not that supping fizz is Johnstone's only intention that evening, of course – as very quickly becomes apparent. Indeed, it's barely seconds before the fellow has enticed Franklin under the duvet – at which point the gallant officer's clothes are promptly stripped away and Johnstone makes a direct beeline for his gorgeous, uncut dick! It's a move that certainly appears to meet with the firefighter's keen approval, given the eager manner with which he then returns the favour; but it doesn't take too long before the appetite of both lads is for something decidedly harder.
Cue some fun with more champagne, as Johnstone soaks his boyfriend's pucker with bubbly; before rimming the tight little hole, and then thrusting his now aching shaft deep inside. That signals the start of a terrific set-piece of wanton fornication, which quite literally leaves Franklin's arse gaping for the camera – a must-see for anyone who enjoys a well-worked man-cunt! All nicely rounded off by the sight of the two lads jerking off 69-style, unloading their very gooey loads into each other's mouths. As celebrations go, it's one hell of a fuck!
Scene 4: Angelic Lopez Devilishly Creams His Buddy's Arse Mid-Fuck!

Cast: Angel Lopez, Johnathan Strake
From: Knee and Pray, Scene 2
To any outside observer it seems that young priests, Angel Lopez and Johnathan Strake, are as devout as it's possible to be – reading scripture and praying on a daily basis. Take a closer look, however, and you realise that the temptations of the flesh are all too real for these horny fellows; as Lopez's hand wanders onto his buddy's thigh, and the two beauties slowly abandon their worship of the divine in favour of more carnal adoration. To some, of course, this constitutes a sacrilege of a holy estate. For the rest of us, however, there's no denying that the sight of two cock-hungry twinks lusting after each other almost has a touch of the divine about it; not least of all when Lopez finally strips away his pants so that Strake can gobble away on the thick, meaty flesh that nestles inside.
An act that Lopez himself is only too willing and eager to replicate; before turning his eye to his buddy's arse-hole, which he promptly rims into submission. By the time that the Spaniard is finally buried balls-deep in his Czech mate's pucker, there's every possibility that you'll have completely forgotten the theological overtones of the scene.
All the same, you'll be in complete rapture at the sight of Lopez creaming Strake's hole (somewhat prematurely!); before stiffening up again almost immediately so that Strake can ride the said pole like a whore. And with another round of Bible-bashing just minutes away, Lopez draws the action to a stirring close by yanking out a second (albeit smaller) load; before a final gooey smooch marks the conclusion of a truly unforgettable act of worship!
Scene 5: Holy Lads Spread The Love With A Raw Fuck & A Baptism Of Goo!

Cast: Connor Rex, Zac Law
From: When The Bells Ring, Scene 2
Connor Rex and Zac Law are a couple of wholesome, devout Mormons, who clearly feel called to spend time out on the town. Not to drink and party, as you might expect with boys their age; but to act as a witness to their faith and to do good wherever they see the opportunity. That's not their only calling, however. Back in the privacy of home, where they spend time reading scripture together, they also feel called to express their love for each other in the only way they know how – something we feel might not go down so well with their Church's hierarchy.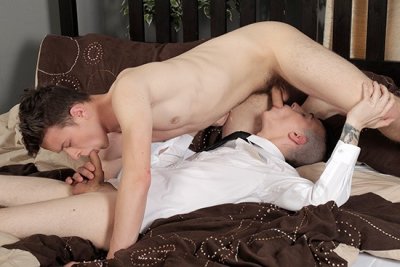 But horny boys will be horny boys; and it doesn't take many minutes before the two spiritual brothers are expressing their lusts and affections in the only way that they know. As a result, Law's down on Rex's handsome ramrod like a hungry dog with a bone; before Rex responds in kind, and then the two lads engage in a heated mutual exchange in the form of some delicious 69-ing. All of which culminates in something of a playful tease from director John Smith, with Rex eagerly rimming Law's pert little ass – a move that might lead anyone to assume that it's Law who's gonna get heartily buggered.
On the contrary, however, Rex then promptly bounds onto Law's rock-solid shaft to prove that he's the only bitch in this relationship; riding dick like a pro in a succession of hot positions, interspersed by him gobbling on the source of his pleasure. It's a top-notch performance for sure, and one that soon has Rex squirting out a hot load; before he receives a much-welcomed baptism of jizz all over his cute face!
Scene 6: Young Lad Finds Toy Play Doesn't Compare To His Pal's Big Dick!

Cast: Alessandro Katz and Tony Conrad
From: Fire Me Down, Scene 4
It's easy to forget, but heroes such as firefighters need their downtime as much as anybody else – and in the case of Alessandro Katz that clearly involves lazing on his bed and playing with his toys. And no, we're not talking model trains or remote-control cars! Rather, Katz's toys consist of a collection of butt-plugs and dildos, which Tony Conrad promptly discovers under the lad's uniform when he walks into the room. His initial surprise overcome, Conrad decides to assist his young colleague by thrusting some of the equipment up Katz's arse – a move that clearly excites the horny pup, who is soon sporting the kind of hard-on that a guy like Conrad is never, ever able to resist.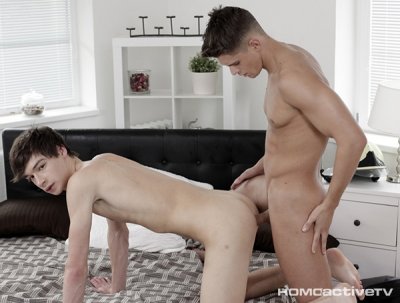 As a result, the pair are quickly engaged in a hot play session like no other; with Katz taking everything that his buddy can push in his direction, whilst savouring the delight of Conrad slurping on his thick, aching cockhead. It's a scenario that can but have one outcome, of course; and it's no time at all before Katz's horned-up little pucker is having to accommodate something far bigger than any of the assembled toys, namely Conrad's meaty, uncut shaft.
Not that the cute pup displays any awkwardness in taking every inch of his buddy's poleaxe. Indeed, he's soon riding dick like an experienced whore, as Conrad pounds away in a variety of positions – finally culminating in Katz's slit being literally creamed by a cascade of gooey jizz. The sight of Conrad then fingering the splurge into the hole marks a fitting climax; topped only by that of seeing the pretty bottom cream all over his own belly!