Summary:
Double DVD set bulked up with super hot twinks having bareback sex outdoors! In the woods, on a field or in a garden near a pool, these sluts like to do it where strangers could spot them. 3+ hours of horny summer fun!
Over 3 hours long, 10 scenes and 26 models.
This title represent great value for money given the amount of quality content and running time. However, to ensure you don't waste money buying the same content twice, this compilation features scenes from the following titles:-
Scene 1:
From: Cum Hungry Spunk Dump, Scene 4
Shane and Joey get hot and horny whilst out camping and they strip each other naked in the blink of an eye before giving some great closeup barebacking action!! This scene gets better and better when baby faced Kevin sneaks in and starts fucking himself with a thick dildo, stretching his boy-hole before getting spotted by the randy duo and brought over to get the taste of the real thing!! They both fill him up and Shane uses Joey's cum as lube when its his turn to pound Kevin before covering his face in jizz.
Scene 2: Robin Few and Daniel Wood
From: Raw Speed, Scene 5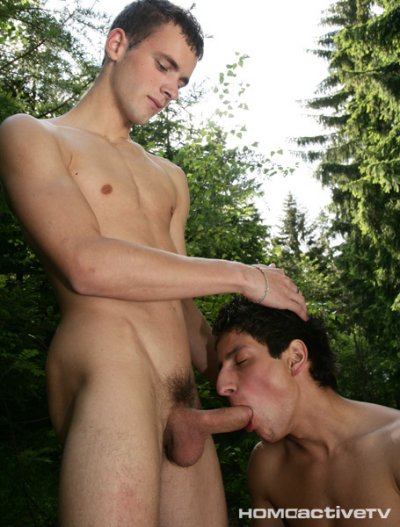 Fucking the daylights out of Robin Few obviously isn't enough for Daniel Wood, as he takes this opportunity to sneak off to the woods on his motorbike with Alan Craft. Spreading a blanket on the floor as if to eat a picnic, it's very much a diet of spicy sausage and creamy nuts for these two boys; blowing each other off, before Craft gives his pal a hard-knuckled hand-job that allows Wood to spray the forest floor with sperm. At this point you'd be forgiven for expecting Craft to be given the chance to bang away at Wood's pucker, but the unexpected arrival of Ray Weil (Wood's boyfriend) changes all that. Wood (not wishing to be discovered) makes a dash for it; leaving Craft to entertain Weil by means of the only weapon at his disposal, namely his butt-hole. Cue a scorching cowboy-style ride for the young filly, which only concludes when Weil bursts his nuts over his own belly and Craft blasts his contribution over Weil's expectant tongue. The Czech Republic has rarely looked so raunchy or so hot!
Scene 3:
From: Raw Heights, Scene 2
Always horny after a hard days climb, smooth and slim lads are up for anything. Funky haired Chris and his partner enjoy a hot session by the campfire. The 69 position they take will make sure your rock solid and pumping away as hard as they are sucking on each others dicks, letting it slide down their throats, filling them up with hot meat. These twinks must love it as much as we do as it isn't long before they are shooting load after load, Chris getting a faceful of hot spunk and dumping his cum over his friend's hot smooth chest, rubbing it in before having it licked off... so hot!!
Scene 4: Jeffery Raddern and Thomas Dyk
From Beau Mec: Bareback Thrill Ride, Scene 1
Fucking in the forest, Jeffery and Thomas let their inhibitions go and strip themselves butt naked and have some real hardcore anal pounding. Jeffery jumps onto Thomas' waiting cock, throbbing for some attention from his tight hole and the thrusting he gives is worthy of an Oscar.
Jeffery's smooth defined body tenses perfectly as he nears orgasm and squirts his load all over, covering himself with thick cum before Thomas joins in the cum fun and drenches his face in the stuff.
Scene 5:
From: Raw Heights, Scene 4
Amazing cumshot to blow your mind!! Our spy can't resist the look of the hot dark haired climber as he creeps up and gets caught out. Hot and studly, our spy has a great body, toned and tanned and fucking fit - it's no wonder the cutie he disturbed is immediately turned on and does nothing to stop his advances.
Both fit fuckers get down on their knees and suck on each others cocks like vacuum cleaners, making them stand proud and throb uncontrollably. With a dick too good to waste, its soon sliding into Ben and his butt works it perfectly, bouncing up and down, the look on his face tells how good it feels!!
Disc 2
Scene 6:
From: Bare Instinct, Scene 5
Constantly horny guys make out with one another after a few drinks, getting really into it, humping each other on the seats when Brian comes along and jumps right into the action. Within a blink of an eye, one dark haired twinks is flat on his back, his tight pink hole being abused by Brian's dick slapping all the way in and out again, leaving it gaping open, while his throat is filled with dick from his mate.
Spunk trickling down his mouth and coating his face, his asshole is soon in the same situation when Brian dumps his load straight after fucking him raw.
Scene 7: Cock-Crazed Kid Works His Oral Magic On This Cute Policeman's Thick Weapon!
From: Bareback Ass Busters, Scene 4
Blonde Jose gets caught out by another buff copper, but manages to slip away after giving him a real oral workout, teasing his cock with his tongue, the gentle suction leads to an almighty cum explosion which would leave anyone leaning back under the summer sun in pure sexual relief.
Scene 8:
From: Bare Hostel, Scene 3
It's sometimes easy to forget that not every young man in the Czech Republic is a gorgeous, cock-crazed twink – an opinion that STAXUS, of course, is in part responsible for. In reality, some young guys in eastern Europe are way too toned and muscled to ever be considered "twinks" – fellows like Gio Gallis and Luke Kingsley here, for example – though the "gorgeous, cock-crazed" adage still holds true. Indeed, all the time these hunks have clearly spent in the gym has obviously done little to dampen their libidos – as becomes painfully apparent when they abandon their work for an intimate session of cock-sucking and ass-pounding! Boy, do these men love male flesh – none more so than Gio Gallis, who munches on Kingsley's shaft like his life depends on it, then parts his legs over a sun-lounger for the sort of banging wet-dream's are made of! Little wonder he squirts like a shaken bottle of lemonade at the scene's conclusion.
Scene 9:
From: Boys Of Summer, Scene 2
Volny and Stevens are messing about - wanking and sucking each other - when they realize that Jason is watching them from a nearby outside loo. Johan has short dark hair and a big uncut cock, Alex is cute and seems about 19. Jason is tall and buff with a shaved hole and blond, downy hair on his arse cheeks. Jason is immediately spit roasted as Johan fucks his arse and Alex stuffs his mouth. Johan cums on Jason's back and Alex shoots into his mouth. Johan fingers Jason's hole until he cums in Alex's mouth.
Scene 10:
From: Bareback Road Trip, Scene 2
A handsome, blond motorist picks up a couple of boyish hitch hikers. One of the kids looks streetwise; slim, with dyed black hair and facial piercings, and he asks the driver to stop the car so he can take a piss. The driver follows him into the woods and rapes him, forcing his stiff raw cock between the lad's pert pale ass cheeks.
The lad begins to enjoy it, so by the time that his mate joins them he helps the motorist to spit roast his young buddy. Nice shots of the driver's toned body pumping away at these kids' holes.
Scene 11: Toned Fuckers In Outdoor Cumfest!!
From: Buttfucking BMX Boys, Scene 2
When Rick and Damian take a break in the woods, the sun is beating down on their already hot young bodies, having to strip off their tops, Damian's tanned buff torso sends Rick crazy, his perfect pecs and awesome abs is enough to get him on his knees and pulling his shorts lower, until his proud, rock solid dick is pushing against the back of Rick's throat.
These amazingly sexy twinks have the hottest bodies around, and with the sun bronzing them even more, the outdoor fucking brings it to a whole new level. Damian spoons Rick, lifting his leg high in the air as his stiff dick pushes against his hole, watching him work his meat deeper is unbelievably hot, these two young men enjoying hot sex with each other in great positions, giving us the feeling we could step up and join right in!!