Summary:
Three, as they say, is the magic number. Except in this case it's most definitely the fucking magic number; as some of the hottest, horniest STAXUS twinks get down and dirty in triplicate to produce a delectable collection of spit-roasting classics. From a cute, pert-rumped beaut day-dreaming about his muscled mates, to massaging buddies who can't wait to double-dick their Latino fuck-buddy; this bevy of horned-up fuckers (Kris Blent and Milan Sharp included) aren't happy until their balls-deep in arse and spunking all over the place!
Scene 1: Sex Toy Bonanza Leads To A Spit-Roasting, Jizzed-Up Fuck-Fest!
Cast: Chris Jansen, Johnathan Strake & Kris Blent
From: Sperm Term, Scene 4
Give a dog a bone and he'll chew it. Give an ever-horny guy like Kris Blent a sex-toy and (likewise) he'll sure as fuck play with it – especially when he's very quickly joined by a couple of equally horned-up suck-and-fuck-buddies like Chris Jansen and newbie, Johnathan Strake! Geez, these three lads are liked a bunch of kids on Christmas morning, as they put their Masturbators to prime use; even thrusting the slimmer end up Jansen's arse-hole, much to the Danish boy's most obvious pleasure.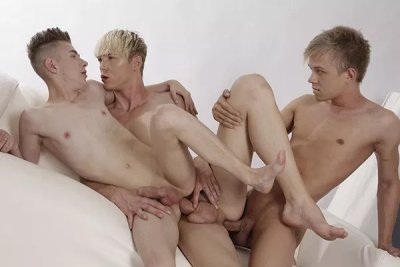 But concerns only intensify further once the toys are put to one side and it's Blent's handsome dick that becomes the focal point of all the attention; with Jansen and Strake quite literally fighting to feast on the Dutch guy's ramrod, slow-motion shots underscoring the sexual tension. Minutes on and all three cocks are on show, with a not-unexpected display of fellatio from the trio setting up the scene nicely for when Strake becomes the centrepiece of proceedings. Indeed, Blent clearly can't wait to give the newbie's crack a real good rimming, in anticipation of Jansen sealing the deal by thrusting every inch of that handsome shaft of his deep in the Czech lad's guts.
Not that a fellow of Blent's reputation ain't gonna want him share of the action, of course; and it's not long before Strake is riding raw Dutch salami cowboy-style. But the zenith of the action comes when all three guys engage in a fuck-sandwich – Blent and Jansen taking it in turns to be the central carriage in the train – which quickly results in some very sticky facials and a gooey threeway kiss to call it a wrap!
Scene 2: Horny Recruit Gets His Ass Spanked & Pummelled Twice Over!
Cast: Chad Johnstone, Jacob Waterhouse, Luke Volta
From Army Dropouts, Scene 4
New boy, Luke Volta, clearly has one overriding ambition – to make a man of Jacob Waterhouse! So when he finds himself as the young recruit's superior in the army he wastes little time in putting the cute twink through his paces, even to the point of spanking Waterhouse's arse when the youngster doesn't do his press-ups properly. In total contrast, the fellow seems to show little regard for Chad Johnstone – until, that is, he needs someone to help him finger and rim Waterhouse's fully-exposed pucker.
It's a task that Johnstone embarks upon with characteristic gusto, it must be said; and signals the start of a tremendous outdoor threesome that will almost certainly have you jerking off like crazy! Of course, there's no prizes for guessing that Waterhouse's arse remains the star of the performance throughout; and once all three lads have had their mouths filled with hard cock in turn, Johnstone is quick to claim first dibs on the twink's hungry little slit.
It's at this point that any doubts about Waterhouse's appetite for cock are promptly dispelled – his legs splayed wide open as he takes Volta's dick down his throat! But his ultimate moment comes when he takes it in turns to ride Johnstone and Volta's cocks in turn cowboy-style – bouncing up and down like a cheap slut, much to his mates' very obvious pleasure. Little fucking wonder that neither of the tops can hold off from their inevitable climax for too long; and before you know it they're spraying Waterhouse's face with a much-deserved blast of spooge. If only all army-training was as rewarding as this!
Scene 3: Bryan's Showertime Fantasy Of Prime Beefcake Results In Oodles Of Hot, Sticky
Cast: Bryan Roico, Attila Rush & Damian Dickey
From: Raw Scout 2, Scene 3
We all have our own private fantasies – some more fantastical than others – but young Bryan Roico's daydream is almost certainly one that warrants much closer attention and which will leave our fans gasping for more. For not only is the dark-haired youngster quite a sweet little beauty in his own right – one that will have plenty of guys getting in quite a lather as we see him sat at the side of the bath tweaking his nipples – but the objects of his lust, namely muscle-boys Attila Rush and Damian Dickey, are definitely more than sufficient reason to get ensconced in front of a screen with a box of tissues for company.
To be fair, Roico's involvement here is limited, for no sooner has he sucked both hunks off than the action centres purely on the two older lads. But who could possibly deny the beauty of seeing Rush and Dickey getting intimate in the bath-tub? Just the sight of Rush giving head whilst his mate holds his golden locks and pushes him up and down his shaft is reason aplenty to get over-excited! But ultimately it's seeing the long-haired Rush getting pounded like a cheap whore by Dickey that warrants keenest attention – something that we feel quite sure the escapade is going to get!
Hot, sweaty, mindless fornication it most certainly is, and a display that (not surprisingly) we can't really recommend enough. By the time that both fellows have dumped generous wads and Roico has wanked out a fantasy load to wrap the scene, your own nuts will have long-since busted!
Scene 4: Horny Butler Leads A Double-Dicked Dash On Chris Jansen's Ass!
Cast: Chris Jansen, David Sky, Mike Cole
From: Rich Bitch, Scene 1
Chris Jansen and David Sky are a couple of well-heeled buddies with a taste for the good life – which explains why they've got a gorgeous butler to help assist them at meal-times, in the form of the ever-delicious Mike Cole. What's more, their good fortune isn't just limited to having cash in the bank; for it turns out that their handsome assistant doesn't just limit his domestic duties to serving meals. In fact, Cole is clearly more than happy to go the extra mile to keep his superiors happy – even to the point of getting down on his knees at the table so that he can give both guys a much-needed oral workout on their cocks.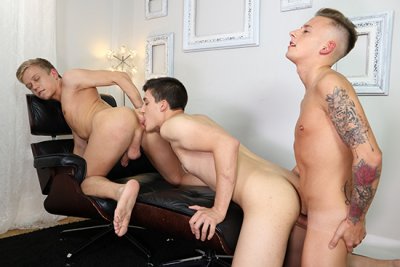 Let's be honest, you really couldn't put a price on this kind of employee involvement; and it should perhaps come as little surprise to anyone that Jansen and Sky are soon replicating the involvement by simultaneously slurping on Cole's now very swollen appendage. No doubt about it, these are three very horny boys; and the temperature in the room only notches up even further when Cole abandons all dignity by getting down on all fours so that he can rim Jansen's arsehole whilst Sky bangs him from behind.
At which point you'd be quite forgiven for thinking that it's Cole who's going to be the centrepiece of the action. In many respects, however, this little red-herring is but a prelude to the real zenith of this kinky threesome; when Jansen promptly surrenders his hungry little pucker to his two co-stars simultaneously, resulting in Sky creaming his hole and Cole splattering his generous wad of pent-up boy-goo all over the other two lads' expectant lips!
Scene 5: Smooth twink gets two facefulls of hot spunk
Cast: Brad Fitt, Zac Todd and Marco Will
From: Twinkula, Scene 1
Three young men head off down a dusty road in search of adventure – but believe us, that's pretty much where this horny little episode and Chaucer's Pardoner's Tale part company. For this trio of beauties are far too turned on to be bothered by any metaphysical nonsense; all they're interested in are each other's pert, young bodies, which they proceed to examine in close-up detail when they stumble upon an old house together.
Indeed, before you know it young, hairless blond, Brad Fitt, is stripped off and ready for action, which Marco Will and Zac Todd (both are whom are equally as smooth) are all too clearly only eager and willing to provide! The result is one of the hottest trios you're ever likely to see, with barely a follicle in sight as Fitt rides both his friends' raw cocks cowboy-style before being royally spit-roasted like a common whore.
It's a totally fantastic display – and one you've just got to see! – but the highlight surely only arrives when Will and Todd finally take turns to blast Fitt's cute little face with the contents of their balls. Believe us, if the sight of Fitt with spunk dripping off his chin doesn't do it for you then we doubt anything will!
Scene 6: Angel Lopez Gets Two Cocks Shoved Up His Over-Massaged Hole!
Cast: Angel Lopez, Julian Fix and Milan Sharp
From: Touch My Meat, Scene 1
Most guys only get one fellow to give them a rigorous rubdown; but, as we all know by now, Angel Lopez isn't just your ordinary, run-of-the-mill fellow. Fact is, he's the kind of young man who could very easily have a queue of would-be massagers – and on this occasion it's the all-too-lucky Milan Sharp and Julian Fox who get the honour. What horny gay man wouldn't give their hind teeth to exchange places with them? As it is, however, the rest of us mere mortals must simply marvel at their good fortune; as they oil his sweet, Latino flesh and very slowly make a move on that gorgeous, uncut cock that they know is nestling in his crotch.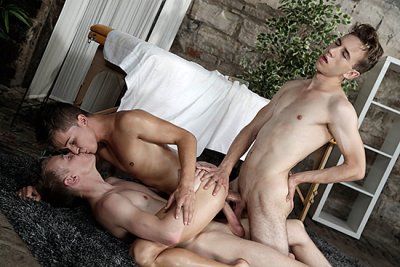 Of course, it isn't too long before any pretence of a normal massage is abandoned; with Sharp producing a big black dildo, which he unmercifully prods into the youngster's all-too-eager ass-hole. That's just a prelude for what it to come, however, given that by this point both Sharp and Fox are quite literally gagging to thrust their own dicks into Lopez's hole; and indeed there's almost a gasp of relief when Sharp finally buries his oversized schlong into its natural resting place.
Anyone expecting this to be just your average threesome is in for a mighty big surprise, however. For Lopez is a slut extraordinaire; and having enjoyed every inch that Sharp can muster, he's encouraging Fox to join the fun. Cue a truly amazing double-penetration, which will no doubt seriously risk a premature climax from the entire viewing population; before all three lads cream like fury, most notably Sharp into Lopez's now over-worked boy-cunt!