Summary:
There's a new gang in town. These dangerous gang members are specialised in abducting the cutest twinks around, tying them up, abusing them with their massive rock hard cocks and pissing all over their cute boy faces!! Good thing for us is they filmed all of this for you to enjoy!
Scene 1: Dapper Mobster Just Can't Wait To Have His Hole Ridden Raw & Wild!
Cast: Nicholas Cruz and Davor Gigo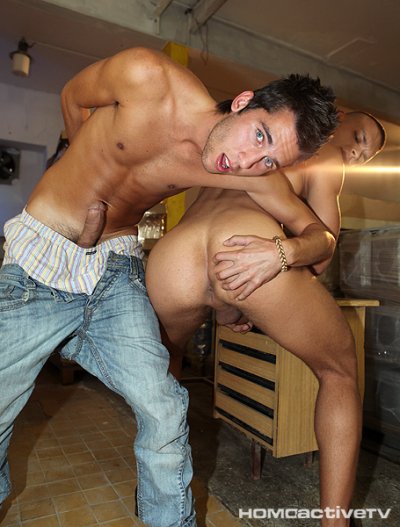 No doubt about it, Davor Gigo is not the sort of guy to be messed with – as young Nicolas Cruz discovers when he finds himself gagged and tied to a chair in the dapper-dressed mobster's mysterious underground bunker. Why, before Cruz has had chance to protest at his predicament, Gigo has thrust his thick, aching cock into the hostage's mouth, promptly face-fucking Cruz and looking every inch the menacing monster in the process. It's most definitely the stuff of nightmares – or should that be daydreams? – for this horny pup, who immediately responds to the uninvited attention by slurping on Gigo's knob-end like his very life depended on it. Then again, of course, given the fact that he's a hostage, perhaps it does! Interestingly enough, however, what the horny, cropped-haired Gigo wants from his victim is some hard-dicked attention; and it's with curious enthusiasm that he convinces Cruz to take him from behind for a rampant session of raw sex, which ultimately concludes with Gigo riding cock cowboy-style and spurting like a trooper in the process. All before he takes Cruz's erupting shaft between his lips to allow his face to be coated in hot jizz!
Scene 2: Blond Pup Secretly Relishes A Lashing Of Spunk & Fresh Hot Piss!
Cast: Jimmy Snyder and Aslan Brutti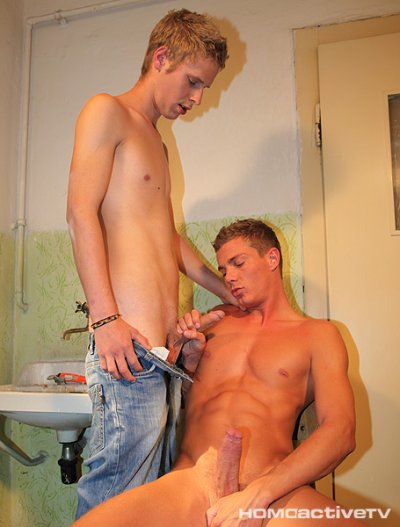 Cute, blond and looking every inch as vulnerable as a young pup can look, Jimmy Snyder doesn't take too kindly to Aslan Brutti's uninvited attentions. Unfortunately for the poor boy, the fact that he's tied to a chair at the start of this scene means that he doesn't really have a great deal of choice in the matter. Indeed, Brutti's soon thrusting that thick, meaty, uncut cock of his down Snyder's throat – something that the youngster initially balks at, but which the lad is soon engaging in with a remarkable deal of enthusiasm. Seems like he's not so adverse to a bit of cock action as he'd have others believe. In response, Brutti is soon sucking away on Snyder's knob; before insisting that his partner takes a good long rest – on his aching, unsheathed dick! Cue a fabulous session of condom-free shenanigans that results in the blond's hungry hole getting stretched to high heaven from pretty much every direction imaginable; before Brutti finally unburdens himself of a heavy load of pent-up spunk and piss into Snyder's well-used hole. Little wonder that the young bottom ruptures a healthy wad of his own in the process – as indeed we're sure you will at the same time!
Scene 3: Spit-Roasting Cum-Soaked Frenzy Gets Washed Down With Piss!
Cast: Tomm Nutt and Nicolaj Pavlov
Also available: Piss Takers (2 DVD Compilation)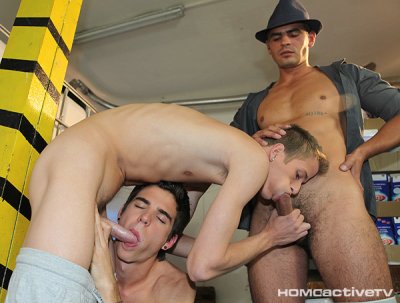 Okay, so we all know that Jack Cameron is as cute as fuck – but somehow he seems even cuter than usual when Nicolaj Pavlov convinces the lad to give Tom Nutt a blow-job. Not that it's just Nutt's knob that's getting attention. Before many moments have passed Pavlov has unzipped his own dick and Cameron is taking both shafts in turn. Indeed, it seems only natural that Pavlov – who's slightly older than the two twinks – should be the dominant party in this scene, dishing out the instructions and ultimately demanding that Nutt bends over and fully exposes that pert little ass of his. Needless to say, it's no time at all before Pavlov's knob is working its way in and out of the blond boy's pucker, as Cameron pushes his own ramrod into Nutt's all-too-eager mouth. The result is a scorching spit-roast that eventually sees Nutt banged by both his companions in turn, time and time again; and it's no surprise when all those tight young balls can no longer hold themselves back from the inevitable. In short, it's a veritable spunk-fest – topped off by a plethora of piss (courtesy of Cameron) that leaves young Nutt totally soaked and satisfied. Totally perverse, but totally hot!
Scene 4: Cute Passive Blond Gets A Real Hard Raw Bang Up His Tight Ass!
Cast: Marco Will and Davor Gigo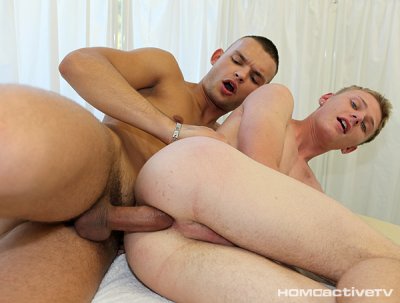 What could possibly be better than watching a blond-haired pretty boy like Marco Will in hot, hardcore action? Yeah, we agree, it sounds a totally impossible task; but when you realise that this scene features a blond-haired pretty boy like Marco Will getting totally dominated and pushed to the limits by none other than Davor Gigo then you'll realise that in this instance director Vlado Iresch really has managed to go one better! Gigo, after all, is almost the very definition of an animal on heat – the kind of boy who clearly thinks of nothing else all day than getting his end away, and whose lightly tanned skin contrasts sweetly in this instance with blue-eyed Will's pale, near-anaemic pallor. Indeed, Will is every inch the passive party here – a boy who quite literally bends over and allows Gigo to slide that thick, uncut shaft of his deep inside his butt without so much as a question asked! Then, having had the spunk quite literally spunked out of him, he meekly kneels before Gigo and allows the top to coat his face with a generous wad of fresh, creamy spunk. It's almost a near-pathetic display, but you'll be jerking like crazy all the same!
Scene 5: Fisted & Fucked Raw – Just How Every Horny Twink Loves To Be Treated!
Cast: Mike Cage, Andy Nash and Chris Reed
Also available: Wider and Wider (2 DVD compilation)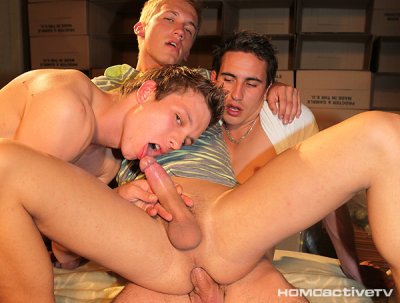 This is a scorching threesome in every sense, but there's no doubt that bottle-blond Mike Cage is the guy you'll remember. Why? Well, this is one young fellow who clearly thinks nothing of being the sexual play-thing of compatriots Andy Nash and Chris Reed, and who allows them to take turns to fuck him like he was a common whore! Believe us, this lad's ass must have been ridden sore by the time these two fuck-buddies were finished – but it's still absolutely nothing compared to what happens once they've decided to test Cage's ass-hole to the max and give that tight little crack the fisting of its life. The sight of Reed's clenched hand working its way in and out of Cage's pucker is quite literally something to behold; and it's little wonder that all that furious prostate rubbing quickly brings the dirty little bottom to the point of no return. What's more, neither Nash or Reed remain unimpressed. Given the raging hard-ons they've got showing between their legs by this point they're clearly well-taken by their pal's performance, and it's no great wonder when both boys take turns to splatter Cage's face with cum! Totally perverse – but, as always, utterly fab!!