Summary:
Oi!! You snivelling little runts! Do as Sergeant Major tells you and tune into the hottest battalion of cock-suckers and ass-bangers this side of Deepcut Barracks.
Featuring a collection of cute, over-sexed twinks and their uniformed superiors, this military escapade will have you reaching for your own gun to give it the kind of good, old-fashioned polish that made our country great. No negligent discharges here – just rough army play and oodles of sticky Brit cum!
Scene 1: Cute Blond Twink Gets Finger-Fucked & Humiliated!
Cast: Zak Starr and Luckas Layton
Also available: Khaki Cummers (6 Scene Compilation)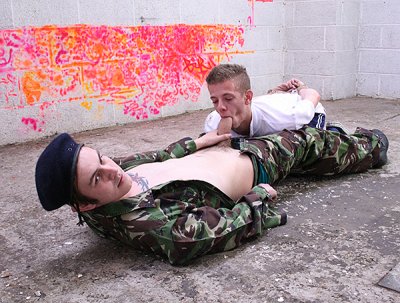 The trouble with way too many young people today is that they don't respect authority – but, as Zak Starr knows, a little discipline can go a long, long way to rectifying that situation. After all, he's an army officer who doesn't take truck from the likes of Luckas Layton, a young thug with a decidedly unpleasant persona. Within seconds of meeting the tearaway has Layton handcuffed and ready for punishment – which in this instance involves being slapped around the face by the army lad's oversized cock. Size queens beware – Starr's knob is a truly magnificent beauty, with the kind of foreskin overhang that will have you drooling in delight. It's certainly more than sufficient to get Layton in the mood, that's for sure, and before you know it the scoundrel is feeding off that glorious piece of meat like he was quite literally born for the task! An attitude that continues when it's time for Layton to part his legs. No question about it, this is a twink who just loves to be fingered and fucked, and he's soon stark-bollock naked getting bummed like fury against a breezeblock wall. No wonder the boy squirts buckets, with Layton replicating the filthy display just moments later!
Scene 2: Young Twink Gets Roped, Whipped & Fucked!
Cast: Lloyd Adams, Matthias Mann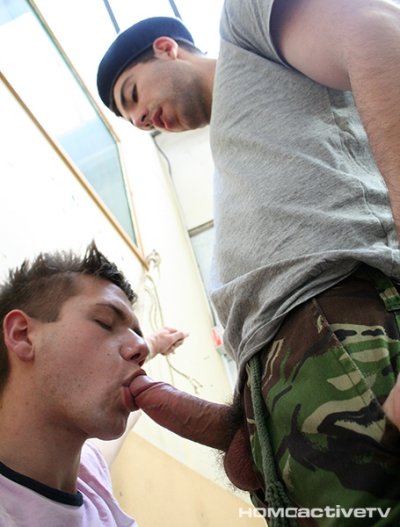 Poor Lloyd Adams. There he is, walking down the street, minding his own business ... when (pow!) out of the blue he's accosted by Matthias Mann, a gruff army veteran who's just looking for a twink playmate with whom to act out his perverted fantasies – which in this instance involves tying the blond youngster up in his basement and then forcing his thick, meaty shaft down the boy's throat. Not that Adams seems to display a great deal of resistance to these uninvited advances, it has to be said; indeed, given the boner that he's showing when Mann finally tears away his last shred of self-respect (i.e. his pants!) it's apparent that the boy is enjoying himself just a little bit more than he'd possibly like to admit. Whether he takes any pleasure, however, from the abuse that ensues – in the form of a hard whipping and a fuck from the whip handle – is another matter entirely; though we defy anyone not to savour the feel of Mann's hard cock up their arse, and certainly Adams produces quite a generous wad of jizz in apparent appreciation. All the same, this is very much a top's scene – a point highlighted by Mann's blast of cream all over Adams' face!
Scene 3: Two Horny Straight Squaddies Pummel Blond Twink!
Cast: Lex Blondie, Evan Zero and Milo Taylor
Also available: Bareback Butt Stretchers 2 (2 DVD set)
Also available: Wider and Wider (2 DVD compilation)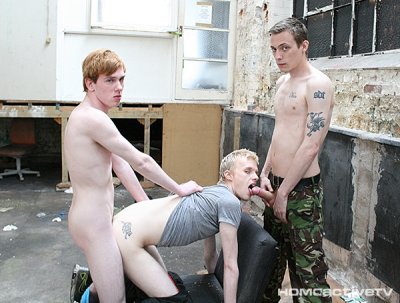 Evan Zero and Milo Taylor are a pair of army cadets with a little too much time on their hands – a recipe for trouble if ever there was one. Unfortunately for poor Lex Blondie (whose name pretty much tells you all you need to know), he's the guy who happens to stumble upon the two horny cunts at the wrong time and in the wrong place. Indeed, he hardly knows what's hit him as they force him down onto his knees and thrust their aching cocks into his mouth. Not that the lad appears to display any gross objection to being snared in such fashion; though whether he's quite as taken by their subsequent decision to tie him to a chair so that they can manhandle him into a spit-roast is another matter entirely. All the same, there's little that Blondie can do about the turn of events – save open up nicely and take everything that Zero and Taylor throw in his direction! Having gained a taste for cock, however, the young bottom is soon trusted enough to have his shackles removed – at which point the lad proceeds to take dick in every direction, before finally being subjected to a torrent of jizz from his assailants. Little wonder he ultimately spews a furious load of his own!
Scene 4: 10 Inch Squaddie Fucks Two Queer Sluts!
Cast: Luke Desmond, Aiden Jason & Skylar Blu
Also available: Extreme Boyz (2 DVD Compilation)
Also available: Cock Lovin' Deviants (Compilation)
Luke Desmond is a young soldier with a mighty big weapon – one that he puts to find use when he just so happens to spy two young twinks making out in what they clearly believe to be the privacy of some old factory units. Truth is, blond-haired Skylar Blu and cute-as-a-new-button Aiden Jason only have eyes for each other; but the unexpected interruption on Desmond's part and the sudden exposure of his meaty, uncut dick in their faces, is more than enough to persuade the pair that whilst two is good, three's fucking better!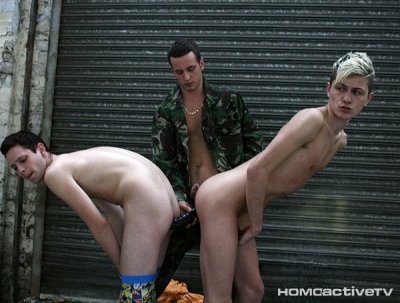 Little do they seem to realise that the older fellow has a bit of a kinky side to him that he's only too eager and willing to bring to the fore once in on the scene; and before they know it he's busy clamping their nipples for a little mindless fun. By the time the guy brings out a double-headed dildo with which to skewer the pair of innocent babes, Desmond clearly has them completely under his control; so it's little surprise that he proceeds to fuck both lads in turn, beginning with Blu who quite literally has the cum banged out of him! In short, a master-class in how young twinks can be used and abused by anyone with the guts to do just that!